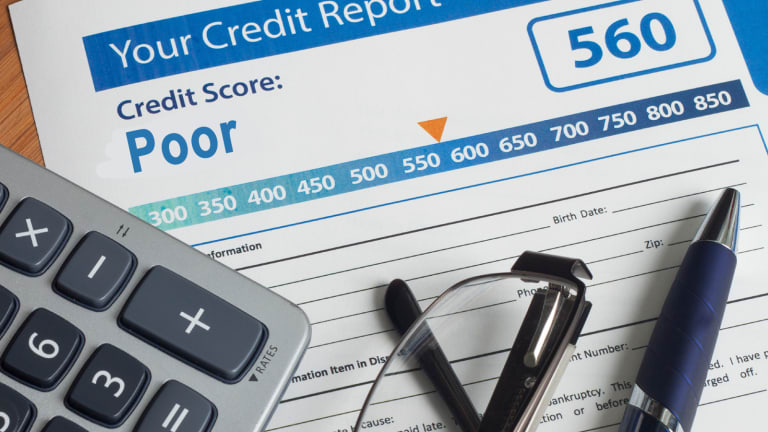 Americans Are Comically Good at Destroying Their Credit
More than two-thirds of Americans make at least one financial mistake before age 30 — leading to negative effects on their quality of life.
Aaron LaRue admits he made some avoidable financial mistakes in college — including an unpaid medical bill he didn't even know existed, and a small credit card balance that left him close to his credit limit.
"All of these seemingly small mistakes added up to a horrendously low credit score – it definitely didn't match my creditworthy-ness or my financial savvy," said the 25-year-old Southern California resident. "This became a problem, however, when I wanted to buy a car."
LaRue is not alone. In a recent study by online credit site Credit Karma, 68% of Americans make at least one financial mistake before age 30 — such as credit card overspending, missing payments, having an account sent to collections or a loan default. Three-fourths of those surveyed also felt like the mistakes they made before they turned 30 had a negative impact on their quality of life.
"Young people are very susceptible to an early financial mistake," said Josh Nelson, founder and CEO at Keystone Financial Services in Colorado. "Kind of like a teenager beginning to drive without their parents in the car, they've just been given a lot of freedom and responsibility, but without the financial experience and wisdom to know what to avoid."
Nelson said the best way to avoid costly financial mistakes is to have a financial mentor — such as a family member, financial planner or coworker — who has walked the path before and can share his wisdom and be consulted before an important financial decision is made. If a mistake is made, it is up to that person to make a conscious decision to fix it.
"Repairing your credit starts with a decision," Nelson said. "The decision is saying, 'No more. I will do whatever it takes to improve my personal financial outcome by using every resource at my disposal.'"
"The key is wanting good credit and financial security more than some current spending desire, such as a nicer car or an expensive vacation," Nelson adds.
Robert Baltzell from RLB Financial in Valencia, Calif. said many studies have shown that Millennials, in particular, are the age group with the lowest level of financial knowledge and that may impact why so many make mistakes. In fact, the Credit Karma report showed only 28% of those surveyed received some type of personal finance education before going to college.
He said the biggest mistakes young people make is not establishing a credit history.

"My best advice would be to start small, pay your bills on time and pay off the balance in full at the end of each month," Baltzell said.
"While it's important to establish good credit, taking out too many high interest cards with large balances can do more damage than good and lead to overspending," he added. 
When it comes to credit reports, patience is a virtue.
"Good behavior is one of the best ways the clean up your credit, but it takes time to make good on your missed payments and keep your accounts up to date," Baltzell said. "Over time, the bad marks will fall off and be replaced by a more positive history."
LaRue eventually was able to fix his credit score. He started by paying off his account in collections — and was even able to negotiate down the debt amount. His score also got a boost when he started paying off his student loans.
Lastly, he applied for two new credit cards to raise his overall available credit and decrease his utilization. It allowed him to increase his the number of monthly payments, quickly establishing a track record of on time payments. Since all his accounts where new, he also took the more unusual step of becoming an authorized user on one of his parents' older cards which was in good standing.
"When the account was added to my credit report my score jumped 35 points," he said. "Anyway, applying for new credit cards and becoming an authorized user on the right accounts was the game changer for me – and kind of counter intuitive."

Baltzell echoed the value of having older, well-managed accounts as part of your history.
"Don't be tempted to close unused or rarely used accounts," Baltzell said. "They can still have value. Older accounts - even accounts that are closed - provide lenders with longer views of your history."