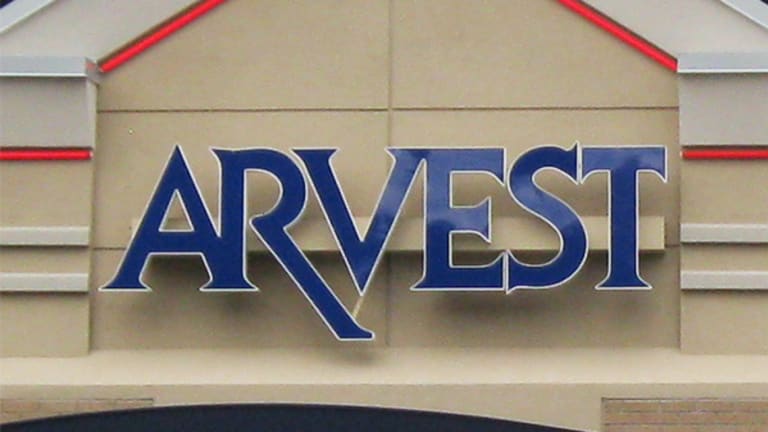 10 States Where Small Banks Thrive, Or A Walmart Conspiracy?
On the banks of the Mississippi, where people are free from Bank of America and Wells Fargo, they stand to be captive to Walmart.
On the banks of the Mississippi, where people are free from Bank of America and Wells Fargo, they stand to be captive to Walmart.
NEW YORK (TheStreet) -- "Big banks are an oligopoly and what that map is showing is that they're exerting their pricing power."
You might expect a quote like that from Sen. Elizabeth Warren (D., Mass.) or Joseph Stiglitz, the liberal-leaning Nobel laureate. Afterall, Warren and Stiglitz are two of the most prominent big bank critics to emerge from the 2008 financial crisis.
Instead, it came from Dick Bove, analyst at Rafferty Capital Markets and author of Guardians of Prosperity: Why America Needs Big Banks.
Bove argues that we need giant banks like Citigroup (C) - Get Report, Wells Fargo (WFC) - Get Report, JPMorgan Chase  (JPM) - Get Report and Bank of America (BAC) - Get Report to compete globally and to service large corporations and governments. Breaking up those institutions, he argues, will seriously undermine U.S. competitiveness.
Still, the analyst concedes giant banks aren't the best thing for consumers.
What is most striking about the map (shown on the next page and originally from a Web site called GOBankingRates.com) is the strong concentration of inexpensive banking services in the center of the country along the Mississippi River.
"That's the only region of the country that has not seen the massive consolidation of banking that you've got on the East and West coasts," Bove says. "Therefore you've got banks like USBancorp (USB) - Get Report, Fifth Third (FITB) - Get Report, Comerica  (CMA) - Get Report and Keycorp (KEY) - Get Report that have the ability to go head to head against each other and that keeps prices down."
Banking is cheapest of all in Arkansas, and most expensive in Arizona, according to the study, which ranks the 50 states and Washington D.C.
"Arkansas is served by many small community banks or mid-size banks, with very few national banks having a large presence," says Jason Kincy, marketing director at Arvest Bank, in a quote accompanying the study.
The quote is more than a little bit ironic. Arvest is the largest bank in Arkansas, though with some $14 billion in assets it is a flea compared to the big four, which are all in the $1.5 trillion to $3 trillion range.
The irony, however, comes from the fact that Arvest is owned and run by the Walton family, of Walmart (WMT) - Get Report fame. Unlike the big banks, Walmart thrives by keeping prices low. The retailing giant does not own Arvest and it gave up on its own quest to get a bank charter in 2007 after legislators fought the move. Still, Walmart has gotten around the rejection quite nicely, and offers plenty of financial services such as check cashing and money transfers that probably aren't the most cost-effective options for its cash-strapped customers. So a more skeptical reading of the map is that the good people of Arkansas, Missouri and Kansas are free from Wells Fargo and Bank of America only because they are prisoners to Walmart.
The map is hardly the last word on the subject of bank fees. Ed Mierzwinski, who monitors consumer issues for U.S. PIRG, the federation of state public interest research groups, notes the study doesn't appear to look at whether banks offer free checking or not. He is also puzzled that Arkansas and Massachusetts, two very different states, both rank among the very best places for banking from a consumer point of view.
But the observation made by Arvest's Kincy, however tainted it may be by its association with Walmart, jibes with Mierzwinski's own research.
"Small banks tend to have lower fees than big banks," Mierzwinski says. He hastens to add, however, that one shouldn't look at this study or any other as definitive. Instead, one should look at several and draw one's own conclusions.
"I'm not moving to Arkansas because of this study," he says.
Infographic provided by GOBankingRates.com.
>>>Read More: 
Bank of America Exec Preaches Gospel of 'Too Big to Fail' Banking
Wells Fargo Looks to Benefit From Fannie Freddie and the Fed
Disclosure: TheStreet's editorial policy prohibits staff editors, reporters and analysts from holding positions in any individual stocks.