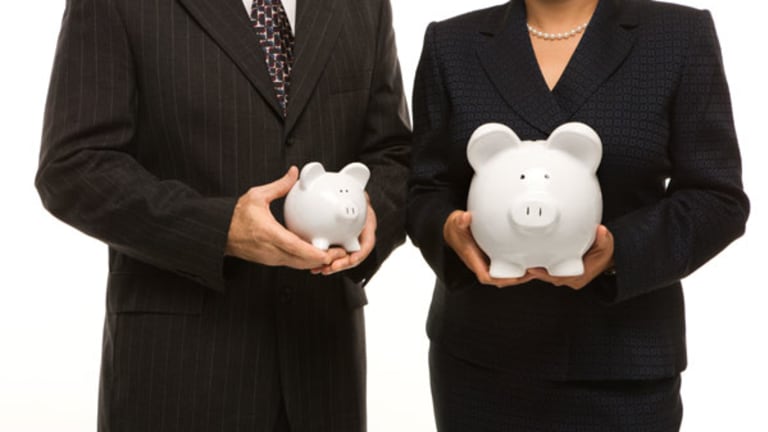 Altruistic Investing: What's Good Got to Do With It?
Is there such a thing as the new investor—driven by social values as much as investment value?
NEW YORK (MainStreet) — Is there such a thing as the new investor—driven by social values as much as investment value? Nobody invests to lose money, but, if you acknowledge and care about the social impact that you or a company inevitably has, and you worship at capitalism's altar, then having it both ways is more than altruism. It's a game plan.
Last year, the Forum for Sustainable and Responsible Investment (USSIF) released its tenth report on trends along the sustainable investing axis of influence, which detailed the growth of what's nominally called ethical, green, impact, mission-driven, socially responsible or values-driven investing. Backed by USSIF's cadre of 400 mutual fund companies, banks, credit unions, pension funds and others, the report's big news wasn't that "doing good" is a possibility for investors—especially Millennials roundly wary of the marketplace—while they aim to "do well" with their money. The big news was how fully values-driven investing has been absorbed fully by conventional investment firms.
To wit, the report outlines some of these systemic changes such as new staff positions for senior sustainable investment professionals, so-called green bonds, fossil fuel divestment, calls to restrict investments in firearms at the policy level, pay equity among men and women doing the same work, place-based and community-focused investing and climate change.
Amid the Sturm und Drang between opening and closing bells, this is a profound shift in the way we should think about the marketplace. And, it's being driven by the under-45 set.
"There's a palpable difference in emphasis over the generations," says Patrick O'Shaughnessy, author of Millennial Money (St. Martin's Press, 2014). "One of the characteristics of Millennials is a focus on the development of each person's human capital. As the job market has changed, it's more about the individual versus the corporation, individual brands and individual entrepreneurship. So their equation is about human capital rather than investing capital."

How many Millennial (and late-Gen X) investors are we talking about here? There is some disagreement on that fact, but in aggregate, there are about 75 million Americans, aged 18 to 34, and another 40.5 million aged 35 to 44—constituting a little more than 36% of the U.S. population. Boomers aged 65 and older? About 46.2 million, or 14.5%
Andrei Cherny saw that one coming—and founded Aspiration, an online investment firm, in 2014 to address what he calls a lack of trust among Millennials in the financial industry and its up-market move, alienating middle class investors. Regarding trust, there is no set fee at Aspiration, which asks its customers to pay what they think is "fair"—and to that end, Cherny reports that 90% of Aspiration's customers are paying. Regarding a sense of mission—critical for Millennial investors, he says—10% of Aspiration's revenue is donated to charities that that support expanding economic opportunity.
"Altruism takes different forms," Cherny said. "Millennial investors want to invest in a company that shares their values—and that's not surprising." He notes that 60% of Aspiration's customers had not previously invested in a retail financial product until signing up.
"Altruism is the way Millennials are making decisions around spending money across the board," he said. "It would be odd if that weren't true for financial services."
The expanding opportunity of a values-driven sensibility—in the mission of Aspiration or otherwise—should be for Cherny and millions of others a pillar of business and politics. For cash-strapped Millennials, that means lowering the bar for entry—hence the pay-what-you-want fee structure.

That extends to investing, as well as basic financial instruments. Aspiration rolled out a 1% checking account with no monthly fees and no ATM fees a few months ago—obviating that twinge of regret when you take cash out for a hipster bar, because you're not entirely sure how much your home bank is going to ding you for the privilege of drinking a PBR tallboy that night.
It's also about confidence, says Cherny, at the micro-scale of the sketchy ATM and the macro-scale of the financial industry.
"Confidence is the biggest challenge—a massive amount of mistrust for the incumbents in the industry," he said. "That leaves a lot of people sitting on the sidelines."