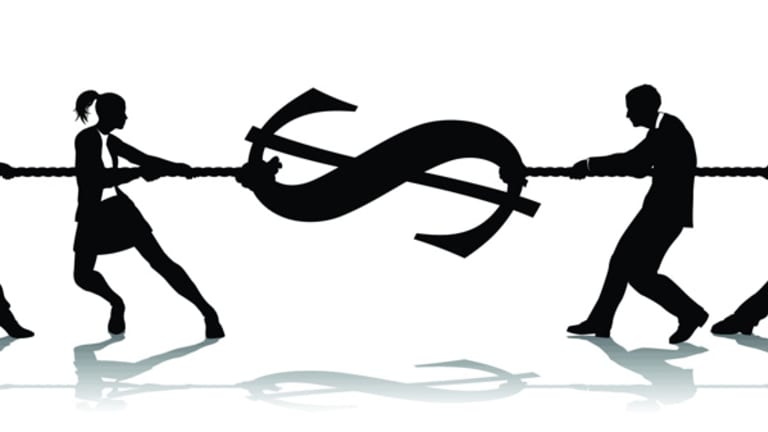 Almost 50% of U.S. Household Breadwinners Are Women
Women are taking on a much greater role as family wage-earners. Now it's time to build a money strategy around that reality
Historically, men have been the bread winner for their household. That long-term trend is giving up ground, though, and fast.
Today, almost 50% of U.S. women are now the family breadwinners, and two-thirds of women are either primary or co-breadwinners, according to SUM180, an online personal financial platform aimed at women.
But with that elevated financial status comes new responsibilities for women bread winners, experts say.
"The demands on female breadwinners are intense: buying homes, paying college expenses, caring for aging parents, investing for retirement -- the pressure is on to plan and save to get there," explains Carla Dearing, SUM180 CEO. "With the growing acceptance of this reality, it's tremendously important for women to get their finances in order to support their future goals for themselves and their families. Fortunately, the actions women breadwinners take now can go a long way towards setting them up for long-term financial security."
For women who find themselves the main money-maker in the family, job one is to take decisive action in building a personal financial blueprint, for themselves and for their loved ones.
"Every woman should have a comprehensive plan based on her particular circumstances and goals," SUM180 states in a new report on female bread winners. "Even gathering the information for the plan pays big dividends in providing clarity of her financial picture. A good plan will make a full assessment of her financial situation, including her income and expenses, and assets and debts. It will play back her financial picture in a helpful way and identify and communicate her next steps in a clear, accessible manner."
Chopping down your personal financial burden, into small bite-sized chunks, can help new breadwinners breathe easy, as well.
"I break down our household finances into categories: household expenses, travel, monthly expenses, charitable donations, project based expenses and extras," explains Elizabeth Dodson, co-founder of HomeZada, a digital home information platform located in Sacramento. "Additionally, I track annual maintenance expenses and specific household projects."
Cary Carbonaro, a financial planner with Paramus, N.J.-based United Capital and the author of The Money Queen's Guide: For Woman Who Want to Build Wealth and Banish Fear (Morgan James Publishing, 2015), says good bread winners know what cash is coming in and what cash is going out.
"For women, the budget numbers are most important," says Carbonaro. "They can create a financial plan on a napkin, on Excel, or via mobile apps on their smart phones. They should also have three pots of money with what cash they have left -- one for an emergency fund, one for spending, and one for retirement. Make sure to put everything on automatic savings, too. If you have a choice to save, you won't do it."

When you do build that financial blueprint, make sure it includes a budget that rests on a zero sum platform.
"You've got to distribute every penny of your income," advises Katie Christy, an accredited financial counselor, founder of the personal development firm Activate Your Talent and a household breadwinner. "Some people tend to want to leave 'fun money' in their budget but this ends up creating a laissez-faire approach to finances. If you want to build in entertainment money, that's great. Just make sure it receives its own line in the budget. This will help keep your fun purchases from encroaching on funds that need to be used for savings or groceries."
Christy also advises female breadwinners to increase savings in equal proportion to your salary.
"As your salary grows, be sure to adjust your savings -- both in emergency funds and retirement accounts," she says. "For example, instead of setting a dollar amount of $500 per month in savings, set a percentage, like 10%, and you'll find your nest egg will grow more quickly." 
Lastly, know that you're role as family caregiver likely won't change, and more will be expected of you, financially, emotionally and professionally. "The financial futures of female breadwinners are hinged on two things: emergency funds and disability insurance," notes Rebecca Schreiber, a certified financial planner and co-founder of Pure Financial Education, LLC, in Washington, D.C.
While about 50% of households may have female breadwinners, women still comprise over 75% of primary care-givers in those households, Schreiber says. "Care-givers typically use up paid leave and must revert to leave without pay, so emergency funds are critical to making ends meet through savings instead of credit card debt, she says. "The disability insurance is crucial to maintaining the family's lifestyle, because if a caregiver is disabled, both their work income and expensive care-giving functions need to be replaced."

For the rising proportion of female family breadwinners, the financial side of life can be a real juggling act.
Balance it out, and manage it well with a bullet-proof blueprint that keeps debt in check, savings on an upward path, and a career path that's on a high trajectory.
You'll need a financial plan for all that, so you use the wise advice above to get the task completed -- and put more even more bread on the household table.