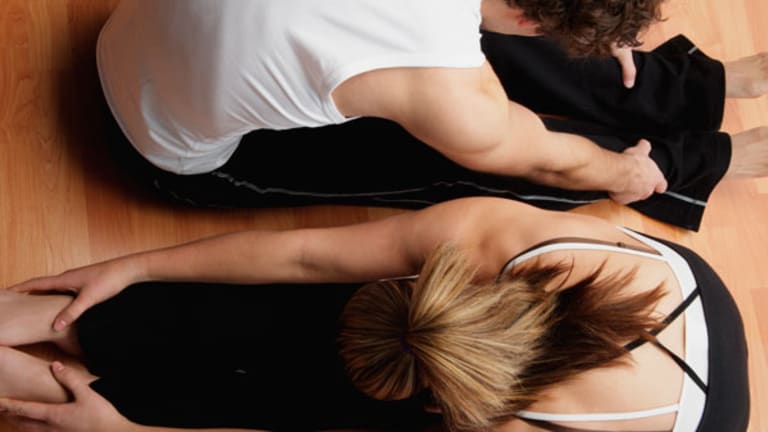 CHARLOTTE (
) -- When
Lululemon Athletica
(LULU) - Get Lululemon Athletica Inc (LULU) Report
brought the apparel of yogis and athletes to mainstream, fashion-conscious women, it opened the door for an explosion in the women's fitness wear industry.
Lululemon calls itself a "yoga-inspired athletic apparel company," creating "components for people to live long, healthy and fun lives" through athletic wear that uses performance-enhancing fabrics and functional designs.
Perhaps it was riding this wave that can explain the rapid success of
, a 4-year-old e-commerce retailer selling only women's performance and fitness wear. Or perhaps it was simply the realization by founder and CEO Avi Woolman while contemplating life from the cobra position that with the Lululemons and
Gap
(GPS) - Get Gap, Inc. (GPS) Report
Athletas of the world succeeding in the bricks-and-mortar space, there was an opportunity to sell multiple brands of women's fitness clothes online.
Either way, ActivewearUSA is flourishing.
"This is no longer a niche that is only serving the 1%," says Woolman, a former software developer. "As enhanced design, performance fabric and fits become the norm for workout gear, women are tossing away their college sweats and upgrading to a trend-forward look for the gym. This is an explosive category that is going to see exponential growth in the coming years."
Yet there is a big difference between functional activewear and designer sportswear.
"Designer sportswear for me, it is like
Estrada
or
Ralph Lauren
. These are for me designer sportswear, which is not particularly functional, not a performance product -- it's more fashionable and stylish, but it's not activewear," Woolman says.
She acknowledges that the lines are blurring, though.
"Everyone sees this as basically a big market and
they are redefining themselves as activewear brands just to be in the market. Activewear is not just yoga wear anymore. Companies are continuing to innovate and
launch new performance products for working out," Woolman says.
ActivewearUSA is well positioned.
The company carries roughly 120 activewear labels and thousands of styles, including boutique lines with names such as
,
,
and
alongside established outerwear names including
Patagonia
,
O'Neill
and
Merrell
.
Besides selection, the company wants to be known for giving customers sound guidance on choosing the merchandise best suited for their needs.
"A key point of customer service is the guidance," she says. "We want to be able to help our women customers make the right choice when it comes to apparel for the activities that she's in. We just want
her to have the right choice at the right price point."
Woolman wouldn't release sales figures, but would say revenue leaped 400% last year. By April of 2012, the company had already surpassed that, with plenty of potential to grow, she says.
"I think we are in a unique position because we are independent. We're not just one brand. We're very objective and our customers knows we are unbiased. We can sell a customer" the product that's best suited for them, Woolman says. "Some of our brands, you can't find anywhere else."
ActivewearUSA is also taking advantage of the trend toward online sales.
Forrester Research
(FORR) - Get Forrester Research, Inc. Report
estimates that total online retail sales will reach $327 billion by the end of 2016. This holiday season alone is expected to generate $68.4 billion in online sales, a 15% increase over last year and 3% higher than the expected overall annual online retail growth rate, the company says.
"This year's optimism is in large part due to an ever-increasing number of consumers choosing the Web over physical stores and the rise in mobile commerce," says Forrester vice president and principal analyst Sucharita Mulpuru in a recent report regarding holiday sales.
Woolman says there may be an opportunity for ActivewearUSA to open bricks-and-mortar stores, but for now she's sticking to e-commerce.
For retailers that don't make their own clothing, is this a good business model?
Women's activewear represents just over 10% of the overall women's apparel market. Last year, sales in women's activewear totaled $13 billion, an increase of 6.7% from 2010, according to
.
Experts says there is lots of potential for growth, given that sporting goods in general is a hot category, says Marshal Cohen, chief retail analyst at The NPD Group. Cohen notes that growth in women's fitness wear is outpacing the overall women's apparel business.
"When you can find an opportunity to bring a hot category that has passion, innovation and success into a market that is relatively underserved, it's a good combination," Cohen says.
"The luxury market is the area that's really driving a lot of the growth and the incubator for the entire industry," given the added expense need to engineer improved apparel products, including the use of better fabric, Cohen says.
It's these "technologically advanced products" that are driving the growth in the market, Cohen says.
More importantly, women will pay for quality activewear products because they believe the apparel will do one, if not all of the following: help them work out better, lose weight, look good or, most importantly, be comfortable.
"It's no different than the way that women buy intimate apparel," Cohen says.
Women aren't just wearing the clothes to work out. It's essentially becoming multipurpose apparel worn all day long, he says.
Cohen believes niche retailers such as ActivewearUSA will have to eventually expand its market to men to keep up with competitors.
While Woolman plans to add more brands to the site's selection, she emphasizes that she won't just put up any fitness apparel maker, nor does she plan to expand the store's demographic.
"We turn down 95% of brands because the performance
aspect of the clothing is not there," she says. "Our challenge is to have all the price points" that customers are looking for available to them.
"The bottom line is we want to have a niche," she says. "Even though activewear is starting to not be a niche anymore."
-- Written by Laurie Kulikowski in New York.
To contact Laurie Kulikowski, send an email to:
Laurie.Kulikowski@thestreet.com
.
>To submit a news tip, email:
.
RELATED STORIES:
>>Fastsigns CEO Catherine Monson: Five Traits to a Successful Career
>>Franchises Takes Center Stage in Reality TV
>>Businesses, Brushed Off by Banks, Look to Customers for Funding
Follow
TheStreet
on
and become a fan on
Disclosure: TheStreet's editorial policy prohibits staff editors, reporters and analysts from holding positions in any individual stocks.