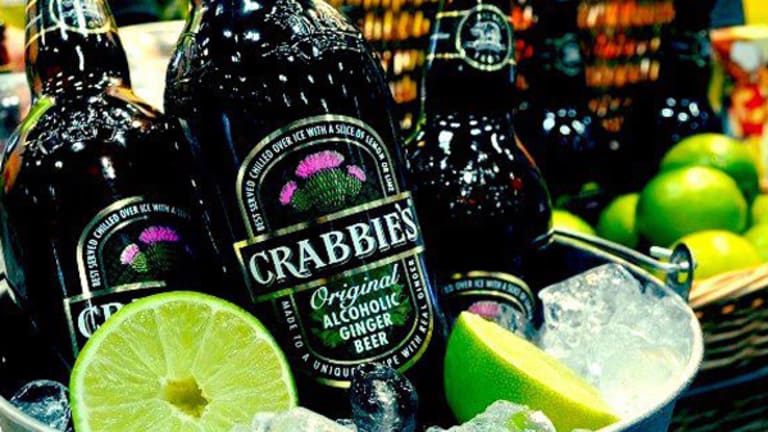 Publish date:
A Summer Six-Pack for Beer Haters
Alcoholic ginger beer, improved malt beverages and even resurgent wine coolers offer alternatives to a brew.
Alcoholic ginger beer, improved malt beverages and even resurgent wine coolers offer alternatives to a brew.
PORTLAND, Ore. (TheStreet) -- If not during the holiday weekend, then at some point during the summer a guest at one of your barbecues or parties is going to walk up to your cooler and declare that he or she doesn't like beer. They'll then ask if you have anything else.
That shouldn't automatically translate to "Please throw me out of your event" or "Nice spread, mouth breather." If that person isn't a complete teetotaler, they just might be the 34.3% of Americans who prefer mixed drinks or straight spirits or the 16.9% who prefer wine, according to the Distilled Spirits Council.
That puts you in a bit of an awkward position. Sure, you could whip up a pitcher of sangria, crank out a few margaritas or raid the racks for an expendable bottle of riesling, but why should you? None of those options have beer's portability and size and just about all of them are going to be far more labor intensive than just cracking open a can or popping the top off a bottle.
Besides, there are alternatives in your beer aisle or bottle shop that will mingle nicely with you summer variety packs. Big brewers such as
Anheuser-Busch InBev
(BUD) - Get Report
,
SABMiller
(SAB) - Get Report
,
MolsonCoors
(TAP) - Get Report
,
Boston Beer
(SAM) - Get Report
and the
Craft Brew Alliance
(BREW) - Get Report
have all
to their selections to woo drinkers averse to malt and hops. A-B and Craft Brew, meanwhile, have also removed gluten from the equation in their Redbridge and Omission brews, respectively, just in case that ingredient or its potential repercussions for drinkers with Celiac disease were turning customers away.
In short, brewers want non-beer drinkers, too, and aren't afraid to take some chances to reel them in. They face a crowded and unfamiliar cooler space in doing so, however, and butt up against companies that have been taking care of the folks beer left behind for a good, long time.
In the interest of opening America's coolers to everyone and making summer parties safe for the masses, we offer a summer six-pack of non-beer brews that should fit in anywhere you'd normally reserve for you bottles or tallboy cans of choice:
Whoa, whoa, whoa... a
malt beverage
in what's ostensibly a beer story? Whose ridiculous idea was this?
That would be Jim Koch, chairman and founder of Boston Beer, who not only brewed the first batch of Samuel Adams Boston Lager, but has overseen the production of Twisted Team since 2001. For the sake of comparison, that's about as long as Samuel Adams has been brewing its high-octane Utopias beer and its lower-grade Samuel Adams light, and far longer that it's produced its Noble Pils, Holiday Porter or Angry Orchard ciders.
It's not exactly some small, throwaway portion of the Boston Beer portfolio, either. Twisted Tea's original, tropical, half & half, raspberry, peach, sun tea and other varieties helped boost Boston Beer's revenue and shipments by roughly 20% in the first quarter from the same period in 2012. In Koch's own words "I am pleased that The Boston Beer Co. achieved record depletions in the quarter as the health of our cider and tea brands offset slight softness with Samuel Adams."
That's right, Twisted Tea helped Boston Beer's depletions -- the amount of its shipments actually consumed -- increase 16% from last year while covering for Samuel Adams' weaker spring offerings. It's crisp, it's refreshing and it's floating the company when craft beer fans fall short. What more convincing does a reluctant craft beer fan need?
This one doesn't bleed too far into the summer, but if you find a pack of it early enough hold onto it. Your beer-hating guests will love you for it.
Dogfish Head founder Sam Calagione released Tweason'ale for the first time last year as a gluten-free beer, but there's nothing about this refreshingly sweet ale that implies "beer." At first sip, it tastes almost like a fruitier cider.
That's because the barley is replaced with sorghum, which makes it feel a bit slicker on the tongue than a longer-lingering beer. Its flavor is built on a base of strawberry, but is cut with buckwheat honey and just a bit of molasses. That gives Tweason'ale a complexity more akin to a wine or blended cider.. It's pleasant, refreshing and doesn't sit nearly as heavily as some of its grainier summer competitors.
Crabbie's Original Alcoholic Ginger Beer
Once a tough find beyond East Coast Scottish pubs, Crabbie's is getting a big push here in the states on the strength of its ginger beer that in no way tastes like the "alcoholic" part of its name.
Brewed in Leith, Scotland, since 1801, Crabbie's original formula consists solely of ginger, sugar, water, lemon juice and a fungus-bacteria hybrid that kicks up the alcohol content and pushes it from ginger beer into more adult territory. While it's been a gluten-free beer substitute for its entire existence, the cider culture that made it perfectly acceptable to drink a Magners over ice at the local pub has made a Crabbie's on the rocks a viable alternative here in the U.S.
While the Northeast has been savoring Crabbie's ginger bite and mild sweetness for more than a year, cities such as Seattle, Portland, Ore., and San Francisco are just getting their first taste now. Enjoy it.
Mike's Hard Strawberry Lemonade
If you're going to mention malt beverages and beer in the same sentence, you may as well mention the malt beverage company that makes beer brewers nervous.
Mike's has been kicking around since 1999 and has been creeping its way into beer territory for much of that existence. From relocating its headquarters to craft beer-heavy Seattle in 2005 to having one of its former leaders, Anat Baron, serve as the brains behind the definitive craft beer documentary
Beer Wars
, Mike's has elbowed its way into beer shelf space and refuses to budge.
What's the secret? Don't be as beery as beer and don't be as boozy as cooler competitors such as Smirnoff Ice. The sweet-yet-tart strawberry lemonade is a prime example of everything Mike's is getting right. It manages to be a sweet, refreshing warm-weather choice while never being so syrupy that it makes you think you've pulled a soda out of the cooler by mistake.
That balance has made Mike's a force in the beer industry, where even
recognizes Mike's parent company Mark Anthony as the 10th-largest supplier in the country. By shipping more than 1.5 million barrels last year, Mike's Hard Lemonade not only outproduced every craft brewer that wasn't Boston Beer, but increased its output 5.7% from 2011.
Lindemans Framboise
This is a pick that's going to drive beer geeks absolutely bats, but it's a great pick to make if you're facing a beer hater with tunnel vision.
First off, this absolutely is a beer. It's a lambic, which is a Belgian style that allows the grain mash access to the open air to let wild yeasts and bacteria into the mix. Fermented in wine barrels, blended with other, similar beers and sometimes sweetened with sugars and syrups for a biting, tart flavor, a lambic can taste more like a strong cider or dessert wine than a beer.
There are great lambics out there from Portland, Maine-based Allagash Brewing's Coolship series and Bloomington, Ind.-based Upland Brewing. The best, however, come from the brewery deemed largely responsible for the style: Belgium's own Brasserie Cantillon. A bottle of Cantillon's Rose de Gambrinus just might be the best lambic a person can ever taste, but that's not what you're going to serve party guests.
Popping a Cantillon at a summer party is like taking a
Rolls Royce
Phantom off-roading. The beer-hater raiding your cooler needs training wheels before climbing into a great lambic, and Lindeman's is a relatively inexpensive way to sample the style. The Framboise may seem a bit heavy on the tart raspberries -- almost akin to a pancake syrup, but without the viscosity -- but enjoyed at a slight chill, it can be incredibly flavorful.
B. Nektar Zombie Killer
If they scoff at your wheat beer and turn up their noses at your cider, some cold mead may do the trick.
Starting with a base of honey and water, mead basically functions as the great shape shifter of the alcoholic beverage world. Add some hops to the mix and you basically have beer's bitterness with none of the gluten. Add fruit and you get something akin to a carbonated wine. Throw some spices into the mix and you're ready for fall or winter.
Mead is pretty low on the pecking order here in the U.S., but in certain circles it's enormous. Each March, for instance, hundreds of mead makers descend upon Boulder, Colo., for the Mazer Cup mead brewing competition and tasting event. The Mazer Cup judges were particularly kind to Michigan-based B. Nektar in 2011, when it awarded a gold medal to its Zombie Killer variety.
A combination of Michigan honey, cherries and apple cider, Zombie Killer has just enough carbonation in it to satisfy fans of typical cooler-bound beverages. But the combination of sweet honey and cider with a tart cherry finish makes it unique among its summer party peers. While easily one of the most complex options on the table when beer doesn't cut it, it's also one of the most flavorful and ultimately refreshing. Guard it carefully, lest some other reveler try to swap it out for a light lager.
-- Written by Jason Notte in Portland, Ore.
>To contact the writer of this article, click here:
Jason Notte
.
>To follow the writer on Twitter, go to
.
>To submit a news tip, send an email to:
.
RELATED STORIES:
>>How Tapping The Jewish Beer Market Begat A Plan
>>Sierra Nevada CEO Makes East Coast Beer Run
>>Craft Brew Founder Widmer Savors Results
Jason Notte is a reporter for TheStreet. His writing has appeared in The New York Times, The Huffington Post, Esquire.com, Time Out New York, the Boston Herald, the Boston Phoenix, the Metro newspaper and the Colorado Springs Independent. He previously served as the political and global affairs editor for Metro U.S., layout editor for Boston Now, assistant news editor for the Herald News of West Paterson, N.J., editor of Go Out! Magazine in Hoboken, N.J., and copy editor and lifestyle editor at the Jersey Journal in Jersey City, N.J.