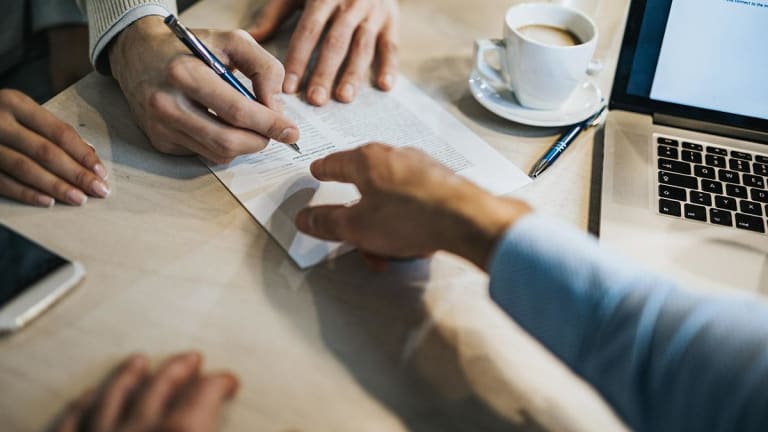 A Client's Overnight Success -- 20 Years in the Making
Adviser Mark Bordelove talks about shepherding a client and longtime friend through major financial and life stages.
A financial adviser's clients come in all shapes and sizes, so to speak, with all different life stories. I want to share the story of one of my clients, who also happens to be a close personal friend of mine for over 30 years.
This client is 52 and has a Ph.D. in psychology. He had his own practice and did contract work for criminal lawyers in the Detroit area. He worked with individuals who needed court-ordered evaluations related to DUI cases, and my client was making a nice living doing this work. He was not married (more on this later) and was definitely enjoying life.
Through my client's relationships with the local criminal attorneys, and after one of his friends got a DUI, he learned of an opportunity with a manufacturer of breathalyzer devices to install the devices in cars for people who had DUIs. People typically are under court order to have the devices in their cars and pay a recurring fee monthly to be monitored. My client, who I'll call Hank (not his real name) always had an entrepreneurial spirit and decided to embrace the challenge of this opportunity. 
Hank's first task was to find financing. He was very fortunate to receive the option of obtaining a loan from his father and reached out to me to get my opinion. I told him that obviously the cheaper the financing options available, the better. Hank and his father worked out loan terms for a 5-year payback. Hank dutifully paid back his father, who -- he added -- did not offer him great terms: a 10% interest rate. He told me that one of the proudest days he had, in terms of the business, was the day he paid off the loan from his dad, one year early at four years. 
One of the big discussions we often have with Hank is how and where he should be allocating his dollars. He makes no bones about the fact that he wanted to catch-up on savings, but, at the same time, he needed to invest heavily into his business. Hank put a lot of money into building out the infrastructure, and he realized he could not wear all the hats in the business.
He couldn't be the technician installing the breathalyzers, or do the maintenance of those devices, and do the account billings. He needed good people and management underneath him; so, he hired good people to fill these rolls. Hank is a huge advocate of paying deserving employees well. His people also get great benefits and have the opportunity to contribute to a 401(k). Hank's business is a systems-based business, and a good entrepreneur, like Hank, needed to invest in the process -- much to his success. 
But what did Hank sacrifice in order to gain said success? Market participation and tax-deferred growth opportunity on investments. After so long, Hank has finally seen the end result of his bet. He has a very successful business that is not only growing organically but has also just taken over substantial work orders from a second State. This acquisition alone will add 40% to the number of units under the company's control.
With Hank's business in place, we met and outlined his objectives. The one point he stressed is that he wanted to "catch up." I asked him to define "catch up" so we had the same understanding. Hank said he was in the position to add significant dollars to investments and contribute at a consistent clip; he wants to take the next 10 years to really fill his bucket.
From there we discussed Hank's risk profile. He said that he wanted an aggressive allocation; meaning, heavier reliance on stocks and less on bonds to hedge his risk. 
So, per Hank's request, we designed a portfolio that normally somebody in their 50s would probably not invest in, but one that we'd recommend for clients in their early 30s. (Note: Usually, individuals that are Hank's age have been investing for 20-plus years in different vehicles and have accumulated significant savings for their various aspirations.) It's roughly a 75/25 mix of equity style investment and bond alternatives. 
In striving for Hank's objective, we have automated his incoming payments so he does not need to worry about writing and sending a check. Once funds hit, we slowly build out his allocation. Nobody has a crystal ball, but hopefully the market can just generate market returns over the next 10 years which would put Hank in a great position to make decisions such as selling his business should he so desire.
This brings us to the next part of Hank's story. 
Hank has been happily single for his adult life. He's had a very carefree existence with no need to plan because it's been just him. Hank would tell you that he had not given the topic much thought. 
Then, Hank met a very nice woman. They got engaged and are to be married later this year. I'm very happy for my friend and that he has found someone he wants to spend the rest of his life with. But, as his financial adviser, we needed to examine the planning angle of his good fortune. 
First, Hank's family has assets and his parents are getting up there in age. Hank stands to inherit money at some point. Hank's attorney recommended that they prepare a prenuptial agreement. Hank asked my opinion and I agreed. Now, it has to be said that Hank is beyond generous. He looks out for friends and wants to look out for his fiance, and children, should they should decide to have them. Hank felt that if the parents die within the next few years his inheritance should not be at risk to someone who just showed up. Hank addressed that issue, which can be a thorny subject for obvious reasons, and it apparently went well. 
In addition to the prenuptial agreement, Hank set up a trust and has titled his accounts in the name of the trust to avoid probate when he dies. After his wedding we are going to sit down and look at options and design a plan that makes sense for Hank and his wife. Although he is 52 and in good health, Hank doesn't plan on waiting to get a policy, especially if a family is something they decide create. We will look at several products that provide a death benefit option along with vehicles that will provide tax-deferral. Hank is participating in his company 401(k), so he is actively building his retirement bucket coupled with tax-deferral. Hank is also building out a taxable brokerage account, as we mentioned previously, that will be accessible should the need arise.
When I met with Hank to discuss my using his situation as the topic of this column, he stressed to me his hope of avoiding the pitfalls that young couples often find themselves in, including struggling with large financial obligations and bad money decisions. Thankfully, Hank has some experience and wisdom behind him now along with good people on his side that he often looks to for advice. It's the benefit of age. Hank would tell you that this is not just a great, feel good, story -- but to think of it as a cautionary tale. He's benefited from some luck and being in the right place at the right time, and has definitely taken advantage of what he thought to be great opportunity when presented. 
I'm looking forward to watching the next steps for Hank as his adviser and more importantly, as his friend.
This is a hypothetical situation based on real-life examples. Names and circumstances have been changed. To determine which investments or strategies may be appropriate for you, consult your financial adviser prior to investing.
About the author: Mark Bordelove is president, CEO and co-founder of Bordelove Foster Wealth Management. The opinions voiced in this material are for general information only and are not intended to provide specific advice or recommendations for any individual. Mark Bordelove's securities and advisory services are offered through LPL Financial, a registered investment adviser, member FINRA/SIPC. Mark Bordelove and LPL Financial are not affiliated with Jim Cramer or TheStreet. This material was prepared by Mark Bordelove.