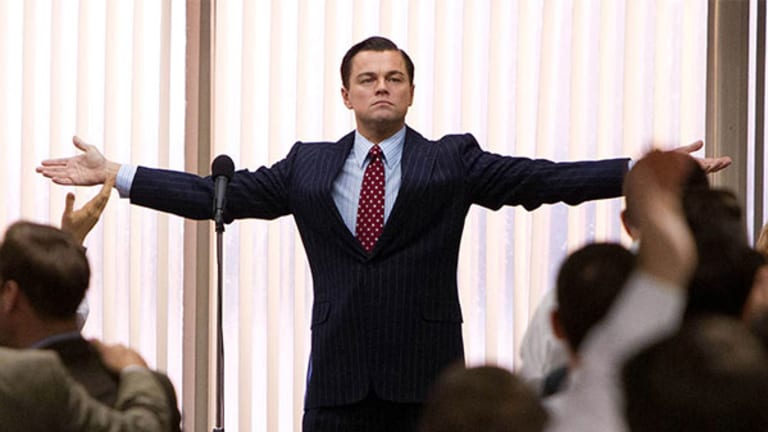 9 Movie Blockbusters Compared With Best Picture Oscar Nominees
The most popular movies in the U.S. are rarely the ones nominated for Best Picture at the Academy Awards. We look at the top-grossing films of 2013 and see how they compare with the Best Picture field.
PORTLAND, Ore. (TheStreet) -- So now that there's an Academy Awards Best Picture nominee among the five top-grossing films of 2013, can we stop talking about the disparity between Oscar nominees and America's favorite films?
Absolutely not.
Just because Alfonso Cuaron's visually immersive Gravity took in more than $200 million in the U.S. alone in 2013 doesn't mean Hollywood is just chucking awards at any blockbuster U.S. moviegoers flock to in large numbers. In fact, the chasm between Hollywood's biggest films and those the Academy of Motion Picture Arts and Sciences nominates for Best Picture is as vast as the void between a marooned astronaut and the nearest half-functioning space station.
That shouldn't surprise anyone who's watched the Academy Awards in recent years or notes the disparity between their nominees and those at the top of the box office earning list or on the guest list at the People's Choice Awards. Since the Oscars were first handed out in 1929, the most popular movie in the country has won Best Picture just 18 times. In the past 40 years, the only box office champions to break through to the Academy voters were The Godfather (1972),Rocky (1974),Kramer vs. Kramer (1979),Rain Man (1988),Forrest Gump (1994),Titanic (1997) andThe Lord of the Rings: The Return of the King (2003). That's right, it's been more than a decade since the last time it happened and the gap hasn't closed much since.
Statistician William Briggs checked box office receipts and found that, since 1940, 16 Best Picture winners made 25% or less of the haul of that year's highest-grossing pictures. It's happened six times in the past decade:Shrek 2's $441 million overshadowed Million Dollar Baby's $100 million in 2004, the final Star Wars installment's $380 million dwarfed Crash's $54 million in 2005, Spider-Man 3 trounced No Country For Old Men by $336 million to $74 million, while the record $750 million raked in by 3-D spectacle Avatar in 2009 more than quadrupled The Hurt Locker's $17 million take in its opening weekend alone. In 2011, the $381 million made by Harry Potter and the Sorcerer's Stone blew away the scant $44 million made by black-and-white, silent Best Picture winner The Artist. Even the $135 million made in the U.S. by last year's Best Picture winner Argo was nowhere close to that of 2013's top-grossing superhero hit The Avengers, which took in a whopping $623 million stateside.
This year's Best Picture has the potential to be just as overwhelmed in budget and box-office numbers as its predecessors. To give you some idea of the crevasse separating Best Picture nominees drifts from box office reality, we've listed the Top 9 highest-grossing films of 2013 and paired them with a corresponding Best Picture nominee. To illustrate just how broad the spectrum was last year, the top-grossing film's take was 176 times that of the lowest-grossing Best Picture nominee. Here are even more examples of the growing divide between moviegoing Americans:

9. The Hobbit: The Desolation Of Smaug
Studio:Warner Brothers
2013 U.S. box office take: $213.4 million
Oscar No. 9. Her
Studio: Warner Brothers
2013 U.S. box office take: $2.3 million
Peter Jackson and Guillermo Del Toro were working with a $225 million budget for the second film in their latest J.R.R. Tolkien trilogy. Keep in mind, this is the second installment of a film based on a 310-page slim novel that most U.S. readers finish in grade school.
Spike Jonze, meanwhile, wrote Her from scratch and had $23 million to make it a reality. That's no small chunk of change, especially when you're casting Joaquin Phoenix as the lead and Scarlett Johansson as the voice of your sentient OS love interest, but it's little more than a 10th of The Hobbit's Smaug-sized budget.
The Hobbit has gone on to make $256.6 million here in the U.S. In wider, post-nomination release in 2014, Her boosted its take to nearly $24 million. Each has fared well, considering their starting points, but this is a fine example of the scaled difference between a star-heavy CGI blockbuster and even a fairly well-funded niche work.

8. Fast & Furious 6
Studio:Universal Studios
2013 U.S. box office take: $239 million
Oscar No. 8. Nebraska
Studio:Paramount
2013 U.S. box office take: $6.4 million
Alexander Payne takes Will Forte and Bruce Dern on the road just as the Fast crew pulls off it.
Because, six films into the franchise, the powers that be decided that all the street racing, cars and curvaceous female leads were limiting the Fast series' audience (while bringing in hundreds of millions, but we digress), this latest installment looked more like a spy/military drama than a dull summer night on a street in a small-city industrial district. Not that it seemed to matter. The combination of Vin Diesel, Paul Walker, The Rock, Ludacris, Michelle Rodriguez, Jordana Brewster, Tyrese, some mixed martial artists and a modicum of hot cars kept this series rolling along at full speed. Even Walker's death isn't stopping a seventh installment.
Meanwhile, Payne continues his tragicomic exploration of American aging that began with About Schmidt in 2002, continued into Sideways in 2004 and got a bit better looking courtesy of George Clooney in 2011's The Descendants. We realize there wouldn't be much of a film or an existential journey if someone just told Bruce Dern's character that everyone in the U.S. gets those magazine company sweepstakes envelopes and just spared him some grief and humiliation, but how many people get to drop Stacey Keach with one punch and make right a series of their life's wrong turns simply by picking up an air compressor along the way?

7. Gravity
Studio: Warner Brothers
2013 U.S. box office take: $254.6 million
Oscar No. 7. Dallas Buyers Club
Studio: Focus Features
2013 U.S. box office take: $100 million
We don't get to see a matchup of Best Picture nominees in this list too often, and it's a fairly rare sight in general.
But this isn't 2009 and Gravity isn't some fill-in for Avatar. The parallels between the special effects of the two films are there, but Gravity wasn't using its three years' worth of visual effects to test the bounds of consumer technology, tack more cash onto the price of a screening or sell televisions with a feature that no one would care about five years later. When Cuaron throws his weight behind a film such as Gravity -- or 2006's Children of Men, or 2001's Y Tu Mama Tambien -- he does so to make a cinematic statement. He does it to advance his art and to leave an indelible stamp on film culture.
This time, it just happened to require a $100 million budget and no less than Sandra Bullock and George Clooney in the film's onscreen roles.
It was a near opposite scenario for Dallas Buyers Club, based on the real-life story of AIDS patient Ron Woodruff and his attempts to get effective, but non-FDA-approved medications to U.S. patients. Shot in less than a month on a $5 million budget, Dallas Buyers' Club kept the metaphor and production to a minimum -- hewing tightly to the story of Woodruff and his compatriots, but eschewing elements as simple as lighting to keep the budget down.
Having these two films even nominated in the same category speaks volumes about the Academy's decision to broaden its field of nominees. Even though Dallas Buyers Club eventually racked up $24.7 million at the box office, it's still a wonder the more populist, real-life story of the two ended up being the small indie film and Cuaron's art film filled the role of big-budget blockbuster.

6. Monsters University
Studio: Disney
2013 U.S. box office take: $268.5 million
Oscar No. 6. Philomena
Studio: The Weinstein Co.
2013 U.S. box office take: $18 million
Now this is more like it.
Disney and Pixar revive a Monsters Inc. franchise that hasn't produced a film in 13 years as both a cash grab and a return to familiar thematic ground. While surprisingly original and wildly successful, it was shut out of the Academy's Best Animated Feature Film category that Pixar had won in seven of the past 10 years -- including last year's win for Brave.
Instead, Pixar-free Disney got the nod for its wildly successful Frozen while Monsters University was given the Cars 2 treatment for going to the well too many times. Even Disney's clout couldn't make it a viable contender, which is what makes Philomena's presence in the Best Picture category all the more impressive.
Though insiders complain about the Weinstein brothers' relentless Oscar campaigning, the consensus is that when they believe strongly enough in one of their films, there's not keeping it off the Academy's list of Oscar nominees. This $12 million British film about a writer (Steve Coogan) who helps a woman (Judi Dench) track down a son taken away from her when she was forced into an Irish convent in the 1950s is a small-percentage shot in the U.S. by just about any film standard, but the Weinsteins see it differently. They believe its story is worthy of a larger audience and that its performances and themes should be considered by more than just art-house crowds sitting in echo chambers.
In the week leading up to the Oscars, Philomena is now the small-room feature at U.S. multiplexes. It has watched its U.S. take swell to $32 million since its Best Picture nomination was announced, which gave it a bigger box-office run than Scary Movie 5, Kick-Ass 2 and teen pop act One Direction's tour documentary. It was a film worth going to bat for, which is an honor that some films with 10 times Philomena's box office numbers can't claim.

5. Man Of Steel
Studio:Warner Brothers
2013 U.S. box office take: $291 million
Oscar No. 5. 12 Years a Slave
Studio:Fox Searchlight
2013 U.S. box office take: $38.1 million
Enter the superheroes.
With the Batman franchise dormant until his Untiled Batman-Superman Project and Ben Affleck makeover in 2016, Warner Brothers decided to lean heavily on its old invincible D.C. Comics hero in 2014 and hope for the best. Man of Steel turned into the top-grossing Superman film of all time, thanks largely to the use of General Zod as a villain, but moviegoers were lukewarm about the new, supposedly flawed take on the son of Jor-El. It was a blockbuster, but not much of a talker.
Contrast that with 12 Years a Slave, which gave the moviegoing public its soul-searching moment and tested the perceptions of race and history held by the audiences who saw it. While viewed through the lens of a free black man kidnapped and sold into slavery, the film is ultimately a window onto the atrocities of U.S. slavery that most slaves endured for far longer than 12 years. It is brutal, unflinching and historically accurate account of Solomon Northup's ordeal that was seen by an audience roughly 13% the size of the one that saw yet another retelling of the Superman myth.
The Academy takes its share of shots for being elitist, but is it the Academy's fault that the U.S. can't wait to see who plays Clark Kent next but can scarcely sit through Solomon Northup's story once without asking why we haven't gotten over it?

4. Despicable Me 2
Studio: Universal
2013 U.S. box office take: $367.9 million
Oscar No. 4. Wolf Of Wall Street
Studio: Paramount
2013 U.S. box office take: $49.5 million
Here's a fun little guessing game for the day. There are two villains. One employs rooms full of minions to defraud everyone around them, live lavishly off of everyone else's losses, bungles a cooperation deal with law enforcement and gets a light prison sentence and a career hosting seminars and having his books adapted by Martin Scorcese as a result. The other turns away from his life of villainy and uses his minions to thwart evil and redeem himself to those around him.
Guess which one is the cartoon.
As we made clear at several points during our investigation of his boiler-room penny-stock operations, Jordan Belfort is an actual human being. A narcissistic, inherently flawed jackass of a human being, but a human nonetheless. But because Scorcese has a knack for making Belfort, Henry Hill and other folks of their ilk into compelling and charming characters -- and because Leonardo DiCaprio is just soaking up all the roles Ray Liotta is too old for -- the moviegoing public had no problem throwing more money at a guy who made a living scamming gullible dupes out of their hard-earned cash.
As for reformed supervillain Gru from Despicable Me, he and his minions may just be one giant toy marketing enterprise, but at least stocky, yellowed followers are cuter than Jonah Hill.

3. Frozen
Studio:Walt Disney Pictures
2013 U.S. box office take: $277 million
Oscar No. 3.American Hustle
Studio: Sony
2012 U.S. box office take: $75.5 million
"Hi, I'm Emma from Scarsdale, and for my audition I'll be performing Let It Go from the Disney movie Frozen."
Directors and theater majors everywhere, be warned: You're going to hear that or something like it a lot over the next decade or so. Idina Menzel has this power over musical theater and would have cemented her place in its pantheon with Defying Gravity and For Good from the Broadway hit Wicked alone. But no, now we have this powerhouse, showstopping number from Disney's unstoppable semi-adaptation of Hans Christian Andersen's The Snow Queen.
One day, a studio is going to tell Andersen, Roald Dahl and the Brothers Grimm's stories as they were meant to be told and let America's children be scared and survive the experience, but Disney has a history of raking in a lot more money by softening their edges. Menzel's number -- which is now trapped in this writer's head as penance for inflicting it on unsuspecting parents yet again -- is just another reminder of how the Disney magic works and why films such as Frozen and Tangled are harnessing it for another generations. These aren't frilly little princess stories: They're delving into human emotion far deeper than their CGI animated gloss suggests and they're doing so in a way that's making them an inherent part of their young audience's lives.
Frozen rightfully got a nomination for Best Animated Feature, but was left out of the Best Picture running. American Hustle, meanwhile, combined the isn't '70s history hilarious approach of last year's Best Picture winner Argo -- which was a whole lot more faithful to its subject matter -- with the arty-accessible direction of Silver Linings Playbook's David O. Russell. The result is one of the few outright comedies to get a Best Picture nod in recent years, but also one of the most lightweight films to do so.
American Hustle has great fun with its corrupt New Jersey politicians, fake Arab sheiks, overconfident mobsters and the FBI's ABSCAM operation in general, even if it comes at the expense of the plot that all of it steamrolls. American Hustle went on to earn more than $144 million in the U.S., while Frozen has taken in $384 million to date. It's immediately clear why: Both are incredibly fun films with layers to spare. A good time is tough to find around Oscar season, which makes the Academy's recognition of each of these films a welcome thaw.

2. Hunger Games: Catching Fire
Studio: Lions Gate Films
2013 U.S. box office take: $400 million
Oscar No. 2. Captain Phillips
Studio: Sony
2012 U.S. box office take: $104.7 million
And back comes the bleakness.
At least Jennifer Lawrence got some laughs in during American Hustle, because her dark, brooding, wooden, young-adult quadrilogy that's playing out like a four-part version of The Running Man is sucking all the joy out of the room. The latest installment of the Hunger Games series is still running in U.S. theaters and has tacked another $23 million onto its total since 2014 began, which suggests the U.S. audience's desire to be bummed out and angry stretches far beyond online message boards and comments fields. Please feel free to use these films and their reluctant hero Katniss Everdeen as a metaphor for whichever injustices you wish.
Captain Phillips, meanwhile, takes our modern-day Jimmy Stewart and puts him and his crewmates into the hands of Somalis in yet another adaptation of real-life events. The 2009 taking of the Maersk Alabama and Capt. Richard Phillips by Somali pirates was no joke, and Tom Hanks doesn't treat it as such. Phillips managed to hold out until military help arrived and ended the incident without any injuries or loss of life, but Phillips came out of the experience near-catatonic and not looking or feeling especially heroic.
Again, there's as much political and historical significance as you'd like to assign to each of these films, but each is basically a depressing, soul-deadening story that ends in tons of bloodshed and little hope for humanity. At least Captain Phillips won't string viewers along for a two-part conclusion.

1. Iron Man 3
Studio: Disney
2013 U.S. box office take: $409 million
Oscar No. 1. Gravity
Studio: Warner Brothers
2012 U.S. box office take: $254.6 million
Ah, yes, the straightest parallel of them all. Here's Robert Downey Jr. again playing Tony Stark, who feels increasingly isolated by his role as a superhero and shaken by the incident in The Avengers that sent him hurtling through the dark void of space to save the ...
You know what? Iron Man has nothing to do with Gravity at all -- except maybe for the scenes in which the Iron Man suit's thrusters fail and Tony Stark is sent hurtling to the ground by gravitational forces. These are the polar opposite films that people think of when they envision the divide between the Academy and real America. This Iron Man sequel is the big-tent summer blockbuster plastered with product placement, written into video game form as it's being produced and packed with enough stars, CGI and changes for the all-important Chinese market to ensure global success.
There isn't a nod to artistic integrity because none is expected of this film. Everyone knows what the Iron Man franchise is about and why it exists: to make robot-suited dudes blow stuff up while the audience buys popcorn, sodas, IMAX tickets, 3-D glasses, the home console game version, the Halloween costume, the action figures and playset and the pre-ordered Blu-ray version with a DVD and digital copy packaged inside.
Do you still want to know why the Academy gives Best Picture nominations to dense, cinematic features such as Gravity and not to a commercial blunderbuss such as Iron Man? Because it's the Academy of Motion Picture Arts and Sciences, not the Academy of Infomercial Arts and Sciences. A giant ad with visual effects and some Jon Favreau jokes thrown in is still an ad, and the only award an ad wants is the dollars you spend buying what it's selling. That's why Iron Man 3 gets nearly $410 million from U.S. moviegoers while Gravity gets far less, but might go home with some hardware for its efforts.
-- Written by Jason Notte in Portland, Ore.
>To contact the writer of this article, click here: Jason Notte.
>To follow the writer on Twitter, go to http://twitter.com/notteham.
>To submit a news tip, send an email to: tips@thestreet.com.
RELATED STORIES:
>>Don't Bother Going To The Movies In Winter
>>10 Best Christmas Movies That Aren't About Christmas
>>No, Christmas Isn't The New Summer Movie Season
Jason Notte is a reporter for TheStreet. His writing has appeared in The New York Times, The Huffington Post, Esquire.com, Time Out New York, the Boston Herald, the Boston Phoenix, the Metro newspaper and the Colorado Springs Independent. He previously served as the political and global affairs editor for Metro U.S., layout editor for Boston Now, assistant news editor for the Herald News of West Paterson, N.J., editor of Go Out! Magazine in Hoboken, N.J., and copy editor and lifestyle editor at the Jersey Journal in Jersey City, N.J.