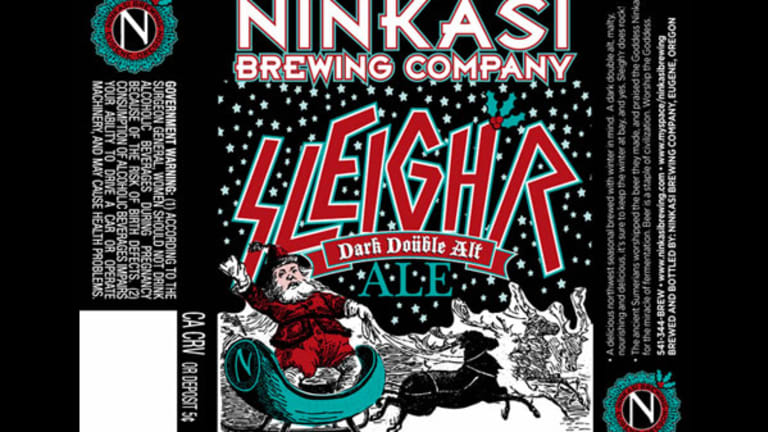 9 Holiday Beers Already On Shelves
Lots of the bigger breweries hold out until November, but here are some hops for those already in the holiday mood.
Lots of the bigger breweries hold out until November, but here are some hops for those already in the holiday mood.
PORTLAND, Ore. (TheStreet) -- To any of you who feel the need to complain about the fact that you're seeing Christmas decorations in your local home and garden stores or holiday wrapping paper in the aisles of your big box store of choice, just zip it.
Compared with beer lovers, who've been seeing winter beers on the shelf since August, the average consumer's concerns about holiday creep sounds trivial. "Oh, the lawn reindeer offend my eyes!" Spare us. Those little baubles are just replacing displays of grills and lawn furniture that absolutely nobody wanted to buy anymore.
Holiday beers are nudging in on shelf space that should rightfully be occupied by Oktoberfest, pumpkin beers, harvest ales and the occasional fresh hop offering -- you know, beers people want to drink around this time of year. But we also realize that brewers have to get these varieties out so there aren't a bunch of spicy ales and reindeer labels hanging around in January when nobody's interested. We're also know that beer shipments that exceed 15 million barrels during peak summer months slowly trickle to about 12 million barrels in December and slightly less during the Thanksgiving holiday season in November, according to the Treasury Department's Alcohol and Tobacco Tax and Trade Bureau.
That said, brewers playing it close to the margins want to be ahead of changing tastes as much as possible. About 92% of American holiday consumers added food and beverages onto their holiday shopping in 2012, but spending on that holiday party cheer rose from $86 per person in 2008 to nearly $110 last year. That's a difference of almost a full case per person, and a whole lot of cash on the table for breweries trying to trudge through a slow season.
Though lots of the bigger breweries, including
Boston Beer
(SAM) - Get Report
and its Samuel Adams brand typically hold off until November before releasing winter favorites, here are nine examples of holiday cheer available this very minute:
Redhook Brewery
Woodinville, Wash.
The
Craft Brewers Association's
(BREW) - Get Report
Redhook Brewery has been cranking out different versions of Winterhook for 29 years. The cozy malt flavor and dark body, however, are as dependable as a good set of flannel pajamas.
This year's version comes in with a whole lot less caramel than last year's offering. Instead, drinkers will get a spicy, roasted rye malt that puts a biscuity buffer between a drinker and this brew's 6% alcohol by volume. With some Centennial hops thrown in for just a bit of bite, Winterhook spends the eve of its 30th birthday slightly feisty, but still mellowed with age.
Mad Elf
Troegs Brewing
Harrisburg, Pa.
For die-hards who count this among their favorite holiday gifts each year, even mid-October is a bit late for its release.
Also see: 10 Fall Seasonal Beers Without Pumpkin>>
Mad Elf's swirly cartoon-elf label hides a ruby red brew that sits like a holiday wine and sparkles like Rudolph's nose. It combines Belgian and German to represent far ends of Pennsylvania's brewing spectrum, but leans more toward the state's traditional side. The Saaz and Hallerstrau hops are bold without delivering an IPA-style bite while the pilsner, munich and chocolate malts provide the smoothness of a stout or dark bock.
The core of its sweetness and strength, though, is a mix of honey and cherries that's Christmas-candy sweet without overdoing it. At 11% ABV, Mad Elf isn't the beer you should squander at a holiday party. Reserve this for sipping by an open fire.
Icelandic Doppelbock
Einstok Brewing
Akureyri, Iceland
As our own
, Einstok is kind of an import. Yes, it's actually brewed in Iceland, but it's the brainchild of a Southern California startup and received some of its first distribution in the Los Angeles area.
That's how you get away with labeling your holiday beer with the image of a Viking sporting Rudolph's nose.
Point of origin aside, this Doppelbock does justice to the style's "liquid bread" heritage. Originally used by Franciscan monks as a means of enduring a fast when solid foods were forbidden, the Doppelbock is a dark, malty, toasty beer with enough alcohol content to give it the flavor and feel of warm pastry. Einstok took that idea a bit further by darkening the brew with roasted, chocolate malt and giving it a mellow finish that belies its 6.7% ABV.
Consider this a bottled version of a Christmas cookie from your friends in Iceland -- and on the West Coast.
Vertical Winter Ale
Tree Brewing
Kewlona, B.C.
Yes, even in British Columbia the beginning of September is a bit early for a winter beer.
Also see: Is All That Halloween Candy and Pumpkin Beer Going To Keep?>>
When the cold breezes start to blow off Okanagan Lake and the Big White and Silver Star ski resorts start cranking up for the seasons, though, Kewlona turns into a winter wonderland. It's a great setting for Tree's Vertical Winter Ale, which is a mild mix of Dark Munich and Crystal Malt with just a bit of Perle and Cascade hops for bite.
The overwhelming flavor, however, is heavy on the caramel and just a bit nutty, with a little hint of vanilla on the finish. It's just shy of a brown ale, but no less sweet and pleasant. At a scant 5% ABV, it's basically made for long
apres ski
sessions at the lodge or long nights by the fire at the lake house.
Winter Ale
Kern River Brewing
Kernville, Calif.
Why release a winter beer Aug. 1?
Why not? This isn't some post-Thanksgiving malt bomb filled with Christmas cookie spices. If anything, Kern River's Winter Ale is a mischaracterized rye whose biscuity flavor and strong hop profile drift into rye IPA territory.
Considering the reason that most breweries release seasonals so early -- to avoid the post-season letdown -- Kern River fans should consider themselves fortunate to have a Winter Ale that could just as easily span all seasons. If they re-released this hop-heavy beast as a Rye IPA in the summer, it would fare just as well.
Sleigh'r
Ninkasi Brewing
Eugene, Ore.
As brash, loud and aggressive as the band that spawned its name, this Teutonic altbier would just as soon punch you in the face as it would give you a Christmas present. It's 7.2% ABV is as hard on the palate and faculties as
War Ensemble
or
Angel Of Death
are on the psyche, but are just as exciting a ride.
Ninkasi calls it a "dark double alt," but this full body warmer is a dark pint of fuel for even the coldest of winter nights. For a laid-back holiday beer, it gets the blood up.
Full Sail Brewing
Hood River, Ore.
This brewery along the Columbia River Gorge has been brewing its Holiday Wassail since 1988, but we got our first taste of this year's batch back in mid-September. Yes, it comes out early, but if you were staring at a snowy Mount Hood at the end of August, your mind would likely turn to holiday beer as well.
This year's Wassail, as with most other editions, combines caramel and dark chocolate malts to give it a deep mahogany color. Meanwhile, European noble hops and Pacific Northwest aroma hops give it a citrusy, slightly bitter finish that's not only typical of regional holiday beers, but somewhat fitting for hoppy Hood River.
10 Barrel Brewing
Bend, Ore.
You'd be surprised how many of the folks working at breweries in Bend started out as ski bums just trying to earn enough of a living to stay on the surrounding slopes all winter.
The brewers at 10 Barrel know enough of these folks to make Pray For Snow less of a cute name for a beer and more of a request of the visitors drinking it. While there is a nice little layer of seven malts making Pray For Snow a pleasant warmer, this year 10 Barrel decided to go heavy on the hops and make this brew nearly as bitter as an imperial IPA.
In Central Oregon, a hoppy holiday beer isn't an oxymoron and is actually appreciated once the snow starts appearing on the surrounding peaks. It could be tough to acclimate to for drinkers who think winter means malt, but just give it a shot. With the hops giving this beer a bitter, pine character akin to the trees lining the slopes, this comes close to being the perfect Oregon ski bum beer.
Deschutes Brewing
Bend, Ore.
For those not in the know, Bend sits along a part of the Deschutes River flanked by the snowy tops of Mount Batchelor and the Sisters peaks, teeming with ski areas and snowshoeing terrain and dotted with pine forest and Christmas tree farms.
It all gets you thinking about Christmas pretty early, and doesn't make you the least bit disappointed to see Jubleale's friendly visage in early September.
Jubleale is a warm hug in a bottle and perhaps the most pleasant, mild holiday ale produced in a region more prone to heavy doses of hops and high alcohol content. Though it's a Strong Ale with a surprising 6.7% ABV, Jubleale goes down deceptively easy thanks to a hefty helping of roasted barley malt that gives it a sweet flavor and deep garnet color.
It only helps that each year's edition bears the world of a local artist and a pleasant, wintry scene. This year, artist Avlis Leumas created a piece featuring an owl who lived along the Deschutes River and and his view of local landmarks, haunts and wildlife -- including one very fortunate nut-purloining mouse. The owl's charity toward the little mammal that would usually serve as dinner is nearly as heartwarming has the beer itself. Note to brewers: Use more cute animals on your holiday labels. It puts the drinker in an even more pleasant mood.
-- Written by Jason Notte in Portland, Ore.
>To contact the writer of this article, click here:
Jason Notte
.
>To follow the writer on Twitter, go to
.
>To submit a news tip, send an email to:
.
RELATED STORIES:
>>Craft Beer Brouhaha Reaches A Head
>>10 Cheapest Beers In The NFL
>>Is All That Halloween Candy And Pumpkin Beer Going To Keep?
Jason Notte is a reporter for TheStreet. His writing has appeared in The New York Times, The Huffington Post, Esquire.com, Time Out New York, the Boston Herald, the Boston Phoenix, the Metro newspaper and the Colorado Springs Independent. He previously served as the political and global affairs editor for Metro U.S., layout editor for Boston Now, assistant news editor for the Herald News of West Paterson, N.J., editor of Go Out! Magazine in Hoboken, N.J., and copy editor and lifestyle editor at the Jersey Journal in Jersey City, N.J.