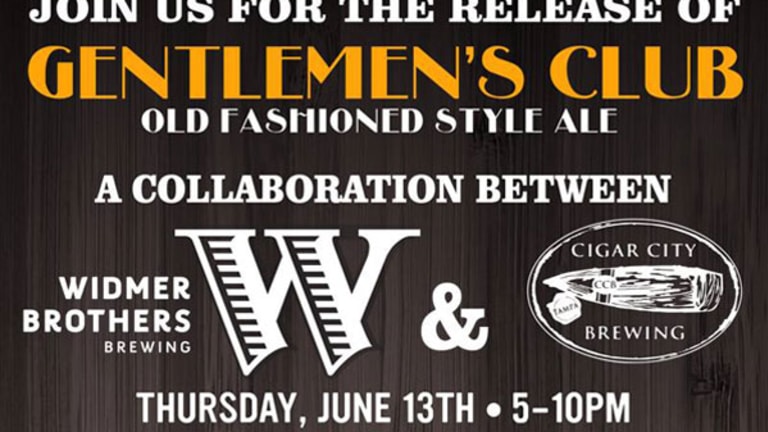 9 Great Collaborative Beers
Every so often, craft brewers team up for special batches of limited-edition brews. Here are nine to seek out.
PORTLAND, Ore. (TheStreet) -- The big breweries behind Anheuser-Busch InBev (BUD) - Get Anheuser-Busch InBev SA/NV Report and MolsonCoors (TAP) - Get Molson Coors Beverage Company Class B Report and SABMiller joint venture Miller Coors aren't beyond experimenting with wheat beers and ciders to increase their market share. They just won't help each other out with those new brews.
The growing contingent of small U.S. brewers known as the craft beer community holds a distinct advantage. While ultimately a bunch of individual businesses that have to look out for their own interests, they tend to share similar stories of origin, growing pains, distribution obstacles, legal and legislative pitfalls and struggles for shelf space. There are a whole lot of shared interests and goals between them, but that results in the occasional shared recipe as well.
It's tough to pinpoint the first craft beer collaboration.
Brooklyn Brewery
brewmaster Garrett Oliver reached out to
Brakspear Brewing
back in the early '90s to create Brooklyn Bridge Bitter. The collaboration that gets the most credit is the 2004 team-up between Boulder, Colo.-based
Avery Brewing
and Santa Rosa, Calif.'s
Russian River Brewing
, each making Belgian-style beers called Salvation before blending the two into their Collaboration Not Litigation ale.
From there, it becomes one jumbled, interconnected mess of shared products and experimental brews. Some brewers including
New Belgium
,
Dogfish Head
,
Elysian
and
Boulevard Brewing
have made collaborations a regular occurrence, pairing up with fellow breweries annually or even more frequently to produce special edition, one-off releases that give fans a taste of what brewers are capable of when they combine forces.
The list of collaboratives already released in 2013 or in production is longer than we have room to address. Instead, we've put together a nine-pack of beer collaborations for you to try at your leisure. This is by no means a definitive list, nor a best-of list. It's just a little something to experiment with until you find dream-team collaborations of your own:
ThreeNinety Bock
Brewers:
Boston Beer
(SAM) - Get Boston Beer Company, Inc. Class A Report
and Roc Brewing
Usually collaborations involve breweries and brewers that exists on somewhat similar footing. In this case, however, Boston Beer and Roc are coming together largely because of the small-business loan the former gave the latter. Boston Beer's
Brewing The American Dream
microlending program has given loans to brewing operations including
Big Shoulders Brewing
in Chicago and
Brooklyn Homebrew
in New York, but this summer it brewed collaborations released with loan partners
MataVeza
in San Francisco and Roc in Rochester N.Y.
While the Boston Tea Party Saison that Boston Beer's Samuel Adams brand made with MataVeza is as light an lovely as a Saison should be -- even using some yerba mate tea for flavoring -- the Samuel Adams/Roc ThreeNinety Bock has those hints of smoke, malt and corn that make everyday Bocks such as Shiner great. An early summer taste of ThreeNinety -- named for the 390 miles between Boston and Rochester -- yielded a sweet-drinking summer beer that goes perfectly with a plate of nachos. It's tough to find outside of Rochester and Boston Beer's Samuel Adams tasting rooms in Boston's Jamaica Plain neighborhood, but it's worth tracking down. Collaboration brews are usually stronger and less drinkable than this, but ThreeNinety Bock would have a great future as a summer six-pack.
Jersey's Finest
Brewers:
Iron Hill Restaurant & Brewery and Flying Fish Brewery
As much as New Jersey is surrounded by great beers in New York and Pennsylvania, its home-grown brews have been lacking since Ballantine closed up shop more than 40 years ago. There are some great holdovers from the first craft beer boom of the late '80s and early '90s, but standouts such as
River Horse
,
Ramstein
and
The Ship Inn
are rare and relative newcomers including
Bolero Snort
,
Kane
and
Cricket Hill
are still finding their footing.
So when long-timers such as Somerdale's
Flying Fish
and Maple Shade's
Iron Hill
get together on a beer, it's worth noting. Arguably the most recognizable faces in New Jersey brewing -- with Iron Hill playing an active role in the Philadelphia-area beer community and Flying Fish's comparatively broad distribution making varieties such as its FU Sandy wheat Jersey craft staples -- having the two work together on an IPA this year bodes well for the state's craft beer contingent.
A taste during a trip to Jersey in January yielded some of the maltiness prevalent in East Coast IPA south of Vermont, but an aggressive three-hop mix that displayed a bit of daring on par with neighbors such as
Victory Brewing
and Dogfish Head brewing to the south. New Jersey has huge growth potential for craft brewers, but more collaborations such as this one would convince its beer lovers that there's an already stable foundation.
Also see: 5 More Hidden Craft Beer Vacation Destinations>>
Lips of Faith
Brewers:
New Belgium and Cigar City
Fort Collins, Colo.-based
New Belgium
has been on shelves and taps in Florida for
a month
and it's already lined up a collaboration with the state's most buzzed-about brewery.
Tampa's
Cigar City
has been around only since 2009, but has drawn the beer industry's attention with innovative mainstays such as its Cuban-style Espresso Brown Ale and Jai Alai IPA as well as medal-winning one-offs such as its Humidor Series IPA aged on Spanish cedar. That makes it somewhat of a natural fit for New Belgium, which has been putting an American spin on Belgian brews since the '90s and has spent the better part of the past decade teaming with other brewers for its Lips of Faith series.
The Cigar City variety looks as if it's going to be a chili beer. New Belgium's Belgian yeast strain gets some help from Anaheim and Marash peppers and a whole lot of citrus hops for a complex, spicy flavor. The brew is then aged on Spanish cedar as a nod to both brewers' love of barrel aging.
While a broad release date hasn't been announced yet, this feisty concoction is worth seeking out.
Cluster's Last Stand
Brewers:
Stone Brewing and Smuttynose Brewing
Usually, when
Stone Brewing
founder Greg Koch rolls into town, you have two options: Hide the hops or prepare to use all of them.
When he came to Portsmouth, N.H., to work on a small batch at the Smuttynose brewery, however, he went a bit lighter in brewing 30 barrels of Cluster's Last Stand, the beer that recreates the original, right-after-Prohibition India Pale Ale recipe brewed by Ballantine that recently resurfaced in Stone cofounder Mitch Steele's book on IPAs.
That's the good news. The bad news is that the clock is ticking. Cluster's Last Stand is available from now through mid-August only in New England and only at
. It's available at the Smuttynose brewery in Portsmouth for $9, but has been selling since July 19 and may not last much longer. Still, it's a good chance to see Smuttynose's original brewery before it closes and the whole operation moves to a farmhouse-style brewing facility in Hampton.
Joint Effort
Brewers:
Redhook Brewery and Hillard's Beer
When your home state legalizes the recreational use of marijuana, there's no point in being subtle if you're going to celebrate it.
The yea vote for legal weed last november got 32-year-old
Redhook
feeling young again. Its brewers left the cozy confines of its suburban home in Woodinville, Wash., and went back to the bustling Ballard neighborhood in Seattle where its business began. While there, they struck up a conversation with their counterparts at Hillard's Beers -- a relative newcomer that opened in 2011 -- and decided to make a beer to celebrate the occasion. Using just enough Zeus, Cascade and Summit hops to give their beer some aroma and adding some hemp seeds to the mix for some nutty flavor, they released Joint Effort in July under bong-shaped taps with a logo shaped like a rolled joint.
Also see: A Summer Six-Pack for Beer Haters>>
Unfortunately, federal law being what it is, Redhook and its multi-state
Craft Brew Alliance
(BREW) - Get Craft Brew Alliance Report
collective can't take it outside Washington State. The feds frown on drug references on beer labels and haven't been shy about flexing muscle since the pot vote, rousting dozens of marijuana dispensaries around the Puget Sound as a friendly reminder of their stance on the matter. For now, Joint Effort is available on tap only in Washington, but it's going into 22-ounce bottles in October. If you can sneak one out of state without The Man catching on, you can keep the good vibes going.
Gentlemen's Club
Brewers:
Widmer Brothers and Cigar City
We haven't mentioned it yet, but beer collaborations are effective marketing tools as well.
In the case of Cigar City, which has relatively limited distribution outside of Florida but is growing rapidly, it's a way to get its brand and beer into the hands of far-flung fans. In
Widmer
's case, it's a chance to work with a dynamic brewer while expanding its own lineup just in time for a big hometown bash.
The two have paired up on a unique Old Ale style that tries its best to emulate an Old Fashioned cocktail. Cherries and oranges blend with Alchemy, Sorachi Ace and Pacifica hops and a few specialty malts into a stiff 9.5% alcohol by volume brew. That mix is aged in bourbon barrels, rye whiskey barrels and new oak spirals to create three unique versions. The bourbon variety comes closest to the flavor of an actual Old Fashioned, but the rye and oak versions have character all to themselves.
Widmer trotted this out for Portland Beer Week in Portland, Ore., in mid-July, but still has it on tap at its Portland Gasthaus. There are 22-ounce bottles of it kicking around the country as well, but its days are numbered.
Urine Trouble
Brewers:
Surly Brewing and 3 Floyds
Occasionally, some moron will attempt to keep a lion, tiger, panther or some other large, wild cat they can in no way control as a pet. This routinely ends poorly for all involved, and if one of the big cats is lucky enough not to get put down, they're likely headed to a zoo or some other form of captivity.
The folks at
Surly Brewing
in Minneapolis and
3 Floyds
in Munster, Ind., got kind of bummed out about that and decided to brew an Imperial IPA to help out their giant, wild feline friends. Urine Trouble is hop-heavy and potent at 9% ABV, but is brewed with a Brett yeast that gives it an earthy flavor and pineapple-cherry pie aroma.
This released back in June and has become a rare commodity along Lake Michigan. If you can find some, though, just know that the proceeds go to help the Wildcat Sanctuary, a preserve for big cats in Sandstone, Minn.
Class of 1988 Barley Wine
Brewers:
Deschutes Brewery, North Coast Brewing and Rogue Ales
In craft brewing, 1988 was kind of a big deal. It was the year
Deschutes Brewery
and
Rogue Ales
opened in Oregon;
North Coast Brewing
,
Gordon Biersch
and
Anderson Valley
opened in California;
Great Lakes Brewing
debuted in Cleveland;
Yards
cropped up in Philadelphia;
Wynkoop
showed up in Colorado,
Gritty McDuff's
hit Portland, Maine; and
Goose Island
first appeared in Chicago.
It was the beginning of the first big wave of what were then known as microbreweries, which was no small deal considering that the brewpubs needed to maintain them were still illegal in 23 states. That any are still around to work together is a testament to the brewers who hung on when the microbrew boom went bust and to craft beer fans who still come back to them after tasting the next big thing.
The Class of '88 Barley Wine made by Deschutes, North Coast and Rogue has its roots in those heady days. It's based the formula found in beer journalist and pioneering homebrewer Fred Eckhardt's
The Essentials of Beer Style
, originally published in 1988. Each brewery produced an interpretation of that style, which was released in April.
There's still some of it kicking around and, considering its hefty 10% ABV, it's advisable that a drinker not even open it until next April. Deschutes is also teaming up with Great Lakes on a Smoked Imperial Porter and with Goose Island, now owned by Budweiser brewer Anheuser-Busch InBev, on a Belgian Strong Golden Ale.
Various brews
Brewers:
Sierra Nevada with Allagash, Ballast Point, Bell's, Cigar City, Firestone Walker, New Glarus, Ninkasi, Oskar Blues, Russian River, 3 Floyds, Victory and "Local brewing community in Asheville, N.C."
Chico, Calif.-based Sierra Nevada is opening an East Coast brewery in Mills River, N.C., next year and in the mood to celebrate. The party, it seems, will include a 12-pack brewed with a doze of its closest friends.
Its "Beer Camp Across America" collaborations play off Sierra's Chico-based beer camps that let fans brew their own concoctions at Sierra Nevada's facilities. This time, however, Sierra is taking it on the road and incorporating the help of some of craft beer's heaviest hitters. Only California's
Firestone Walker
,
Ballast Point
and
Russian River
are anywhere near Sierra's Chico location, and even some of those are a hike. Sierra's journey will take it from Maine (Allagash) to Pennsylvania (
Victory
) to Kalamazoo, Mich. (
Bell's
), to Tampa (Cigar City), to Wisconsin (
New Glarus
), to Indiana (3 Floyds), to Oregon (
Ninkasi
), to Colorado (Oskar Blues) and finally to Asheville, N.C. (TBA).
Where can you pick up the results? Nowhere until next summer, when the 12-pack will make the rounds at summer beer festivals. Sorry for the suspense, but if it makes you feel any better we're just as anxious to see how it turns out.
-- Written by Jason Notte in Portland, Ore.
>To contact the writer of this article, click here:
Jason Notte
.
>To follow the writer on Twitter, go to
.
>To submit a news tip, send an email to:
.
RELATED STORIES:
>>How Tapping The Jewish Beer Market Begat A Plan
>>Sierra Nevada CEO Makes East Coast Beer Run
>>Craft Brew Founder Widmer Savors Results
Jason Notte is a reporter for TheStreet. His writing has appeared in The New York Times, The Huffington Post, Esquire.com, Time Out New York, the Boston Herald, the Boston Phoenix, the Metro newspaper and the Colorado Springs Independent. He previously served as the political and global affairs editor for Metro U.S., layout editor for Boston Now, assistant news editor for the Herald News of West Paterson, N.J., editor of Go Out! Magazine in Hoboken, N.J., and copy editor and lifestyle editor at the Jersey Journal in Jersey City, N.J.