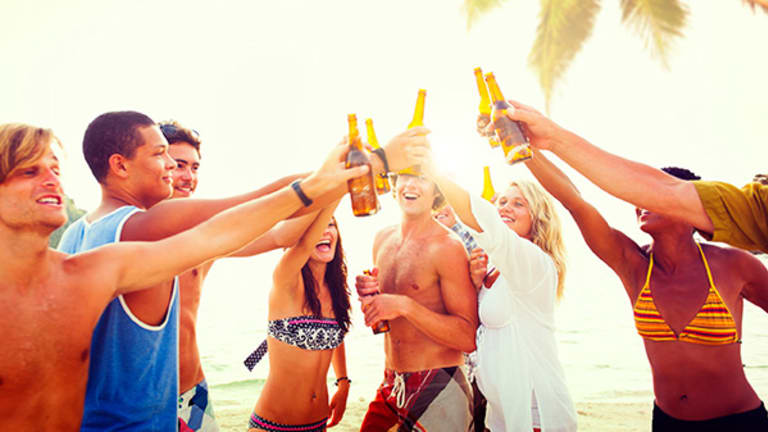 Publish date:
9 Best Mobile Apps to Bring on Spring Break
If you're bound for a spring break for the ages, bring these mobile app along for the ride. They can prevent you from blowing your budget.
If you're bound for a spring break for the ages, bring these mobile app along for the ride. They can prevent you from blowing your budget.
Spring Break is upon us, with armies of college kids descending upon dependable vacation haunts like Fort Lauderdale, Cabo San Lucas and South Padre Island, Texas, among other beer-goggled favorites.
When you go, collegians, bring cash and travel in budget-conscious bunches (Miami hotels, for example, go for over $200 per night during peak Spring Break season.) And don't forget to load up some highly useful mobile apps on your smartphone before you hit the airport, bus station or the back seat of your roommate's Kia Soul. These digital tools can keep you from blowing your budget.
A handy mobile app can, indeed, spell the difference between a great spring break and a regrettable one. To avoid the latter, here are the best apps you can download on your trip to college vacation nirvana. 
1. Viber: "Use it to make free audio phone and video calls and free texting," says Patti Reddi, a travel expert and writer for The Savvy Globetrotter. "It's especially useful if you're going on spring break to another country and need to call home."
2. TripIt: "TripIt is a travel itinerary app that helps you organize your travel plans in one place," Reddi says. "TripIt takes all your travel confirmation emails (hotel, airline, car rental and restaurants) and creates a detailed daily itinerary. Itineraries can be accessed anytime on any device, even offline."
3. PackPoint: "PackPoint is a free mobile app that creates a customized packing list for your trip based on the city you're going to travel to, the departure date, the number of nights you'll be staying, the weather and any activities planned during your trip," notes Reddi. "The list also includes travel essentials and toiletries and you can also add your own additional items." By packing fewer items and more efficiently, you can avoid hefty checked baggage and overweight fees.
4. Uber or Lyft: "These are musts for getting around, especially if you're drinking," Reddi says. "Since the ride is charged to your credit card, you don't have to worry about having enough cash."
5.Urgent.ly: Urgent.ly bills itself as "America's leading on-demand roadside assistance service." Here's the company's pitch to you party-bound spring breakers. "Students are finally ready to take a break from studying and hit the road for a spring break trip," the company says. "The last thing they want to deal with is a broken down vehicle which will delay them or cancel their trip altogether. Urgent.ly can get you back on the road fast so you can spend more time lounging on the beach instead of stranded on the side of the road."
6. FireChat: This free app is a big help if you're off the grid but still need to communicate between friends, family, medical professionals and locals, even if no Internet connection or cellular networks are available. "FireChat works without a data plan and where there is no Internet connection or cellular phone coverage," the company tells TheStreet. "It even works on a plane or on a cruise ship- perfect for spring breakers. You can send private messages to one person at a time and these messages are encrypted. Only the sender and the recipient can read the content of the message."

7. ringID: If you find yourself in a remote location, but still want to pound out some music and check in regularly on social networks, you'll need a high-bandwidth hook-up. That's where ringID can help. According to company spokespeople, ringID is the all-in-one app combining the most used features from social networks, as well as HD quality video, music sharing and streaming, all operating fully at low bandwidths. "This makes the app ideal for those traveling to destinations with limited Internet connectivity or for people partying in crowded areas," ringID officials say.
8. Wanderu: If you're on the road, or looking to get on the open road, Wanderu allows users to easily find and book the cheapest deals on bus and train travel. "As the majority of students travel on a budget, Wanderu is a very useful travel app to have when planning for spring break because it searches through thousands of available options from all of the largest bus and train carriers in North America," Wanderu says in an email to TheStreet. "The Wanderu app allows students to book their tickets even at the very last minute and still get an awesome travel deal and it will even remind them of an upcoming trip ahead of time, so that they don't miss their bus or train."
9. HotelTonight: Maybe you don't want to spend $200-or-more for a Miami hotel room. But if you make that decision when you're already on South Beach, HotelTonight can find you a replacement room in hurry. "When hotels have unsold rooms, they load them on the app, giving users hard-to-beat deals," the company says. "It also gives people the flexibility to play it by ear, while knowing they'll get a great price and a great place to stay."
There are abundant apps available - many of them for free - for the spring break wanderlust crowd. Pick a few of the above, even all of them, and add them to your smart phone for your trip.
It might be the best decision you make all week.
But based on spring break's party-hardy history that was built upon bad decisions, that may not be saying much.