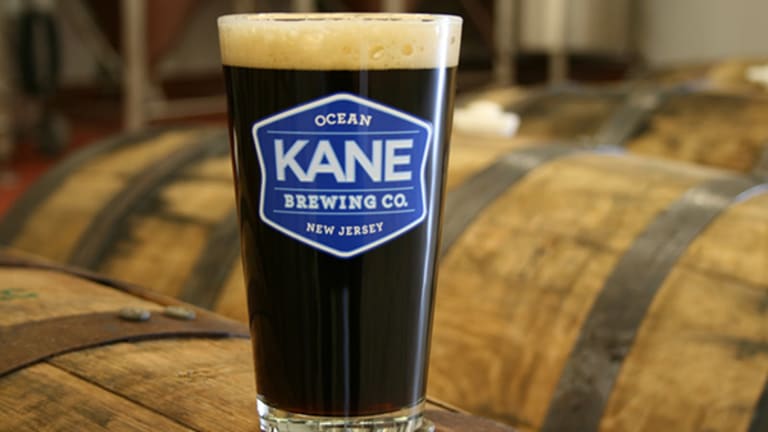 10 Beers to Try Before Summer 2014 Ends
Craft beer knows it's July, but the end of this month is typically the end of their summer beer schedule. These refreshing varieties are fading fast.
Update, 7/30/2014: 10 Barrel Brewing Company has issued a voluntary recall for its Swill radler that was featured in this list. A secondary fermentation led to over-carbonation and the potential for exploding bottles. Contact and refund information can be found on the brewery's Facebook page.
PORTLAND, Ore. (TheStreet) -- There are weeks full of hot, sunny vacation days between now and Labor Day, but on the beer calendar the summer is almost over.
Summer beer styles are fading slowly out of the beer aisle as brewers get ready for fall and try to time demand down to that last day of labor day vacation. According to the Treasury Department's Alcohol and Tobacco Tax and Trade Bureau, July is the last of the peak summer months for beer sales. Shipments that fester around 14 million to 15 million barrels through spring suddenly jump to about 18.5 million barrels in May and June before settling in a 18 million or so in July. By August, it's down to roughly 17 million barrels before collapsing to as low as 13.6 million by December.
Brewers realize that you'll drink summer beers as long as you have that warm sun and vacation time to look forward to. That's why summer styles will show up in late March or early April when drinkers are just starting to thaw out from their winter doldrums. When back-to-school shopping begins, brewers who put a lot of their seasonal production toward the front end just to make sure there isn't a whole bunch of summer ale lingering around after Labor Day are rewarded as supply shrinks with demand.
With 3,000 brewers throughout the U.S., that's a whole lot of summer beer to get through before the pumpkin ales and malty fall varieties start showing up in August. We've spent the whole summer tracking summer beer trends and getting a sense of what styles are selling and have discovered that Anheuser-Busch InBev and SABMiller/MolsonCoors joint venture MillerCoors have just as much invested in seasonal beers these days as smaller brewers including the Craft Brew Alliance (Redhook, Widmer Brother and Kona) and Boston Beer (Samuel Adams, Traveler, Angry Orchard).
As the sun sets on this summer's seasonal beers, we offer up 10 that you should try before your grocery store starts stocking backpacks and notebooks in the seasonal aisle and before the beer aisle starts looking like the refrigerator at a Halloween party:

Homefront IPA
Left Hand Brewing (Longmont, Colo.), Cigar City (Tampa, Fla.), Perennial Artisan Ales (St. Louis), Sly Fox (Phoenixville, Pa.), St. Arnold's (Houston), 21st Amendment (San Francisco), Palmetto (Charleston, S.C.), Maui (Lahaina, Hawaii) and Stone (San Diego)
Sure, multinational brewers including A-B InBev and SABMiller swaddle their beers in red, white and blue every summer under the pretense of helping U.S. troops. But what do small U.S. brewers do to earn their stripes?
As it turns out, quite a bit. In 2011, Fremont Brewing in Seattle and Center Of The Universe Brewing in Ashland, Va., came up with the idea to make a summery American IPA infused with orange zest and aged on Louisville Slugger maple baseball bats. They donated the proceeds to Operation Homefront, which offers assistance to families of military members and wounded service men and women and raised more than $18,000 for the nonprofit last year alone.
This year, that citrusy IPA was brewed by 11 breweries with donations from Hops Direct (hops), Cargill (malt), OI and Tricor Braun (bottles), DWS (labels) and Moxie Sozo (label design). Available in 22-ounce "bomber" bottles or kegs, Homefront IPA is the kind of U.S.-made summer seasonal that should be in every flag-laden beer vessel around this time of year. Kudos to the small brewers for not only doing this the right way, but giving drinkers a refreshing, thirst-quenching, 6.6% alcohol-by-volume IPA to go with the cause and patriotic color scheme.

Easy Jack
Firestone Walker Brewing (Paso Robles, Calif.)
There are those who argue that a low-alcohol IPA isn't much of an IPA at all. They're entitled to that opinion -- especially since it leaves a lot more hoppy, easy-drinking beer for the rest of us.
Low-alcohol session IPA is not only becoming a summer favorite, but it's also making its way into many brewers' year-round IPA offerings.
Firestone Walker's higher-octane Union Jack IPA and Wookey Jack Cascadian Dark IPA are hop forward and heavy hitting at roughly 8% ABV. The more limited, summery Easy Jack is still dry hopped with fistfuls of Bavarian, New Zealand and U.S. Mosaic hops, but it's a far more manageable 4.5% ABV. That makes for much easier summer sipping and makes it more likely that a drinker won't just stop at one. IPA purists consider it blasphemy, but they'll be calling it an early night while session IPA fans make the most of those late sunsets.

Hell Or High Watermelon
21st Amendment (San Francisco)
There are people out there who not only don't like fruit beers, but will go to great lengths to tell you how sacrilegious a concept they believe it to be and how superior they are for only drinking "real beer." These are among the worst beer drinkers you will ever meet in your lifetime, but at least they won't down your entire six-pack of this lovely summer concoction.
Also see: Beer Mailbag: New Belgium, Woodchuck Send Off Summer
Also see: Beer Mailbag: New Belgium, Woodchuck Send Off Summer>>
Though usually the domain of brewpubs that stick foot-long wedges of watermelon into pint glasses of hefeweizen and call it a special, watermelon beer has a bit of a bad reputation in beer circles. For wheat beer fans and those who prefer refreshment over fistfuls of hops, 21st Amendment's watermelon wheat is a smooth, malty alternative to more bitter summer beers and has the same light sweetness of a watermelon slice. At only 4.9% ABV, it's just as enjoyable in multiple servings.

San Diego Pale Ale 394
AleSmith Brewing (San Diego)
This isn't an easy one to recommend.
San Diego Padres Hall of Famer Tony Gwynn was one of the best pure hitters in Major League Baseball history and became a regular fixture at the hall's induction ceremonies in Cooperstown, N.Y., after his own induction in 2007. As U-T San Diego tells it, Gwynn wanted a light, refreshing beer that he could bring up to the induction ceremonies every year and collaborated with AleSmith owner and brewmaster Peter Zien on this beer.
They concocted this slightly bitter, aromatic pale ale just for the trip and named it for the .394 batting average Gwynn posted during the strike-shortened 1994 season. The beer was released at the Padres Beer Fest in San Diego on June 6 and its still on tap at Petco Park.
Ten days later, Gwynn died from complications associated with salivary gland cancer. He was just 54 years old. His legacy as a player made him a baseball legend, but the beer he left behind gave fans one final way to pay tribute to him during his last summer.

Sporting KC Championship Ale
Boulevard Brewing (Kansas City, Mo.)
Back in April, we took note of the growing number of Major League Soccer beer partnerships with small brewers. About a month later, the reigning MLS champions made our five-pack an even six.
After agreeing to a five-year beer sponsorship deal with Kansas City's Boulevard Brewing, Sporting KC immediately teamed up on a 6.2% ABV saison to celebrate its 2013 MLS Cup win. Using German Mandarina Bavaria hops to give it some citrus flavor, Boulevard created a refreshingly fizzy summer beer that's far more drinkable than its 750 milliliter wine bottle would indicate.
So why drink it now? Not only is the saison style suited for hot midsummer match-day drinking -- it was originally brewed as a beer for Belgian farmhands -- but there isn't a whole lot of it kicking around. Boulevard released 2,000 cases of it in the Kansas City area and stopped production there. Best of luck tracking some down.

Swill
10 Barrel Brewing (Bend, Ore.)
It's hard to call the mix of citrusy soda and beer known as radler or shandy a secret when MillerCoors' Leinenkugel Summer Shandy is one of the best-selling summer beers in the country. But as Boston Beer's Traveler brand and others are quick to remind us, only a small segment of the beer-drinking public actually knows what a shandy or radler is.
Also see: Session IPA Is Taking Over Summer Beer
Also see: Session IPA Is Taking Over Summer Beer>>
That means even fewer would have any idea what an American Radler would look like, which puts fans of Swill in a great position. Not to be confused with the mineral water sludge pitched by Bill Murray on Saturday Night Live 40 years ago, 10 Barrel's Swill is a combination of light Berliner Weisse wheat beer and lemon soda reminiscent of Austria's Steigl Radler, but with slightly more beer flavor and alcohol content at 4.5%.
As a result, this wonderful beer soda has a sales window that's best described as cruel. This year's batch rolled out in May and those able to grab some in August should consider themselves fortunate. Bend is a huge ski community, and the sooner that fall and winter beers such as 10 Barrel's Oktoberfest and Pray For Snow can get on shelves, the better everyone feels.

Ripple
Kane Brewing (Ocean Township, N.J.)
Along with Carton Brewing in Atlantic Highlands, Kane has done an excellent job of bringing better beer to the Jersey Shore in recent years. While the masses fist pump in Seaside Heights with bottles of Corona or Michelob Ultra, their parents enjoy the silence just up the coast with some easy-drinking beers such as this one.
At just 4.6% alcohol, Ripple is as benign as anything a beachgoer will pull out of a 30-pack of light lager. Throw some Nelson Sauvin hops from New Zealand into the mix for some slight wine characteristics, toss in some Simcoe, Amarillo and Citra hops for some aroma and citrus flavor during the dry hop and put it in a growler to take back to the shore house and you have a nice, sedate nightcap for that perfect bayside sunset.
Let the amateurs tear it up by the boardwalk. A refined shore dweller knows how to appreciate the subtleties of their vacation paradise. Kane's Ripple is just subtle enough not to get in the way of a good time.

Road Trip
Sweetwater Brewing (Atlanta)
Though it's argued that ale will keep dominating craft beer simply because brewers can make more of it in the time it takes to brew one batch of lager, an increasing number of brewers have found that lager is the future of craft beer.
What's the point of calling yourself a "craft" brewer if you aren't honing that craft on some of the most difficult beers to make consistently? The folks at SweetWater threw the citrus-tinged Take Two Pils into their regular rotation this summer, but it's a baby step away from their 420 Pale Ale. Their Road Trip pilsner introduced in April, however, aims right for the South's Bud-Miller-Coors drinkers with a light body, slightly off-yellow Vienna malt coloration and a spicy hop finish akin to light lager. It's a Bohemian lager with a bit of creativity behind it, and it's a small brewer's secret weapon when wooing the uninitiated. We saw Colorado's New Belgium Brewing release its similar Summer Helles to rave reviews in late spring, and there was no question who that beer was targeting with an Anheuser-Busch plant just down the road in Fort Collins.
SweetWater's Road Trip is similarly all-inclusive, but still shows that even the world's most popular beer style has plenty of room for tweaks and improvement.

All-Day IPA
Founders Brewing (Grand Rapids, Mich.)
Founders' Rubaeus raspberry beer disappears at the end of August. Its Devil Dancer Triple IPA was only available in June.
All-Day IPA, by contrast, is available year-round for the first time in 2014. So why recommend this over those other two short timers? The reasons are twofold:
1. This is a 4.7% ABV IPA that was released in a 15-pack of cans for the first time this spring. There really isn't a better time to enjoy a beer like that than during the hottest months of the year.
2. Nothing is a given in the beer industry. For various reasons, this brewery routinely changes the release window on beers, including its Breakfast Stout winter seasonal, gives varieties such as its Kentucky Bourbon Stout a pass for entire years at a time and lops a longtime summer seasonal -- the cherry-flavored Cerise -- out of the rotation altogether. It's also beholden to forces beyond its control: like a hop shortage in 2012 that held all-day IPA to a limited run that year and prevented it from reaching all of Founders' markets until February of last year.
Every brewery goes through similar upheaval and changes. We wouldn't mention it in Founders' case if the beer wasn't so good. All-Day IPA's blend Simcoe and Amarillo hops made it Founders' most popular beer and a worthy 15-pack opponent to the big brewers' summer offerings. Founders has All-Day IPA on its availability calendar through December and hasn't indicated anything to the contrary. Based on this beer's track record, however, we'd advise enjoying it while it's still around.
Superfuzz Blood Orange Pale
Elysian Brewing (Seattle)

One of the great tragedies of a creative brewery is the fleeting nature of its seasonal offerings.
Seattle's Elysian makes this tart blend of blood orange and Amarillo, Cascade and Citra hops as a radler without the soda and a witbier without the wheat. It's fruity, it's refreshing and it's all baked right into the beer. It's one of the purest citrusy summer beers available, but it's gone long before summer ends.
By the time fans gather under the Space Needle for the Bumbershoot Music Festival on Labor Day weekend, Superfuzz is long gone. It appears in April only to fade away by the end of July. We'd love to blame it on demand, but there's no lack of it for this beer or many of Elysian's other seasonals.
It's just that Elysian's brewing calendar is daunting, at best. Its Split Shot espresso stout collaboration with Stumptown Roasters had a brief window between February and April before it was ushered out. When Superfuzz leaves, Elysian has no fewer than three pumpkin ales waiting to take its place. It has a "manic" IPA series that's getting ready to introduce a new beer by summer's end. None of that includes the one-off batches Elysian produces at its five Seattle-area pubs.
Every so often, Elysian hears the pleas of its drinkers and adds a beer to its year-round rotation -- as it did with its Loser Pale Ale collaboration with Sub-Pop Records last year -- but Elysian's specialty beers tend to just be a tasty way to mark the seasons. These last, precious weeks of Superfuzz are just a reminder that the end of summer is approaching quickly. Enjoy the season and its beers while you can.
-- Written by Jason Notte in Portland, Ore.
>To contact the writer of this article, click here: Jason Notte.
>To follow the writer on Twitter, go to http://twitter.com/notteham.
>To submit a news tip, send an email to: tips@thestreet.com.
RELATED STORIES:
>>What A Diageo Sale Would Mean For U.S. Beer
>>Beer Mailbag: Woodchuck, New Belgium Send Off Summer
>>5 Most American Beer Brewers
Jason Notte is a reporter for TheStreet. His writing has appeared in The New York Times, The Huffington Post, Esquire.com, Time Out New York, the Boston Herald, the Boston Phoenix, the Metro newspaper and the Colorado Springs Independent. He previously served as the political and global affairs editor for Metro U.S., layout editor for Boston Now, assistant news editor for the Herald News of West Paterson, N.J., editor of Go Out! Magazine in Hoboken, N.J., and copy editor and lifestyle editor at the Jersey Journal in Jersey City, N.J.