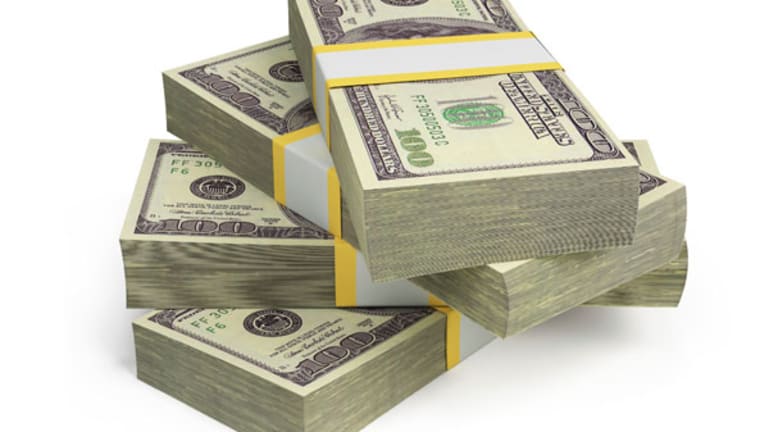 8 Value Stocks Investors Are Buying
With U.S. stocks doubling in two years, fund managers are now more selective.
BOSTON (TheStreet) -- Value investors including Warren Buffett are proving there are still deals out in the market after his $9.7 billion purchase of Lubrizol( LZ) announced Monday.
Mark Roach, portfolio manager at Jersey City, N.J.-based
, was also a buyer of Lubrizol -- back in March 2009, when shares traded at $34. "I guess Warren Buffett thinks it's a value at $135. Great, he can have it at $135," Roach says. "He's got his methodology, but from our standpoint, we were thinking to ourselves that it was cheap across all metrics back at $34 in 2009."
Roach, like most investors, isn't armed with the same
that Buffett and
Berkshire Hathaway
(BRK.B) - Get Berkshire Hathaway Inc. Class B Report
brandish. Fewer investors are willing to buy an entire company at a 30% premium like Buffett did with
. Instead, after a two-year bull market that has seen the
S&P 500
nearly double, value investors have become even more selective as stock pickers in their pursuit of true value. Value investors tend to buy shares of companies with low price-to-earnings ratios, among other gauges. Growth investors tend to look for those with above-average earnings growth.
Valuations aren't anywhere near the lows of two years ago. It has been more difficult for value investors to pick and choose since August, when the
Federal Reserve
began offering hints of a second round of quantitative easing, known as
. After the QE2 news hit, U.S. indices have been on an escalator ride up, offering value investors few pullbacks on which to capitalize.
"We were like kids in a candy store in March of 2009," Roach says. "You threw a dart and you were up 100% a year later. We had more ideas than we had cash. Now it's a true stock pickers' market. We're going to look at 10 to 15 stocks and we'll find one name. Nothing is screaming 'buy.' Clearly, more intensive work needs to be done on these names to be sure you're truly getting that value. But they're certainly out there."
Roach notes that over the last year, stocks with high price-to-earnings ratios did just as well as those with low multiples. "But in 2011, you're starting to see that divergence where what you pay for those assets starts to really matter."
Over the past year, small- and mid-cap growth funds have easily outpaced their value counterparts, according to data collected by Morningstar. In addition, large-cap growth fund returns beat those of large value funds. Since Jan. 1, though, mid-cap and large-cap value funds have been among the best performers as a series of devastating global events have investors turning more defensive.
Political uprisings in the Middle East caused a spike in oil prices in February, which first showed cracks in the bull market. The crisis in Japan following Friday's 9.0-magnitude earthquake has precipitated a greater selloff. The S&P 500, which had climbed 28% from Sept. 1 through Feb. 18, is down 5% since. The human toll is tragic, and investors seem to see nothing but bleakness.
"It's a horrendous time for that country," says John Buckingham, chief investment officer with Al Frank Asset Management, referring to Japan's crisis. "Businesses will go on in Japan. Ultimately, there will be rebuilding, and things will get to 'normal.' It's precisely correct to say there are still opportunities out there."
The biggest pitfall in value investing is a so-called value trap, when a company whose shares have tumbled is mistaken for a value stock but is actually in deep trouble. To help investors, four value-fund managers including Roach and Buckingham offer some of their best picks in their portfolios, detailed on the following pages.
Mark Roach, Dreman Value Management
Mark Roach, managing director and portfolio manager of Dreman's small- and mid-cap products, says his firm's investment philosophy steers it toward stocks that have fallen out of favor with most investors. The problem, he says, is that across his list of stocks that are cheap to the market historically, most have already had big moves.
Yet Roach has stayed focused on fundamentals and he urges investors to do the same. "Understand what you're buying and what you're paying for," he says. "Make sure they're not too over-levered. If rates move up, you don't want to have a lot of that leverage."
The
Dreman Contrarian Small Cap Value Fund
(DRSVX) - Get Foundry Partners SmallCap Val Inv Report
has about $131 million in total assets spread across 107 holdings, with the most allocated towards financials and industrials. The
Dreman Contrarian Mid Cap Value Fund
( DRMVX) has about $1 million in assets and 68 holdings, weighted most towards financials and information technology.
The fund has held onto energy and materials names because of the big inflation push, but Roach says he has been selling more of its oil assets and moving towards natural gas plays, which he says offer good opportunities at better valuations.
One name on his list is
Ultra Petroleum
undefined
, a Houston-based independent oil and gas company with operations primarily in Wyoming and Pennsylvania. Shares are down 6% over the past 12 months and have recovered only 44% since the March 2009 low.
"This is a mid-cap stock that has gone nowhere since the end of 2009," Roach says. "This has been a stock that has tremendous ability with 96% of assets which are natural gas, but a lot of analysts are shunning natural gas plays. Long term, it has good assets with long reserve life and it is cheap across all metrics. They generate a good amount of cash flow. But it has no oil exposure, which has put it in the penalty box."
In the technology space, Roach likes
Lexmark International
(LXK)
, the Lexington, Ky.-based staple technology company that manufactures and supplies printers, ink and other solutions for offices and home. Over the past year, Lexmark shares are essentially flat.
"This is an all-but-forgotten tech name and it's been a favorite for people to bash on," Roach notes. "It's certainly not the flash semiconductor or high flying cloud computing name. But from a valuation perspective, this is a name we think can offer some decent returns going forward. It's not trading at a premium to itself. It's one of the cheapest in its group and it offers a good brand name."
Mark Schultz, MTB Mid-Cap Growth Fund
Two years ago, Schultz, portfolio manager at the Baltimore-based
MTB Mid-Cap Growth Fund
(AMCRX)
, told his investment team that they were seeing stocks of very good companies cheaper than they would ever see them again in their careers.
"Not enough people were stepping up to avail themselves of the opportunities that the market was giving them," Schultz recalls. "Looking back now, it's astonishing. Things are much more rationally valued now than they were then. Stock picking is much more challenging now. Back then, people were leaving $100 bills on the sidewalk."
The MTB Mid-Cap Growth Fund has roughly 80 holdings with assets totaling $220 million as of Dec. 31. Most of the fund's allocation is toward technology and industrials. The fund's top holdings include
Coach
(COH)
and
Altera
(ALTR) - Get Altair Engineering Inc. Class A Report
, according to the latest fact sheet.
Schultz admits it has become tougher now two years later to find attractive picks, but he says it's not impossible. Having bought into
Lululemon Athletica
(LULU) - Get Lululemon Athletica Inc Report
at the bottom, he doesn't expect a stock like that to rise tenfold.
CBS
(CBS) - Get CBS Corporation Class B Report
, despite a 49% rally over the last six months, is one of Schultz's highlighted picks. CBS is one of the fund's largest holdings, and Schultz says he's still a buyer at this point.
"CBS is exposed to the short-cycle recovery in ad spending," Schultz says, noting that the company is still working to monetize the value of its content. "It's a very strong earnings and cash flow story trading at a reasonable current multiple."
Schultz also likes financial services provider
Raymond James
(RJF) - Get Raymond James Financial, Inc. Report
. Shares of Raymond James are up nearly 45% over the last six months, but Schultz still sees upside potential.
"This is a play on the retail investor reengaging in the market," he says. "We see that credit is improving, so it's not as big a drag on results or investor psychology. There is very high recurring revenue, so the revenue stream isn't overly dependent on trading activity."
In terms of valuation, Raymond James is trading around the market multiple, Schultz says, which is "quite low for the capital markets."
Don Cleven, Touchstone Mid Cap Value Fund
Cleven, portfolio manager of the
Touchstone Mid Cap Value Fund
(TCVAX) - Get Touchstone Mid Cap Value Fund A Report
, says he has no doubt investors are in a different market environment now.
"In 2009, every stock was inexpensive and investors needed to prioritize between an abundance of opportunities," Cleven says. "Today, investors need to be more selective. The question we ask of every stock is how much of the recovery has already been discounted in the valuation. Although many stocks are fully discounting a recovery, we're still finding compelling undervalued investment ideas."
The Touchstone Mid Cap Value Fund has 74 holdings with assets totaling $46.2 million as of Dec. 31, according to the fund's latest fact sheet. About 99% of the portfolio was in equities with most of the allocation devoted to financials and industrials as of Dec. 31. The fund's top holdings include
Zions Bancorp
(ZION) - Get Zions Bancorporation, N.A. Report
,
Nucor
(NUE) - Get Nucor Corporation Report
and
Fluor
(FLR) - Get Fluor Corporation Report
, according to the latest fact sheet.
Although the market has appreciated dramatically from the March 2009 low, Cleven says he is finding buying opportunities particularly in late-cycle stocks. One of the keys to his investment philosophy is to have more upside potential than downside risk.
"Downside protection is a critical component of our investment philosophy," Cleven says. "We wait for bad things to happen to good companies. We then employ rigorous fundamental analysis to determine whether or not the negative issue impacting the stock is transitory or the beginning of a negative secular trend."
Cleven offers investors two stocks the fund owns that pay dividends and offer downside protection during the wait for the later cycle volumes to improve. The first,
Cintas
(CTAS) - Get Cintas Corporation Report
, is the largest domestic uniform rental company. This play is tied to employment, which is beginning to show signs of life in the U.S.
"Not surprisingly, the difficult employment environment has weighed on earnings," Cleven says. As volumes slowly improve, incremental margins for Cintas are huge, he says. For example, he says it won't cost Cintas more to load more uniforms on a single truck if a company they service hires more people. "It's pretty much pure profit," he adds.
Republic Services
(RSG) - Get Republic Services, Inc. Report
, which is the second largest player in solid waste management in the U.S., is another of Cleven's late-cycle plays that should also benefit from stronger incremental margins.
"Waste volumes are still 20% below pre-recessionary levels. As the economy continues to improve, waste volumes will rebound and drive strong incremental margins," Cleven says. "On our normalized earnings number, we think Republic is worth $39."
John Buckingham, Al Frank Asset Management
John Buckingham, chief investment officer with Al Frank Asset Management, says that anyone who tells you that it's easier today than it was two years ago is lying.
"It could have been a monkey throwing darts two years ago. The crappier the company, the better, in terms of returns from that point forward," Buckingham says. "Absolutely, it's much more difficult today to find value. But that does not mean there isn't value out there."
Designed for long-term-oriented investors, the
Al Frank Fund
(VALUX) - Get Al Frank Fund Inv Report
has total assets of about $110 million and more than 130 stock holdings. Most of the fund's allocation is devoted to electronic technology and finance as of Dec. 31. Some of the fund's top holdings are
Mosaic
(MOS) - Get Mosaic Company Report
,
Disney
(DIS) - Get Walt Disney Company Report
and
Marathon Oil
(MRO) - Get Marathon Oil Corporation Report
, according to the latest fact sheet.
Since it was started in January 1998, the Al Frank Fund has had an annualized return of about 10.2%, beating the 4.2% gain of the Russell 3000, which the fund uses as a barometer of the broad market.
Buckingham has been warning investors about a pullback like the one we're seeing now. However, he says that equity valuations are not overly rich, interest rates remain extremely low and corporate profits and balance sheets are healthy. That adds up to what he says will be a "relative shallow downturn and higher prices in the not-too-distant future." In other words, stocks are not overly expensive.
Buckingham currently finds value in a handful of names, offering up
Hudson City Bancorp
(HCBK)
as a stock on his buy list. Hudson City is one of the worst performing constituents of the S&P 500 this year, down more than 23% after the bank disclosed it has become subject to an informal regulatory enforcement action in the form of a memorandum of understanding.
The stock sold off as Hudson City will likely force the bank to reduce its interest rate risk and reliance on wholesale borrowings, which could result in "a decrease in the size of the balance sheet and a material charge to earnings." Still, Buckingham sees a strong value opportunity in the stock.
"The fascinating thing about Hudson City is that it is a very well run company in our view," Buckingham says. They are strong from a capital ratio perspective right now. This is an entity with nearly 11 straight years of record earnings. There aren't many in the financial space that can boast that track record. This is an attractively valued stock that is now priced for what we think is significantly worse than what will happen. But you need a strong stomach to participate."
Buckingham is also a fan of
World Wrestling Entertainment
(WWE) - Get World Wrestling Entertainment, Inc. Class A Report
using the same thought process on looking at capital gains and income potential. Hudson City Bancorp has a dividend yield of 6.1% while WWE yields 11.7%.
"You've had the stock price fall considerably that the dividend is going to be cut," Buckingham says, referring to WWE. "They do have a very strong balance sheet with limited debt and quite a bit of cash. There is the ability to sustain the dividend for a while longer. They've had some difficulties on the cost side, but we do think ultimately that the content they have will continue to be of interest around the world and that earnings will start to grow again."
-- Written by Robert Holmes in Boston
.
>>To see these stocks in action, visit the
portfolio on Stockpickr.
>To contact the writer of this article, click here:
Robert Holmes
.
>To follow Robert Holmes on Twitter, go to
http://twitter.com/RobTheStreet
.
>To submit a news tip, send an email to:
.
Readers Also Like:
Goldman's 8 New Conviction Stock Buys
5 Defensive Stocks to Protect Your Money
Disclosure: TheStreet's editorial policy prohibits staff editors, reporters and analysts from holding positions in any individual stocks.