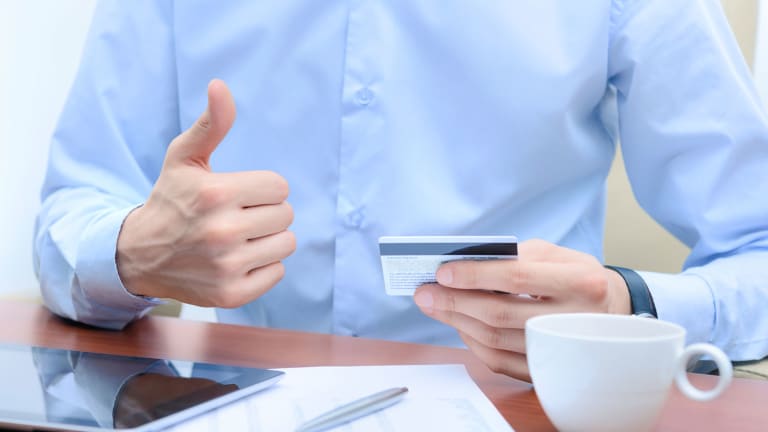 8 Little-Known Credit Card Perks You Should Take Advantage of Today
Many credit cards offer hidden protections and benefits that can save you time and money.
NEW YORK (MainStreet) — What did you look for when picking out your credit card? You probably focused on the annual percentage rate, annual fee and rewards policy, but did you read your card's full benefits statement closely? If not, you'll be happy to know that many credit cards offer hidden perks that can save you some serious time and money.
"Credit card perks come in all shapes and sizes, but many people have no idea that they're there," says Matt Schulz, senior industry analyst for CreditCards.com. "However, if you take the time to look at what perks your card offers, you might be surprised with what you find."
From greater protection on purchases to special discounts, here are some of the best credit card perks to take advantage of now. Just keep in mind that you'll have to check your card's benefits statement to see which specific perks you're entitled to and what exclusions apply.
Price protection
It can be a real bummer to buy an item you've had your eye on, only to discover that its price has dropped shortly after you purchased it. Luckily, your credit card may be able to ease your woes.
Some cards offer a great perk called price protection, which means that if you find out that the price of item you bought with your card has fallen within a certain time frame (usually 60 to 90 days), you could get refunded for the difference.
It's a good idea to read the fine print carefully to see if your card excludes certain types of purchases, such as Internet purchases, cars, jewelry, personalized items and antiques. You'll typically also have to file a claim and include copies of the original merchant receipt as well as the ad showing that the item you purchased is now sold at a lower price.
Extended warranty
Are you in the market for a new watch, electronic device or appliance? Although your salesperson might try to convince you to fork over more cash for an extended warranty, you might already have that extra protection without even realizing it.
After the manufacturer's warranty expires on a product, many credit cards will extend your warranty protection, usually for up to a year. That means that if your new TV dies a day after the manufacturer's warranty ends, you'll be covered.
Return protection
Have you ever tried to return an item to a store, only to be told that the window to take it back has expired? If it happens again, your credit card may be able to help you out.
Some cards offer what's called return protection, which means that if you try to return an item to a store within a certain time frame (usually within 60 to 90 days of purchase) and the merchant refuses to take it back, your credit card issuer may give you a refund. Be sure to read your card's benefits statement closely for details on exclusions and restrictions, as well as instructions on how to file a claim.

No Foreign Transaction Fees
Are you planning to travel outside of the U.S. in the near future? If so, you should check whether your credit card charges foreign transaction fees, which are fees on purchases made in a foreign currency. Foreign transaction fees are typically an extra 3% on top of the purchase price and can add up quickly over the course of your trip.
The good news: some credit cards waive foreign transaction fees, so you can swipe your card abroad with no extra charges. If your card doesn't offer this perk and you enjoy international travel, consider signing up for a rewards card with no foreign transaction fees, such as the VentureOne card from Capital One and the Discover it card from Discover.
Lost luggage reimbursement
There's nothing worse for a traveler than being told your bags are missing. Some credit cards are helping to make this disappointing news a bit more palatable by offering reimbursement if your checked luggage or carry-on is lost or stolen.
Visa Signature cards, for instance, offer reimbursement up to $3,000 per trip if your luggage was lost due to theft or misdirection by the carrier, as long as you purchased your airline ticket with your card.
Uber Discounts
Uber is all the rage right now, and some credit cards are offering discounts on rides ordered through the popular car service app.
Sean McQuay, credit card associate for NerdWallet.com, says that the best deal right now is offered by Capital One's Quicksilver Rewards card, which gives card holders a 20% statement credit every time they use their Quicksilver card to book Uber rides. Just keep in mind that this deal is only available through April 30, 2016. 
"The next best deal is an ongoing benefit to holders of the American Express Starwood Preferred Guest card," says McQuay . "With that card, users can get additional Starwood points for their Uber rides while they're staying at an SPG property—which includes Sheraton, Le Meridien and Westin."
Free credit scores
Everyone is entitled to a free copy of their credit report every 12 months from each of the three major credit reporting bureaus, but many people aren't aware that your credit score is not included with your report. It can often cost money to see your credit score; for instance, the FICO score, which is the most commonly used score by lenders, costs about $20. Thankfully, some credit card companies offer card holders free access to their scores on a regular basis, so you can keep tabs on your score without shelling out extra cash.
"Keeping a finger on the pulse of your credit score is incredibly important—it allows consumers to borrow affordably and prove to landlords, potential employers, utilities and insurance providers that they're financially responsible," says McQuay.

Purchase protection
If that gadget you recently bought is accidentally dropped into water or stolen from under your nose, your credit card might be able to come to the rescue. Many cards offer what's called purchase protection (also sometimes called "purchase security"), which means that if something you purchased with your card gets damaged or stolen, you might be able to receive a replacement, repair or reimbursement. Cards with purchase protection typically offer up to $500 in coverage if the item is stolen or damaged within 90 days of purchase, just be sure to check your benefits statement for any exclusions.
"I got familiar with how beneficial this free perk can be when my shed in my backyard was vandalized several years ago," says Curtis Arnold, founder of CardRatings.com and BestPrepaidDebitCards.com. "My new mower was stolen and I was, needless to say, very distraught. To make a long story short, when I got a check in the mail for the full amount of the cost of the mower, I thanked god and my card company and felt a sense of relief that is priceless."