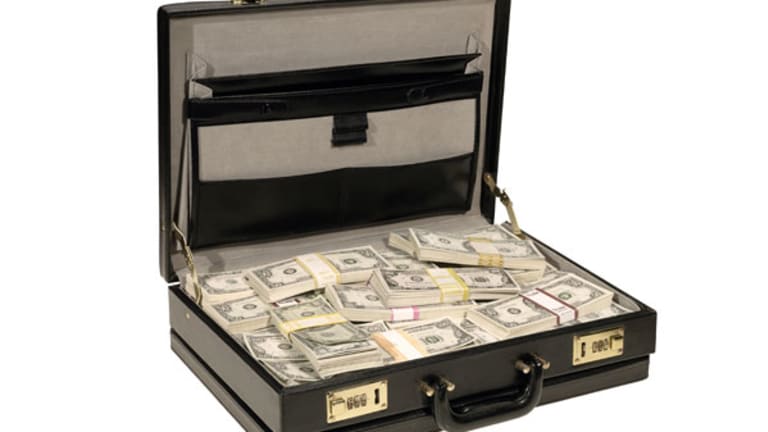 NEW YORK (
) -- E-books may be the publishing medium of the future, but they're already leaving a bit of literary history behind.
The announcement of
Apple's
(AAPL) - Get Apple Inc. (AAPL) Report
New iPad and the continued growth of
Amazon
(AMZN) - Get Amazon.com, Inc. Report
Kindle products, the
Barnes & Noble
(BKN) - Get Blackrock Investment Quality Municipal Trust Inc Report
Nook line of e-readers and
Google
(GOOG) - Get Alphabet Inc. Class C Report
Android-based tablets in general are giving e-books Library of Congress-sized platforms for expansion. Yet even with a growing base of new releases, low-priced "singles" works from up-and-coming authors and a sprawling library of free books out of copyright, the e-volumes are still missing characters such as Holden Caulfield, Paul Baumer, Atticus Finch and every witch and wizard in Hogwarts.
The Association of American Publishers and the Book Industry Study Group's
BookStats
survey released in August found that e-books have grown from 0.6% of the market in 2008 to 6.4% in 2010. That looks like a small sliver, but it's a 1,274.1% bump in publisher net sales revenue year over year.
Overall e-book net revenue for 2010 climbed to $878 million as unit sales increased tenfold to 114 million. That growth is particularly present in adult fiction, where e-books are now 13.6% of revenue. That also doesn't include the 4.4 million public domain e-books -- which include just about everything published before 1923 -- downloaded from
within the past 30 days.
E-books' overall unit share was still only 14% of fiction and nonfiction books sold for the first six months of last year, but they outsold their pulp counterparts on Kindle-peddling Amazon last year and have outsold them on that site during the holidays each year since 2009. It's been a similar story for the Nook and Barnes & Noble, where e-book sales now outnumber those of their paper contemporaries by a 3-to-1 ratio.
Overall, according to the Association of American Publishers, e-book sales were up 160% during the first half of the year. Their $390 million in sales still trailed the $473 million brought in by adult paperbacks, but eclipsed the $386 million spent on adult hardcovers and the $359 million spent on young-adult hardcover and softcover titles combined.
Still, authors, heirs and publishing houses haven't all leaped at the chance to see their works in e-Ink or to trade in their binding for a bit of memory space. We've come across eight literary pillars that haven't made the leap to e-books yet. They're all still readily available, but you're going to have to risk a paper cut to read them again:
The Harry Potter series by J.K. Rowling
It's been nearly five years since the last volume of J.K. Rowling's coming-of-age wizard saga hit bookstore shelves and nearly a year since the final movie flickered on screens worldwide, yet Harry Potter isn't exactly kicking the broom into high gear for a trip into e-books.
It's not that Rowling is averse to the format, it's just that converting a series that has already sold 450 million volumes worldwide into an e-book and making sure it's compatible with as many formats as possible takes time. Rowling announced last summer that the Harry Potter e-books would be made available through her online Potter portal Pottermore by fall of 2011.
In September, however, Pottermore's creators said the e-books wouldn't be ready by the promised October date and would likely be delayed until "the first half of 2012." We're already more than two months in and Pottermore is still in beta, its official blog is filled with fan art and Harry e-books are nowhere to be seen.
Maybe they arrived at Track 9½ at Kings' Cross station a bit too late for the train?
Slouching Toward Bethlehem by Joan Didion
Angst never sounds so lovely or detailed as it does from Joan Didion's pen.
Drifting through stories of upper-class America, societal change, the American woman, illness, aging and death, Didion added her voice to the New Journalism of Capote, Mailer and Thompson by writing about her subjects just as she saw them: Unflinchingly and subjectively. It's a style used to great effect in describing the death of her husband in 2007's
The Year of Magical Thinking
and her daughter's death and her own encroaching mortality in last year's
Blue Nights.
Unfortunately for subway cars full of e-reader-toting bibliophiles, the works that are perhaps the greatest and most raw examples of her journalistic talent remain locked in print. Her 1968 anthology
Slouching Toward Bethlehem
-- a collection of pieces about life in California -- has never been released as an e-book. Neither has
The White Album
, her 1979 collection of pieces from
Esquire
,
Life
,
The New York Times
and
The New York Review of Books
that bid farewell to the 1960s with pieces about the Black Power movement, life in Los Angeles after the Manson family, the class divide on Hawaiian beaches and graveyards and Nancy Reagan's white elephant of a California governor's mansion.
So why are these books stuck in pulp limbo while
Blue Nights
,
The Year Of Magical Thinking
and fiction works such as
Run, River
and
A Book of Common Prayer
sit in the Kindle and Nook stores? Part of the problem lies in the content itself. Yes, it's Didion's work, but they're still stories culled from the
Saturday Evening Post
,
New York Times Magazine
,
Vogue
and other publications. That presents all sorts of intellectual property issues for digital publishing that likely weren't considered when the books were compiled in the 1960s and 1970s.
If so, that's a shame. There didn't seem to be any roadblock Didion's white Corvette couldn't clear.
To Kill A Mockingbird by Harper Lee
Just about every schoolchild in America reads this book at some point in their learning process. The entire city of Chicago read it together back in 2001. It won the Pulitzer Prize and earned its author the Presidential Medal of Freedom.
It's also not coming to an e-reader anytime soon.
The story of 6-year-old Scout Finch and her journey through three years in Maycomb, Ala., that include her father's legal defense of a black man accused of raping a young white woman, her reclusive neighbor Boo Radley's penchant for hiding gifts in trees and her own growth from a girl into a young woman is a cornerstone of American culture. For generations, summer reading assignments have turned into summers spent with Scout, her brother Jem and their friend Dill. There's anger at town drunk Bob Ewell when he threatens Atticus Finch and his children, disappointment in the outcome of Tom Robinson's trial and a rekindling of faith in humanity when children turn back an angry mob and Boo Radley saves the day.
None of that would be lost in the conversion to an e-book, but for some reason it's not happening. The 85-year-old Lee has been reluctant to talk about the book for years and, according to an interview with her close friend the Rev. Dr. Thomas Lane Butts in Australia's
Daily Telegraph
, may not be capable of doing so. She is in an assisted living facility, confined to a wheelchair, partially deaf and blind and suffering from memory loss.
Lee has always been protective of
To Kill A Mockingbird
and her own privacy, so any decision she's made about its transfer to an e-book likely won't reach the public. If readers are looking for some insight into what she might think of e-books, however, they may want to consider this excerpt from a letter she wrote to Oprah Winfrey in 2006: "Now, 75 years later in an abundant society where people have laptops, cellphones, iPods and minds like empty rooms, I still plod along with books."
The Catcher In The Rye by J.D. Salinger
What, you fancy-pants people can't even open a book anymore? What a bunch of phonies.
Salinger's must-read novel for angst-ridden teens still draws a huge audience that empathizes with the awkwardness, anger and apathy of Holden Caulfield. What it's never had is an adaptation beyond the book those people have loved.
A big part of the problem was Salinger himself. Notably reclusive and just as touchy as
Catcher
's main character, Salinger told director Elia Kazan to take it walking when he wanted to bring the play to Broadway. He also spurned Jerry Lewis, Harvey Weinstein, Jack Nicholson, Steven Speilberg and Billy Wilder when they tried to turn the film into a movie.
Even after his death in 2010, his agent made clear that the position on adaptations of
Catcher In The Rye
had not changed. Unless readers count pirated PDFs, there hasn't been an e-book copy of
Catcher In The Rye
to date and there hasn't been so much as a hint one is coming any time soon. Given how closely Salinger guarded the book, readers likely have a better chance of getting punched in the stomach by a pimp than reading
Catcher
on their $400 iPad in their cushy dorm rooms at Pencey Prep. Phonies.
One Hundred Years of Solitude by Gabriel Garcia Marquez
Marquez's 1967 story following the lives of seven generations of the Buendia family during a period of tremendous upheaval in the town of Macondo, Colombia, isn't absent from the e-book ranks by any means. It's just only available in the original Spanish as
Cien Anos de Soledad
.
It makes sense. It's a metaphor-laden tome that's inherently Colombian as it grapples with the changing nature of colonial life, the railroad's reshaping of the physical and economic landscape, the Thousand Days War from 1899 to 1902, the struggle against iron-fisted corporate agriculture, the military massacre of striking workers and the ultimate destruction of the whole fragile enterprise. That story was told in Spanish and is best interpreted in Spanish.
We're also aware that many Americans who came to love Marquez through this book,
Love In The Time Of Cholera
and others did so through English translations of those works. Those translations come at a cost and author and translator are owed for their efforts. American e-book readers see this quite often with public domain works by foreign authors such as Arthur Rimbaud and Charles Baudelaire that are available for free in French, but come at a cost when translated into English.
It's a price many readers would pay if they could, but right now it's out of their hands. If ever there was a time for non-Spanish speakers to test those high-school Spanish chops, this is it.
2001: A Space Odyssey by Arthur C. Clarke
For a novel so inherently tied to technology, it's somewhat surprising to see
2001
's U.S. publishers not embrace the e-book. Then again, if every Kindle, Nook or iPod is another Hal waiting to happen, perhaps they'd prefer that readers take the novel page by paper page.
Clarke's 1968 tale of space explorers tracking down strange monoliths that hold the key to human evolution is at once a relic of the Space Race and the Cold War and an indictment of unpredictable technological advances. Were
2001
converted into an e-book, readers would likely feel fortunate that the Wi-Fi enabled e-reader they're holding has no control over their ability to communicate or their oxygen supply.
That's already a distinct possibility for readers elsewhere, but the U.S. rights to
2001
held by
Penguin Group
are keeping it off e-shelves here. Go ahead, go to the Kindle store and try to buy it. That nagging green box in the corner that says "This title is not available for customers from: United States" is a reminder of that international publishing rights are a complicated matter that becomes no less so when the author's been dead for nearly four years.
All Quiet on the Western Front by Erich Maria Remarque
It shouldn't be this hard to buy a book about the horrors of war, the slow death of one's youth beneath the barbed wire and the almost complete destruction and starvation of a country . If anything, the publishing company should offer students some form of compensation for reading it.
Set on the German side of the lines in World War I,
All Quiet On The Western Front
is a brutally graphic depiction of life in the trenches and on the pockmarked battlefields. One nameless battle blends into the next. Food is scarce. Any ground gained isn't taken for long. Deaths aren't quick and painless, but bloody, noisy and drawn out.
Going home for leave doesn't help, either, as no one understands what's going on in the battlefield, but everybody's inclined to offer an opinion. It's that sense of detachment that's still prevalent today as soldiers return home from detachment only to listen to arguments at Dunkin' Donuts over how much cream is in a hazelnut coffee and quibbling at home about whether
American Idol
or
The X Factor
is the better judge of talent.
The problem, much as it is with
100 Days Of Solitude
, is that
All Quiet On The Western Front
wasn't written in English. The more than 80-year-old book has been a staple in American classrooms for decades, but was released as
Im Westen nicts Neues
in 1929. That German version is available as an e-book for between $20 and $40, but there's no sign of an English translation on the Western front or anywhere else.
The Amazing Adventures of Kavalier & Clay by Michael Chabon
Oh, never mind that this Pulitzer Prize-winning 2000 tale of a Golden Age comic book artist-and-writer tandem is one of the best books of the past 20 years and is just waiting for a format that can include illustrations of the duo's hero The Escapist and other behind-the scenes material. We'll just let this multifaceted story remain as two-dimensional as possible.
Starting with Josef Kavalier's escape from the Nazis in Prague and finishing with Sammy Klayman's struggle with his own identity in 1950s suburban America,
Kavalier & Clay
looks at a pivotal moment in American history and society through the softening lens of the comic book industry. Many of the book's key moments are pulled directly from the lives of legendary comic book artists and writers including Jack Kirby, Stan Lee, Joe Simon, Joe Shuster and Will Eisner and leave little to imagine about the men behind the supermen.
For as much as
Kavalier & Clay
was loved during its original run, though, any attempts to move it to another medium have ended in disappointment. A screenplay Chabon wrote with producer Scott Rudin has been kicking around Hollywood for the past decade. It's been discussed as a film and as an HBO-style television miniseries, but nothing has come of it. That didn't bode well for its transition to e-book.
Well fear not, true believers, as there's an electronic version in sight.
Random House
is bringing the book into the digital realm this summer across multiple platforms. It's been a bit of a wait, but at least part of
Kavalier & Clay
's story has a happy ending.
-- Written by Jason Notte in Boston.
>To contact the writer of this article, click here:
Jason Notte
.
>To follow the writer on Twitter, go to
.
>To submit a news tip, send an email to:
.
RELATED STORIES:
>>5 Industries In Peril In 2012
>>5 Stubbornly Standalone Tech Toys
>>6 Essentials For Airline Travel Survival
Follow TheStreet.com on
and become a fan on
Jason Notte is a reporter for TheStreet. His writing has appeared in The New York Times, The Huffington Post, Esquire.com, Time Out New York, the Boston Herald, the Boston Phoenix, the Metro newspaper and the Colorado Springs Independent. He previously served as the political and global affairs editor for Metro U.S., layout editor for Boston Now, assistant news editor for the Herald News of West Paterson, N.J., editor of Go Out! Magazine in Hoboken, N.J., and copy editor and lifestyle editor at the Jersey Journal in Jersey City, N.J.