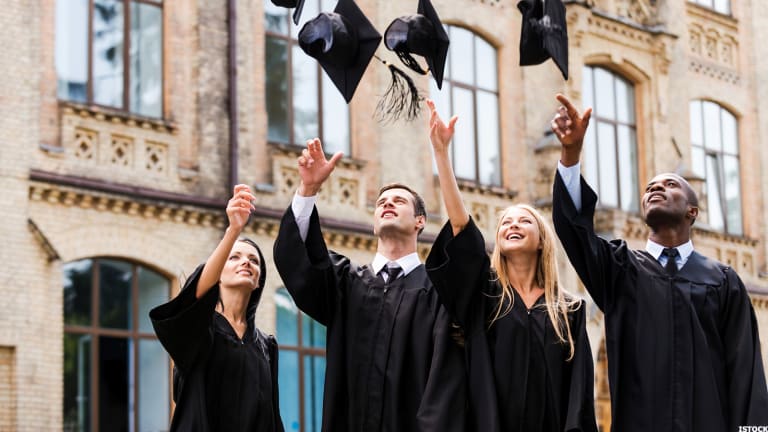 7 Ways to Gauge Whether Grad School Is Worth the Cost
Graduate school can easily be a $100,000 proposition. Here's how to figure out whether it's worth six figures - or not.
This spring, tens of thousands college grads are mulling the possibility of starting graduate school this next school yaer. But before you sign on the dotted line, know the costs involved, as attending a decent graduate school can easily cost you between $100,000.
With that much cash in play, how do you figure if the high price of a graduate school degree is right for you? Try these tips on for size, and see if they lead you to a cap and gown several years from now:
Run the numbers - Start by doing the math, says Joseph DePaulo, CEO and co-founder of College Ave Student Loans. "According to TheBestSchools.org, the average cost of a graduate degree is between $30,000 and $120,000, and that's in addition to the amount you spent on your undergraduate degree," DePaulo states. "That's a broad range, so do your homework to determine how much you expect to spend and how much more you expect to earn to make sure the investment is likely to pay off."
Be clear about your goals - "Many recent college graduates find themselves faced with two options: launching a career or attending grad school. Identify which path will help you achieve your career goals," DePaulo says. "In some case, an advanced degree is necessary before you can even apply for your dream job. For others, pursuing a graduate degree and delaying a salary may not be the best option. It might be better to enter the workforce and attend classes for your graduate degree part-time (and maybe even find an employer who will help you pay for it."
Know the job market in your field of study - "Recent U.S. Census Bureau data indicated that only about 12% of respondents over the age of 25 had a master's degree or above, so a graduate degree could help you stand out, whether you're landing a job or applying for a promotion," DePaulo adds. "Don't assume that this will always hold true though, particularly early in your career. Do some research on the types of jobs you're planning to apply for and the companies you'd like to join to better understand how your graduate degree will be valued."
Add in the "add-ons" - Daren Upham, vice president of enrollment at Western Governors University (an online nonprofit university that has master's and bachelor's degree programs) says that higher cost does not necessarily mean higher quality. "Consequently, be sure to understand all of the costs-tuition, books, and fees-before you make your decision," Upham says. "Another factor in your cost consideration should be the length of time you expect to take to complete your degree-the longer it takes, the more it is likely to cost."
Focus on your return on investment (ROI) - A Harris Poll Online survey of 1,144 graduates of nonprofit, online Western Governors University, found that working WGU graduates reported an average increase on income of $10,600 in the first one to two years after graduation. "Within four years, the average reported salary increase of working WGU graduates was $14,700," Upham states.
Gather good data - Alissa Carpenter, a former higher education administrator and current career and personal development coach, has worked with many clients to determine if graduate school was the appropriate path. She says asking good questions and getting good answers is a key in measuring the worth of grad school. Conduct informational interviews-speak with people in your desired field to determine if a graduate degree is necessary right now," the Philadelphia-based Carpenter says. "Often times, companies will pay for programs in a related field in exchange for years of service."
Be financially creative - Carpenter also encourages would-be grad students to research loan programs. "Graduate school loans can be very different from undergraduate," she notes. "Make sure you do your research to see what aid is available to you. Also, before committing to a program reach out to see what assistantship programs they offer. Many programs offer full or partial tuition in exchange for teaching, office work, and research."
Electing to attend grad school could be one of the biggest decisions on your life, and it deserves your strongest consideration. Adhere to the tips and strategies listed above, and use them to steer you to - or away - from one of the priciest, but potentially most rewarding learning experiences you'll ever have.
Editors' pick: Originally published March 20.