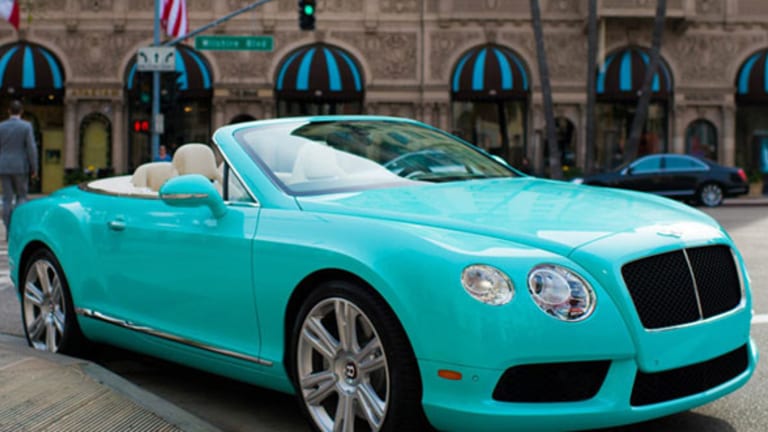 7 Truly Luxurious Gift Experiences for Valentine's Day 2013
When pockets are deep and the sky's the limit, here are some gifts to consider giving your significant other.
SAN DIEGO (
) -- There are those who will head to the local drugstore and buy their loved one a cardboard, heart-shaped box of chocolates for Valentine's Day.
And there are those who will get their loved one a heart-shaped island. Yes, an island. Off the coast of Australia.
This year, what's hot in luxury for Valentine's Day is the overall experience, says Mila Pantovich, lifestyle editor for JustLuxe.com.
"It's not just about getting a knickknack or gadget, but more along the lines of giving someone wine if they love wine -- and also a weekend trip in Napa Valley as an extension of that gift. It's about doing something you share together," Pantovich says. "It should be an experience. One that creates memories you can remember down the line. And you can take that as far as you want in terms of luxury."
With that in mind, here's our own selection of unique and truly exclusive luxury gifts for your significant other in 2013.
1. Sir Richard Branson's heart-shaped island
Located off the coast of Australia, Makepeace Island, owned by Sir Richard Branson, is available to those who really want to say "I love you" in a grand way. The island is designed in Balinese style and includes a main house, a four-bedroom guesthouse, a few villas, a boathouse and a spa. A night's rental ranges from $7,900 to $14,990 depending on the number of guests. For information, visit makepeaceisland.com.
2. The Four Seasons Ty Warner Penthouse suite
The most over-the-top item on our list: For a mere $487,000 you can spend one night in the Ty Warner Penthouse suite in the New York City
Four Seasons
Hotel. This nearly half-million-dollar experience is being offered as the "52 Love Salute" Valentine's Day package. For that price your stay will include a private chartered flight from any state via
Jetway Private Air
. Once you arrive there will be caviar and champagne, unlimited use of the hotel's
Rolls-Royce
with a personal chauffeur, a personal butler and a dinner prepared by executive chef John Johnson. If you're exhausted after all that, the package includes unlimited massages in the penthouse spa. And what would a package such as this be without a little bling? In addition to the hotel stay, the package includes a 52-carat heart-shaped diamond necklace. For information, contact Jetway private air (866-809-2198) or the Four Seasons Hotel New York (1-800-487-3769).
3. Prada Weekender bag
One can't exactly embark on a fabulous trip without appropriately fabulous luggage. So here's another gift you may want to consider to complete the island or New York experience: the stylish
Prada Weekender bag
. Its price varies from $2,295 to $2,950.
4. The Hommage Damascene Razor
Back at the local drugstore, where the masses buy their chocolates, you can find very ordinary razors for just a few dollars. But for some men, especially those spending weekends in the Ty Warner Penthouse or on a heart-shaped private island, the plastic, disposable variety just won't do. In that case, there's the $30,000
Hommage Damascene razor
-- a custom-made, limited-edition straightedge razor handcrafted from Damascene steel and stored in a platinum-plated sheath.
5. Kalamazoo outdoor grill
An extravagant holiday is possible even if traveling for Valentine's Day is not in the cards. For the man who has everything, or almost everything, there's one thing left: the
.
The Hybrid Fire Freestanding Grill is a 38-inch, three-burner grill with a primary grilling area of 726 square inches. It cooks with any combination of charcoal, wood and gas. But what's so special about these grills? Christopher Parr, CEO of the
luxury lifestyle blog, says it's a truly unique, handmade grill that takes backyard barbecues to a whole new level.
"For the guys, this is something that sizzles. This grill is hand-built in America and is loved by world's best chefs," Parr says. "Guys who cook just love this product."
6.High tea and Harrods 24-carat gold teapot
Participating in high tea at a luxury hotel is an experience some women dream about, Pantovich says. But in keeping with the idea that a Valentine's Day experience should be accompanied by a related gift, she suggests the
, which sells for about $550 and keeps tea warm for an hour.
7. Bentley Continental GTC Limited Edition
Finally, if absolutely nothing else will do, there's always
the Bentley Continental GTC Limited Edition
, which is made in Celeste Pearlescent, a shade of blue inspired by
Tiffany & Co.
(TIF) - Get Tiffany & Co. Report
. Only two of these cars are being made, so this is the penultimate in exclusivity.
O'Gara Coach Beverly Hills
commissioned the V8 GTCs with such features as a Linen-Beluga interior and a personalized tread plate plaque that reads "Beverly Hills Limited Edition." The price for this exclusive bit of fabulousness for your loved one? $229,999 -- to start.