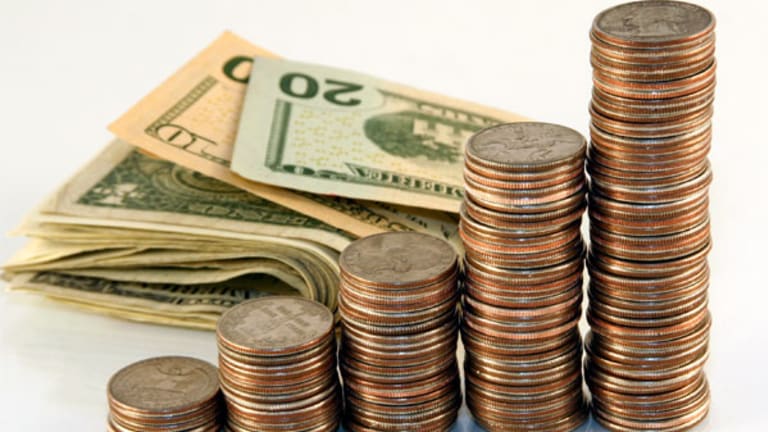 7 Steps To An Online Valentine's Day Date
Planning a great Valentine's Day date, or even getting one, doesn't require leaving the house.
BOSTON (TheStreet) -- If love waits for no one, why are you wasting time planning your Valentine's Day date like it's 1986?
Getting fixed up on dates by friends, hitting multiple stores for gifts and chocolates, calling for dinner reservations and being put on hold, paying full price for that dinner and having a box office attendant tell you the film you wanted to see is sold out is for rock-bashing, knuckle-dragging troglodytes with no Internet access. Why bother? Everything you need this Valentine's Day -- from a date to dessert and beyond -- can be found online, and an increasing number of people are beating you and your technologically befuddled buddies to them.
According to ComScore, the population of online users eclipsed 1 billion back in 2009, with more than 163 million people accessing the Internet in the U.S. alone. Meanwhile, U.S. online spending has increased from $28 billion in the first quarter of 2007 to $32.1 billion in the third quarter of last year, or 13%, with fourth-quarter online spending on pace to break $40 billion. As the National Retail Federation predicts the average person will spend $116 on Valentine's Day -- up 11% from last year, but still less than the $190 spent by heartstruck consumers ages 25 to 34 -- it also forecasts that nearly 20% of Americans will do that spending online.
With little real estate between the procrastinating consumer and Valentine's Day, we've put together an outline for a great online date. Whether you need something as simple as a dinner reservation or as awkward as an actual date, we've got you covered:
The date
There's a hardy, fun-loving, unattached segment of American society that doesn't feel pressured to spend a greeting card holiday sweating their way through the dating world's amateur hour. Research firm Piper Jaffray estimated in 2008 that $1.2 billion was spent on online dating sites and projected that would jump to $1.7 billion by 2013. A People Media study, meanwhile, found that nearly half of Americans knew a person who met a date online, almost doubling the number that said so back in 2006.
You can pay $35 to $60 for a month's worth of access to matchmaking sites such as
,
,
or
-- with such niche sites as
,
,
and
costing just as much -- but other sites such as
and
are giving it away for free. (For now; Match.com just bought OKCupid.)
At any rate, this is the way to go if you want an immediate date on one of the most high-pressure date days on the calendar. There's no wooing process, no "are we at the Valentine's stage yet?" question, no proposal expectations -- just people who want to dine off the prix fixe menu and not do it facing an empty chair. Even the most jaded single can get behind that.
The gift
Wait, a
gift
? Didn't we just meet this person? Hey, the last step was "the date," but a lot of people already have that part covered. Even if you don't, you get enough information on a dating site to at least
try
something romantic.
Fortunately, the folks at
set up their business for the whole spectrum, from first dates to 40th anniversaries. Need just basic flowers for the stranger sitting in front of you?
go for $40, while an
gets a discount at $30. Know from your date's profile that you're sitting across from a foodie? Try the
growing kit with herbs, soil, seeds and a mini-greenhouse. Been with your baseball fan for a few decades? Get him
at Yankee Stadium, Fenway Park, Wrigley Field, Comiskey Park, Dodger Stadium and other baseball houses of worship.
UPS
(UPS) - Get United Parcel Service, Inc. Class B Report
or
FedEx
(FDX) - Get FedEx Corporation Report
will make sure it gets there before dinner hits the table.
The dinner reservation
Probably the easiest of all of the online options, reservation sites such as
(OPEN)
don't make you wait for shipping, don't have fixed windows of use and allow you to earn points toward other dinners in the process. OpenTable even takes the step of segregating restaurants with Valentine's Day dinner specials into their own corner of the site, making it convenient for those seeking a deal or the most romantically expensive prix fixe menu imaginable while letting those trying to get away from the crowds know where not to go on Feb. 14.
In many cities, the trick will be just finding a place that's not booked solid. By mid-January, roughly half of the restaurants on OpenTable's "10 Most Romantic" lists in New York, Chicago and San Francisco were already packed. If the restaurant you lust after is slammed on Valentine's Day, however, don't sweat it: OpenTable spokeswoman Tiffany Fox recommends checking back for cancellations or, since Valentine's Day falls on a Monday, moving your Valentine date night to Saturday or Sunday instead.
The coupon for said dinner reservation
Because when you're on your first date or your 1,001st, love means never having to pay full price. Besides, if you're willing to invest the time to wait for a decent restaurant's half-price deal to go up on deal-of-the-day site
, that's more commitment than some couples get during the course of their relationship.
Of course, if you go to
and pick up the $100 gift certificate that's there every day for $40, that's just cheating. Frugal, but cheating.
The movie
So you're the person who's going to try to go up to the box office on Valentine's Day and get tickets to the exact movie you want to see. That's a better bit of fiction than anything that will be up on the screen. Even in the days when the only other option was to wait through a movie commercial blaring through a tinny phone speaker, wait for every voice prompt, wait for the movie times to be read individually and then
maybe
reserve tickets over the phone, hitting the box office on Valentine's Day was a fool's errand.
Now, with movie ticket sites such as
Comcast's
(CMCSA) - Get Comcast Corporation Class A Report
and
AOL's
(AOL)
allowing moviegoers to buy tickets through smartphone apps and even small arthouse theaters giving fans an online option, going straight to the box office is a formula for failure. In fact, a poll conducted for
TheStreet
by Fandango found that -- despite a poor Valentine's slate of openings featuring a Roman war epic, an Adam Sandler/Jennifer Aniston romantic comedy and Justin Bieber -- 63% of that site's customers planned to buy their Valentine's Day tickets in advance.
The dessert
We're sure
CVS
(CVS) - Get CVS Health Corporation Report
and
Walgreen
(WAG)
will have an ample supply of mass-market chocolate even as their staff starts setting out the jelly beans and arranging the Mother's Day cards. But why trudge out in the cold for something perfectly mediocre when some of the most enticing chocolate in the country come to you?
Chicago's
cuts right to the chase with its non-Valentine's-specific chocolate offerings. The "Sweet Coquette" collections ($45 and $90) come in pink satin boxes with French netting cinched by a leather rose and contain aphrodisiac delights including truffles made with pearl dust, anise, chilis and Mama Juana. The "Aphrodisiac Hat Box" ($100) puts aside all pretense with its spicy toffee, chocolate bars and chocolate-coated tortilla chips, while various chocolate and champagne assortments ($111 to $325) seem designed with something much sweeter in mind.
For those not feeling so forward, Vosges' nine- and 16-piece "Gatsby Collection" ($28 and $42) dials it back a bit by offering rose and brut "champagne truffles kissed by a rose," as Fitzgerald's protagonist put it, and finishes each off with a rose petal topper. To take the pressure off completely, however, there's a chocolate-and-bacon collection that ranges from a single chocolate bar made with applewood bacon ($2.50) to a gift set including a bottle of Rogue Shakespeare Stout ($42) or one packed with bacon and chocolate pancake mix, bacon toffee and a bacon-infused chocolate pig ($62).
The hotel room
For some it's expected, for others a pleasant surprise, but some of the best Valentine's Days end in a bed that's not your own. Fortunately for the Web-savvy, most deals exist online, as
Expedia's
(EXPE) - Get Expedia Group, Inc. Report
offers a suite at
Starwood's
(HOT)
Le Meridien hotel in Dallas for a post-Super Bowl Valentine's Day stay including a special dinner and dessert menu starting at $115 a night.
InterContinental's
(IHG) - Get InterContinental Hotels Group PLC Sponsored ADR Report
Hotel Indigo on the San Antonio Riverwalk, meanwhile, offers complimentary Champagne, chocolate-covered strawberries and roses to guests starting at $99 a night. For a somewhat cozier stay, boutique hotel site
offers offbeat gems such as New York's Library Hotel, where rooms are grouped by Dewey Decimal categories, and San Francisco's La Vitale, where couples enjoy free yoga and a side-by-side tub "bathing experience."
-- Written by Jason Notte in Boston.
>To contact the writer of this article, click here:
Jason Notte
.
>To follow the writer on Twitter, go to
.
>To submit a news tip, send an email to:
.
RELATED STORIES:
>>NFL Standard vs. Standout Valentine's Day Hotels
>>Why Your Valentine's Day Plan Already Failed
Follow TheStreet.com on
and become a fan on
Jason Notte is a reporter for TheStreet.com. His writing has appeared in The New York Times, The Huffington Post, Esquire.com, Time Out New York, the Boston Herald, The Boston Phoenix, Metro newspaper and the Colorado Springs Independent.