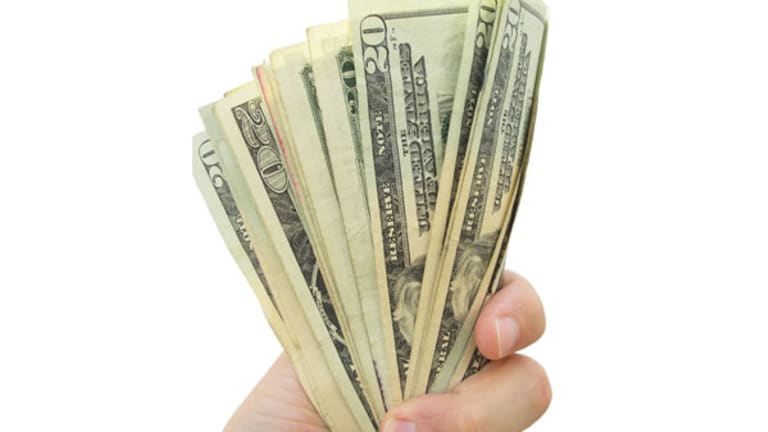 Publish date:
7 Products You're Paying Too Much For
Don't help these companies make huge profit margins at your expense.
Don't help these companies make huge profit margins at your expense.
NEW YORK (
) -- Even the most budget-conscious people have overpaid for products at some point. Maybe it's because you just didn't care about paying a few extra bucks for something you needed, or perhaps you were in a hurry and didn't have time to shop around.
Or maybe you just didn't realize it was possible to get a better deal. There are several products habitually priced way too high -- higher than the company needs to make a profit margin and much higher than you could find it elsewhere, if only you knew where to look.
Don't help companies make huge profit margins at your expense.
Fortunately, we've got a pretty good idea of where to look. Here are several products you've probably overpaid for, along with tips on how you could have gotten it much cheaper.
HDMI cables
High-Definition Multimedia Input cables are used to connect high-definition TVs to cable boxes, video game systems and set-top boxes, replacing the RCA cables (those red, yellow and white split cables) that once served that role for standard-definition televisions.
Unfortunately, high-definition technology is apparently young enough that it's still possible to get people to massively overpay for these cables. Consumer electronics experts
generally agree
that spending more than $10 on one of these cables is a waste of money, yet we've seen brand-name cables selling for upward of $50 at electronics stores such as
Best Buy
(BBY) - Get Report
. In fact, Best Buy's Web site is selling a
. Not surprisingly, the sole customer review notes that, "Once you learn how these cables work, you'll know to find the absolutely cheapest ones you can find."
I spent $8 on Amazon to get an
HDMI cable
(which comes with an adapter for a speaker system) and have never had any problem with my picture or audio quality. Don't let a sales rep convince you your $2,000 big-screen TV needs a gold-plated $100 cable to get the best picture quality.
Apple accessories
If the headphones or USB cable that came with your iPhone or iPod fails, you can get a free replacement at the
Apple
(AAPL) - Get Report
Store -- provided you got the AppleCare warranty. If you didn't, you're looking at
,
$19 for the way-too-short USB cable
and another
that lets you plug the cable into a wall socket for charging.
Those accessories can be found for much cheaper elsewhere. My iPhone is plugged into my computer with a USB cable that costs
, or you could get the connector and adapter bundled for
$7.95 refurbished
, a full $40 cheaper than you'd pay for both at the Apple Store. And you can get those earbuds -- complete with the remote and mic -- for
$7.95 plus $2 shipping
, though we've seen it even cheaper.
DVDs
We still don't understand why anyone buys new DVDs anymore.
The typical DVD costs around $30 when it first comes out, and it's $40 if you go with the Blu-ray. That's more than double what you'll pay to watch it in the theaters, and you don't get the full theater experience even with a big HDTV and a Blu-ray player.
Of course, the counterargument is that once you own the DVD, you can watch it as many times as you'd like. But there are ways to do so a lot cheaper. Take
Captain America
, which has been out long enough that it has now been marked down to $19 at Best Buy on DVD and $29 on Blu-ray. The same disc can be rented at
Redbox
(CSTR) - Get Report
for $1 a night (or $2 a night on Blu-ray). Even if you plan to watch the movie five times over the next year, it's still cheaper to use Redbox than to buy the DVD. Don't want to have to drive to your local Redbox location? When it first comes out you can rent it through your cable via OnDemand, and once enough time has passed you can probably see it on
Netflix
(NFLX) - Get Report
as many times as you'd like.
We won't begrudge anyone who wants to get their favorite movie on disc and watch it dozens of time whenever they please, but there are so many low-price alternatives that we're baffled that anyone still shells out $30 to $40 to buy a new movie.
Anti-virus software
Security software is frequently part of the
computer upsell
-- along with the warranty, the sales rep will likely encourage you to buy an anti-virus program to protect your purchase. But if you pay anything close to full price for anti-virus software, you paid too much. In fact, you could argue that you overpaid if you spent any money at all.
See, computer security products are frequently bundled with mail-in rebates that take a good chunk off the sticker price, and if the sticker price has already been reduced, it sometimes means that you can snag the software for nothing at all. For instance,
Kaspersky
brand security software is usually free with a mail-in rebate at electronics site
Newegg.com
-- in fact, the retailer offered that deal so often that we stopped mentioning it in our morning deals. Right now, you can get the
three-user Kaspersky PURE Total Security software
for free with a mail-in rebate -- marked down from a suggested retail price of $89.99.
I've been pleased with how Kaspersky's performed on my own computer, but I realize some people might have a problem buying an anti-virus software that isn't a recognizable name, such as
Norton
or
McAfee
(INTC) - Get Report
(though as some
security experts
point out, hackers are more likely to focus their attention on cracking big-name software). If that's the case, you should still check out online prices before walking out of the store. Right now, for instance,
OfficeMax
(OMX)
offers Norton Internet Security 2012 (three-user) for
, but get it online as a digital download from
Amazon
(AMZN) - Get Report
and you'll
Hotel minibars
If you think you can get away with expensing the booze from your hotel's minibar to your employer, by all means go for it. But if you have the kind of job that lets you expense alcohol on business trips, you probably make enough money not to care about the cost one way or the other.
For the rest of us, though, the simple fact is that the hotel minibar will demolish your wallet.
Most people understand that the price of alcohol varies wildly depending on where you're planning to drink it. A six-pack of beer might cost $10 at the grocery store, but getting just one beer at a bar will cost you $5. Similar markups can be found on bottles of wine at restaurants. Most people are willing to pay that markup, though, because they understand they're paying for the privilege of drinking wine with dinner or having beers with friends at a sports bar.
But paying for the tiny bottles of booze in your room's minibar makes a lot less sense, especially when you consider how much the alcohol is marked up. In 2010,
Mint.com looked at hotel minibars
and found that some items are marked up as much as 370% over the grocery store price. Take Jack Daniels, for instance: You'll pay $7.50 for a 50-mL nip of the bourbon in your hotel room, versus $3.99 for the same tiny bottle at the grocery store. And the markup is even greater when you consider that the small size of the bottle means that the booze is already marked up. You could easily go to the liquor store and get a 750-mL bottle -- equivalent to 15 of the small bottles -- for around $20.
We know there are some reasons why you would raid the minibar -- maybe the liquor stores are all closed and you want to keep the party going, or maybe you're flopping down on the bed after a long flight and don't want to go back out to get a bottle at the store. Just know that you're paying way too much for the convenience.
Movie concessions
Like wine at the restaurant or beer at the bar, movie theater snacks are another example of a product costing way more simply because of where you get to enjoy it.
This is no secret, of course. Everyone who has visited a theater's concession stand can plainly see that the price they pay for a medium soda is well beyond what you'd pay for even a 2-liter bottle of soda at the grocery store. And don't even get us started on the popcorn -- sure, you buy an enormous tub of the stuff at the theater, but you could get an entire package of microwave popcorn for the same price at the grocery store. (And that's at retail -- theaters are buying popcorn kernels in bulk, and
by one estimate
they're marking up the popcorn by a factor of 1,000.)
But it doesn't have to be that way. The major movie chains frequently have coupons on their
Facebook
feeds that can snag you discounted or even free concessions. Back in January, for instance,
AMC offered a coupon for a free large soft drink
with no purchase required, and in December both AMC and
Regal
(RGC)
had
coupons for free popcorn
on their Facebook pages. Meanwhile, Regal has a
that lets you get a free popcorn for every $50 you spend on movie tickets at the theater.
We don't mean to single out movie theaters -- other entertainment venues jack up concession prices as well, with baseball stadiums charging beer prices that exceed even minibar levels. But we rarely see coupons for stadium concessions.
Travel-sized toiletries
Much like the hotel minibar, drugstores can get away with charging exorbitant fees on small travel-sized items for two reasons: They're convenient for travelers on the go, and the small size of the items means that the price tag will still be relatively low.
That is, until you look at the unit cost. I was at the drugstore the other day and found a tube containing 10 Advil for $3.99 -- a cost of 40 cents per pill. By comparison, the next largest size (a bottle containing 50 Advil caplets) came out to around 12 cents a pill. And of course, the per-pill cost would go even lower if you got a bigger bottle or went with the store brand.
Of course, if you're in a hurry and need to grab a Transportation Security Administration-compliant bottle of pills or tube of toothpaste, you don't have much of a choice. But as we've previously pointed out, retailers such as the Container Store sell cheap,
TSA-compliant empty bottles
that can be used to transport the toiletry of your choice through the friendly skies. You can even use a home solution such as an old camera film bottle -- just clean it first. (And if you did make the mistake of buying that $4 tube of Advil, at least make sure you hold onto the bottle so it can be reused.)
Haste is the enemy of thrift. Plan ahead and you can save some cash.
>To submit a news tip, email:
.
Follow
TheStreet
on
and become a fan on