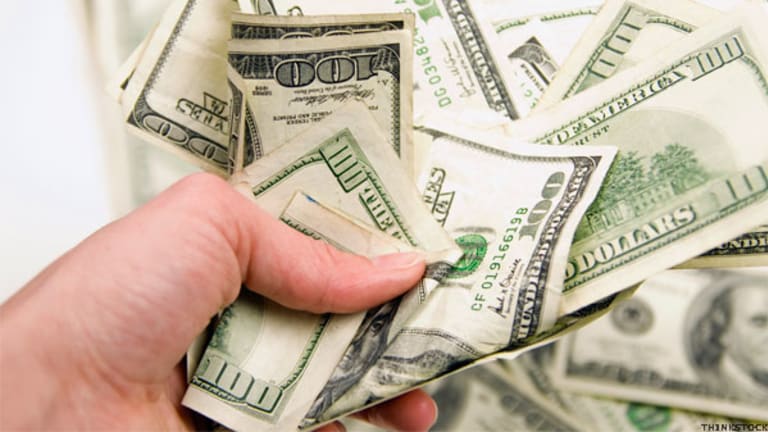 7 Cheap Places For Foliage-Friendly Homes
Fall is fast approaching and great views can be had in New England, the Northwest and the Smokies for a song.
NEW YORK (MainStreet) -- The air is getting cooler, the days are getting shorter and views of those soon-to-be turning leaves are getting a whole lot cheaper.
Average existing home prices fell another 4.4%, to $174,000, in July on the way down from $198,100 in 2008. Meanwhile a 4.15% 30-year fixed mortgage rate -- the lowest it's been since hitting 4.17% last November -- is making homes affordable and mortgages attractive to buyers with the means and the credit.
"Affordability conditions this year have been the most favorable on record dating back to 1970, but many buyers are being held back because banks are offering financing to only the most highly qualified borrowers, ignoring a large share of otherwise creditworthy buyers," NAR chief economist Lawrence Yun says. "Those potential buyers represent the difference between an uneven recovery and a much more robust housing market that could stimulate additional economic activity and create jobs."
Those credit restrictions helped drop existing home sales 3.5% from June to July, but those same sales are still a 21% improvement from the same time last year. That recent downturn coupled with continued price drops could be helpful for not only aspiring leaf peepers, but buyers who want to cash in on the carloads of onlookers.
The National Association of Realtors found that 17% of homebuyers prize nearby parks, forests and other nearby green space, like 20% of married couples and families, while according to the University of Vermont's state tourism data center, the 3.6 million tourists who trekked up to the Green Mountain State for a glimpse at the foliage in 2009 -- the last year data were collected -- spent $331.9 million during their stays. That's down from the $374.6 million spent during the pre-recession fall of 2007, but still a sizable chunk of the state's tourism revenue that stands to rise this year.
Expedia
(EXPE)
travel site TripAdvisor released a survey Tuesday saying 86% of travelers are planning trips this fall, compared with 74% during the same season last year. Of that 86%, 56% are planning weekend trips and 35% have one-week trips planned. That translates to a windblown windfall for the 48% of vacation-homeowners who are able to cover 75% of the mortgage by renting to travelers, according to vacation rental site
HomeAway's
(AWAY)
most recent Vacation Rental Marketplace Report. That fortunate nearly 50% has seen its numbers increase from just 38% last year.
With a bit of help from the experts at real estate site
Zillow
(Z)
, we found seven locations where a view of the fall colors can be found for a price that won't wither your bank account:
Wilmington, Vt.
In the shadow of Green Mountain National Forest, Mount Snow, Stratton Mountain, Killington Peak and Stowe is a route that stretches more than 216 miles along the length of the state and passes through pastures, foothills and through caverns of marigold and merlot branches. Welcome to Vermont's Route 100 and its serene surrounding communities.
Usually beset by Northeast skiers, during leaf season VT-100 transforms into a cup of coffee and slice of pie at Dot's Restaurant in Wilmington, stop for a game of minigolf or a ride on the alpine slide in Killington. The colors form quilts and canopies throughout the Mad River Valley while roadside vendors ply visitors with syrup and maple candy. The local cheeses and beers brewed by Magic Hat, Long Trail, Otter Creek or any of the other local breweries are great bait, but the home prices in some of these towns make it just easy to lure tourists into becoming Vermonters.
A
three-bedroom, one bathroom log house
in Wilmington just off Lake Wittingham gives a buyer old stone walls, a stone ptatio, a fireplace, granite countertops and 1,142 square feet of space on a full acre for $240,000. It earns that price with the view of the foliage from a covered porch.
Though a
three-bedroom, one-bathroom home
in Wilmington closer to Lake Raponda touts its snowmobile access, the 1,360-square-foot home's five-acre plot is the better selling point. An open field behind the house looks right out onto the foothills and is dotted with fruit trees, berry bushes and perennials that all start looking much more attractive around mid-October. The $225,000 price tag puts buyers close to downtown Wilmington, but far enough away to avoid the traffic once the tourists clear out at the end of the weekend.
Portland, Maine
Even when summer ends, "Vacationland" doesn't really get a rest.
Maine has more than its share of favorable foliage spots, including Bethel, Camden, Blue Hill and Rangley, that draw scores of visitors, but residents don't need to stray too far from the city to see them.
A nearly
1,600-square-foot, three-bedroom, two-bathroom home
in a thickly-wooded northern section of the city has a deck, a screen porch and a fire pit for taking in all the surrounding color and sells for $250,000. A much smaller
960-square-foot home on 0.1 acres
in the city's Veranda Street neighborhood seems fairly plain even for its $198,500 price, but the three-bedroom home is on a wooded elevation overlooking the water and Mackworth Island.
If that still seems a bit too urban,
a more secluded spot on Sebago Lake
north of the city might be more your speed. Shadowed by dense woods and staring out at wooded islands in the lake, the property's 800-square-foot 1930s cabin on a quarter-acre sits just feet from a private dock. Even at $290,000, the place could use some significant work on its kitchen (full of original fixtures and flat-out nonfunctional fireplace), but the view alone is enough to warrant the labor.
Beloit, Wis.
Highway 51, known as the Route 66 of the upper Midwest, runs the length of the state from Beloit to Hurley and offers sights a lot freakier than dead leaves. Drivers starting in Beloit can get a glimpse of the world's largest collection of angels (12,000) and a giant can of chili, check the date on the world's biggest penny in Woodruff, hunt for the largest loon in Mercer and finish their trip with a large nightcap opened with Hurley's giant corkscrew.
A little corner of the community at the start of the route is one of the best places to take in all of those colors and attractions. Beloit seems fairly benign on its surface, but homes here have a lot more going on than their standard ranch facades let on.
For example,
a three-bedroom, two-bathroom ranch
looks like a more subdued, beige version of the
Brady Bunch
house. A look behind the $200,000 home's two-car garage and rolling lawn, however, reveals a parklike backyard full of trees, shrubs, perennials and shaded tile patios that are just as accessible from a wooden sliding door into the modern oak-and-stainless steel kitchen as from the 16-by-24-foot screen porch with hot tub. Once you're done lounging outside and watching the leaves change, there's a fireplace in the 2,800-square-foot home's first-floor family room and a bar in the finished basement beckoning.
If that's a bit too pricey, a
late-'60s vintage split-level
on a half-acre with 2,000 square feet of space has a sloping wooded yard that shades the entire house and gives a full view of the falling leaves from its wall of windows in the front. The front foyer's cylinder lighting and wood paneling may be a bit too retro for some buyers, but it's a footnote to the stone fireplaces on the upper and lower levels, the wood-finished rec room downstairs and the three bedrooms and three bathrooms that give buyers a lot of space amid the leaf litter.
Beloit's lovely, but if leaf peepers don't get there by early October, the landscape gets decidedly more stark.
Washingtonville, N.Y.
When you're driving through a section of the Hudson River Valley settled by people who intended to go to Woodstock but never quite made it, and where people who went to Woodstock ended up on the way home, it makes you contemplate doing the same.
A canopy of gold and copper in some sections and quaint villages and quiet farmland in others, this stretch of the Hudson River Valley offers artisan goods such as homemade candles and stained glass at the Sugar Loaf artist colony; antiques and apple orchards in Warwick; and the nation's oldest continually operating winery at Brotherhood in Washingtonville.
The winery isn't something Washingtonville touts as an amenity, but easy access to good wine as well as rail service and less than an hour's drive into New York City are a great combination if you're trying to get folks to stay. That's why even seemingly modest homes such as a
four-bedroom, two-and-a-half bath bi-level
combine simple conveniences such as a two-car garage with small luxuries including almost a full acre of level, wooded yard and a lower-level family room with a fireplace into its $290,000 price tag.
The only-slightly suburban setup certainly serves a purpose, but when most people think of homes in the Hudson Valley, something more akin to a
circa-1880 farmhouse
on nearly two acres comes to mind. This six-bedroom, four-bathroom spread has more than 4,000 square feet of space with a separate in-law suite, 10-foot ceilings, a study with built-in shelves, skylit bedrooms, a formal dining room, a great room with parquet floors and a fireplace and master bedroom suite with a deck overlooking the rolling backyard and adjacent farmland.
If that's not enough, there's a veranda that wraps around the great room with a similar view, a patio below the great room with fireplace and television and a fenced-off in-ground swimming pool in the backyard. All this, and a 55-minute trip into the city, can be had for $220,000.
Then again, the traditional farmhouse just doesn't get it done for the the New York commuter who loves the nightlife. And has to boogie. On the disco round ... aw, yeah. There's a house for that leisure-suited leaf peeper, too, as a
3,650-square-foot, 1976-vintage four-bedroom, four-bathroom "endless ranch."
Set on 2.5 acres amid lovely, leafy surroundings, this stonefaced disco relic has all the
That '70s Show
artifacts, including recessed lighting and wood paneling in the kitchen, a crystal chandelier in the dining room, a brickface wall and fireplace under the vaulted ceiling in the great room, a stoneface wall and fireplace in the family room and dual sliding doors onto the back deck and tile-trimmed in-ground pool. The capper, however, is the wood-paneled, stucco-and-beam-ceiling "recreation room" behind the downstairs family room with a fully mirrored wet bar, nightclub tables and a parquet dance floor beneath a disco ball hanging from the ceiling.
Whether you like your foliage rustic or as a backdrop for your old K.C. And the Sunshine Band records, just about any day in mid-October would be great to catch this region at its fiery peak.
Portsmouth, N.H.
New Hampshire's more pastoral places, including Conway, North Conway, Sandwich, Walpole and Jackson, tend to draw the lion's share of leaf seekers, but it's sheer folly for foliage fans to pass up Portsmouth.
Packed with historic homes, lush gardens and tree-shaded waterfront parks, Portsmouth has the quaint downtown stores the tourists love and the big bursts of color around the Colonial-era houses that make the locals stay. Right near the untouched acres in Tucker's Cove, the trees and trails of Odiorne Point State Park and the Atlantic beaches of Wallis Sands and Rye North Beach is a
tree-shaded, three-bedroom home
with a living room fireplace, screened porch onto the backyard and 1,300 square feet for $260,000.
In the same neighborhood just a little closer to the action is a
four-bedroom, two bathroom home on a corner lot
that's equidistant to both downtown and the beaches, but in a wooded neighborhood where the screen porch sits beneath a canopy of oak and red maple. The $268,500 asking price includes a fireplace, master suite and walk-in pantry, but also provides the best of Portsmouth's attractions without the tourist traffic of any of them.
Gatlinburg, Tenn.
New England gets the publicity, but the Smoky Mountains bring the genuine product. Vivid colors, lofty elevations and cozy little corners such as Cades Cove and its historic cottages put the Great Smoky Mountains National Park on par with anything the Northeast has to offer.
While the ski gondola-style tramway, Ober Gatlinburg theme park and Seattle-style Space Needle in Gatlinburg are added incentive to make the two-town trek, nearby Pigeon Forge tops it with theaters, indoor skydiving and Dolly Parton's biggest gift to the world since
Jolene
and
9 to 5
: Her Dollywood amusement park.
In the middle of it all in Gatlinburg are wood cabins with some of the best views the Smokies have to offer. A tiny
600-square-foot, one-bedroom cabin
is a tight squeeze, but manages to cram a fireplace, jetted bathtub, stand-alone shower and full kitchen into its tiny frame. The clincher is outside, where the $90,000 asking price includes a full wooded yard, high fencing and a hot tub with a great view of the surrounding tree canopy.
If you're looking to spread out a bit,
a cabin that looks like it's set in the middle of the woods
more than doubles the living space at 1,200-square-feet and costs $160,000. For that price, the buyer gets a grand living room with vaulted ceilings, a billiard room with fireplace, three bedrooms, two bathrooms and a wrap-around porch that leads to a secluded, covered hot tub section in the back. The fire pit, leaf-littered yard and community pool are nice touches, but the plot tucked deep into a thicket of trees is an ideal fall retreat.
When even that's not enough, Gatlinburg still has homebuyers covered. A
four-bedroom, three-bathroom log home
has 2,894 square feet of living space, a large stone fireplace in the two-story great room, a full billiards and rec room in the basement and a hot tub on the deck. Those are by far the most mundane details of a home where the views from every deck on the house, including decks off the bedrooms, look out onto an unobstructed view of the Smokies. Just painted mountains and leafy trees in every direction and only a $379,000 asking price stand between a buyer and the view from Moonshine Way.
Corbett, Ore.
Just outside of Portland and right along Interstate 84 is Route 30, a road that not only offers spectacular views of the steep faces of the Columbia Gorge and the sprawling Columbia River, but a spectrum of color almost out of place in a region better known for being evergreen.
It's difficult to compete with the rushing Multnomah Falls or the towering Mount Hood, but the deeply hued, deciduous quilt surrounding what's also known as the Historic Columbia River Highway from late October through early November makes a strong play for a traveler's attention. It also lures the occasional leaf peeper with homes only a half-hour from Portland, but with all the space and scenic views of cabins in the woods.
A
four-bedroom, two bathroom
home billed as a fixer-upper still offers 2,000 square feet of space, 5.25 acres of property, an orchard and wrap-around porches for $299,000.
From there, the definition of "cheap" is in the eye of the beholder. A
4,000-square foot home
with three bedrooms, three bathrooms, sunrooms, master suite and a wine cellar the owner is clearly using for beer brewing seems a bit East Coast with its $499,000 asking price. That only seems exorbitant, however, when you leave out the surrounding 11 acres, gardens, raised vegetable beds, 30-by-48-foot shop, creek and private waterfall.
If you're going to be spending that kind of cash, however, you may as well live on the Historic Highway itself. A 1975-vintage
A-frame-esque estate
on the highway's eastbound side has a long tree-lined drive, horse stables and paddocks, an 800-square-foot garage with loft and a terraced in-ground pool and patio with sweeping views of the Columbia River Valley and Cascade Mountains on its nearly five acres. The house itself packs five bedrooms, three bathrooms, a bi-level great room, stone fireplaces, granite floors, a basement rec room and multilevel decks into 4,500-square feet of space and $490,000 asking price.
If that's just a little too much space, there's a
4,000-square foot home on one acre
on the highway's eastbound side with two more buildings on the grounds, including a 36-by-36-foot shop with lower-level storage, a shower and bath and an in-law apartment with its own kitchen and bathroom. The parklike grounds are lovely, but the $409,000 asking price is a lot more about the unobstructed view of the Columbia River from the property's decks and picture windows looking out onto Douglas Firs, terraced lawns and orange mulch.
-- Written by Jason Notte in Boston.
>To contact the writer of this article, click here:
Jason Notte
.
>To follow the writer on Twitter, go to
.
>To submit a news tip, send an email to:
.
RELATED STORIES:
>>7 Places To Get That House In The Woods
>>3 Best Ways To Move Across Country
>>5 Best Cites For Avoiding The Real World
Follow TheStreet.com on
and become a fan on
Jason Notte is a reporter for TheStreet. His writing has appeared in The New York Times, The Huffington Post, Esquire.com, Time Out New York, the Boston Herald, the Boston Phoenix, the Metro newspaper and the Colorado Springs Independent. He previously served as the political and global affairs editor for Metro U.S., layout editor for Boston Now, assistant news editor for the Herald News of West Paterson, N.J., editor of Go Out! Magazine in Hoboken, N.J., and copy editor and lifestyle editor at the Jersey Journal in Jersey City, N.J.