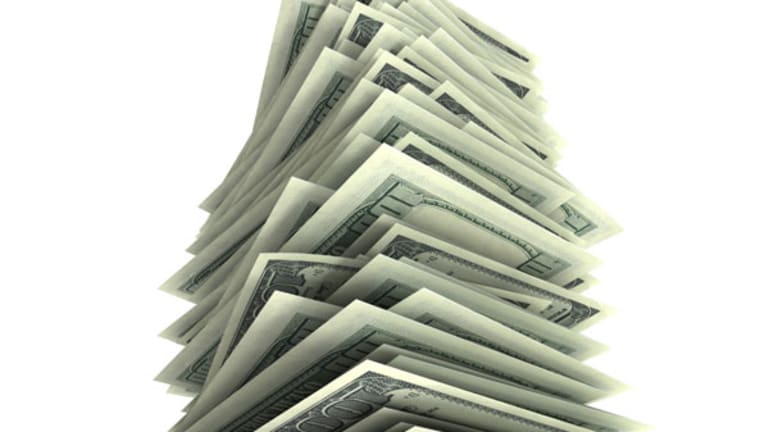 6 Worst Housing Markets Coming in 2012
A handful of particularly hard-hit markets might double a projected drop 3.9% nationwide.
BOSTON (MainStreet) -- The U.S. housing market doesn't seem poised to have much of a happy new year in 2012 -- but some markets seem likely to do a lot worse than others.
"The worst
housing markets are unfortunately a real mess," says Mike Colpitts of HousingPredictor.com, which recently released its annual
Worst 25 Markets
projections for 2012.
A handful of particularly hard-hit housing markets, led by Las Vegas, might double a projected drop 3.9% nationwide.
While Colpitts expects home prices to drop 3.9% nationwide on average this year, he foresees declines of more than twice that size in a handful of particularly hard-hit markets.
Colpitts says these markets are still suffering from the housing boom's "overbuilding, mortgage fraud, Wall Street and congressional corruption
and new mortgage products developed and sold to anyone who could sign their names."
"The cockeyed optimist in me believes things will
eventually get better, though it'll take a whole lot of years," he says.
Here's a look at the five cities atop HousingPredictor.com's worst-markets study. All projections refer to estimated 2012 losses in the average price of each city's houses, condos and townhouses:
Fifth-worst market: Bethesda, Md.
Projected 2012 decline:
7.5%
Home to the famous Bethesda Naval Hospital and other U.S. government institutions, Bethesda is one of the wealthiest suburbs of Washington, D.C. It also hosts
Lockheed Martin
(LMT) - Get Lockheed Martin Corporation (LMT) Report
and several other large corporations.
But Colpitts says Bethesda also had "one of the country's most overpriced housing markets
during the boom, and home values still have along way to fall before reaching anything close to the bottom."
He says Bethesda's home sales have recently slowed "despite the oversupply of foreclosures at discount prices. Low mortgage interest rates don't seem to be enough to push enough buyers off the fence."
The expert expects average prices there to drop another 7.5%, to about 194,000, during 2012.
Fourth-worst market: Kauai, Hawaii
Projected 2012 decline:
7.6%
A lesser-developed Hawaiian island some 100 miles northwest of Honolulu, Kauai saw property prices soar during the housing boom -- but tank in the bust that followed.
"The vacation home market has been slammed by the real estate crash, and no place other than Florida has more second homes and condos than Hawaii," Colpitts says.
A popular playground for the rich, Kauai counts Drew Barrymore, Cameron Diaz, Matt Damon and other celebrities as either second-home owners or high-profile fans. Hollywood has also filmed parts of dozens of movies and TV shows there, from
Jurassic Park
to
Gilligan's Island
.
But while Kauai's condo market has seen some recent price increases, Colpitts say house sales "are running at a sluggish pace, with prices dropping at double-digit rates."
He expects the island's average prices to fall another 7.6%, to $236,000, in 2012 as reduced mortgage lending and tighter appraisal standards make sales tough.
Third-worst market: Jackson, Miss.
Projected 2012 decline:
7.8%
The housing market in Mississippi's largest city has tanked big time in recent years despite the presence of the state capital, 6,800-student Jackson State University and
EastGroup Properties
(EGP) - Get EastGroup Properties, Inc. Report
and some other large corporations.
"Jackson
was one of those places that really boomed during the good times --only to suffer a devastating crash," Colpitts says. "Now many new home developments are strewn with vacant homes as homeowners seek shelter and employment elsewhere."
HousingPredictor.com estimates average prices there will drop 7.8%, to $76,000 by year's end.
"Jackson will see home values suffer for years to come," Colpitts says.
Second-worst market (tie): Hilo, Hawaii, and Wilmington, Del.
Projected 2012 decline:
8.2%
The largest city on the "Big Island" of Hawaii, Hilo is "seeing home values leveled," according to Colpitts.
Colpitts says that like Kauai, Hilo -- a popular tourist destination and home to
Mauna Loa Macadamia Nut
-- is suffering from tough mortgage-market conditions and reduced demand for second homes.
He expects average prices there to drop 8.2%, to $214,000 in 2012.
Colpitts has a similar forecast for Wilmington, Del., where he sees average housing values losing 8.2% this year to $86,000, despite the city's large insurance and banking industries.
"Delaware is one of the hardest-hit states in the country," the expert says. "Not only is the economy suffering; high unemployment in the double digits for much of the state has racked the region -- triggering massive foreclosures and short sales in Wilmington."
Worst market: Las Vegas
Projected 2012 decline:
8.4%
Long the poster child for the housing bust, Las Vegas has had the highest number of foreclosures among any U.S. city for the past two years.
Colpitts says Sin City was the second most popular U.S. market for subprime and "Alt-A" mortgages during the housing boom, "which destroyed its housing market" despite Las Vegas' large gambling and tourism industries.
The expert expects average prices there to fall another 8.4%, to $89,000, in 2012.
"It'll be a long time for Vegas to recover from its downturn," Colpitts says.
>To submit a news tip, email:
.
RELATED STORIES:
>>5 U.S. Housing Booms Coming in 2012
>>5 U.S. Housing Booms in 2011
>>6 Best Cities for Starting Over in 2012
Follow
TheStreet
on
and become a fan on