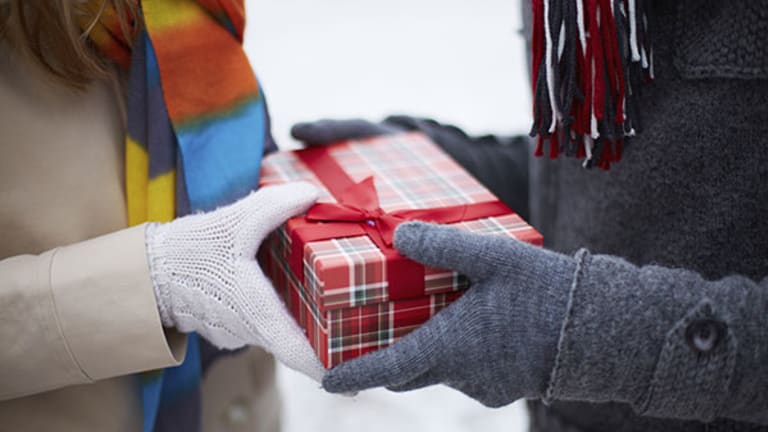 6 Items You Should Never Re-Gift, Even If You're Desperate for a Present
Even if you're in dire need of a host or birthday gift, you should never re-gift these six things.
NEW YORK (MainStreet) — It doesn't take an etiquette expert to know that re-gifting fruitcake won't get you invited back to next year's party, but if you're desperate for a gift, some of these might be tempting. Here's a look at six common items people re-gift that may rub recipients the wrong way.
1. Expensive items
Even if you want to look generous and re-gift those very expensive snow skis you got last year, avoid the temptation, says Michelle Madhok, shopping expert and founder of SheFinds.com.
"The person you give them to may say, 'Thank you so much, but these don't fit me. Can I have the gift receipt?' If you don't have it, how is that going to look?" Madhok says. "It could potentially create a lot of awkwardness."
Overall, people are more likely to try and return expensive unwanted gifts because the refund or store credit will be more substantial. If they try to return the item only to find out it's last season's merchandise, your generosity will quickly be seen as cheapness.
If you get a pricy gift you just can't use, Madhok advises going directly to the person who gave it to you and letting them know rather than passing the item along.
2. Homemade goods
Making something for friends and loved ones can be a wonderful tradition that's truly appreciated, but re-gifting other people's homemade goods is a recipe for disaster, says Maralee McKee, The Manners Mentor.
"It's potentially dangerous," McKee says. "You don't know what ingredients they used, how clean their kitchen was, or how long ago they made it. How careful were they? Did they wash the pans before they made the cookies?"
Even if you trust the person who made the item, if your re-gifted recipient needs to know the recipe or has a question about your process, you'll be forced to lie or admit the awkward truth.
"What if they get sick and call you and say, 'I'm so sorry but I was allergic to that lip balm you made. Can you tell me what you used so I'll know what ingredient to avoid in future?'" If you don't know how to respond, it's going to be bad."
3. Perfume
Scents are personal, McKee says. Chances are, if you didn't like a fragrance enough to keep it, your friends and family won't either.
"Fragrances are the type of thing that people need to pick out themselves. If you get one that's not for you, why assume it's for someone else?" she says.
Many perfumes are an "acquired taste," and one that doesn't do it for you should be donated to a charity rather than put into someone else's gift bag.
"Go ahead and give it to Goodwill. The person who will buy it will love it and get a real bargain," she says.
4. Any item not in its original factory packaging, or that you "tried out"
Everyone shops at stores and watches commercials, so most of us know what a product's original factory packaging should look like.
"If something you know comes in a box is handed to you in a bag with tissue paper, you know instantly that it was re-gifted," McKee says. "If you want to pass something along that didn't work for you, absolutely do it, but don't present it as a brand-new gift that you bought them."
Also, anything that you used or wore — even once — isn't acceptable for re-gifting, even if you thoroughly cleaned it and kept the original box.
"Even if you say to yourself, 'I cleaned it well, it looks like new,' it's not always a failsafe," McKee says. "Stains re-appear. A tissue might be lurking deep in a pocket somewhere. If you tried it and you didn't like it, that doesn't mean it's ready to be presented as new again."
5. Any item with the store tag on it or in the store box
In department stores, most items have two tags: a store tag and a manufacturer tag. If you're re-gifting something, never leave the store tag on, McKee stresses, or the recipient may try to take the item back to the store.
For example, if you re-gift a Michael Kors sweater from Macy's, leave the Michael Kors' tag on, but take the Macy's tag off. The recipient may try to return the sweater only to be told that it hasn't been available in the store since fall of last year.
"Bingo," McKee says. "They know you re-gifted. But without the store tag, they wouldn't have known where you got it, and they would have been forced to donate it to charity or give it to someone else. Not only is this embarrassing for you, it's embarrassing for your friend standing there at the return desk.
The same thing goes for the store box. Also, be careful that you don't put an item in a box from a store where it was never sold, McKee says.
"Don't put an item from Macy's in a Nieman Marcus box," she says. "If they try to return it, they're going to be turned away and told, 'Nope. We don't carry this brand.' You never want to misrepresent anything that you are giving."
6. Anything among people who know one another
Unless it's wine and chocolate, never re-gift among people who know one another, Madhok advises.
"It's just too risky. If you have several circles of friends or family who are in contact with one another, you never know where your item may turn up or whose feelings may get hurt," she says.
Even if you think the chances of getting caught are slim, there's always a possibility people will meet and talk, McKee cautions.
"When people run into each other, your re-gift could be discovered, and it would be hurtful to everyone," she says. "On one hand, you've got the person who now knows you hated their gift, and on the other, the person who knows you didn't care enough to give them something thoughtful. After all, how much thought does it take to open up your closet and say,'What is in here that I don't want that I can give to someone else?'"
— By Kathryn Tuggle for MainStreet