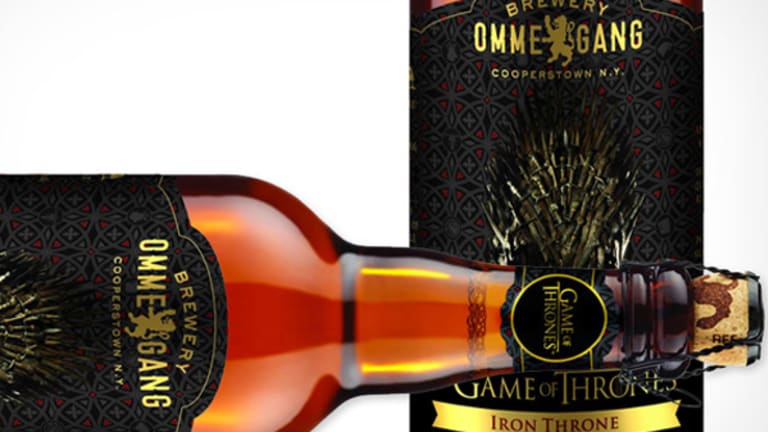 6 Good, Bad and Ugly Beer Partnerships
Small brewers are stepping out and linking up with partners that have nothing to do with brewing.
PORTLAND, Ore. (TheStreet) -- Small beer brewers in the U.S. have a long-standing tradition of working with each other on beer projects. When they step out of the beer world and link up with a partner that has nothing to do with brewing, bottle shops or even bars, that's when things get interesting.
The craft beer partnership is still a rare occurrence, but it's getting far more common as the benefits spill over to both sides. Few have done a better job of pulling this off in recent years that Sam Calagione, the founder and head of Delaware-based
Dogfish Head Brewing
. While Dogfish collaborations with brewers including
Sierra Nevada
,
Maui Brewing
,
Avery Brewing
and
Russian River Brewing
have been frequent and well received by beer lovers, it's his work with the
Discovery Channel
on the 2010 series
Brew Masters
that readied Calagione and Dogfish Head for a bigger spotlight.
In 2011, Calagione and Dogfish Head joined a pair of Italian brewers to create the Birreria restaurant that is part of celebrity chef Mario Batali's Eataly project. The first Birreria led to two more locations in Chicago and Rome, where Dogfish Head-produced, cask-drawn ales make their way to diners from around the world. Calagione lent Birreria his avant approach to brewing and his American take on obscure European styles. In turn, he got the attention of an audience physically and ideologically distinct from the fans at his Rehoboth Beach brewpub.
That, ideally, is the template for brewer partnerships with other businesses. Even seemingly incongruous industries such as media companies and music studios can end up benefiting from a great beer with their name on it. If a beer drinker can't make the connection or the beer isn't up to snuff, however, get ready to save some warehouse space for a weird beer with some company's corporate logo on it.
While this idea hasn't been completely embraced by fiercely independent small brewers, we found a handful that were willing to take the plunge. Let's see how it worked out for them:
Also see: 9 Great Collaborative Beers>>
Samuel Adams Brewlywed Ale
Partner:
The Knot
(XOXO)
For the past two years,
Boston Beer
(SAM) - Get Free Report
and its Samuel Adams brand has teamed up with the parent company of the wedding-centric site of the same name with one common goal: To make beer and nuptials a more common pairing.
"People are incorporating craft beer bars, beer tasting stations and beer and food pairings into their big day in lieu of standard wine and cocktail bars," according to a release from Boston Beer and The Knot issued in June. The brewery adds that the medieval word "ale" is actually rooted in the word "bridal," which refers to a festive occasion where much ale is drunk in celebration. It also acknowledged that founder and brewer Jim Koch brewed the first batch of Samuel Adams Noble Pils for his daughter's wedding day, while Samuel Adams brewer Bob Cannon brewed what came to be Samuel Adams Irish Red for his own wedding.
As for the beer itself, it may not replace bubbly, but it's good enough to make guests forever hold their peace. Koch and company consider Brewlywed a "Belgian-style 'bride ale'" that is a mix of Summer and Stella hops and spices akin to a witbier (think of a slightly hoppier, more complex Blue Moon). Only 300 cases of the 750-milliliter, champagne-style corked bottles were produced, and fans had to show up to the test brewery in Boston's Jamaica Plain neighborhood back in June to get them.
What does The Knot get out of this, you ask? Well, every time Boston Beer does this, it has some people show up to the brewery on bottle day to get married by a justice of the peace and have Koch serve as best man. It's not a lot of effort or production for Samuel Adams, and it's a whole lot of lovely wedding pictures and site visits from beer fans who might not have made it over to TheKnot otherwise. It's a marriage that works, even if Sam and The Knot's wedding guests have to pay $15 bucks per bottle of Brewlywed. There are some benefits to a cash bar.
Elysian Brewing Loser Pale Ale
Partner:
Sub Pop Records
Five years ago, Sub Pop Records threw a party in Marymoor Park outside of Seattle to celebrate its 20th anniversary. As a big fan of Mudhoney, Built To Spill, Tad, Band of Horses and that little band that released its cover of Shocking Blue's
Love Buzz
on the label back in 1988, Seattle-based Elysian decided to brew a little beer for the folks backstage.
Also see: 5 Old-School Beers We Wish They'd Bring Back>>
The next year, it showed up around Seattle on draft and in 22-ounce bomber bottles. Just last year, it made it into six-packs. It was called Loser, and from its minimalist street stencil cover art to its surprisingly bitter yet citrusy flavor it was a near-perfect Northwest summer beer.
We could drone on about how the at-the-time-rare Sorachi Ace Japanese hops used In the original batch give Loser its fresh-squeezed flavor, or how its 7% alcohol by volume may be just what Generation X needs to drown out the electronic dance music that's forced its beloved guitars into the oldies rotation. Instead, we'll just state that beer drinkers should be glad that Loser's '90s nostalgia has worn off and that it's worked its way into Elysian's year-round offerings. It's not a novelty single, but a seriously good beer that deserves to be in heavy rotation.
Feel free to return to making the same arguments about Daniel Johnston and Father John Misty.
Rogue Ales' Morimoto beers
Partner:
Iron Chef Masaharu Morimoto
The Food Network
's stamp of approval is by no means a guarantee a product will be greeted with overwhelming success in the grocery aisles or packaged-goods stores. Nor does a celebrity chef make every brand her or she touches a must-have.
Rogue Ales in Newport, Ore., was among the first to discover this when it partnered with
Iron Chef
star and renowned chef Masaharu Morimoto on a line of specialty beers in 2003. The three beers -- Morimoto Imperial Pilsner, Soba Ale and Black Obi -- are found in 22-ounce bottles or larger and are brushed with Japanese calligraphy. The Imperial Pilsner is packaged in a ceramic 750-milliliter wine-style bottle with a flip-top resealable cap.
They're not incredibly easy to find, and it's debatable just how much effort should go into tracking them down. The imperial pilsner has the aroma of a hoppier version of the style, but comes across as way too malty for a beer encased in ceramic. It gets much better with the Soba ale, which is made with buckwheat and has a grape flavor akin to dry wine or a particularly potent dessert wine. If you happen across a bottle of Black Obi in Oregon or elsewhere, it makes the strongest case for Morimoto's brand. Basically a more intense version of the Black Obi, it has just a bit more hop bitterness and is loaded with roasted malt.
A full 10 years after these beers' first release, they've received more acclaim than attention. The Black Obi took home gold at the World Beer Championships as recently as 2011, while Soba Ale won silver in 2010. Morimoto, meanwhile, still has his chain of Morimoto restaurants, with his Morimoto XEX in Tokyo getting a Michelin star after his Rogue line was released. Rogue and Morimoto moved on, but their partnership never got the attention an
Iron Chef
deserves.
Redhook Game Changer Pale Ale
Partner:
Buffalo Wild Wings
(BWLD)
As Tim Robbins' and Morgan Freeman's inmate characters Andy Dufresne and Red make so plain in the 1994 prison drama
The Shawshank Redemption
, there comes a time when you either have to get busy living or get busy dying.
Redhook Ale reached that point roughly a year ago. Founded in an old transmission shop in Seattle's Fremont neighborhood back in 1981, Redhook made a play for bigger market share in 2008 when it teamed up with Portland, Ore.-based
Widmer Brothers Brewing
to form the
Craft Brewers Alliance
(BREW) - Get Free Report
. In a move that elicits grumbles craft beer community to this day -- and stripped Redhook and Widmer of their "craft" distinction in the eyes of the Brewers Association craft beer industry group -- the brewers gave
Anheuser-Busch InBev
(BUD) - Get Free Report
a 32.2% stake in the operation in exchange for access to its sprawling distribution network.
Brewery founder Paul Shipman retired shortly thereafter and Redhook found itself a brand adrift. It had varieties with meaningless names such as Rope Swing, an ill-defined core audience that could best be described as a white, near middle-age hippie-yuppie hybrid and a declining position within its own company. It makes up only 28% of of the now-Craft Brew Alliance's sales, compared with 39% for Widmer and 33% for 2010 pickup
Kona
. It was a situation that was only getting worse, as Kona's brand grew 34% last year alone.
Now based in the Seattle suburb of Woodinville, Wash., just far enough from its Seattle birthplace to fade from city dwellers' memory, the folks placed in charge of relatively faceless, listing Redhook faced a decision: Either continue on course and let Redhook die a slow death akin to those of other craft beer pioneers including Pete's Wicked Ale, or get motivated and shake things up a bit.
They took the latter path and aimed their Longhammer IPA, Wit, ESB and everything else they had at an 21- to 35-year-old male demographic still smitten with light lagers made by Anheuser-Busch InBev and MolsonCoors/SABMiller joint project MillerCoors. Armed with the knowledge that behind every male craft beer acolyte and beer snob is a 21-year-old Pabst-Blue-Ribbon-swilling bro, Redhook set itself up as a gateway beer and the next logical step away from Bud, Miller, Coors and even Blue Moon.
But it would need some help from places craft brewers don't generally associate with. Redhook first teamed up with former
ESPN SportsCenter
host and current Fox Sports Radio personality Dan Patrick to make the relatively low-alcohol Audible Ale pale ale. Redhook and Patrick launched the branded beer by giving away a rolling "man cave" trailer laden with tech toys and beer gadgetry. It also teamed with the Emerald City Supporters, one of the fan groups backing the Seattle Sounders of Major League Soccer, on an amber lager called No Equal.
The biggest move came in July, when Redhook announced a partnership with Buffalo Wild Wings that would put its Game Changer pale ale -- a mild, amber ale made especially for the casual dining chain -- on tap at more than 925 locations across North America. For a brewery that once organized mud runs for its fans at its Woodinville facility and once elbowed its way onto taps next to light lagers to become many Gen Xers' first craft beer, it was a homecoming. With folks drinking 12% more Craft Brew Alliance beer last quarter than they did a year ago and 9% more year-to-date, Redhook seems happy to be back -- even if craft beer's cool kids aren't the ones throwing it a party.
DC Brau's The Tradition
Partner:
D.C. United
Major League Soccer and craft beer are getting to be fast friends. We've already noted Redhook's No Equal beer brewed for the Sounders' Emerald City Supporters. Fellow Craft Brew Alliance member Widmer Brothers has also teamed up with the Portland Timbers supporters' group The Timbers Army for its Green and Gold Kolsch.
It's a huge step, though, when a local brewer can partner with an MLS team itself and come up with a beer that not only connects the two, but gives craft beer a position it doesn't tend to hold in other professional sports. Back in June, D.C. United and DC Brau Brewing announced that the brewery would produce a D.C. United-themed beer that would be available at the team's nearly 40 partner bars.
D.C. United's First Team players ended up picking Donald Wine II's winning submission, which fit in well with such existing DC Brau beers as The Public pale ale and The Corruption IPA. The Tradition, meanwhile, is a 6% ABV American pale ale that's just hoppy enough to mesh with DC Brau's other offerings, but light enough to withstand a full 90 minutes of play.
The beer earned DC Brau not only some recognition from the city's MLS franchise, but also some love in the form of tap room at RFK Stadium for the rest of August. This is tough ground to tread when Budweiser is signed on as a league sponsor, but this D.C. partnership might clear the pitch for similar team/brewer collaborations in other cities.
Brewery Ommegang Game Of Thrones beers
Partner:
HBO
There was some trepidation in the small brewing community when it was announced that Cooperstown, N.Y.-based Brewery Ommegang and brewmaster Phil Leinhart would be partnering with HBO to produce a line of
Game Of Thrones
-themed beers just before the start of Season 3.
After the March release of its Iron Throne Blonde -- a light, deceptively piercing brew with an almost hidden smattering of Noble hops -- it's clear that Ommegang is intent on putting those fears to rest. It's actually turned out to be a nice little summer brew: Just enough lemon and honey sweetness to remind geeks of a wit such as Blue Moon, but just 6.5% alcohol by volume just to ensure they aren't caught off guard like a guest at the Red Wedding.
Owned by Belgian brewer Duvel Moortgat since 2003, Ommegang is the only American brewer with a true Belgian bloodline and has worked tirelessly to build a reputation worthy of that claim. Its brewery still looks like a Belgian farmstead, it still ages some of its beers in barrels tucked into the depths of nearby tourist attraction Howe Caverns and it still hasn't done anything uncharacteristic such as open up a brewpub next to the Baseball Hall of Fame and serve Stolen-Base Sliders with a side of pomme frites.
Having a brewer that tries painstakingly to brew beers as its Belgian forbears did in the Middle Ages brew a beer for a Middle Ages fantasy drama isn't that big of a reach. If Iron Throne Blonde isn't enough to convince beer geeks to try getting along with the fantasy TV geeks, then perhaps the 7% ABV Take The Black Stout set to debut in October will be.
-- Written by Jason Notte in Portland, Ore.
>To contact the writer of this article, click here:
Jason Notte
.
>To follow the writer on Twitter, go to
.
>To submit a news tip, send an email to:
.
RELATED STORIES:
>>Best Craft Beer Cans for the Cooler in the Dog Days of Summer
>>10 Best Vacation Cities For Beer Lovers
>>10 Summer Beers That Won't Break Your Budget
Jason Notte is a reporter for TheStreet. His writing has appeared in The New York Times, The Huffington Post, Esquire.com, Time Out New York, the Boston Herald, the Boston Phoenix, the Metro newspaper and the Colorado Springs Independent. He previously served as the political and global affairs editor for Metro U.S., layout editor for Boston Now, assistant news editor for the Herald News of West Paterson, N.J., editor of Go Out! Magazine in Hoboken, N.J., and copy editor and lifestyle editor at the Jersey Journal in Jersey City, N.J.