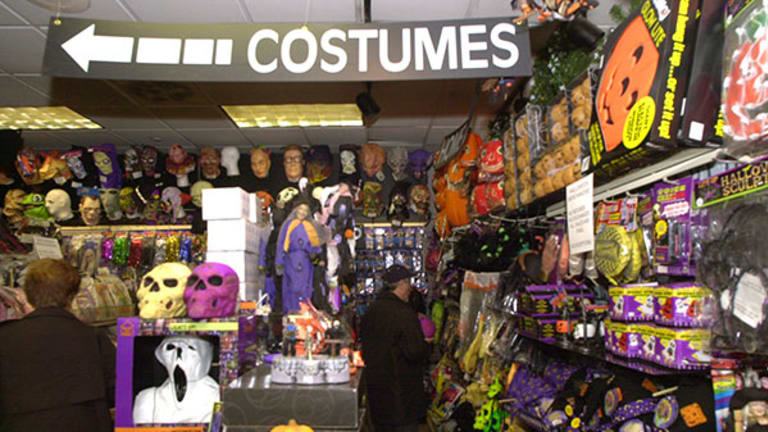 Publish date:
6 Empowering Halloween Costumes for Women
Although costumes for females can often feel degrading, here's a roundup of inspiring ones to consider wearing on October 31.
Although costumes for females can often feel degrading, here's a roundup of inspiring ones to consider wearing on October 31.
While men have practically no pressure to look sexy on Halloween, the trend for women has been quite the opposite in recent years, to say the least. Skin-hugging dresses, super-short skirts and low-cut tops designed to maximize cleavage seem to be the norm at popular costume retailers, leaving few options for ladies who aren't comfortable wearing such revealing outfits.
"Halloween is the one day of the year when females are encouraged to come as they aren't, and while the idea of dressing up to play a different role during the holiday can be exciting, there is serious concern when women believe the only way they can alter their identity is to objectify their bodies in overtly sexy costumes," says Annalisa Castaldo, associate professor of English and former director of the Gender and Women's Studies Program at Widener University in Chester, Pa.
Women certainly have every right to dress as they choose and embrace their sensuality, but the hyper-sexualization of today's Halloween costumes, as well as the immense pressure these tight-fitting outfits place on being slim, seem to reinforce harmful stereotypes that women exist simply for the arousal of men. (True story: While checking out the website of popular party supply store Party City a few days ago, I was immediately bombarded with a huge ad for the retailer's skimpy "Body Shaper" costumes, which claimed to "enhance your shape" and "reduce your waistline up to 2 sizes".)
"The marketing is clear: for Halloween, women are fit into a box that can be hard to think outside of," observes Brianna Bell, a freelance writer and mother of two young daughters from Toronto. "Do you want to dress up as a doctor? Well, unless you want to buy a men's costume, you're going to be stuck dressing as a sexy doctor. If a man dresses up as a firefighter, he looks like a real firefighter. If a woman does, she's wearing shorts and a low crop top with a firefighter print."
So what's a woman to do who wants to get into the Halloween spirit without feeling like she's ready for the Playboy Mansion? Start by looking within—and don't be afraid to get creative!
"Think about a role model or a character that represents empowerment," says life coach Tiffany Mason, founder of Mason Coaching and Consulting, LLC, in New York City. "Women should choose a costume that makes them feel confident, and it's also important to choose a costume that they believe in."
If you can't find a prepackaged costume that embodies what you're looking for, consider putting together a costume yourself. You might be able to repurpose some clothing you already own and pick up a few cheap props and accessories from your local thrift store or costume shop.
Here are a few empowering costume ideas to consider this Halloween.

"Rosie the Riveter" was a cultural icon created during World War II to help recruit American women to work in factories and shipyards while men fought overseas. A symbol of true grit and feminism, she's typically depicted wearing work clothes and flexing her impressive muscles.
You can purchase a prepackaged Rosie the Riveter costume from retailers such as HalloweenCostumes.com, or you can make your own costume pretty easily. If you'd like to go the do-it-yourself route, consider wearing a denim button-down shirt with the sleeves rolled up (to show off your biceps, of course), a pair of jeans, a red-and-white bandana, work boots and red lipstick.
This pioneering female aviator broke down gender barriers and paved the way for other women to follow their dreams.
To look like Earhart, who was the first woman to fly solo across the Atlantic Ocean, you can either purchase a ready-made costume or put together the look yourself with some key items. If you're interested in buying a complete costume, this option available at Amazon.com ($39.99) includes a jacket, pants, a headpiece and boot covers. Or, you can rummage through your closet or visit your local thrift store to find a brown leather jacket, brown pants and brown or black boots. For Amelia's signature headpiece and aviator goggles, you can either purchase a cheap set online or simply wear a brown or black beanie with a pair of swimming goggles attached to it.

"To be so feminine yet so powerful, Serena sets the standards for greatness in whatever you do," says Neoshi Green-Kebreau, publisher and editor-in-chief of Million Moms in Action Magazine.
If you're a fan of the tennis sensation, whose many accomplishments include 21 Grand Slam singles titles, you can put together the look yourself with some easy-to-find items.
"I would do a tennis skirt and tank, visor, racket and multiple gold metals," says Green-Kebreau.

For decades, Jane Goodall has inspired women with her courage, intellect and genuine love for animals. Known for her groundbreaking discoveries while studying wild chimpanzees in Tanzania, the British primatologist and conservationist has made an indelible mark on the scientific community and remains a beloved icon throughout the world.
Looking like Goodall for Halloween requires a few essential elements: "What you need are a cargo shirt and shorts, a ponytail, a monkey doll—and compassion," says Sara Gaugl, director of communications for Savers thrift stores.

No matter where you stand politically, it's hard not to admire Hillary Clinton's confidence, poise and ambition. The presidential hopeful, who formerly served as First Lady of the United States, U.S. Senator for New York and Secretary of State, has shown a generation of women that politics isn't just a boys-only club.
A conservative pantsuit in any color is a must for your Hillary costume. Complete the look with a short blonde wig, a pair of heels and a USA pin and you'll be sure to get recognized at any Halloween party—just be prepared talk about Benghazi, the Iraq War and those "damn emails."

Back in the Roaring 20s, flappers were young, fashionable women who bucked conventional ideas of how a lady should act and dress. They bobbed their hair, wore knee-length dresses, drank and danced the night away.
"Flappers represented a refusal to toe the line and mind the status quo," says Marlon Heimerl, inbound marketing manager for HalloweenCostumes.com. "Women still love to feel empowered in these looks—a mainstay year after year."
There's no shortage of flapper costumes available, such as this black fringe dress from HalloweenCostumes.com ($34.99), and this red flapper dress from PartyCity.com ($29.99). Complement whichever dress you choose with a pair of heels, long beads or pearls and a fun-loving attitude.