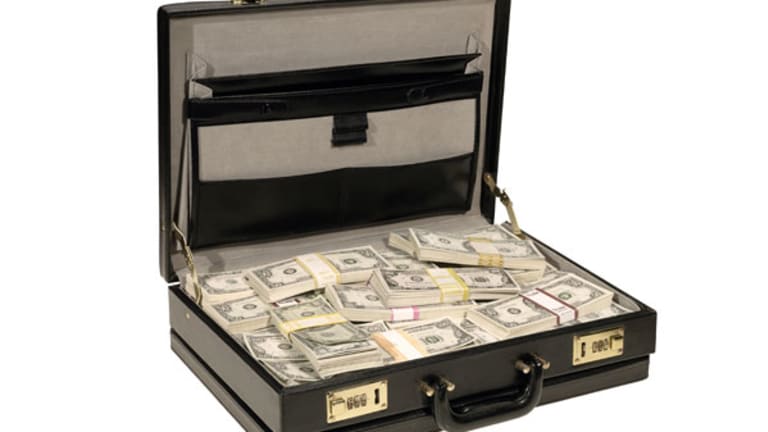 50 Cent Twitter Stocks Pump Hip-Hop's Power
Influence on penny stock prices turns a hip-hop entrepr
NEW YORK (TheStreet) -- Using a Twitter feed to pump a penny stock in his portfolio doesn't make hip-hop businessman 50 Cent less of a novelty. The investors who took his advice did.
Days after 50 flirted with market malfeasance and SEC scrutiny by using his Twitter account to encourage 3.8 million followers to invest in
H&H Imports
(HNHI.OB)
-- the company that produces his Sleek line of headphones, for which he holds roughly 7.5 million shares and warrants for more than 20 million more -- the question isn't why he would do such a thing, but why investors would go along with it, increasing H&H stock value by nearly 300% (or more than $50 million) in one day and extending 50 Cent's influence from MTV and BET to
CNBC
.
It's been more than half a decade since 50 Cent's only job title was "rapper." Now, among other things, he's drawing SEC attention for touting stocks on Twitter.
The smarmy answer is that he's a celebrity and the lemmings will jump off any cliff he points to, but the truth is Mr. Curtis Jackson's been right about these sort of investments before.
It's been more than half a decade since 50 Cent's only job title was "rapper" -- and even longer since his resume included "crack dealer" -- and his extracurricular business dealings have arguably influenced his brand as much as his 2003 debut album
Get Rich or Die Tryin
and the single
In da Club
or its multiplatinum followup
The Massacre
and tracks such as
Candy Shop
and
Just A Lil' Bit
. In 2003, following in the footsteps of Def Jam Records founder Russell Simmons and his Phat Farm clothing line and rapper/producer Sean "Diddy" Combs' Sean John label, 50 Cent teamed up with designer Marc Ecko to launch his G-Unit Clothing line.
Two years later, he licensed himself and his G-Unit crew to former Vivendi Universal video game company and now-dormant
Activision
(ATVI) - Get Activision Blizzard, Inc. Report
subsidiary Sierra Entertainment for
50 Cent: Bulletproof
-- a
Grand Theft Auto
-style run-and-gun game for
Sony's
PlayStation and
Microsoft's
(MSFT) - Get Microsoft Corporation Report
Xbox that eventually yielded the Middle East-based war games followup
50 Cent: Blood on the Sand
released by
THQ
(THQI)
.
That same year, 50 Cent starred in his first feature film, the semi-biographical
Get Rich or Die Tryin'
, spawning film production companies G-Unit Films in 2007 and Cheetah Vision in 2009 -- the latter of which secured $200 million in funding last year and is set to release its 50 Cent-starring first feature
Gun
.
Dan Charnas, a hip-hop journalist who wrote for
The Source
and is the author of
The Big Payback: The History of the Business of Hip-Hop
, says hip-hop's do-it-yourself ethic itself deserves much of the credit for 50's early successes and for the accomplishments fellow hip-hop entrepreneurs such as Combs (whose holdings include
Diageo's
Ciroc vodka), Akon (Konvict Clothing and a sweet
Pepsi
(PEP) - Get PepsiCo, Inc. Report
endorsement), Dr. Dre (Aftermath Records and the Beats by Dre headphone line) and Ludacris (Conjure cognac and endorsement deals for Tag body spray and Trojan condoms).
Millionaires are being made today by the same forces that motivated kids kept out of clubs to wire mics and turntables to streetlamps for parties in parks and artists shunned by major labels to form imprints such as Def Jam.
"One of the reasons that hip-hop was able to come in from the outside and suddenly find itself as the world's predominant pop culture and a multimillion-dollar business is the specific nature of what hip-hop represents in the American context," he says. "If you are shut out of regular institutions, then you have to create your own ... if corporate America won't give you endorsement deals, then you might have to create your own companies."
Or your own opportunities. The transaction that transcended 50 Cent's hip-hop persona and eventually separated him from a crowd of drink-endorsing, bad-movie-making hip-hop entrepreneurs was his purchase of a 10% stake in Glaceau, the beverage company he worked with to produce an energy drink. When the company was sold to Coca-Cola in 2007, 50 Cent took home $80 million and went from "hip-hop entrepreneur" to businessman with investment ideas that could move markets.
"Wall Street moves real money, but a lot of it is a game of perception, and I think that perception means a lot," Charnas says. "50's not the most wealthy person, but he's able as a thought leader and a legend in terms of what he's been able to do with himself to move the needle a bit."
That influence placed 50 Cent in the rare company of entrepreneurs such as Simmons and Jay-Z, who once dismissed him with the lyric "I'm about a dollar, what the
expletive is 50 Cents?"
Despite a similar crack-dealing backstory as 50 Cent -- minus the bullet wounds -- Jay-Z went about building Rocafella Records and the Rocawear clothing label from the ground up (and selling it for $204 million in 2007) and later becoming president of Def Jam. His Armadale line of vodkas, 40/40 Club sports bars, role as
Anheuser Busch InBev's
(BUD) - Get Anheuser-Busch InBev SA/NV Report
co-brand director for Budweiser Select and stake in the New Jersey Nets helped fill out the index of his autobiography,
Decoded
, which went to the
New York Times
(NYT) - Get New York Times Company Class A Report
Best-Seller list last year, when he earned $63 million -- nearly eight times 50 Cent's take. It also got him a seat at the table with
and Steve Forbes for the Forbes 400 summit in October and moved the goalposts of hip-hop business from riches to real wealth.
"It was hip-hop culture and the power of it that allowed black entrepreneurs to transform themselves like Jay-Z, who was a low-level crack dealer just trying to get some money in the late 1980s and is now a guy who can play among the ultra-rich and sit among them and be accepted among them," Charnas says. "It's a great symbolic gift, and if Jay and 50 can transform their personal fortunes into something more duplicable and brings more lasting wealth -- companies that last for decades rather than years -- then it will be more than symbolic."
With some help from Charnas,
TheStreet
put together a few tips for aspiring hip-hop entrepreneurs who want to influence the market like 50 Cent or keep the same company as Jay-Z. As we discovered, it takes more than 40 bars and a beat to build a brand:
1. Let Russell Simmons do it first.
Any rapper who's ever recorded a track, signed an artist or stitched his or her label onto an article of clothing owes a huge debt to Simmons, who laid the blueprint for hip-hop business before anyone even knew what that would entail.
He and partner Rick Rubin started the seminal hip-hop label Def Jam out of Rubin's dorm room and introduced the world to LL Cool J and the Beastie Boys before selling his stake for $100 million in 1999. The movie about Simmons and that label, 1985's
, was LL's first role as a rapper/actor and was the start of hip-hop artists' transition to the screen. Before Ice Cube was taking producer credits on TBS sitcoms, Simmons'
Def Comedy Jam
was introducing mainstream America to such comedians as Martin Lawrence and giving HBO the kind of original programming that would eventually yield
The Sopranos
,
Deadwood
and
The Wire
.
Simmons also founded the Phat Farm clothing label that spawned Sean John, Rocawear, Pharrell Williams' Billionaire Boys Club and roughly every other hip-hop clothing line. These elements are all now on the cheat sheet for modern hip-hop brand building, but Simmons made it clear just how hard it all was the first time during an interview with
Businessweek
in 2003: "Here's what other people's business plan is: Let Russell bash his head and then we'll follow."
2. Invest in what you love.
If you're T-Pain, you love nothing more than sounding like a robot and exposing those around you to the wonders of auto-tune. Therefore, it makes perfect sense to team with
Jakks Pacific
(JAKK) - Get JAKKS Pacific, Inc. Report
and lend your name to the I Am T-Pain Mic that debuted at the Consumer Electronics Show last week. If you're Lil' Jon, however, you shouldn't let your cranked-up crunk persona get in the way of your love of the finer things -- as he showed in 2008 when he debuted his short-lived Little Jonathan Winery collection of merlots, cabernets and chardonnays.
For any hip-hop artist, however, giving back to the community that supported you by founding a label and helping other artists never hurt either. Just ask Akon, who made $21 million last year after a little-known artist signed to his Kon Live label in 2007 grew into the pop-culture monster known as Lady Gaga by 2010.
3. Think outside the game.
By this time, every hip-hop artist who's wanted to do a clothing line, make a movie appearance or sell their own line of alcohol has done so. Only one, however, has owned a stake in a beverage company and a piece of an NBA franchise.
This doesn't mean you have to buy a stake in Boeing or seek controlling interest in Apple, mind you, but even a small gesture such as securing ringtone rights -- as Chamillionaire did just before his
Ridin' Dirty
became the most popular ringtone in history with 4 million downloads -- can yield millions in revenue.
-- Written by Jason Notte in Boston.
>To contact the writer of this article, click here:
Jason Notte
.
>To follow the writer on Twitter, go to
.
>To submit a news tip, send an email to:
.
RELATED STORIES:
>>Many Still Resist Call of the Smartphone
>>Crunching The Costs of New Year's Resolutions
>>Five First-Quarter Shopping Deals
Follow TheStreet.com on
and become a fan on
Jason Notte is a reporter for TheStreet.com. His writing has appeared in The New York Times, The Huffington Post, Esquire.com, Time Out New York, the Boston Herald, The Boston Phoenix, Metro newspaper and the Colorado Springs Independent.