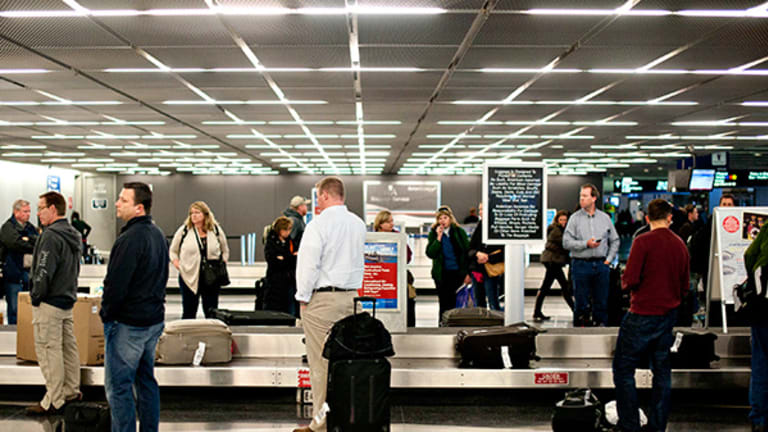 The 5 Most Outrageous Airline Fees
Airline passengers are used to baggage fees, but what about $25 fees for carry-ons, $50 fees for the first checked bag or a $150 fee to change tickets at the last minute?
Airline passengers are used to baggage fees, but what about $25 fees for carry-ons, $50 fees for the first checked bag or a $150 fee to change tickets at the last minute?
PORTLAND, Ore. (TheStreet) -- Vacation travelers are getting much better at taking a break from airline fees. 
According to the Department of Transportation, U.S. airlines collected $3.35 billion in baggage fees last year. That's an oversized haul, but down from $3.49 billion in 2012. Yep, that's $100 million passengers kept out of the hands of money-grubbing airlines that seem to be in constant battle with their customers, their pilots and their competitors who don't see why either need to be flogged just for having the misfortune of running across the airlines in question.
The airlines are only doing it to themselves. Since American Airlines (AAL) - Get Report introduced the first checked bag fee in 2008 ($15, which has since climbed to $25), airlines shocked everyone into packing a carry-on. As a result, airlines can only gate check those bags for free once the overhead bins are stuffed. They also made elimination of baggage fees a basic tenet of their loyalty programs, and card carriers have caught on. Also, it hasn't escaped anyone's notice that those fees are just 1.7% of the $199.7 billion in revenues airlines made last year overall. But what about their profits, you say? Up to $12.7 billion last year from $98 million the year before.
So, yes, those baggage fees are worth ducking, as are the reservation-change fees carriers have begun tacking on. The latter fees accounted for $2.81 billion alone. The $6.16 billion in combined baggage and change fees is actually up from $6.06 billion last year, making baggage fees just one of the pitfalls travelers need to avoid.
With a little help from the folks at travel pricing and guidance website Smarter Travel, we've found five of the absolutely most egregious airline fees passengers can pay. If you thought $25 was outlandish for a checked bag, wait until you see how little that buys you on other airlines:

Carry-on baggage fee
Offender:Frontier Airlines
Cost: $25 online, $25 to $50 elsewhere
Passengers have come to expect this kind of fee out of Spirit Airlines (SAVE) - Get Report, the Fort Lauderdale, Fla., carrier whose low-starting-cost itineraries are basically a woven fabric of fees. They've even begun to realize they'll get the same treatment from Nevada-based "low cost" carrier Allegiant Air.
But Frontier is a tough one to take. The airline had been struggling since merging with Midwest Airlines in 2010 and irking passengers who noticed the difference in and dearth of amenities almost immediately. It got worse when Frontier slashed its Milwaukee hub to the bone in 2012 and when parent company Republic Airways spun it off into a low-cost carrier that year.
What was once one of the most comfortable flights in the U.S. and one of the best deals in domestic air travel became the airline equivalent of a prepaid calling card. To completely erase any vestige of the airline passengers once loved, Republic decided to focus on the Philadelphia market by moving to lower-tier airports in Delaware and Southern New Jersey in 2012 and last year. In October, the airline was sold to a private equity firm.
Also see: Sorry United: Alaska and Virgin Fly Friendlier Skies>>
The New York Times says passengers should relax, and that the low fares more than make up for the inconvenience of a carry-on bag fee. The Times, however, used pre-deregulation fares as a point of comparison and gave its argument all the context of a grandpa who remembers when candy bars cost a nickel. It's still a $25 to $50 carry-on fee charged by an airline so far adrift that it's become the second-most-complained-about airline in the U.S. -- trailing only Spirit.
Way to aim high, Frontier.

Checked bag fee
Offender: Allegiant Air
Cost: $50
Fifty. Five zero. For one checked bag.
Low-cost carrier, my eye. This shouldn't really be a surprise coming from an airline that charges $10 to $35 for a carry-on bag when you check it in online (that's $35 to $75 if you just show up with it at the airport), but that makes it no less egregious.
Allegiant argues that its checked bag fees are only $15 to $35 when you check them in online, but seriously? In the age of the check-in kiosk, does anyone honestly believe Allegiant is putting that extra cash into an employee paycheck? It's grift, and even template-setter Spirit Airlines only starts the in-person bag pricing at $45. Frontier, which doesn't quite have the hang of this whole low-cost racket yet, charges only $25 at the airport for that first checked bag.
When passengers started paying $15 for that first checked bag back in 2008, many knew we'd get to $50 someday. Congratulations to Allegiant for being just soulless enough to push up that timetable sooner than anyone expected.

Ticket change fee
Offender: Air Canada
Cost: $200, $75-$150 same day
Remember that nearly $3 billion in change fees we discussed earlier? Blame Canada for a whole bunch of them.
It's not that U.S. carriers are great in this regard. United (UAL) - Get Report charges a flat $200 and $75 same-day, while Delta's (DAL) - Get Report change fee starts at $150 and goes as high as $450, but with a $50 charge for same-day service. These scared little Mounties who tremble in fear whenever a Porter Airlines jet powers up on a nearby runway have the audacity to not only charge a major U.S. carrier price on the front end, but to make people cough up as much as $150 if they're put in a position where they have to change flights at the last moment.
Flight snowed in? Oh well, pay us. Tornadoes near the runway? Too bad, pay us. We ran late and made you miss your connection? Too bad, pay us.
Also see: 5 Best Beer Vacations of 2014>>
If you combined Toronto Mayor Rob Ford, a perp-walked Justin Bieber, that video where Avril Lavigne uses Japanese girls as props and anything Drake has ever done at a Toronto Raptors game, it just might look as bad as this. What happened to you, Canada? You used to be all polite, laid back and helpful. All of a sudden you find some oil sands and it's like Texas North up there. At least the Lone Star State has Southwest Airlines and its zero-dollar change fees. All you have is an airline with a heart as cold as a hockey pond and as dark as any Canadian NHL team's building during the Stanley Cup Final.

Priority boarding fee
Offender: American Airlines
Cost: $9 to $40
This fee makes sense on Southwest, which has a legacy of cattle-call boarding, but on American?
This isn't exactly a new fee. Delta and AirTran each charge $10 for the privilege because some folks just like getting on the plane early and getting situated. It doesn't make them not have to move when the person with the window seat arrives and it doesn't prevent them from getting whacked in the arm by heavy carry-on bags when the other passengers come tromping through, but it lets them decompress.
That's fine. But $40? Considering that parents with children, seniors, people with disabilities and members of the nation's military tend to be seated early to begin with, there's a shallow pool of priority-boarding folks to choose from. Take card-carrying flyer club members with boarding priority out of the equation and you're catering solely to sociopaths: People who are going to treat the armrest like it's a night under the hoop with Roy Hibbert, shatter the kneecaps of the person behind them with their forceful reclining and launch the seat in front of them like a catapult if the person sitting in it dares to recline his- or herself.
It's bad enough that the airline's already validating this individual. Don't pay $40 to be this person.

Blanket and pillow
Offender:Virgin America
Cost: $10
This is how far out of whack airline hospitality has fallen.
The standard sleep set of an undersized pillow and blanket used to be offered for free. Then airlines such as US Airways began charging $7 or so for them. Then people got wise and either left without or brought their own.
As a result, airlines have largely eliminated this particular amenity. Those that do still carry pillows and blankets charge anywhere from $3 to $10 for the purchase, but are able to offer them as "perks." They're "luxury" amenities that their thoughtful competitors just don't offer anymore. They're throwbacks to the days when passengers dressed up for flights and male passengers two Rock and Ryes into a trip could call the stewardess "toots" and receive only muted loathing in response.
That is how airline passengers were tricked into paying $10 for a blanket and pillow and loving it. We don't blame Virgin America for doing it, but we credit them for working it into a whole freewheeling culture that includes texting flirty messages to passengers and ordering drinks for them from your seat's touchscreen display -- and hooking up with them in the bathroom with your parents on the same flight, in some circumstances.
-- Written by Jason Notte in Portland, Ore.
>To contact the writer of this article, click here: Jason Notte.
>To follow the writer on Twitter, go to http://twitter.com/notteham.
>To submit a news tip, send an email to: tips@thestreet.com.
RELATED STORIES:
>>Sorry United: Alaska and Virgin Fly Friendlier Skies
>>5 Cities Where Records Still Rule
>>Get Ready For The Sports Futures Market
Jason Notte is a reporter for TheStreet. His writing has appeared in The New York Times, The Huffington Post, Esquire.com, Time Out New York, the Boston Herald, the Boston Phoenix, the Metro newspaper and the Colorado Springs Independent. He previously served as the political and global affairs editor for Metro U.S., layout editor for Boston Now, assistant news editor for the Herald News of West Paterson, N.J., editor of Go Out! Magazine in Hoboken, N.J., and copy editor and lifestyle editor at the Jersey Journal in Jersey City, N.J.