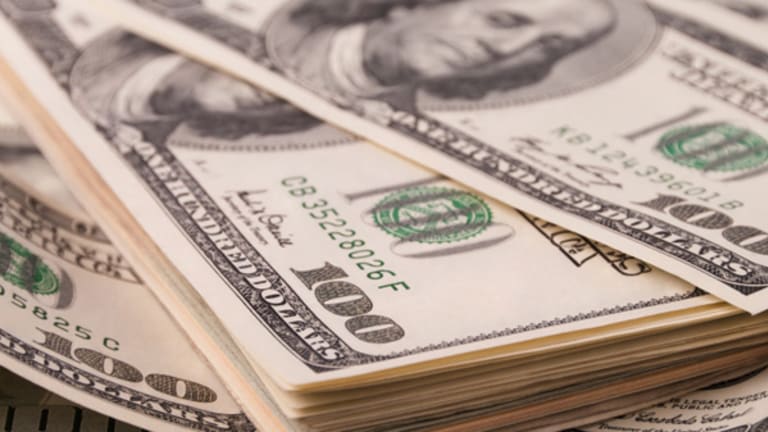 5 Wedding Costs You Can Save On
Weddings are worth a splurge, but aerialists, $50,000 fabric displays and a top-shelf bar will only divorce couples from their cash.
NEW YORK (TheStreet) -- Weddings are a $74 billion industry in the U.S., but there are a lot of upsells out there just waiting for willing, lovestruck suckers to inflate that take.
Couples are already laying more than $24,000 on the table for the average wedding, according to market research firm The Wedding Report, but there's every indication they're willing to spend a lot more. Afraid of looking cheap or, worse, offending their beloved, 42% of engaged couples told
TheKnot.com
(KNOT)
that they went over budget on their weddings last year, with 16% ditching budgets altogether and going for broke. When facing an industry where the consumer's almost always making this purchase for the first time but the vendors have been honing their craft for years, the chances of it ending poorly are roughly that of someone dancing awkwardly to a Black Eyed Peas song during a reception this year.
"It's a really smart bride and groom who really want to learn everything about weddings and want to learn essentially what are 10 different college majors," says
, a wedding expert who's written roughly 35 books on the topic, including
Your Wedding, Your Way
. "They learn about photography, marketing and budgeting in a short amount of time when emotions are already tweaked."
All that confusion comes even before a couple first lays eyes on
VH1's
( VIA.A)
My Big Friggin' Wedding
and, for some reason, decides that if certain wedding elements are good enough for a gentleman named "Meatballs," they're good enough for them too. Throw in a couple showings of
TLC's
(DISCA) - Get Discovery, Inc. Class A Report
A Wedding Story
and
Say Yes To The Dress
or WE TV's
Bridezillas
and
Rich Bride Poor Bride
-- complete with sponsor promotions and giant function halls full of garishness -- and it all amounts to sensory overload for frazzled couples worried about frittering away their honeymoon and house money.
"Never before have brides and grooms been so inundated with images of the kinds of upsells we're talking about," Naylor says. "Twenty years ago there were just wedding magazines, then the websites came in and gave some images and now it's all about reality shows, competitions and things you're seeing all over the place with these splashy elements that couples aren't paying for and are just part of the show."
While a good wedding coordinator can usually steer couples clear of the most egregious wedding industry money grabs, couples who think shelling out for a wedding planner is just contributing to the problem can cut costs on their own by putting a cap on vendors' more ludicrous items. After a long chat with Naylor,
TheStreet
came up with five upsells couples can save a bundle on by cutting from the budget:
Entertainment
There was a time extra lighting for a band or DJ effects such as a smoke machine seemed cringe-worthy. In an era when one feature or performance can transform the average wedding from touching moment to YouTube meme overnight, those details seem cute compared with what's being forced on couples today.
"Another way that people are getting exposed to upsells is by going to bridal shows and seeing aerialists and fire shows," Naylor says. "One of the things I've seen recently is a fire show that lights a fire down the center of the
wedding party's table."
Yep, unless you have Chinese acrobats spelling out the lyrics to Beatles songs with their bodies or a fellow belching gasoline-fueled fireballs into your 94-year-old great-aunt's face, your wedding just isn't worth having. If a $5,000 light-up bar or twin trapeze artists happen to be at the bridal expo that rolls into the local convention center, expect competitive couples to integrate it into their reception if only because "the more
Disney
(DIS) - Get Walt Disney Company Report
kind of feel that's presented to them, the more they want a piece of that."
"Any time that you see one of these things and the vendor is pressuring you to create a spectacle with different kinds of performers that go over the top and anything that can potentially burn down a building, you'll want to stay away from it if it's not part of your initial wedding dream," Naylor says. "Brides and grooms are sponges, so when they're exposed to this kind of thing even the most stable brides and grooms want to compete with other weddings."
Oh, and wedding choreography that you hope will get your wedding on
YouTube
(GOOG) - Get Alphabet Inc. Class C Report
and into the Jim-and-Pam wedding episode of
The Office
should get the hook as well. For Naylor, that trend reached its low point when a wedding she attended ground to a halt after a groom and his friends decided to perform a routine from
High School Musical.
Not only are wedding choreographers costly, but the "Halo/Walking On Sunshine" mash-up from
Glee
was fun exactly once -- when it was on
Glee
.
Decor
If you're being offered "fall lanterns" for an indoor wedding, chances are you don't need them. If you're being charged more than $1,000 for elegant lighting and decor in your wedding tent, you're just being robbed.
"I spoke with a bride who, after her wedding, regretted the amount of fabric she was encouraged to use to decorate her tent," Naylor says. "She spent $50,000 on fabric to make this really ornate pink fabric tent. So you have to look out for decor elements like that."
A professional can make a modest decor element look like $50,000 when it's not, which is what Naylor says they need to be explicitly told to do if couples care about the budget. Naylor says any vendors worth the tablecloths they're laying down will work within a couple's limits as long as the couple tells them what the limits are and don't become complicit in their own overspending.
"We're in an era of simple elegance where a lower degree of decor is needed," Naylor says. "You don't need crystals hanging off the trees, because the trees are pretty enough."
Flowers
When it comes to wedding flowers, couples have two enemies: New vendors and their own ignorance. One of the downsides to working with a newcomer, Naylor says, it that your wedding could become just the resume padding they need to build their business. They may not have worked William and Kate's nuptials in London, but making your ceremony look like a royal wedding could go a long way toward convincing the next daydreaming couple to buy their bouquets from their supply.
"You have some new florists who are looking to build a portfolio," Naylor says. "The vast majority of florists are professionals and have a great deal of integrity, but there are florists out there who are trying to build a portfolio with flashier images and may encourage more ornate arrangements."
The other problem is that, as with food, floral arrangements are at the mercy of market prices. If you have your heart set on hydrangeas -- a summer flower -- but have a wedding date in February, prepare to pay at least three times what your arrangements would have been worth if they were available locally in July.
If you simply must have out-of-season flowers but still don't want to shell out for them, Naylor suggests having them at an in-season engagement party or shower to cut costs a bit. At the very least, couples should do their homework instead of counting on every florist to be forthcoming about what's in season.
"There may be vendors who aren't experienced enough in the business and aren't trained by associations who'll push for larger, splashier things," Naylor says. "They know that in-season things are affordable but just so happen to not mention it, which is why brides and grooms need to be better educated. You can get something in season that costs a third as much."
Liquor
There are several ways to avoid succumbing to upsells when it comes to stocking the bar for the wedding. Cheaping out on the open bar isn't one of them. If a cash bar is a tradition in your family, Naylor suggests getting a new one.
"Open bar is always a must," Naylor says. "Open bar is very diplomatically correct because you don't want your guests to spend money on anything, not even tipping."
Not every couple is Diddy in the '90s, however, and buying a bar full of top-shelf liquor for your friends and family can be a costly affair. Remember, an open bar is only as costly as what's in the bottles behind it.
"You can really make an impact with well-chosen limited offerings," Naylor says. "You can have a certain amount of wines, a certain amount of microbrews and a specific amount of cocktails, but you don't need to have a full open bar of top-shelf liquors and shots -- that should be the first thing to go, the multi-alchohol, high-consumption alcohol drinks."
The safest bet is to limit mixed drinks to basic cocktails and one signature cocktail, supplemented with an array of soft drinks such as nonalchoholic sangria and flavored iced teas. Champagne, meanwhile, gets less costly poured into cocktails that are a third of glass of champagne topped with juice and a slice for fruit. Even a vodka tasting bar that pairs samples with various fruits and cheeses can look like a big expense while fitting into the budget.
"When you offer your guests something they wouldn't have themselves -- like a sangria -- and it's open bar, it looks like you're offering more," Naylor says.
Photography
Photographers have one of the roughest jobs in the wedding industry, and couples and guests only see a portion of it. Once those 500 to 1,000 pictures are taken, the job's just begun.
"There's a very good reason for their high price point, because of the time, equipment, developing and editing -- they spend more time editing than brides and grooms even realize," Naylor says. "For most of what they're offering, it's worth it."
Some items -- such as extra prints, big 8-by-10s and albums, added costs that can run into the hundreds or even thousands -- are only worth as much as the value a couple assigns to them. Savvy newlyweds who know their way around simple photo programs and have a serviceable photo printer at their disposal can do it themselves as long as they have a disc of pictures to work with. For couples lacking those skills, shops such as
CVS
(CVS) - Get CVS Health Corporation Report
and
Walgreens
(WAG)
can help assemble a presentable album at a fraction of the price.
-- Written by Jason Notte in Boston.
>To contact the writer of this article, click here:
Jason Notte
.
>To follow the writer on Twitter, go to
.
>To submit a news tip, send an email to:
.
RELATED STORIES:
>>6 Essentials For Airline Travel Survival
Jason Notte is a reporter for TheStreet. His writing has appeared in The New York Times, The Huffington Post, Esquire.com, Time Out New York, the Boston Herald, the Boston Phoenix, the Metro newspaper and the Colorado Springs Independent. He previously served as the political and global affairs editor for Metro U.S., layout editor for Boston Now, assistant news editor for the Herald News of West Paterson, N.J., editor of Go Out! Magazine in Hoboken, N.J., and copy editor and lifestyle editor at the Jersey Journal in Jersey City, N.J.