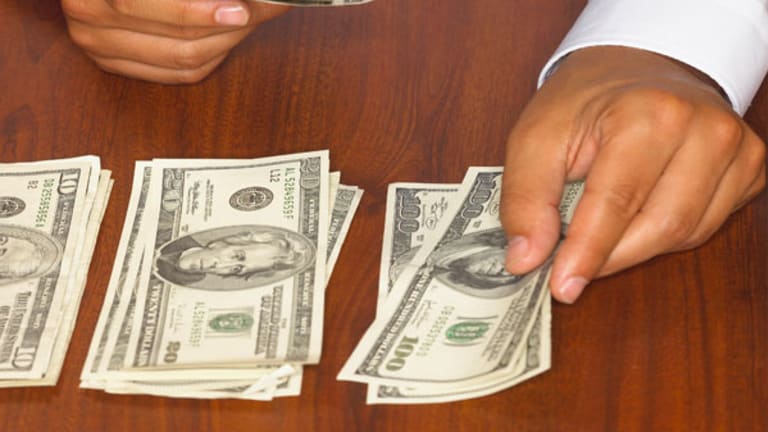 5 Wedding Tasks To Finish Early
Wedding planning is much easier once big items such as the guest list, venue and even the wedding dress are out of the way.
NEW YORK (TheStreet) -- Weddings aren't born when an engagement ring finds its finger, but in the list-writing, vendor-calling, deposit-check-writing weeks that follow.
Couples who aren't planning their wedding shortly after the ring is out and the parents are told are destined to be eaten alive by a wedding industry with painfully tight timetables and pitifully low tolerance for slackers. The average engagement is little less than 14 months, according to
TheKnot.com
(KNOT)
and WeddingChannel.com's Real Weddings survey, and 43% of couples are engaged for more than a year.
That's great, because they're going to need every day of it if they're going to book a Saturday night wedding slot (which Donne Kerestic, CEO of 1-800Registry, says 80% of engaged couples choose for their special day -- many booking a year in advance or more). Photographers are in similar demand, mostly because the nation's 541,900 businesses serving the wedding industry are pressed into service 77 times a year, or for roughly 1.5 weddings a week, according to wedding market research firm The Wedding Report.
This makes for a lot of frustrated couples and frazzled families, as the Real Weddings survey found that the average couple doesn't start planning a wedding until 10.6 months before the date, with only 28% of couples planning more than a year in advance. Even when couples do plan that far in advance, they're still procrastinating. The average couple spends 3.4 hours a week planning the wedding when they have a 10- to 12-month buffer between them and the aisle, but cram 11.3 hours of wedding planning into a week when the wedding's less than three months away.
With demand for wedding services increasing and the amount couples are willing to spend on their ceremony and reception growing, a wedding shouldn't be treated like a junior high algebra exam given the Monday after a weekend. Instead of playing around on their
Bed, Bath & Beyond
(BBBY) - Get Bed Bath & Beyond Inc. Report
,
Target
(TGT) - Get Target Corporation Report
and
Macy's
registries for months and cramming a bunch of details and stress into the last minutes before marriage, couples should consider tackling these five tasks as early as possible:
1. Guest list
Last year the amount spent on the average wedding jumped 23%, from $19,581 in 2009 to $24,066, according to The Wedding Report. During the same time, the average numbers of guests at weddings rose to 141 from 128. It's no coincidence: More folks are willing to part with a discount store blender to get some free chicken piccata and booze.
"Most people think their budget determines their guest list when, really, it's the other way around," says Sharon Naylor, a wedding expert who's written roughly 35 wedding advice books, including
Your Wedding, Your Way
. "Talking with each other and with parents to find out how big of a wedding it's going to be ... will determine your location."
Of course, if a couple is feeling independent enough and wants to start a budget early in the process and keep it -- as the Real Wedding survey says 34% of couples did last year -- they're well within their rights to pick a venue that suits their needs and put a cap on the invitations. If parents or other relatives are kicking in, as 45% of the bride's parents and 12% of the groom's parents did last year, it gets a bit more complicated.
"The guest list is more important to decide on first because God forbid you offend someone in your family," says Amy Eisinger, editor of WeddingChannel.com. "If your second cousin couldn't be invited because the venue was too small, that's the kind of family drama you don't need to create."
Couples should also plan for their worst nightmare: the off chance their whole list of invitees, including buffer friends and courtesy extended-family invites, responds "Yes." The national average may have been 141 wedding guests last year, but 34% of couples ended up with weddings of 150 people or more.
"Try to plan out a rough number of who you want to invite," Eisinger says. "That's really going to help you choose a venue, and you should keep in mind a guest list before venue because a growing guest list can make small venue get cramped. And you don't want to feel like that during your wedding."
2. Priorities
Custom wedding dresses take months to design, photographers can book up in more than a year in advance and bands and DJs also book their gigs well ahead of time. Which to pick first?
Naylor suggests tackling all of them by having a couple write out lists of their five top priorities, meshing them and addressing them in order. She also suggests making similar five-item lists of features they
don't
care about and delegating them to someone who does.
"If the couple doesn't care about it, give it to the bride's or groom's parents and let them work on it," Naylor says. "Parents are more often just paying for only the stuff they work on anyway, so if it's something couples don't want, but the parents feel strongly about it, let them pay for it."
Naylor also notes that more family members are giving wedding items as gifts and suggests letting a grandmother buy a couple's invitations instead of their set of luggage. While that's one way to knock items off the to-do list, WeddingChannel's Eisinger also suggests interviewing and checking the portfolios of photographers early; couples in the Real Weddings survey began researching photographers an average of eight months before the wedding and booking them roughly seven months before the event. Perhaps no item should get higher priority than the wedding dress, which most brides start looking at an average of nine months before the big day but should really be looking at well before that if they want it ready for the ceremony without going off-the-rack.
"It's really never too early to start looking for a wedding dress," Eisinger says. "Once you've picked it and it's been ordered, you can wait nine months to a year to get it in and get all the alterations done."
The priority lists may seem like a lot of minor items thrown together, but they can all create major headaches for couples. Couples who underestimate the amount of time it takes to alter a dress, order and get invitations and have wedding rings even as seemingly simple as men's wedding bands made to order can lose out on their first choices months before the first wedding song is played.
"Almost everybody underestimates the process because very few people have the experience of throwing a party worth tens of thousands of dollars," 1-800Registry's Kerestic says, "which a wedding is."
3. Locations
The geographical location of one's wedding may seem a bit arbitrary, but it's a big deal for couples with a lot of folks flying in for the affair. Only 24% of couples last year had what they considered "destination" weddings, as much of the country kept it closer to home -- and spent a lot of time doing so.
"It used to be that brides and grooms would tour four or five locations," Naylor says. "Since the biggest factor in wedding planning now is a lot more time, we're seeing brides and grooms touring eight or 10 locations."
If a couple's wedding ends up in a "home" state that hasn't been home for some time or in a location closest to their far-flung relatives, Naylor suggests talking to people who had their weddings in these areas, even if they're outside your circle of friends. A site such as
, for example, can offer wedding profiles, photos, vendors and couples' reviews of an area before couples literally go treading into unfamiliar territory.
4. Venue
It's No. 4 on our list, but it's No. 1 in most couple's minds; the reception site alone was easily the biggest-ticket item on couples' lists last year -- they cost an average of more than $12,000 for food, drinks, bar service, site fees and rentals. If couples think they can save by having a wedding at home and cutting out transportation and excess decor, their plan will work only if they can keep the party to a dull roar.
"The problem is that the one location could require a lot of rentals," Naylor says. "It's not just portable restrooms, but generators, heaters, coolers and a tent for the caterers -- it's very detailed."
As 1-800Registry's Kerestic points out, however, the venue is also the first big domino to fall and sets the rest of the vendors in motion. Once the venue and date are squared away, seemingly major details such as florists, music and even photographers from a venue's vendor list all fall in line afterward, especially if the venue handles catering on-site.
Wedding coordinator
Only 19% of couples hired a wedding planner last year, according to the Real Weddings survey, but The Wedding Report says use of wedding planners is up 22% from 2009. They don't come cheap, as survey couples paid an average of nearly $1,700 for their services last year, but they can be worth the investment for couples who still haven't registered for a backbone.
"If you're a shy person who has a problem saying no to authority figures, which happens a lot, a wedding coordinator can step in," Naylor says. "If you don't want something but don't want to offend the vendor, the coordinator will make that call for you."
Of the couples who hired a wedding planner last year, only 38% went with the full-time, full-service, bridezilla-taming planner that's become somewhat of an archetype in wedding folklore (a la Jennifer Lopez in
The Wedding Planner
). The majority of couples (52%) go with a day-of-event coordinator who keeps in touch in the days leading up to the ceremony and whose main job is to take heat off the couple and prevent disasters.
"A lot of things can go wrong on the day of the wedding," Eisinger says. "I like to think of a coordinator as insurance if you're not going to be purchasing wedding insurance for if it rains, if the flowers don't come on time or if the groom is stuck in traffic."
Naylor says even the first-minute to end-of-reception kind of wedding planner can make back a couple's investment by saving them up to 30% across the board, using their databases of industry contacts when the weather doesn't cooperate or the venue burns down, mediating fights between family members and sniffing out florists, decorators and other vendors who can make $500 worth of flowers look like a $5,000 treatment. Even if couples can get past the initial cost, however, the wedding planner's multistep vetting process can still bring them a little bit too close for comfort.
"This is why you interview five to seven coordinators. Not just to ask about the price package, but to see what their vibe is with you," Naylor says. "Questions like 'Do you get me, do you seem like me, do you seem like somebody I'd be friends with, are you overworked, do you listen to me when I'm speaking' are why they have very detailed intake questionnaires -- which most couples don't realize because they saw
Father of the Bride
and saw Franck just open up a book to a cake and thought, 'That's not how it works.'"
-- Written by Jason Notte in Boston.
>To contact the writer of this article, click here:
Jason Notte
.
>To follow the writer on Twitter, go to
.
>To submit a news tip, send an email to:
.
RELATED STORIES:
>>6 Essentials For Airline Travel Survival
>>10 Companies Going To Your Wedding
>>Five Wedding Costs You Can Save On
Jason Notte is a reporter for TheStreet. His writing has appeared in The New York Times, The Huffington Post, Esquire.com, Time Out New York, the Boston Herald, the Boston Phoenix, the Metro newspaper and the Colorado Springs Independent. He previously served as the political and global affairs editor for Metro U.S., layout editor for Boston Now, assistant news editor for the Herald News of West Paterson, N.J., editor of Go Out! Magazine in Hoboken, N.J., and copy editor and lifestyle editor at the Jersey Journal in Jersey City, N.J.