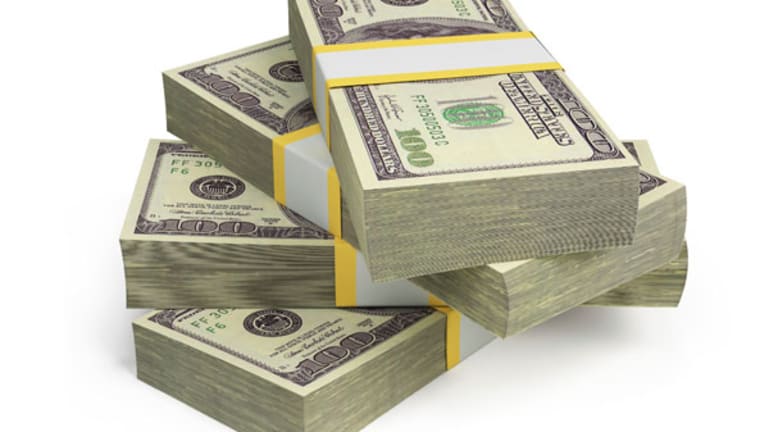 5 Wedding Planning Details You're Overlooking
Wedding minutiae such as tipping, overtime and stamps can cost brides and grooms money and sanity.
NEW YORK (
) -- The engagement ring is on, the date's been set, the venue is selected and now you think you're ready to have a wedding. You're so not.
Just because a couple has decided to share one of the most important moments of their lives with a few dozen or hundred friends doesn't mean they've become professional event planners. In many cases, they're just fortunate to get through the whole experience with finances and sanity intact.
Do you really want an open bar at your wedding? The decision is among the minutiae that can cost brides and grooms a lot of money and much of their sanity.
Couples responding to
(XOXO)
and WeddingChannel.com's
Real Wedding Survey
last year spent an average of nearly $27,000 on their wedding ceremonies, receptions, engagement rings, attire and everything else surrounding the big day. Of those, 42% went over budget and 16% dodged that disappointment by not setting a budget at all.
"The biggest mistake that every couple makes when they first get engaged is making purchases without having a really solid budget," says Anja Winikka, site editor for TheKnot.com. "Then they're shocked to find out that they've spent all their money and don't have enough for half the things they need. You have to be open and honest about your budget at the beginning of the process."
The unfortunate reality of every wedding day is that problems and unpleasant surprises have a way of cropping up no matter how much you try to beat them back. Even brides who dodge the reality TV drama of shows such as TLC's
Say Yes To The Dress
and pick out their gowns without grief can experience heart palpitations when they see the final price tag. Brides paid an average of $1,099 for their wedding gowns alone in 2010 -- the last year for which complete data were available -- but accessories for that dress tacked on another $254. Kim Forrest, editor of
, warns brides that dress alterations can drive the price up even further.
"Brides often focus on the amount their actual wedding gown costs, but they don't always factor in the alterations, which can tack on hundreds of dollars to a gown's final tab," she says. "Sometimes, if a bride purchases a relatively inexpensive gown at a sample sale, the cost of the alterations can come close to or exceed the price of the dress."
Asking about the alteration costs upfront and taking the dress to an independent tailor afterward can save couples some big bucks before the big day, but covering other details can save them some gray hairs and friendships as well.
, the author of more than 35 wedding books, including
The Smart Guide to Wedding Weekend Events
, says harried couples can help themselves by keeping older guests and babies sit away from the DJ or band speakers, keeping gifts away from the entrance and out of thieves' hands and keeping diners from getting queasy by balancing out fried cocktail-hour snacks with lighter fare.
Though it may not occur to brides or grooms when they're writing out a $3,000 check to the reception band, couples will also want to make sure that the band's microphone gets nowhere near their table of college friends who came for the open bar.
"Tell your entertainer that your rule is this: No one gets the microphone if they're not on your list of sanctioned speakers," Naylor says. "This prevents guests from seeking attention and avoids the dreaded drunken tirade or goofiness on stage."
With help from Naylor, Forrest and Winikka, we looked past the big wedding checklist items and got into the minutiae many couples overlook before their big day:
The timing
An early May wedding is only lovely if you haven't booked a venue in a town's bar district in the middle of Cinco de Mayo. If so, here's hoping you like tequila and noise.
"A lot of couples don't realize they're booking a very popular wedding date when they do so," Winikka says. "They don't look into what's going to be happening in a city during that time of year, so they'll think that they want their wedding to be in fall but won't think to see if there's a homecoming game that weekend that will fill all the hotels."
Even though wedding season usually begins with summer break and the return of longer days, couples shouldn't be fooled into believing that every other nonsummer day on the schedule comes at a discount. June remains the most popular wedding month, according to TheKnot, but September is a close second. If couples think the fall is any less popular just because there's a nip in the air, they can feel free to take their place in leaf-peeping traffic among the other brides and grooms crawling their way up Vermont's Route 100 or down the Great Smoky Mountains Expressway.
"If your wedding is in the fall, you're not off-peak and your vendors may not be willing to negotiate or throw in some extras," Winikka says. "If you were to get married in January on the East Coast, you might get something thrown in for free."
Incidental costs
Your vendors' quoted prices may sound all round and final during your informal discussions, but that's before tips and overtime enter the equation. Couples can do themselves a big favor by giving contracts with bartenders, hair stylists, valet parking attendants and other vendors a second read before assuming gratuity is or isn't included.
"If you don't see that there's already a 22% gratuity in your limousine contract, you could make the error of tipping them again on the wedding day -- since you're proper and always tip," Naylor says. "Review that fine print in each of your contracts to be sure you know who already has their tips in their fees and who gets tip envelopes on the big day."
That goes for your venue's contract, too. If couples are trying to save a little cash by buying their own alcohol, for example, they may want to check the fine print to see if their venue includes a per-bottle corkage fee for that off-premise booze.
"Same goes for a cake-cutting fee: If your venue did not provide your wedding cake, they may charge several dollars per guest to cut and serve your cake," Forrest says. "One way to get around cake-cutting fees: cupcakes! If you have a self-serve cupcake station, most venues won't charge the extra fee."
It also pays for couples to have a wedding coordinator or designated point person watch the clock. Overtime fees can be very hefty, so knowing the overtime clause in a vendor's contract can get them out the door on time and save the couple money. Naylor advises cutting the cake a half-hour earlier in the night so you can release your photographer/videographer after getting the important footage.
"For on-the-clock experts and services, like your limousines, classic cars, entertainers, photographer and videographer and wedding coordinator, brides and grooms have to know what's in the fine print of their contracts when it comes to potential overtime charges," Naylor says. "Does the clock start when the expert arrives at your site, or does the clock start when the cars/vendors leave their parking lots? That's a very important factor to know, especially if you booked experts whose home bases are a half-hour away."
The bar tab
The mere mention of an open bar can turn teetotaling family and friends into extras from
Animal House
once the cake is cut and the sound cranks up.
TheKnot.com's Winikka notes that the bar is a huge wedding expense that can double the event's total food cost, depending what's involved. Couples can cut into that cost by capping bar spending at a certain price, serving beer and wine only, limiting harder booze to a signature cocktail or closing the bar during dinner.
"Every party is different, and that's what the caterer will tell you, but what's important is to get some estimates and to really be open," Winikka says. "What's really important is to go broad, seeing what the cost really is per person, understanding that everything is an estimate or capping the bar at a particular price."
That assumes the bar shuts down after the reception. Naylor notes that it has become quite common for the bride and groom to join their parents, bridal party members and hotel-staying guests back at the hotel bar after the reception closes for an impromptu after-party.
"But what usually happens is that everyone imbibes and orders bar snacks, and the parents or the wedding couple get handed a
huge
bar tab at the end of the gathering," Naylor says. "Most guests will start pulling $20 bills out to help, but some will not ... and it has happened that the bride, groom, their bridal party and friends head out to the official bar-crawl after-party, leaving the parents with a big bill to pay."
With the bride's parents already paying for 45% of the average wedding and the groom's parents kicking in another 12%, that added expense isn't anyone's idea of a good time. Naylor suggest parents instead join their guests in their hotel rooms for private get-togethers, where they can control what's ordered, or brides and grooms talk about how they'll handle the tab for their circle of friends.
Photo scheduling
When people tell couples "it all goes so fast" and "it'll all seem like a blur," it's because brides and grooms spend inordinate amounts of time hustling from place to place for pictures and rendering themselves half-blind from staring into flashbulbs.
"Even the fastest and most efficient photographer will take a good chunk of time to get all those posed shots of your family and bridal party, not to mention a ton of shots of the two of you," Naylor says. "If you haven't followed the trend of meeting before the ceremony to take all of these photos, you will miss a number of songs at your reception when you're pulled out of the room to get photos taken."
"Planning out that timeline is a big deal," Winnika says. "If you have the luxury of a wedding planner to walk you through it, that's great, but otherwise just be really diligent and line up the day hour by hour."
It's a lot easier when you have someone to help you. Wedding planners and day-of coordinators are helpful, but even delegating a family member, friend or member of the wedding party to keep everyone in line eases some of the burden. In any event, there's no need to have pictures taken after the reception anymore. Photographers prefer getting them over with early, couples generally like having the photographer out of the mix before the end of the night and those spending a lot of time and money to look their best during the big day appreciate it when a camera isn't catching them at their most frazzled.
"One other reason couples are meeting before the ceremony is that the bride's hair and makeup are
perfect
this early in the day, not windblown during the ceremony, not melted from the sun, not frizzy from humidity," Naylor says. "So meeting in advance provides the opportunity to look better in your photos."
Stamps
It seems like a quibble, but a few trips to the post office will be enough to convince any engaged couple that stamps are the biggest racket since numbers running.
"Most wedding invitations require more than one stamp. Be sure to weigh a completed, sealed sample of your invitation at your local post office before you send them out," Forrest says. "Nowadays, stamps cost 45 cents each, so if your invitation needs three of those, that's over a dollar extra per invitation."
And it's cute that you think you only need stamps for the
invitations
. No, no, no, no, no. There's an entire boutique stationery industry built around your glossy little "save the date" cards, antique-style invitations and color-scheme-appropriate thank-you notes. Even if you were to send only invitations, your guests still need to send them back to you. That's another 45 cents a pop for response card envelopes.
There's some room to trim costs here by using postcards for your save-the-dates and/or response cards, since postcards require only a 32-cent stamp. But woe to the couple that expects guests to spring for their own response stamp. They will never be more disappointed in humanity than they will be four days past the RSVP date when they're calling and texting friends, family or members of their own wedding party in an attempt to get them to scrawl an X or checkmark on a piece of paper, drop it in a stamped envelope and drop it in their mailbox for pickup.
If potential guests want to start the most brutal fistfight of their lives, they only need to say these four words to people who sent them a wedding invitation: "You know I'm coming."
-- Written by Jason Notte in Boston.
>To contact the writer of this article, click here:
Jason Notte
.
>To follow the writer on Twitter, go to
.
>To submit a news tip, send an email to:
.
RELATED STORIES:
>>The Real Cost Of Wedding Day Cold Feet
>>4 Movie Weddings And Their Real-Life Costs
Follow TheStreet.com on
and become a fan on
Jason Notte is a reporter for TheStreet. His writing has appeared in The New York Times, The Huffington Post, Esquire.com, Time Out New York, the Boston Herald, the Boston Phoenix, the Metro newspaper and the Colorado Springs Independent. He previously served as the political and global affairs editor for Metro U.S., layout editor for Boston Now, assistant news editor for the Herald News of West Paterson, N.J., editor of Go Out! Magazine in Hoboken, N.J., and copy editor and lifestyle editor at the Jersey Journal in Jersey City, N.J.