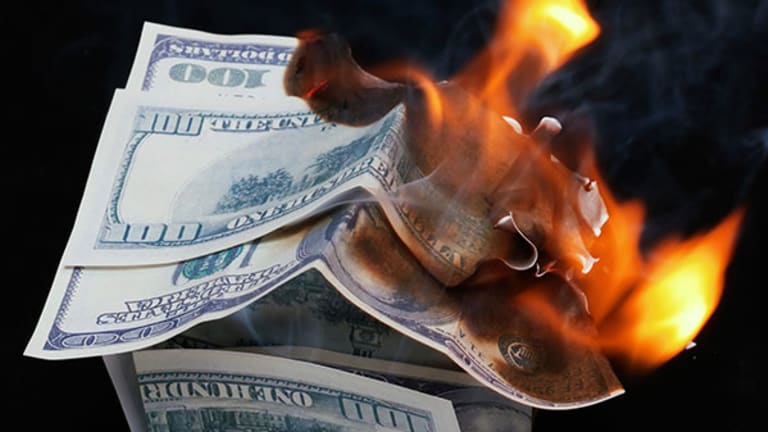 5 Ways You're Squandering Cash Without Realizing It
Americans can waste thousands of dollars annually by careless debt and spending. It's time to fight back.
Leaving hundreds of dollars in tax deductions on the table. Not using credit card reward points you've accumulated. Not maxing out contributions to a 401(k) plan. Those are all are high on the list of big time "money wasters" perpetrated by Main Street Americans.
As Deal News puts it in a recent report on consumers and wasted cash, you wouldn't withdraw a big stack of bills from your bank, and leave it at the counter on your way out. So why not be more vigilant about minding your finances to stop throwing money away?
But Americans leave money on the table, on an alarmingly regular basis, by squandering cash. While taxes, credit cards, and retirement funding shortfalls are all large transgressions on the money waste front, they're just the tip of the iceberg, according to money experts contacted by TheStreet.
Here are even more egregious ways consumers are squandering their hard-earned cash:
Dining out too much - "My biggest transgression is eating breakfast and lunch out," says Milena Filazzola, a Toronto, Canada-based certified public accountant and money manager. "So many people say they have no time, so laziness sets in and they buy their breakfast on the way to work, and buy lunch out, too." Add it up it can be $15 to $20 per day, Filazzola adds. "At five days per week, that could be $5,000 to $6,000 per year," she says. "That's quite a nice vacation if you ask me."
Driving too often, and wasting gasoline - Filazzola says people are prone to driving too much, when it's more economically feasible to walk. Even though gas prices are low, it's still a drain on your wallet. "Driving a short distance when it's near enough to walk is another problem," she explains. "Not only do you save on gas and wear and tear on the car, but your body will love you." The same goes for gym memberships. "Why spend tons of money on expensive gyms and treadmills, when you can walk?," Filazolla asks. "I see parents driving kids to school all the time when they live 10 to 15 minutes away. It's no wonder our youth are so fat and unhealthy."
Letting gift cards go to waste - "The biggest thing we forget to use are gift cards," says Matthew Young, a homebuilder in Dallas. "Every time we get one, they go in a gift card bag and tend to be forgotten. If you don't have a gift card with you, they won't get used."

Not downsizing - This is a bigger, more expensive issue, some experts say, as a larger home can chew up a ton of cash in upkeep and bill payments. "Don't pay for the rooms and upkeep for a home that is too big for you when you can save money year after year by downsizing," says Barry Gordon, founder of MaxSold, a downsizing and real estate sales service. "The price of your home, upkeep, and location can all be improved through downsizing." Storage is another cash-burner, Gordon says. "Don't pay to store the things that you never use but are too afraid to let go of," he says. "We can sell multiple items at once and get you auction prices from all kinds of items ranging from furniture to Christmas decorations. It makes moving easier and gets you money that would be wasted on storage."
Too many fees and subscriptions - One the biggest mistakes consumers make involves the fees and subscriptions that they forget about, says Debbie King, life coach, founder of King Personal Finance, and author of the book The ABC's of Personal Finance. We tend to think that because something is just a few dollars that isn't significant. However that can add up quickly. $20 a year for magazines you don't read is a waste. $10 or more a month for every bank account you have is needless, and $40 a year or more annual fee on a credit card is a waste. Sometimes can add up to $1,000 ayear or more."
There are myriad ways Americans needlessly part with their money. So take a personal finance inventory of your life, and start chopping away on the money-burning expenses you don't want and definitely don't need. Do that, and at the end of the year, you'll likely have a few thousands dollars in your bank account you wouldn't have had, otherwise.