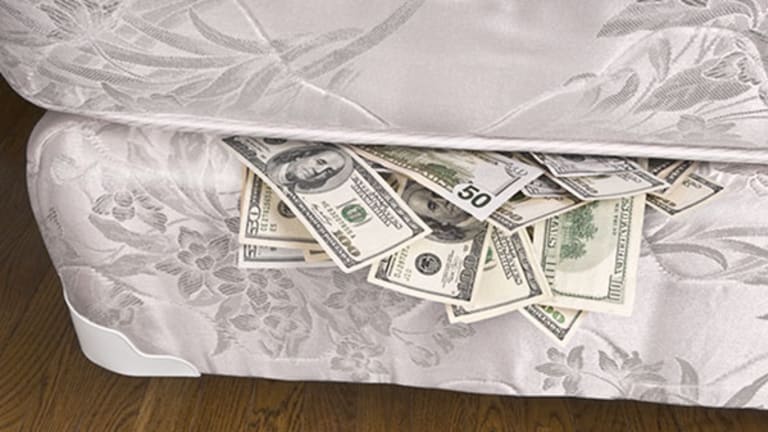 5 Ways to Save on Some of Your Baby's $312,000 in College Debt
If you're having a kid now, you can look forward to spending $312,200 for a four-year undergraduate degree in 18 years.
NEW YORK (TheStreet) -- The "real" cost of college at a private university is $129,700, for a four-year undergraduate degree, according to Savingforcollege.com.
That's a bargain compared with the estimated cost in 18 years, which clocks in at $312,200, the website says.
For $312,000, you can buy a beautiful beachfront home down in Naples, Fla. Or, if you invested $312,000 today at 8% annual compound interest, in 18 years you'd have accumulated $1,246,758.08 -- more than enough to live comfortably the rest of your life, if you manage it right.
But the world doesn't work that way, and there are plenty of families standing in line to pay for that high cost of college and incur those huge college financial costs. They should know it's all about saving money and keeping costs down as much as possible.
Also see: 4 College Tax Breaks to Remember>>
The California Society of CPAs, a nonprofit representing more than 45,000 Golden State certified public accountants, has some ideas on curbing the costs of a college education:
Fight for every penny. Financial aid is based on a federal government formula that calculates your family income, assets, family size, number of children in college and other factors. There's also an estimate called the Expected Family Contribution, which is the portion of the college bill the family is expected to cover. If that figure comes in too high, contact the financial aid offices of the colleges your son or daughter has applied to and explain your situation (such as high medical bills or loss of a job) that affect your ability to pay for college. Financial aid offices can and will cut you a better deal, but you have to ask them first.
Go for public loans. If there's a gap between what a college is offering and what you can afford, aim for a student loan -- but the right kind. Federal Perkins Loans, Stafford Loans and Federal Direct Loans offer with interest rates and payment terms more favorable than private student loans, for instance.
Also see: Parents Intent on Saving $405 Each Month for Kid's College>>
Go beyond FAFSA. No doubt, the Free Applications for Federal Student Aid, the standardized national form for government grants, work-study jobs, state grants and student loans such as the Perkins and Stafford is the gold standard for financial aid. It's a form that should be filled out as early as possible. But a lesser-known college aid form known as the "College Scholarship Service Profile" -- widely used by colleges and universities to dole out financial aid dollars -- should be completed too.
Timing is everything. To avoid an "inflated" income on a FAFSA or CSSP form, don't sell any stock or real estate during a year you're applying for financial aid. The extra cash you'll earn will be held against you by colleges and universities.
Ask for discounts. Many colleges will offer a discount on tuition if you allow them to deduct payments directly from your bank account. Asking about installment plans can also help, by spreading the payment pain evenly throughout the course of the year.