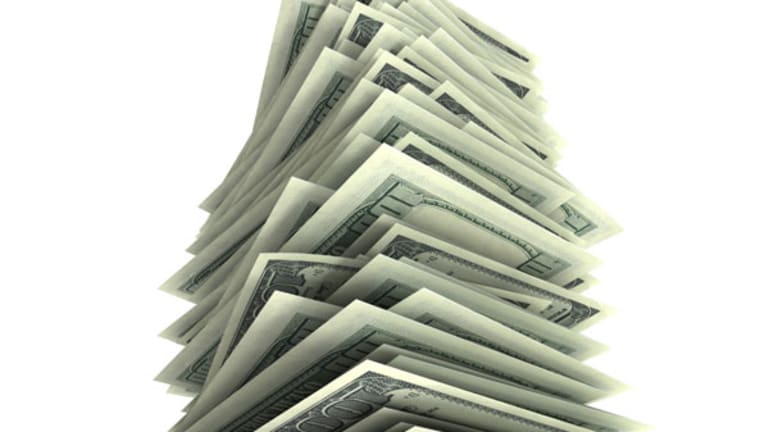 5 Ways To Plan A Wedding In A Month
Weddings can be scheduled on a short time frame, but it takes a little help and a lot of compromise.
NEW YORK (TheStreet) -- Wedding couples sometimes love a challenge, hate logistics or hear the shotgun cocking in the distance, but short-timers with a month to prepare can still have a great wedding
Couples with three months or less until their ceremony spend little more than 11 hours a week planning the event, according to
TheKnot.com
(KNOT)
and WeddingChannel.com's Real Weddings survey. But they'll have to do much more if they're hoping to squeeze all that planning into a month or less. Also, while retailers including
Bed, Bath & Beyond
(BBBY) - Get Bed Bath & Beyond Inc. Report
,
Macy's
and
Williams-Sonoma
(WSM) - Get Williams-Sonoma, Inc. Report
make a month seem like a lifetime by letting couples register online and tinker with their wish lists 24/7, elements such as venues, dresses, flowers and photographers aren't nearly as flexible.
That doesn't mean it's impossible, just tricky.
"I have a cousin who's doing her whole wedding in San Diego in a month," says Donne Kerestic, chief executive of 1-800Registry. "We were able to get half of her vendors done in a week."
It also takes a bit of luck. Sharon Naylor, author of 35 wedding advice books including
Your Wedding, Your Way
, says other couples' cancellations can help late-game wedding planners get not only their venue, but possibly a discount as well. A wedding planner, meanwhile, may cost couples upward of $1,600, according to the Real Weddings survey, but Naylor notes that they can turn events around in as little as two weeks and can break down a couple's to-do list "like a human spreadsheet."
"It can be done if you immediately adopt the attitude of 'We're going to see what comes to us,'" Naylor says. "'We're not going to jam our expectations into reality and expect it to work.'"
While wedding experts advise against planning a wedding in a month unless absolutely necessary, they acknowledge that there are shortcuts that can not only help a couple pull it off, but do it more frugally and with less stress than their more well prepared counterparts. Here are five suggestions that will go a long way toward making a wedding happen on a short timetable:
Be flexible
According to Kerestic, 80% of Americans have their weddings on Saturday nights, and anyone hoping for the same with only a month's worth of planning should keep in mind that most couples book their venue an average of nine months in advance, according to the Real Weddings survey. Amy Eisinger, editor of WeddingChannel.com, says picking a less favorable night or even moving that Saturday ceremony up a few hours can save cash and heartache.
"Planning a wedding during an off time of the week is definitely going to save you a little bit of money and give you a wider choice for venue options," Eisinger says. "If you look into booking a venue on a Wednesday night, a friday night or a Saturday afternoon, it's really going to help you."
That's not the only area in which short-timers will have to compromise. Photographers tend to book up just as quickly as venues. Many are booked a solid seven to 12 months before the ceremony, considering they work an average of 77 events a year, or 1.5 a week, according to wedding market research group The Wedding Report.
"For a photographer, if you're looking to book on a Saturday night, you may not get the first photographer you pick," Eisinger says. "Consider talking to three or four different photographers at once to find the one who's right for you."
A custom wedding dress is also out of the picture, considering the the design process can be tedious, the dress will usually be made overseas and it can be nine months until your dress arrives for its first fitting. This, however, is the kind of environment in which stores such as David's Bridal thrive.
"In a month, you're probably going to have to buy your dress off the rack," Naylor says. "Wedding dresses take weeks to come in, and you want to give yourself time for alterations, which are important because the dress is your feel-good element."
Lock down guests and location
With the average American wedding consisting of 141 guests, up from 128 in 2008, according to The Wedding Report, getting a head count and even emailing save-the-date information will be key to determining what kind of wedding you're going to have.
It also dictates what traditional wedding touches can stay and what gets cut. Engagement parties, bachelor/bachelorette parties and bridal showers can be a bit much to ask if most of your friends and family have to get
Delta
(DAL) - Get Delta Air Lines, Inc. Report
,
United
(L) - Get Loews Corporation (L) Report
,
American
(AMR)
or
Southwest
(V) - Get Visa Inc. Class A Report
involved in their wedding travel plans.
"It's not necessarily a faux pas, but you do need to consider your guests," Eisinger says. "It may not be quite so considerate to ask people to fly in from all over the country for your engagement party and then have them fly in all over again for the wedding, so maybe consider a couple-of-days-long affair that's the shower, the engagement party and then the wedding."
Even couples that plan weddings months in advance are starting to take the all-in-one approach to weddings and their associated functions. When asked how long their wedding lasted, 48% of couples said it spanned three days or more. That approach not only allows for more parties in a shorter time, but makes it easier for couples to find a venue on an off day and save a little money doing so.
"A lot of short-time brides and grooms are more open to the early Saturday wedding or Thursday-night wedding," Naylor says. "It's kind of inconvenient if people have to travel for it, but sorry, this is what they had to do."
Get those invitations out
Despite advances in technology that make it possible to find the nearest bathroom with your smartphone, emailed wedding invitations are still frowned upon. That doesn't mean, as Kerestic notes, couples shouldn't be emailing save-the-dates and working the phones to round up friends and relatives -- and getting ready to fork over a bundle for the pulpier product a few weeks later.
"Place an order for the things that, by nature, take four weeks to deliver and accept that you'll have to pay more for them," Naylor says. "Invitations are pretty rare to get in less than two weeks."
There are some ways to soften the blow, however. Naylor recommends do-it-yourself invitations from such sites as Zazzle and MountainCow -- which features software for designing invitations, save-the-dates, meal cards and scrapbooks as well as custom stationery -- and not just stopping at the first site with something available.
"You have to be very flexible and devote a lot of time to doing the checking around," Naylor says. "Big money mistakes are made when you settle just because you only have that month to plan."
Know when to delegate
The best way to keep four weeks worth of wedding planning chaos under control is to hand over some of that control to someone who actually knows how to plan a wedding. Whether it's a professional wedding planner or a relative who's done this a time or two, having a little help during the process doesn't hurt -- especially with 56% of grooms being only "somewhat involved" in the planning process.
"A very big part is delegating and agreeing to give up control," Naylor says. "You simply can't do a wedding of more than 10 people in that time on your own."
While 12% of couples pull in a family member to help with the wedding planning, the 19% of couples who use professional wedding planners may pay an average of $1,683 for the privilege. That may be a bit steep for couples with time to spare, but couples on the clock may want to shell out just for the planner's database of available venues.
"You have to see what you can do and let life surprise you," Naylor says. "There may be powerhouses like Ivanka Trump who can call a wedding planner and say 'I want this all done in a month' and it gets done, but the average person isn't Ivanka Trump."
Keep up the legwork
From finding a baker who'll do a quick cake or cupcakes to getting a florist willing to do big arrangements in a small time, a month of all-out wedding planning requires a lot of attention and creativity. Juggling bands, DJs, photographers and transportation can be tough, but a savvy couple that cuts corners by planning a wedding when everyone's already paying to be in town -- such as on Thanksgiving weekend -- can be not only challenging, but fun if done correctly.
"I think that hosting a wedding in a short amount of time like this opens the door to some fun, nontraditional ideas," Eisinger says. "There's this feeling that if you're doing this in such a short amount of time, it's almost like eloping, and there's something romantic about getting married very quickly."
Planning a wedding this quickly can also be beneficial, as it prevents the couple from stewing on the small stuff, exposing potentially fatal foibles and basically sucking all the excitement out of the process. There's less time to plan, but there's also less time to worry about the planning and waiting for the big day.
"You have less time to freak out about it," Naylor says. "Having less time requires you to be more efficient, to communicate more clearly with each other and with vendors, get it done and get to the married part."
-- Written by Jason Notte in Boston.
>To contact the writer of this article, click here:
Jason Notte
.
>To follow the writer on Twitter, go to
.
>To submit a news tip, send an email to:
.
RELATED STORIES:
>>6 Essentials For Airline Travel Survival
Jason Notte is a reporter for TheStreet. His writing has appeared in The New York Times, The Huffington Post, Esquire.com, Time Out New York, the Boston Herald, the Boston Phoenix, the Metro newspaper and the Colorado Springs Independent. He previously served as the political and global affairs editor for Metro U.S., layout editor for Boston Now, assistant news editor for the Herald News of West Paterson, N.J., editor of Go Out! Magazine in Hoboken, N.J., and copy editor and lifestyle editor at the Jersey Journal in Jersey City, N.J.