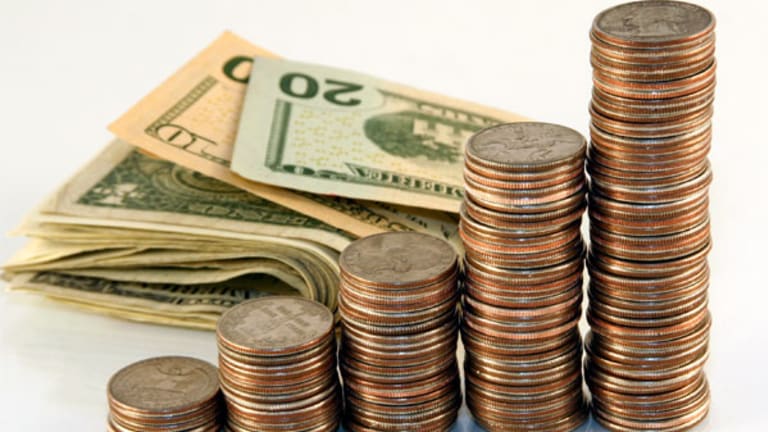 5 Ways to Know a Prepaid Card Is a Good Deal
Prepaid cards are gaining in popularity among consumers, but it's not always obvious if prepaid cards are a better deal than bank cards.
NEW YORK (
) -- Prepaid credit cards are on a roll these days as consumers looking to regain a financial foothold, stick to a budget and gain some everyday financial flexibility are turning to them in record numbers.
According to the Pew Charitable Trusts, prepaid cards are expected to account for
$200 billion consumer assets, up a whopping 600% from 2009.
It's no accident that the rise in prepaid cards comes at a time when the economy is weak and consumers are fighting to stay afloat. As Pew notes, most consumers use prepaid cards to help meet a household budget when they can't get access to traditional credit cards.
But prepaid cards are largely unregulated and can sting consumers with heavy fees and complex rules on usage. So how do you really know you're getting the best deal on a prepaid card?
Read on to see if a card works in your favor using five straightforward measures:
¿
1. Your prepaid card has the same fraud liability as the best bank debit card:
Not all prepaid cards are alike, and that's especially so in the sensitive area of consumer credit card fraud. Before you commit to a card, or even if you're looking to switch prepaid cards, check with your card provider and make sure the carrier's prepaid fraud liability protection is as strong as its debit card's protections.
¿
2. Your card has minimal fees:
Many prepaid credit cards offer a conga line of fees and penalties including ATM fees, usage fees, overdraft fees, monthly fees and other charges. Expect to pay some card fees, such as for ATM withdrawals, but you don't want to pay much else. Also, it's a good deal if your card carrier is transparent about the fees it does charge. Make sure to ask for a list of fees before you sign on the dotted line. If it's a short list, you've got a good card. The American Express Prepaid Card offers a great deal on fees, essentially charging only for ATM transactions.
¿
3. You get free ATM withdrawals:
There are some prepaid cards that don't charge for ATM withdrawals - if you have one, hang on to it. For instance, the Green Dot prepaid card offers free ATM access to more than 22,000 cash machines across the U.S.
¿
4. Your card has ample balance limits:
Who needs a prepaid card holds only $200? In this day and age, consumers can burn through several hundred dollars in a few days. It's better to have a prepaid card that holds thousands of dollars, giving you more financial wiggle room and saving money on frequent "reload" fees, which can cost up to $5 per cash input transaction.
¿
5. Your prepaid card offers benefits:
Some prepaid card carriers, including Visa and American Express offer prepaid cards with rewards benefits. As the industry grows more competitive, expect more rewards programs tied to prepaid cards. In the meantime, if you have a card that offers cash back rewards, you have a winner.
Prepaid cards have abandoned their training wheels and are growing up. As the industry grows hotter, card benefits should become more pervasive.
Until that happens, make sure to see if your card carries the benefits described above. If so, you're a step ahead of the prepaid crowd.
More on prepaid cards
:
Prepaid cards for teens
Prepaid cards gaining in popularity
The right ways to use a prepaid card
--By Brian O'Connell
Follow
TheStreet
on
and become a fan on