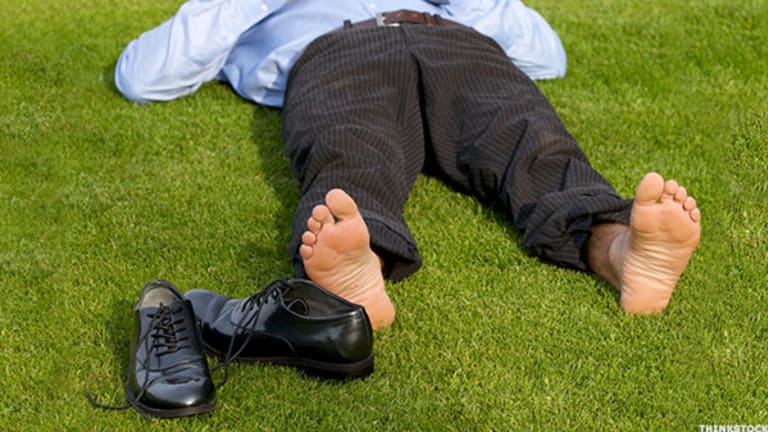 5 Ways to Keep Spring Fever From Killing Your Job
Sneaking out to soak up the sun may be tempting, but it could cost you your job if you don't play it smart.
NEW YORK (TheStreet) -- The weather is warming and the flowers are blooming, but that doesn't mean you can leave work early. Believe it or not, your managers really do notice when you vanish for a long lunch or an unannounced half-day. We checked in with experts who weigh in on how disappearing acts could cost you your job -- and how to enjoy some hours of downtime without worrying about getting caught.
"Most people will admit that when the weather is nice, it can be tempting to slip out of work a few minutes early to enjoy the pleasant season, especially after a winter that was so harsh for so much of the country," says Steve Moore, director of human resource operations for Insperity.
While many bosses understand it's necessary to leave a few minutes early or take a long lunch on occasion, companies have regular work schedules for a reason and intend for those hours to be acknowledged, Moore says. Leaving early, much like coming in late, can be seen as a disregard for company policy.
"When others work late or even normal hours, those who leave early may not appear to be team players, which can frustrate those who stick around," Moore says.
This is not the job market to take liberties in, says Paul Sorbera, president of Alliance Consulting. Anyone who slips out without permission is putting themselves at risk -- even once could be enough to get you fired in this economy.
"What happens when you are gone and needed for something important?" Sorbera asks. "This is the kind of environment where if you leave in the middle of a stressful situation or important project and no one knows where you are, you could get fired."
Even if it seems like a slow day when you leave the office, if an unforeseen problem arises with an important client, you'll be seen as having "abandoned ship" when your bosses come looking for you.
Of course, this doesn't mean you have to work until 8 every night, says Tom Gimbel, president and CEO of LaSalle Network, a Chicago-based staffing firm. Most bosses understand it's OK to stay late to finish a project one night and head out a little early to grab dinner with friends the next -- but you can't make a habit of disappearing as soon as the weather warms up, especially if there is work left to be done.
Also see: Those Long Lunches You're Taking Can Get You Fired >>
"If a project is incomplete and you're heading out of the office early, to management that directly translates as a lack of passion and work ethic," Gimbel says.
Even if your supervisor's opinion doesn't concern you, the opinion of your colleagues definitely should, says Robert Hosking, executive director at staffing firm OfficeTeam.
"You may think that occasionally sneaking out of work early is no big deal. In the grand scheme of things, it seems pretty minor. However, you don't want co-workers to think you're slacking off. Making a habit of leaving early could impact others' perception of your professionalism," Hosking says.
Occasionally everyone will need to take a long lunch or leave early, and there's no rule against enjoying the beautiful weather while still accomplishing something. Here are five suggestions for enjoying the spring while keeping your career intact:
1. Rally the team for an outdoor meeting.
Instead of slacking off in the warm weather, you can use it as an excuse to plan outings for your co-workers, says Julie Hochheiser Ilkovich, career expert and co-founder of Masthead Media.
"Plan a lunchtime picnic or after-work happy hour at your favorite outdoor bar -- just make sure to ask your manager if you need to," Hochheiser Ilkovich says. "By planning something for the entire office this can feel like a work activity, but it's actually just a great excuse to get some sunshine."
Most offices encourage group outings and won't mind you leaving early for them -- and you might even be able to get the company to pay, Hochheiser Ilkovich says. Check with your co-workers to see if they would want to do these outings once a week, every other week or once a month.
2. Need to leave early? Just ask.
While leaving early without saying anything to anyone is a no-no, being upfront and honest about when you have to duck out is fine.
"Just ask your boss," Sorbera says. "Many bosses will find a way to let you make up that time by coming in early one day or staying late the next."
Also see: How to Get Your Religion and Your Job to Coexist>>
3. Tell your boss why you need to take a long lunch.
Explain to your boss that you have a special circumstance, and that a 30-minute or hourlong lunch just won't do.
"Say, 'Hey, listen, I have an old college friend in town today. Can I leave for an hour and a half for lunch?' Sorbera suggests. "Most of the time people are going to be reasonable with you."
If you're consistently upfront and honest about your whereabouts, you create a culture of trust with your boss and colleagues.
4. Just take a half-day off.
Sometimes the simplest solution when you need a few hours off is to just take a half-day's vacation, Hosking explains.
"If you'd really like to get out of the office and enjoy some rays, you might want to ask if you can take a half-day at work or take some time off instead of sneaking around," he says.
5. Get outside.
Get outside every day, even if it is just for a few minutes, Hochheiser Ilkovich says. Take a walk, or grab a quick lunch.
"Getting outside for even a few minutes will let you enjoy some of the sunshine so you don't feel like you're stuck inside all day," she says. "That burst of sunshine and a few deep breaths of fresh air can help propel you through the rest of your day."
If it makes it easier for you, Hochheiser Ilkovich suggests choosing a work buddy to take your walks with. You'll hold each other accountable to actually get outside and enjoy the day.