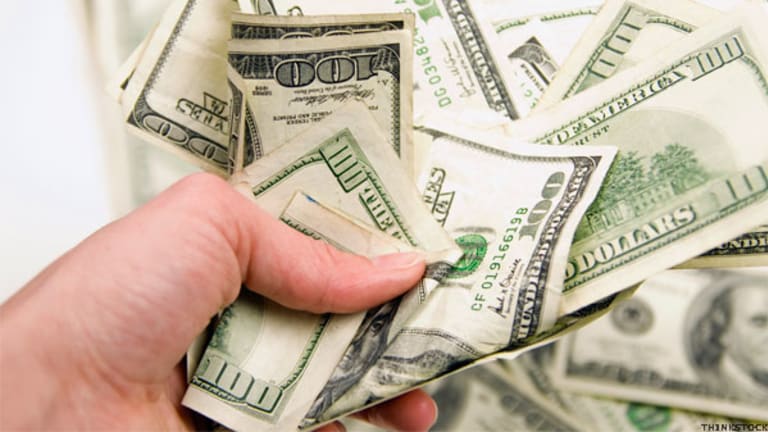 5 Ways to Get the Most From a New Adviser
Picking a financial adviser requires tough questions and a little digging into their background.
BOSTON (TheStreet) -- When it comes to financial planning and investments, you need all the help you can get.
The ups and downs of the stock market have made it difficult for the average person to manage money and plan for the future. Amid all the volatility, the need for professional expertise to best manage your money and develop a financial game plan is great. Even greater for some are the fears stoked by losses sustained during the recession and frequent headlines detailing the exploits of crooks such as Bernie Madoff. How can you make sure your best interests are met?
How well do you know your financial adviser? Choosing the best means knowing the differences between the various types of providers, and that's just the beginning.
For those looking to choose the services of a financial professional, or move on from their current adviser, here are five tips for making that selection:
1. Know what you are looking for.
Your needs as an investor may require skill sets not all advisers can offer. Choosing the best professional requires knowing the differences between the various types of investment services providers.
The
, a global association of investment professionals, offers an
online guide
for selecting a provider. It points out that not only are there different types of services and fee structures, but that "they are also subject to different federal and state regulatory requirements and have different legal obligations to their customers."
Brokers
execute the purchase or sale of securities on behalf of a client. They can provide information, research and, in some cases, investment advice and recommendations.
Brokers are regulated by the Securities and Exchange Commission and by state regulators. Additionally, they must register with
, the Financial Industry Regulatory Authority, an independent, self-regulatory organization.
If you simply want help buying and selling investment products, a broker may be a good option.
Investment advisers
provide ongoing management of a client's investments. Based on a client's objectives, they typically have the authority to make investment decisions on their behalf. These advisers are regulated by either the SEC or state regulators, depending on the amount of assets under management.
Financial planners
develop, and may implement, "comprehensive financial plans covering such topics as insurance needs and estate and tax planning, in addition to more investment-oriented areas, such as retirement and college planning," according to the CFA. Their regulation depends on the type of services they provide. For example, the CFA points out that planners who provide investment advice must be registered as investment advisers; those who sell insurance products are licensed and regulated by their state's department of insurance.
According to the CFA, if you want to develop a long-term, comprehensive financial plan, working with a financial planner or wealth manager probably makes the most sense.
Steve Horan, head of university relations and private wealth for the CFA Institute, suggests being aware when you evaluate a financial professional that they will, of course, pitch their merits. It is up to you to cut through the sales pitch and decide which specialties really do fit best with your needs."Never ask a barber if you need a haircut. You know what the answer is going to be," says Horan, who leads the development of educational content for CFA Institute members. "You have to be a little circumspect as you do that investigation and have a clear sense what you are looking for."
2. Do your homework.
In April,
, a company best known for its ratings and rankings of company 401(k) plans, launched a free service that does the same for financial advisers.
The service provides searchable information on factors a consumer needs when making an informed choice of whom to hire for advice, CEO Mike Alfred says. That includes location, qualifications, amount and types of assets under management, area of specialty, legal disputes, formal complaints and more.
The data is aggregated directly from publicly available sources, including Finra and the SEC. Financial advisers can provide supplemental content.
"The big-picture idea here is that we believe there are close to a million people who call themselves financial advisers around the country, and we don't think that there is enough data out there for consumers to really do due diligence, not just for their current adviser but advisers they might want to work with," Alfred says.
There are also free resources investors can consult.
Your state securities regulator (to find yours visit the
North American Securities Administrators Association
) and the
can confirm whether an individual is registered or licensed as an investment adviser or broker, CFA suggests. State regulators should also be able to release details of a broker's disciplinary record. Another resource is Finra's
BrokerCheck
.
Contacting the SEC via its
can also get you a copy of your adviser's required Form ADV. This required filing has basic information (address, phone number, number of employees, types of clients) as well as assets under management, ownership information, key executives and disciplinary information. Make sure you also get Part 2 of the filing, which includes information about an adviser's business practices, including services, fees and investment strategy.
3. Make sure they have your back.
The Committee for the Fiduciary Standard advocates for "the authentic fiduciary standard" set up in 1940 for "all professionals who provide investment and financial advice or who hold themselves out as providing financial or investment advice, without exceptions and without exemptions."
Among the standards it wants financial advisers to adhere to: putting the client's best interests first; not misleading clients; providing conspicuous, full and fair disclosure of all important facts; and avoiding conflicts of interest.
When interviewing potential advisers and brokers, investors should ask them to explain how they will ensure your priorities remain their priorities.
Credentials are also important, as they illustrate not only a financial professional's training but the standards their peers impose.
"They help the client in the search process," Horan says. "They send a signal to an investor that might not have a lot of other information to go on when trying to distinguish between Joe and Harry. There are a handful of credentials that are meaningful enough to send credible signals ... They demonstrate a commitment to the profession and being part of a community."
Among the professional designations to look for and ask about: CFA (chartered financial analyst), issued by the CFA Institute; CFP (certified financial planner), a designation by the
Certified Financial Planner Board of Standards
; CIMA (certified investment management analyst), awarded by the
Investment Management Consultants Association
; and CLU (chartered life underwriter), from
.
4. Find out what it will cost you.
Financial professionals aren't running a charity -- obviously you are going to pay for their expertise.
But how they make their money needs to be asked directly and clarified before you begin working with them.
Some, especially brokers, rely on commissions paid each time they buy or sell a security or insurance product. CFA suggests that commissions can be an affordable option if you don't expect to trade very often. It cautions, however, that commissions "may expose you to potential conflicts of interest by creating an incentive for your provider to recommend frequent trades or particular investment products."
Investment advisers may charge a fee based on a percentage of the assets in the client's account. This gives the provider an incentive to grow your portfolio, but may not be exclusive of other fees and commissions.
"They may also be hourly fees, a flat fee or a retainer fee for a particular service or range of services, and they can vary significantly from provider to provider," CFA says of fee-based providers. These charges may be in addition to commissions.
Looking for the lowest-cost option shouldn't necessarily be the final word on who you choose, Horan says. Nevertheless, fees are important because they relate to the type of business model an adviser has and their incentives.
"If you've got somebody that's under a fee-only model, they at least have the ability to act within a fiduciary capacity," he says. "And I don't necessarily mean that in a legal sense, but in the sense that they can genuinely say they are going to operate in your best interest and place them ahead of their own. If you have a commission-based model, it is very difficult to be a fiduciary because you are serving more than one master. You can't act in the sole interest of someone else when you have the interests of somebody else in mind."
5. Get a customized solution.
When interviewing potential advisers it is important to ask thorough and detailed questions. It isn't enough to just learn about them; make sure to learn what they can do for you.
Horan suggests asking for their willingness to provide an investor policy statement, an agreement that, although considered a "best practice," is not offered by all advisers.
"This is important because it provides a structure and a framework," Horan says. "It outlines what a client's goals and constraints are and it couples that with what the investment strategy is to meet those objectives. It becomes an implied contract and helps the investor know that what they are getting is something that is tailored to their situation. I want to know that an adviser is going to go through the discipline of profiling the investor, articulating the return and risk constraints, the time horizon and any other kind of unique needs. I want to know that here is a process that goes beyond just a risk tolerance questionnaire."
-- Written by Joe Mont in Boston.
>To contact the writer of this article, click here:
Joe Mont
.
>To follow the writer on Twitter, go to
.
>To submit a news tip, send an email to:
.
RELATED STORIES:
>>How to Steer Clear of Financial Rogues
>> BrightScope Adviser Ratings Tool Goes Live
Get more stock ideas and investing advice on our sister site,