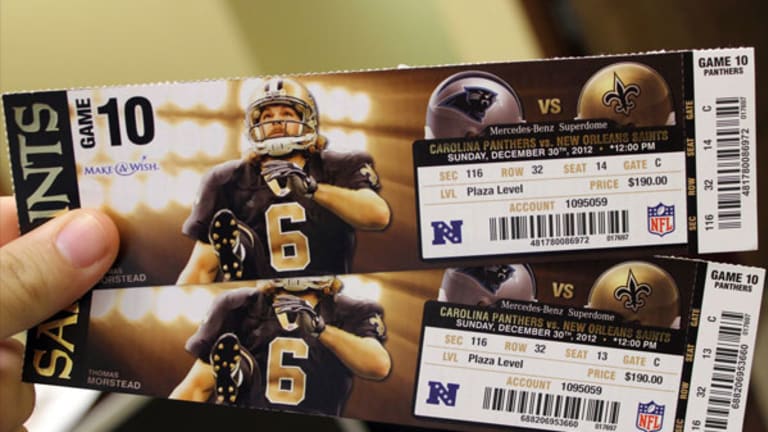 5 Ways the NFL Will Punish Fans in 2014
NFL football returns with the Hall of Fame Game. So do high ticket prices, home game blackouts, threats to move teams and bad satellite and streaming deals.
PORTLAND, Ore. (TheStreet) -- When the New York Giants and Buffalo Bills take the field Sunday for the Hall of Fame Game, the NFL is officially back.
Warts and all.
Fans worried about their favorite players just making it through the preseason unscathed should save at least a little concern for how the NFL plans to pry even more money out of their hands. Last year, the NFL made nearly $10 billion in revenue, with roughly $6 billion of that divided among team owners. The NFL's money machine made more than the $8 billion generated by Major League Baseball over the same span and more than the revenue produced by the National Basketball Association ($5 billion) and National Hockey League ($3.7 billion) combined. Its television revenue is only going up, as it's reworking a $1 billion-a-year deal with DirecTV for its NFL Sunday Ticket package for out-of-town games and just took $275 million from CBS to broadcast Thursday Night Football this season.
Overall, Fox, CBS and NBC pay the NFL $28 billion -- or roughly $1 billion a year -- for broadcast rights through 2022. ESPN pays $1.9 billion each year -- or more than double what any network pays for a season of Major League Baseball -- just to host Monday Night Football. Meanwhile, the networks are more than happy to cough up the money, as 34 of the 35 most-watched television shows in the fall of 2013 were NFL games.
The NFL Is Fumbling Its Hall of Fame Game
Baseball's All-Star Week Shouldn't Be This Boring
FIFA World Cup Still a Huge Draw Without U.S. Team
Also see: The NFL Is Fumbling Its Hall of Fame Game>>
None of this satisfies the money-hungry league. Game attendance jumped from a post-recession low of 17.14 million in 2010 to 17.3 million last year, but was still well short of the record 17.6 million that came out in 2006 and 2007. There were nearly 1 million empty seats at regular-season games last year, up 50% from just four years earlier. Meanwhile ticket revenue has stagnated from increases of 7.2% annually from 2004 through 2008 to just 2.1% for the past four years, according to Team Marketing Report. That shouldn't be terribly surprising, as fans with high-definition television options at home are loath to pay for average NFL ticket prices that have increased $20 to $81 since 2006. But the continued use of public money for stadiums such as the San Francisco 49ers' recently opened Levi's Stadium in Santa Clara and the Minnesota Vikings and Atlanta Falcons' stadiums under construction is putting taxpayer dollars toward teams regardless of whether that taxpayer ever attends a game.
As 205 million unique viewers in 81% of U.S. television homes made abundantly clear last year, the U.S. still loves the NFL. It's a dysfunctional romance, but U.S. sports fans lavish more attention on this particular sport than almost any other. Consider the U.S. men's national team drew 18.3 million viewers per World Cup match to the NFL's 17.6 million per regular-season game, but the 29.2 million viewers who watched the World Cup final were still fewer than the 30 million who watched the Oakland Raiders and the Dallas Cowboys play on Thanksgiving last year.
It's the nation's beloved sports league, but it inevitably hurts the ones it loves. Here are five ways the National Football League is going to leave fans emotionally wrecked this season:
1. It'll move their team: We would love to take this item off the list at some point, but it's just how the NFL works.
Looking around the league, there are at least four teams whose futures in their current cities are in question. The Buffalo Bills are without an owner after their founder and stadium namesake Ralph Wison died in March. In June, the firm handling Wilson's estate contacted prospective buyers including Donald Trump, Buffalo Sabres owner Terry Pegula and a group including rocker Jon Bon Jovi and the heads of Toronto-based Maple Leaf Sports & Entertainment (owner of the NHL's Blue Jays, the NBA's Raptors and MLS' F.C. Toronto) and Rogers Communications (the media company that also owns the Toronto Blue Jays).
Though Erie County and New York State just paid more than $220 million to update Ralph Wilson Stadium, that cash would basically be flushed if new ownership decided to move the team closer to Rochester, N.Y., to a new site within Buffalo, to Niagara Falls or to Toronto. That last option seems at least likely if the Bon Jovi group offers a successful bid, but the Bills' Toronto Series featuring one home game a year in that town didn't exactly draw sold-out crowds.
In St. Louis, meanwhile, owner Stan Kroenke took the liberty of buying a site in a sports complex in Los Angeles just to leverage a better stadium deal out of his town. Kroenke and the rest of his ownership group have been griping about the $700 million "first-tier" stadium they were promised by 2015 and their threats to move the team out of the city into the St. Louis County suburbs or beyond. They already did a long stint in Los Angeles from 1946 to 1994, but the fact that they'd consider returning to the city and only getting closer to their NFC West rivals doesn't seem to sit poorly with NFL owners.
At least not NFL owners outside of California. Every California NFL team shy of the 49ers is also giving Los Angeles a hard look. The Oakland Raiders are looking for a stadium, but have been reluctant to accept the 49ers' offer to share their new building in Santa Clara -- an offer Goodell endorsed emphatically when he helped open the stadium this month. Meanwhile, the Spanos family that owns the San Diego Chargers continues its war of attrition with taxpayers over a replacement for Qualcomm Stadium. The Spanos clan wants a tricked-out facility, but San Diego isn't budging on anything other than a facility that would expand on its existing convention center.
That's three teams leveraging a city that has room for only two of them and hasn't proved it can support even one in more than 20 years. Somebody will get left out and have to play ball with the locals, but it's more likely they'll all just keep using L.A. to extort taxpayers into paying for new buildings -- as the Vikings did in Minnesota.

2. It'll black out televised home games: The NFL blacked out only two games in their home markets last year, down from 15 games in 2012, 16 in 2011 and 26 in 2010.
Under the NFL's original television blackout rule, which dates back to an act of Congress in 1961, home games couldn't be shown on TV stations that broadcast within a 75-mile radius of the stadium if non-premium tickets weren't completely sold out 72 hours before kickoff. Last year, the NFL allowed teams the option of calling games "sellouts" at 85% capacity and keeping them on local television.
That means the new NFL blackout policy totally worked, right? Well, yes and no. The policy shifted the blame for blackouts from the league to the owners and successfully shamed front offices in Miami, Tampa Bay, Carolina and elsewhere into either taking the blackout option or exploiting another loophole in the blackout policy that allows teams and their sponsors to buy back unsold tickets at a third of their face value and give them away to charity to keep games on the air.
But the shaming strategy is heavily dependent on a team's owners having any shame to begin with. That isn't the case with the Spanos family in San Diego, which was responsible for one of the league's two blacked-out games last season and would have been on the hook for another had ESPN not shelled out to keep a Chargers Monday Night Football matchup on the air. Unsurprisingly, a network that already pays $1.9 billion a season to air Monday Night Football didn't place a Chargers home game on its Monday Night Football schedule this year.
In Buffalo, Bills ownership celebrated its $220 million taxpayer-funded stadium renovation deal by blacking out the last home game of the season in 2012. To mark the first anniversary of that deal, ownership went ahead and blacked out the last home game of that season as well, just after the Federal Communications Commission declared it would no longer enforce the NFL's blackouts. There was absolutely no sympathy for one of the smallest markets in the league that plays in a stadium holding roughly 15,000 more fans than big-market Chicago's Soldier Field. There was no consideration for the fact that Buffalo winters are a brutal mix of cold and lake-effect snow, or that Buffalo fans haven't seen a winning season in a decade or a postseason game since 1999.
Nobody knows what new Bills ownership will be like or what it will do with the team, but going easy on blackouts until the current stadium lease expires in 2019 would be a lovely goodwill gesture. When even NFL playoff games aren't safe from blackouts, however, there isn't much good will to go around.

3. It'll make them regret their DirecTV subscriptions: This is the last year of DirecTV's deal to bring all out-of-market NFL games into viewers' homes through its NFL Sunday Ticket package. It's a partnership that the league is in absolutely no rush to renew.
Also see: Baseball's All-Star Week Shouldn't Be This Boring>>
Back when DirectTV and the NFL first partnered on Sunday Ticket in 1994, out-of-market game packages were still a fresh concept that other leagues had yet to embrace. When the NFL extended the Sunday Ticket agreement with DirecTV in 2009, streaming video was nowhere near as pervasive as it is today and tablets were still fairly novel devices.
Now every major sports league has an out-of-town games package through nearly every cable and satellite provider and features mobile streaming at the core of that offering. Though the NFL pulls $1 billion a year from its deal with DirecTV, the $1.9 billion the league commands from ESPN for Monday Night Football and the roughly $1 billion per season it squeezes from the networks for coverage suggests DirecTV is paying far too little.
As does AT&T's $48.5 billion bid for DirecTV, which is heavily contingent upon the league renewing DirecTV's NFL Sunday Ticket deal. There is no way DirecTV fetches $5 billion more than its market capitalization -- or roughly double the value of competing Dish Network -- without that NFL exclusivity.
But there's absolutely no reason for the NFL to renew again. As it learned with its NFL Network version of its Sunday Ticket RedZone channel that shows only scoring drives, there's a lot to gain by spreading the wealth. NFL RedZone appeared on Dish Network, Verizon mobile devices and various cable networks last year with great success. This year, it is packaged with the NFL Network on AT&T U-Verse, Cox, Cablevision and Verizon FIOS cable services as well as Dish Network -- all with mobile access.
DirecTV continues to bundle Sunday Ticket with its satellite service, but tacks $40 per month onto its subscription rate for six months just for the basic service. Want the RedZone Channel and the ability to view games on mobile devices? The MAX package costs $55 a month on top of a subscription.
DirecTV's promotions start at $25 a month for 12 months, but require signing on for a two-year agreement. Subscribers are in no way ensured they'll be able to access Sunday Ticket in Year 2 of that gamble, and the NFL isn't giving them much reason to feel secure. The league clearly has partnerships with Verizon, Dish Network and other providers and knows Sunday Ticket would be just as valuable to them as it is to DirecTV. Exclusivity isn't in the NFL's best interest, and DirecTV customers may pay the price for its wandering eyes.

4. It'll make them search for streaming: The NFL has thrown lots of cash at Microsoft and Verizon to make sure fans can access its games on mobile devices, but the result has been an absolute mess.
There is no one place for fans to watch games or highlights, and the NFL itself seems to have no interest in streamlining the process. The NFL Network has its own app for NFL Network games, analysis and its RedZone Channel, but it's available only to AT&T U-Verse, Cox, Cablevision, Verizon FIOS and Dish Network subscribers. The NFL Mobile app gives fans streaming access to Thursday, Sunday and Monday night games on their mobile devices, but only if they're Verizon Wireless customers willing to pay an extra $5 a month for the privilege.
ESPN's Watch ESPN app will allow you to stream Monday Night Football games, but only if you prove you subscribe to a cable or satellite package with ESPN. NBC and its partner Yahoo don't require such things to stream Sunday night games, but that's about the extent of their offerings. DirecTV will let you stream any out-of-town game you want, but wants $200 for a laptop/desktop version of Sunday Ticket and a whopping $330 -- the full price of its MAX package -- to watch on multiple devices. It's a bit less ($200) for full mobile streaming if you live in a building with no DirecTV access, but DirecTV charges more ($230) if you choose to stream NFL games through a game console such as Microsoft's XBox One or Sony's PlayStation 4.
While CBS and NBC streamed playoff games for free to all fans via their apps, Fox kept the NFC Championship Game to its Fox Sports Go app and allowed access only to fans who subscribed to AT&T U-Verse, Cablevision's Optimum, Comcast's Xfinity, Midcontinent Communications, Suddenlink and Wow cable systems.
That's a mess of partnerships that's mucking up the NFL streaming experience. Fans will have to keep bouncing from app to app this season unless some better alternative comes along. With any luck, rumors of an NFL streaming deal with Google may yield the answer tech-savvy fans are looking for.

5. It'll bleed them dry: NFL revenue just keeps climbing, but the revenue that owners don't have to share with other teams is the only kind of revenue they care about.
Keep in mind that, according to documents released by the publicly owned Green Bay Packers, NFL teams shared $6 billion in revenue last season, which amounts to roughly $187 million apiece. It's estimated that the league's new TV deals will result in $200 million in revenue per team just from television alone by 2016.
NFL attendance peaked in 2006, though, and fell steadily until 2012. There was a slight uptick last season, but even that only pushed league attendance to 2008 levels. It doesn't help that the $81.54 fans paid for an average ticket last year has only gone up since 2004 and increased by more than $20 per ticket over the past eight years.
Ticket sales are "flat," but somehow the price of those tickets and the amount of public money funneling its way into owners' pockets hasn't changed. In fact, since 2006, owners have strong-armed public money for stadiums out of fans in Arizona ($321 million), Indianapolis ($620 million, not counting debt on the now-demolished RCA Dome), Dallas ($444 million), Santa Clara ($114 million), Minnesota ($468 million) and Atlanta ($200 million). Again, that's money coming from taxpayers who may never watch a down of football in the very stadiums they're paying for.
Those unfortunate enough to score tickets will pay $460 on average to take a family of four to a game -- a cost that has risen almost 8% in the past two years. They could stay home, but the NFL reserves the right to black out home games. They could protest, but the owners would just threaten to move the team. The antitrust-protected, tax-exempt NFL has worked its way into the lives and pockets of huge portions of the U.S. population.
Those folks are paying a high price for their nation's pastime.
-- Written by Jason Notte in Portland, Ore.
>To contact the writer of this article, click here: Jason Notte.
>To follow the writer on Twitter, go to http://twitter.com/notteham.
>To submit a news tip, send an email to: tips@thestreet.com.
-- Written by Jason Notte in Portland, Ore.
>To contact the writer of this article, click here: Jason Notte.
>To follow the writer on Twitter, go to http://twitter.com/notteham.
>To submit a news tip, send an email to: tips@thestreet.com.
RELATED STORIES:
>>NFL Sponsorship Is A Thankless Trap
>>What The NFL Owes Taxpaying Fans
>>The NFL Doesn't Discriminate Against Money
Jason Notte is a reporter for TheStreet. His writing has appeared in The New York Times, The Huffington Post, Esquire.com, Time Out New York, the Boston Herald, the Boston Phoenix, the Metro newspaper and the Colorado Springs Independent. He previously served as the political and global affairs editor for Metro U.S., layout editor for Boston Now, assistant news editor for the Herald News of West Paterson, N.J., editor of Go Out! Magazine in Hoboken, N.J., and copy editor and lifestyle editor at the Jersey Journal in Jersey City, N.J.