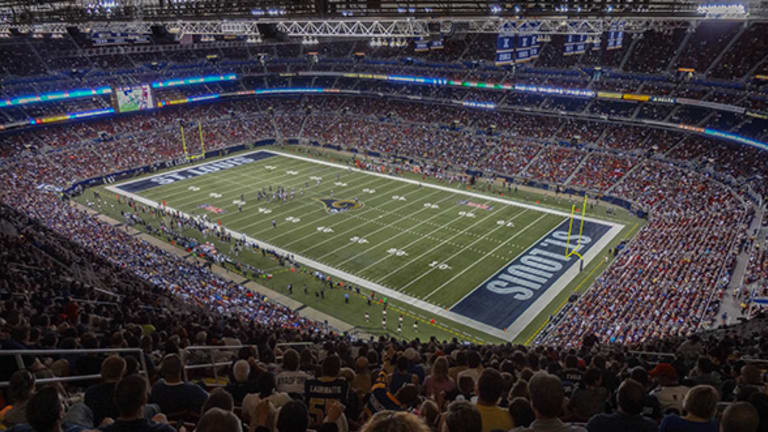 5 Ways NFL Fans Lost the Personal Seat License Gamble
Now 20 years after the NFL adopted personal seat licenses as a means of paying for stadium improvements, many fans who purchased them are left holding the bill.
Now 20 years after the NFL adopted personal seat licenses as a means of paying for stadium improvements, many fans who purchased them are left holding the bill.
NEW YORK (MainStreet) – For 20 years, NFL fans have been paying for the right to buy season tickets to football games. That decision hasn't always paid off.
The personal seat license, which a potential season ticketholder pays a team just for the right to purchase season tickets, dates back to the 1980s -- though there's no consensus opinion on who came up with the idea. Some of the credit goes to Columbus, Ohio architect Rick Ohanian, who devised a similar scheme in 1987 in an effort to keep taxpayers from shelling out money for a professional sports stadium. Meanwhile, Stanford University tennis coach Dick Gould floated his own take on the concept in 1986 while seeking money for a new tennis stadium.
In just about all scenarios, personal seat licenses are usually put in place to pay for the building or remodeling of stadiums and arenas without dipping too deeply into public funds. From the outset, that's been a futile proposition for NFL host cities and fans. Personal seat licenses made their first appearance in the NFL in 1995, when St. Louis used them as a means of paying for the then-Trans World Dome and luring the Los Angeles Rams to the city. Nearly 58,000 fans paid $250 to $3,000 just for the right to buy tickets and raised $74 million in the process. However, that came nowhere close to covering the initial $280 million cost of the stadium and St. Louis, St. Louis County and Missouri were left to pay $24 million a year just to service the bonds used to finance the stadium. Those won't be paid in full until 2021.
Personal seat licenses have worked to great effect in places like East Brunswick, N.J., where they helped prevent tax dollars from being plowed into the New York Jets' and Giants' home at MetLife Stadium. However, they aren't the right solution for every market and, in some places, they only serve to spread the pain to everyone but the team's owners. We took a look around the league and found five instances in which personal seat licenses not only didn't offset costs all that much, but put fans in a position where they might take a complete loss on the deal.


St. Louis
Year personal seat licenses were issued: 1995
Cost: $250 to $3,000
This looked like a far better deal in 2000 after the team won its first Super Bowl title and through 2003, when the Greatest Show On Turf was averaging 11 wins per season. However, the fact that the team hasn't had a winning season since and hasn't made the playoffs since 2004 is a bit discouraging -- not to mention the team's dismal performance upon its initial arrival to St. Louis. Yet with owner Stan Kroenke's purchase of land in Inglewood, Calif., his intention to build a stadium there and Inglewood's approval of that plan basically turned those personal seat licenses into costly reminders of nearly two decades' worth of disappointment.
Though St. Louis businessmen have come up with a plan for a new stadium, the nearly half a billion dollars the city would have to pay up front to make that happen -- not to mention interest and the debt on the Rams' Edward Jones Dome -- make that look less likely. Instead the city is rooting for other teams to make it to Los Angeles before the Rams do and hoping that Kroenke is forced to stay in town instead of flushing season ticketholders' $74 million investment.


Oakland
Year personal seat licenses were issued: 1996
Cost: $250 to $4,000
What makes this sale of personal seat licenses particularly impressive is that it managed to anger two fan bases at the same time. The 45,000 Raiders fans who signed on for this scheme funneled $84 million dollars toward turning Oakland Coliseum, which had become a serviceable home for baseball's A's after the Raiders left for L.A. in 1981, into a terrible home for just about everyone.
A's fans watched in horror as Raiders owner Al Davis added a third tier of 10,000 seats in the outfield that obstructed the view of the Oakland hills and sat vacant for much of baseball season. That tier has become known as Mount Davis, and it -- along with the tarps that occasionally block it off during both baseball and football games and the backup of raw sewage into locker rooms -- has made what is now known as O.Co Coliseum one of the most loathed facilities in professional baseball and football.
Combine that with the Raiders' record since moving back to Oakland in 1995 -- which includes exactly three winning seasons in 20 years and numerous home-game television blackouts due to low attendance -- and Raiders fans haven't seen a whole lot of return on their personal seat license investment. Since Carson, Calif., earlier this year approved a plan for the Raiders to join their division-rival San Diego Chargers in a $1.7 billion stadium there -- and cash-strapped Oakland hasn't countered with a stadium plan of its own -- Raiders PSL holders may want to see if their money is still good in the Los Angeles suburbs.

Cincinnati
Year personal seat licenses were issued: 2000
Cost: $300 to $1,500
Even with 42,000 people buying in, this raised a scant $25 million for the cost of Paul Brown Stadium. That also represents Bengals management's 6% "contribution" to the project, which left nearly $425 million to be paid for by surrounding Hamilton County.
With various upgrades over the years, that cost rose to $540 million, leaving the country in considerable debt that only deepened once the recession hit. Combining annual stadium costs to taxpayers that rose from $29.9 million in 2008 to nearly $35 million to declining sales tax revenue resulted in debt that eliminates funding for local programs and rolls back a property tax cut promised as part of the stadium deal. Though the team's had modest success in recent years, it hasn't had a playoff win since 1990 and has watched quarterback Andy Dalton and coach Marvin Lewis all but disappear at the end of the regular season. The Bengals aren't threatening to leave anytime soon, but their stadium just turned 15 years old and they'll be looking for a new one from a city and country with nothing left to give.

Charlotte
Year personal seat licenses were issued: 1996
Cost: $250 to $4,000
The good news is that this sale covered $195 million of the Bank of America Stadium's $248 million cost and actually did what it was supposed to do: Minimize the cost to taxpayers.
Unfortunately, the team wasn't done. Back in 2003, the City of Charlotte originally agreed to pay $200 million to upgrade the facility before the City Council suddenly remembered it had some say in the matter and whittled that cost down. Even then, the city gave owner Jerry Richardson $87.5 million in tax money for renovations to a then-17-year-old stadium, but only got him to promise that he'd keep the team in town for another six years. That brought the cost to more than $14.5 million per year, and $116 per Charlotte resident whether they see the Panthers play or not.
Meanwhile, the stadium gets HD video screens, scrolling and flashing ribbon boards, a surround-sound system, party decks, renovated luxury suites, a private club suite and upgraded Wi-Fi. Fans got to see quarterback Cam Newton and linebacker Luke Kuechly named offensive and defensive Rookie of the Year, respectively, in 2011 and 2012 and have watched their team remain competitive despite posting a winning record only four times in the last decade. But every time the management squeezes out another tax dollar, the value of those personal seat licenses to the surrounding community diminishes.

Chicago
Year personal seat licenses were issued: 2003
Cost: $900 to $1,000
This move kicked $50 million toward a $200 million pool of private funding for what turned out to be a $587 million renovation of one of the league's most historic stadiums.
However, the Bears and the NFL almost never viewed Soldier Field so sentimentally. The Bears didn't move in until 1971 and spent much of the '80s and '90s plotting a replacement. They saw bleacher seats, they saw no luxury boxes, they saw a huge gap between the stands and the field and they saw a building that was inefficient in just about every sense of the word.
So what did they do about it? Well, architect Dirk Lohan got the idea that if you scooped out Soldier Field like a Jack-O-Lantern -- removing the guts while preserving the shell -- you could have new stadium amenities wrapped in the old stadium's historic shell. The result made it look as if the ship from Flight of the Navigator had crash landed in Soldier Field in lieu of a splashdown in Lake Michigan.
The upside is that kielbasa-fed Bears fans got the elbow room they were looking for. The downside is that the renovation was so extensive and altered so much of the existing building that it cost the building its status as a National Historic Landmark. Don't get us wrong: even the rival Green Bay Packers' Lambeau Field has undergone extensive renovations since opening in 1957 (it holds almost 50,000 more fans than it did then). However, there's a huge difference between remaining faithful to your building's history and hollowing out that history to make room for a European soccer stadium.
This article is commentary by an independent contributor. At the time of publication, the author held TK positions in the stocks mentioned.