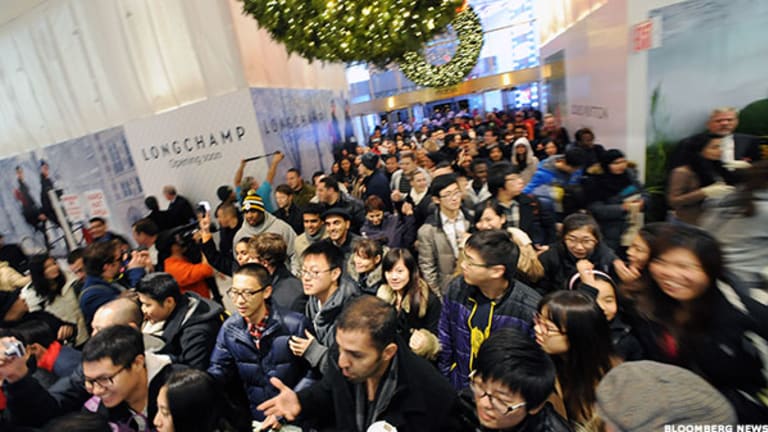 5 Ways It's Already Black Friday
Consumers can't still think the holiday shopping calendar has anything to do with the actual calendar.
Consumers can't still think the holiday shopping calendar has anything to do with the actual calendar.
PORTLAND, Ore. (TheStreet) -- It's almost amusing that consumers think holiday shopping and the retail calendar have anything to do with the actual calendar or when shoppers think they're ready to buy gifts.
Because that's exactly what retailers want to do when the economy's sputtering and sales are slow: Wait for you to come around.
Home and garden stores and department stores will always put out Christmas decorations in September because the lawn furniture, grill sets and air conditioners just have to go.
Costco
(COST) - Get Report
,
Wal-Mart's
(WMT) - Get Report
Sam's Club and
BJ's Wholesale Club
(BJ) - Get Report
will routinely put out reindeer lawn ornaments and bulk packs of wrapping paper in late August because they know you're there to shop roughly that far ahead anyway.
Even
Target
(TGT) - Get Report
is going to start throwing around the words
just to remind summer shoppers that they're closer to this Christmas than to Christmas 2012. Other stores have given
a reason to exist this early in the year by releasing their toy catalogs in early October. If last year's lineup of sales circular releases is any indication, at least one major discount store or department store will join the fray before November.
Sure, that place that used to be a Borders still has racks of Trashy Librarian and CGI Hero From That Summer Movie costumes lining its walls. Yes, your grocery store has basically built a gantlet out of chocolate and sugar that you'll have to pass through several times in the next few weeks, with the occasional Snickers or pack of Skittles making their way into your cart as collateral damage. You may even be under the impression that anybody in the retail world cares in the slightest about your plans for Thanksgiving -- known to them as Black Friday Eve.
A full 22% of shoppers told market research firm
NPD Group
last year that they planned to start shopping Thanksgiving night. Knowing that, are you still so surprised by holiday shopping creep? If so, here are five more reasons Black Friday is already on the minds of folks on both sides of the register:
1. The guessing game has begun.
At this time of year, just about anyone can see how sales figures, job numbers and overall U.S. spending are faring and draw some sort of reasonable conclusion about how all of this will play out during the holiday season.
The National Retail Federation finds that all a bit too droll. Instead, the industry group gets consumers to talk about what they plan on spending during the holiday and just how super awesome their whole experience will be. On Oct. 3, the NRF declared that holiday sales this year will increase 3.9%, to more than $601 billion.
Granted, the people answering their survey can always say whatever they'd like and then look at the actual price of things and cut way back.
That happened last year, when the NRF forecast a 4.1% rise in sales to $586.1 billion. That prediction, which NRF president and CEO Matthew Shay called "the most optimistic forecast NRF has released since the recession," fell so short last year that the NRF itself came under fire from
for failing to mention that there was "zero correlation between what people say their gift shopping intentions are on these surveys and what they actually spend."
Also see: 9 Holiday Beers Already On Shelves>>
According to the NRF, last year's actual sales growth came in closer to 3.5%. That came after a disappointing Black Friday that forced
Macy's
(M) - Get Report
,
Kohl's
(KSS) - Get Report
, Target and
Nordstrom
(JWN) - Get Report
to report a drop in November sales from the same month in 2011. The 16 retailers tracked by
Thomson Reuters
(TRI) - Get Report
during November recorded an overall 1.6% same-store sales increase, which would have been fine had analysts not predicted a 3.3% jump.
The NRF's somewhat more sober take is further tempered by Shay's warning that his group is "balancing continued uncertainty in Washington and an economy that has been teetering on incremental growth for years." Basically, if the government stays shut down much longer, a holiday season that was already looking mediocre could turn into an outright disaster.
2. The prices are right.
If the retail industry's cheerleaders are hesitant to get into the holiday spirit and fearing worse days ahead, why should stores hold back on sales until a more seasonally appropriate moment.?
Already, consumer price research firm Decide.Inc and
The Wall Street Journal
indicate that such retailers as
Amazon
(AMZN) - Get Report
, Wal-Mart, Macy's and Toys R Us have some of their best prices on certain items in September and October. Boots, televisions and even toys are all 10% to 31% more than they will be on Black Friday. Appliances may cost you less, as will off-brand electronics, but most items aren't worth the wait.
Even BlackFriday.com and other shopping sites have been pointing to October sales from Amazon,
Sears
(SHLD)
, Wal-Mart,
Best Buy
(BBY) - Get Report
and others rather than having shoppers just wait around for leaked Black Friday ads.
3. The rich are already stocking up.
Do you really need Black Friday when you measure your money by the poolful? No, which is exactly why
Neiman Marcus
puts out its Christmas Book at the beginning of October.
Want one of only three
Aston Martin
Vanquish Volante automobiles in the world? That'll be $344,500. Want a falconry companion set features a gold-plated perch and exotic skin falcon hoods, along with outdoor furniture, lead crystal decanters and cigars -- but no falcon? That's $150,000. If you're looking for something a little bit more grand for your significant other, an outdoor entertainment system featuring a giant-screen television that emerges from an underground storage place and includes speakers and hundreds of movies is listed at $1.5 million.
If you can't afford much more than a stocking stuffer, move the couch cushions and start scraping together some change. A limited-edition Jeff Koons sculpture
Dom Perignon's Balloon Venus
is a relative splurge item at $20,000.
4. The word is out.
Thus far, the larger retailers have done a fairly good job of keeping their mouths shut and their Black Friday sales a secret throughout October. But the cracks in their defenses are starting to show.
The folks at
note that
Blain's Farm & Fleet
and
Mills' Fleet Farm
have released their toy catalogs for the season, while
Harbor Freight
has released its entire Black Friday circular. After a tough November 2012, Macy's has announced that not only will it open doors at its stores at 8 p.m. Thanksgiving night, but it will be offering a 17-item sneak preview including $10 appliances and $50 five-piece luggage sets.
JCPenney
(JCP) - Get Report
, meanwhile, has let it slip that it's bringing back free Black Friday snow globes after an ill-received switch to promotional buttons last year. A fitting move, considering the amount of shakeups that have occurred at that particular retailers since shoppers last queued up for Black Friday.
Also see: Halloween Keeps Ringing the Bell, But No One's Answering>>
5. The gamers are giddy:
Grand Theft Auto V
is already out,
Call Of Duty: Ghosts
is on its way in November and the going-away party for this generation of game consoles continues.
From here on out, it's anyone's guess what will happen to holiday video game buying.
Sony
(SNE) - Get Report
is releasing its $400
PlayStation 4
(SNE) - Get Report
in mid-November and
Microsoft
(MSFT) - Get Report
follows up with the $500 Xbox One a few weeks later. Both promise more integration with existing mobile devices and an expansion of the total-package, full-living-room premise that makes streaming, social networking and video broadcast features every bit as important as gaming.
Both systems come with huge stakes for their parent companies, which have struggled with the move to mobile and increased competition in their electronics and software niches. It also doesn't help that Nintendo's Wii U, the first console of the generation released last year, basically faceplanted on launch and forced Nintendo to scale back expectations. In fairness, the new PlayStation and Xbox iterations seem to be better integrated than Nintendo's and have a whole lot of third-party support going into their respective launches.
Whether the larger U.S. consumer base has the stomach for expensive console upgrades is questionable, especially when the current generation is still pumping out hits. However, the non-gaming upgrades to each are making them more attractive to folks who may never buy a video game for either console. Still, with
Valve
's
Steam
game streaming becoming available on far less expensive hardware and console-based video game sales slumping as a whole leading up to the new-console release dates, it's still worth wondering whether these will be the last traditional video game systems to find their way onto wish lists.
-- Written by Jason Notte in Boston.
>To contact the writer of this article, click here:
Jason Notte
.
>To follow the writer on Twitter, go to
.
>To submit a news tip, send an email to:
.
RELATED STORIES:
>>The Best Brewpubs In All 50 States (and D.C.)
>>10 Best Vacation Cities For Beer Lovers
Jason Notte is a reporter for TheStreet. His writing has appeared in The New York Times, The Huffington Post, Esquire.com, Time Out New York, the Boston Herald, the Boston Phoenix, the Metro newspaper and the Colorado Springs Independent. He previously served as the political and global affairs editor for Metro U.S., layout editor for Boston Now, assistant news editor for the Herald News of West Paterson, N.J., editor of Go Out! Magazine in Hoboken, N.J., and copy editor and lifestyle editor at the Jersey Journal in Jersey City, N.J.