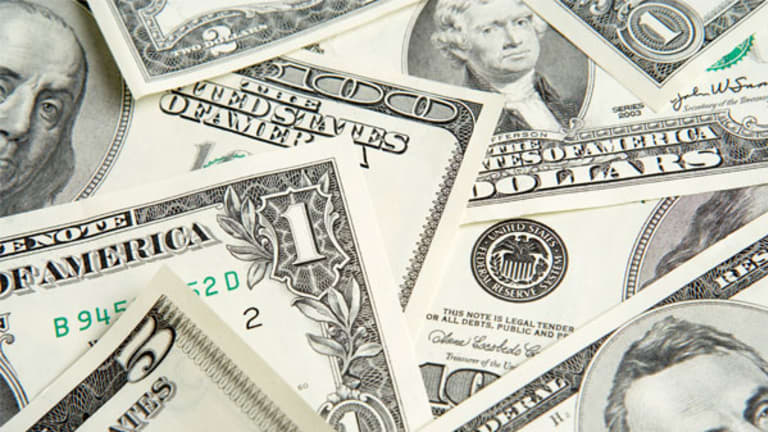 5 Ways 'Fast and The Furious' Changed Cars
'Fast Five' is just the latest reminder of why your car's paint is a bright yellow and its engine gets 300 horsepower.
DETROIT (TheStreet) -- Fast Five, the latest installment of The Fast and The Furious film franchise, isn't just a statement on American car culture, but a reminder of why your Ford (F) - Get Ford Motor Company Report Fiesta is available in "Lime Squeeze Metallic" paint.
A tribute to all the gearheads and tuners who make 1995
Toyota
(TM) - Get Toyota Motor Corp. Sponsored ADR Report
Supras that can dust Ferraris,
The Fast and The Furious
films were ubiquitous enough to soak their way into nearly every aspect of American auto culture. The namesake first film made $207 million worldwide when it was released in June 2001; follow-up
2 Fast 2 Furious
topped that with $236 million in 2003; and the most recent installment,
Fast & Furious
, outdid them both with a $359 million take in 2009. Even the weakest film in the series, the 2006 Vin Diesel- and Paul Walker-devoid
The Fast and The Furious: Tokyo Drift
nearly quadrupled its $40 million budget with $158 million in box office revenues.
It's a lot easier to get fired up about turning a 1995
Honda
(HMC) - Get Honda Motor Co., Ltd. Sponsored ADR Report
Civic into a big-horsepower beast on a double wishbone suspension when gas prices average $1.53 a gallon, as they did the week the first
Fast and the Furious
film hit theaters. With average gas prices at $3.88 per gallon and rising as the latest installment hits theaters Friday, furious drivers are somewhat less fast to fork over the cash and play street racer during the morning commute. Auto sales were up 17% last month, but the race for more fuel-efficiency left gas-guzzling performance cars in the dust.
Even if you're crammed into a 35-mile-per-gallon compact, however, there are still
Fast and The Furious
flourishes all over your automobile. Though they may not all encourage Jordana Brewster, Eva Mendez or Ludacris to hop in your ride,
TheStreet
found five ways
The Fast and The Furious
changed your car forever:
1. Customization
Would Toyota have introduced its highly customizable Scion marque in 2003 even if
The Fast and The Furious
wasn't released two years earlier? Probably.
Do Scion and competitors such as Kia that offer 150 different accessories for car buyers to choose from owe just a little something to
The Fast and The Furious
and the custom car culture that produced it? Absolutely. There's a reason the Scion's first models were introduced in California and Kia's Soul was conceived there, and it's the same reason
The Fast and The Furious
thrived in its West Coast surroundings. The custom scene there is well-established, and it and the California-based Special Equipment Market Association have been giving drivers choices big automakers hadn't in a long time.
"The tuner scene and custom scene is influential," says Angus Mackenzie, editor-in-chief of
Motor Trend
magazine. "I know car designers who go to SEMA shows to see if there are new colors or new trends to pick up on."
Those trends can add up to big money when offered a la carte, and automakers were quick to catch on. When BMW introduced the U.S. market to the Mini back in 2002, it provided a combination of colors and options that MacKenzie said made the average Mini buyer put roughly $4,000 worth of options into their car. That price tag gets a little larger when the car you're tuning up in the showroom is a Porsche 911, which has options such as gold crests on the wheels that drive buyers to spend $8,000 to $10,000 on options alone.
"The trend toward mass customization had been talked about in the industry for a long time, and there were a lot of very big proponents of it," Mackenzie says. "It's what Detroit used to do in the 1960s before it lost its way."
2. Big horsepower, small packages
In a country raised on big, muscly Barracudas, Trans-Ams and Grand Nationals, the sight of a nitro-fueled 1995 Mitsubishi Eclipse on the line in a high-stakes street race may have been a bit much for the automotive old guard to stomach. Ten years later, when a Mini Cooper Clubman S gets 181 horsepower and a Subaru WRX STi gets a Mustang-like 305 horsepower, the idea of a small car putting on a big show isn't so foreign.
"If you look at the market right now, it's a golden age for horsepower and performance," Mackenzie says. "There are more cars available on the market with 400 horsepower or more than at any time in history."
According to the Environmental Protection Agency, the average horsepower for cars in the U.S. in 1998 was 171. Back then, it took that field an average 10.9 seconds to get from zero to 60 miles per hour and only 1.4% of cars had a turbocharger there to help. Last year, average horsepower surged to 220 and 0-to-60 times averaged out to 9.5 seconds -- and 3.2% of vehicles are now turbocharged.
Instead of letting the little guys lap them, though, the U.S. automakers brought bigger, beefier performance cars to the starting line.
GM
(GM) - Get General Motors Company (GM) Report
just unveiled a 550-horsepower Camaro and even GM's Cadillacs are getting brawnier, with the CTS-V sporting 556 horsepower. The difference is that they're doing it more efficiently, with the 305-horsepower Mustang also getting 31 miles per gallon. None of that was even imaginable among American automakers in 2001.
"American performance was a contradiction in terms," Mackenzie says. "You now have the Camaro, Mustang, Charger, Challenger and the Cadillac CTS-V with a manual transmission that are genuine, authentic American muscle cars with a level of performance that guys back in the alleged golden era of the '60s and '70s could never have even dreamed about."
3. A broader paint palette
There's a reason why even Ford's compact Fiesta and Hyundai's upcoming Veloster sports coupe look like Walker's lime Eclipse from the first film: Factory paint before
The Fast and The Furious
was pitiful.
"Manufacturing's gotten more flexible in terms of allowing people to do paint and trim options together," Mackenzie says. "Toyota drove the industry to a standardized mouse-gray interior because it was cheap and easy to do, but now Chevy has a new Malibu with a dark color pattern in a black or in a brown because customers are bored with gray."
Ford's palette for the Fiesta's exterior has nine colors, and even that seems a bit conservative. Automakers such as Audi are known for offering European customers a color-wheel's worth of choices for their rides. Struggling, once-bankrupted U.S. automakers are playing catch-up and making street-worthy colors and tricked-out trim a key portion of their sales pitch.
Chrysler's 300 C has a performance version where black chrome wheels are an option, as is a satin finish instead of chrome and two-tone leather. Chrysler's Fiat 500 has 14 exterior colors and 12 different interior color patterns, which Mackenzie says can add up to 500,000 different variations based on colors and options.
"If you went to a SEMA show four or five years ago, matte-finish paints were on all the cars -- matte black, matte orange and that sort of thing," Mackenzie says. "Now the industry's picked up these paints, so you can have a Lamborghini in matte white or a Mercedes-Benz in a color called alubeam, which is a matte silver that makes the car look like it's made out of metal."
4. Interior tech
Even though their interior LEDs may not be linked to tachometers or nitrous tank gauges, car buyers' center consoles are doing just as much multitasking as those installed in
The Fast and the Furious
street racers.
From Ford's
Microsoft
(MSFT) - Get Microsoft Corporation (MSFT) Report
-powered Sync entertainment system linking audio, GPS and Bluetooth to the Toyota Enform Safety system installed in its Lexus luxury brand, the all-in-one center console allows the average commuter to feel in touch with their ride without breaking any local traffic laws. For automakers such as Toyota, Honda, Volkswagen and others that like to restrict their racing personae to the big driving circuits and keep their consumer products as sensible as possible, it's a way to perform for buyers without giving them too much performance.
"I think the Japanese companies really struggle with brand, and both Toyota and Honda perceive themselves a certain way," Mackenzie says. "They've played around with performance cars, but they've always backed away."
5. Vin Diesel wannabes
When
The Fast and the Furious
was released in 2001, sales for compact-performance products totaled $2.86 billion, according to SEMA. A year later, sales jumped to $3 billion.
Mackenzie says hardcore gearheads have roundly ignored the films or see them as strictly entertainment, which means that surge came mostly from newbies who may have opened their car's hood a time or two to check the oil.
Unfortunately, much of that enthusiasm failed to trickle down through the sequels with any consistency. While performance parts companies such as Turbonetics saw enough of a bump from the films to invest in being featured in the sequels -- Turbonetics was in
Fast & Furious
, its logo featured on the front of Walker's Nissan Skyline -- Mackenzie doubts the franchise has converted any corporate drones into full-time tuners.
"The
Fast and the Furious
franchise is philosophically not a lot different from the hot rod movies of the early '60s," Mackenzie say. "They're picking on a cultural phenomenon or a subculture, as it were, and whether that inspired anyone new to go out and customize a car ... probably not."
-- Written by Jason Notte in Boston.
>To contact the writer of this article, click here:
Jason Notte
.
>To follow the writer on Twitter, go to
.
>To submit a news tip, send an email to:
.
RELATED STORIES:
>>5 Ways To Blow Your Tax Refund Wisely
>>New Cars Accelerate Buzz Over Hyundai, Kia
Jason Notte is a reporter for TheStreet. His writing has appeared in The New York Times, The Huffington Post, Esquire.com, Time Out New York, the Boston Herald, the Boston Phoenix, the Metro newspaper and the Colorado Springs Independent. He previously served as the political and global affairs editor for Metro U.S., layout editor for Boston Now, assistant news editor for the Herald News of West Paterson, N.J., editor of Go Out! Magazine in Hoboken, N.J., and copy editor and lifestyle editor at the Jersey Journal in Jersey City, N.J.