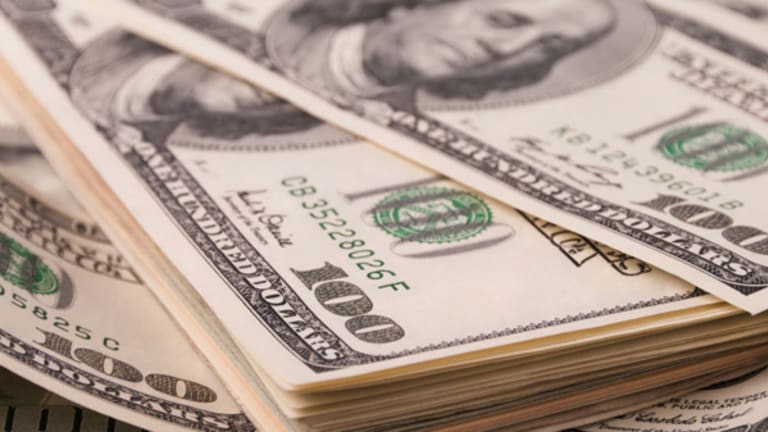 5 Verizon iPhone Alternatives
A Verizon iPhone would be nice, but Verizon's stable of smartphones shows Apple may need it more.
A Verizon iPhone would be nice, but Verizon's stable of smartphones shows Apple may need it more.
CUPERTINO, Calif. (TheStreet) -- If a Verizon (VZ) - Get Report iPhone comes to pass, its shelf space won't be padded by the same pushovers that surround it at AT&T (T) - Get Report.
If speculation holds and Verizon brings
Apple's
(AAPL) - Get Report
iPhone into the fold in the first quarter of next year, its 14.1 million in sales last quarter -- a 91% improvement over the same period last year -- could be easily eclipsed;
JP Morgan
(JPM) - Get Report
estimates that the iPhone will boost Verizon profits by 11%. Unlike AT&T, where 13 million iPhone subscribers at the end of the first quarter of this year accounted for 15% of the wireless subscriber base and 25% of wireless revenues, though, Verizon has a few more toys in the box.
Verizon's
Motorola
( MOT) Droid X, Droid Incredible and Droid 2
Google
(GOOG) - Get Report
Android phones, for example, accounted for about 27% of total Android sales in the second quarter of this year. Also, roughly 4% of Verizon's smartphone users use 2 gigabytes of data per month, compared with only about 2.5% of AT&T's iPhone customers.
Here's a look at the iPhone and how it stacks up against five smartphone alternatives:
iPhone 4
OS:
iOS 4
Price:
$199 for 16-gigabyte model with two-year contract, $299 for 32-gigabyte model with two-year contract
The iPhone is still the device to beat for myriad reasons. Its more than 200,000 apps easily obscure Android's 70,000 or so. It's still in second place behind
Research in Motion's
( RIMM) BlackBerry products, but now has nearly a quarter of U.S. smartphone market share and is climbing, according to
ComScore
(SCOR) - Get Report
. It's 3.5-inch display is starting to look small, but other manufacturers still haven't matched the clarity of its high-resolution Retina display technology. They're also having a difficult time matching the seven hours of 3G talk time, six hours of 3G browsing, 10 hours of Wi-Fi browsing, 10 hours of video, 40 hours of music and 300 hours of standby battery life. Oh, and the front-facing camera is still a sweet addition.
But the iPhone's latest iteration is showing weaknesses that keep fanboys' fingers aflutter fighting in the comments fields. For one, Apple's tiff with Adobe means Flash compatibility is a problem -- it's still largely blind to a bunch of the video and Interactive elements found online. Another is the little matter of the case iPhone users should buy before squeezing the phone the wrong way and knocking out reception. The biggest bug the iPhone has, however, is one that would be easily remedied by a jump to Verizon: AT&T's spotty service, which a ChangeWave Research survey says is responsible for the company dropping a whopping 4.5% of calls, more than three times the percentage of calls (1.5%) dropped by Verizon.
The iPhone 4 has a strong hand to play if it makes the jump, but these existing Verizon smartphones are also being heard:
HTC's Droid Incredible
OS:
Google Android
Price:
$299 with two-year contract, $199 after mail-in rebate
The Incredible was one of Verizon's biggest swipes at the iPhone this year and may have taken a contest against an iPhone 3GS. It has a tougher time stacking up to the iPhone 4, though. Its 3.7-inch screen is slightly larger, but is a lot less clear than the Retina display. Android 2.2 updates made it Flash compatible and capable of serving as a Wi-Fi hotspot and recording 720p HD video, and its MicroSD slot gives it up to 32 gigabytes more memory, but the lack of a front-facing camera and a more than 130,000-app deficit in the Android store put it at a disadvantage. An updated Incredible is rumored for this quarter, but with a Verizon iPhone possibly in the offing, the new Incredible's going to live up to its name against Apple.
Motorola's Droid 2 and Droid X
OS:
Google Android
Price:
$299 with two-year contract, $199 after mail-in rebate
Finally, a real matchup. The Droid 2 is a bit underpowered -- it has only 8 gigabytes of built-in storage, lacks HD video capture and features a mediocre 5-megapixel camera -- but has a slide-out QWERTY keyboard for the old folks and touchscreen with Motorola BLUR for the savvier smartphone user. A MicroSD can expand its storage to 32 gigabytes and Android 2.2 helps make it a beast, but it's similarly priced, stronger sibling the Droid X is a much better matchup for the iPhone. There's no front camera, but the 8-megapixel rear camera shoots video on 720p HD. The 4.3-inch screen isn't as clear as the iPhone's but sure is a lot bigger, and it connects to TV via an HDMI cable rather than the AV cables employed by the iPhone. A built-in FM radio, third microphone for shooting video, dual LED flash to iPhone's single LED, Swype keyboard functionality for faster typing, a possible 32 gigabytes of expandable memory, that little matter of Flash compatibility and being able to serve as a portable hotspot already gives the iPhone a run for its money. If the two are suddenly next to each other on the same wall in a Verizon store, customers' heads may explode.
Blackberry Bold 9650
OS:
BlackBerry
Price:
$249 with two-year contract, $149 after mail-in rebate
Yes, BlackBerry's playing not to lose at this point and just got called out by Steve Jobs, but it still holds the U.S. smartphone lead with 37.6% of the market, according to ComScore. This isn't even the best product BlackBerry makes, though, since AT&T introduced the Torch touchscreen back in August. The Bold 9650 is exactly the kind of smartphone that makes Jobs and other critics shake their heads at RIM: 512 megabytes (
mega
bytes!) of memory, a 3.2 megapixel camera available
as an option
, a full-time QWERTY keyboard with trackpad. Good lord, man, are you still listening to Vanessa Carlton, Creed and Ja Rule on that thing? This is why, in the second quarter, RIM dropped to second place in sales for the first time since 2007. There are many folks who are still extremely comfortable with the BlackBerry's status quo and would sooner miss the last episode of
Ally McBeal
than switch to some newfangled touchy screen contraption, but a potential iPhone migration to Verizon could result in some serious future shock for owners of devices such as the Bold 9650.
Samsung Fascinate
OS:
Google Android
Price:
$299 with two-year contract, $199 after mail-in rebate
There's only one word for the Fascinate: Hot. It's lighter than the iPhone, curvier, has the same three-axis gyroscope for gaming and has a Super AMOLED screen technology, 16-gigabytes of onboard memory and a 5-megapixel camera with flash and 720p HD camera video. For some reason someone removed the front-facing camera that was present on the Fascinate's international version, the Galaxy S, but otherwise it's a really fun device that battles the iPhone to a draw. The Android 2.2 updates that make it a roving hotspot and give it Flash compatibility may present a slight edge, as evidenced by the Fascinate's AT&T version, the Captivate. While it doesn't come close to the iPhone 4's sales numbers, it's part of the reason Android's been chipping away at Apple's smartphone market share.
Palm ( PALM) Pre Plus
OS:
WebOS
Price:
$50 with two-year contract
The poor Pre. Even before
H-P's
(HP) - Get Report
takeover of Palm, the device got a bad rep despite being perfectly serviceable and, in many cases, a happy medium between the iPhone and BlackBerry. At last glance in August, Palm's smartphone market share in the U.S. was at 4.6% and falling. This is a shame, considering its card-shuffle multitasking is pretty sweet and routinely updates contacts, calendars and messages from sources including Facebook, Outlook and Gmail. The Web search automatically pastes search terms into various engines and the pinching and double-tap zoom is as easy to navigate as the iPhone's, but the sliding touch screen also yields to a keyboard when needed. With Wi-fi, Bluetooth, an airplane mode, Microsoft and Mac compatibility and voice quality similar to a landline phone, the Pre should have put up a bigger fight. It didn't get a 16-gigabyte upgrade until it was too late, and its 3-megapixel camera never passed muster. Plus, when most of your apps are holdovers from PDAs, how are you supposed to compete each time Apple unveils the next big iPhone? Maybe H-P will get it back in fighting shape, but sharing space with the iPhone won't do wonders for the Pre Plus.
-- Written by Jason Notte in Boston.
>To contact the writer of this article, click here:
Jason Notte
.
>To follow the writer on Twitter, go to
.
>To submit a news tip, send an email to:
.
RELATED STORIES:
>>Droid Pro Underlines Google Android's Power
>>What's An iOS? Smartphone Users Don't Know
Follow TheStreet.com on
and become a fan on
Jason Notte is a reporter for TheStreet.com. His writing has appeared in The New York Times, The Huffington Post, Esquire.com, Time Out New York, the Boston Herald, The Boston Phoenix, Metro newspaper and the Colorado Springs Independent.