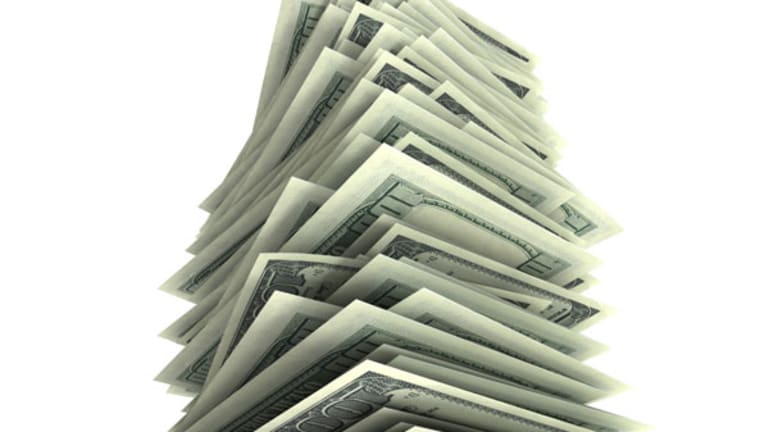 5 U.S. Housing Booms Coming in 2012
A few silver linings are beginning to poke through the cloudy real estate market.
NEW YORK (MainStreet) -- The U.S. housing market's stormy times appear to be spilling into 2012 -- but a few silver linings are beginning to poke through the clouds.
Market tracker HousingPredictor.com forecasts a 3.9% drop in median home prices nationwide this year, but its annual
Best 25 Housing Markets
study actually foresees values rising in dozens of locales.
Study author Mike Colpittts says most areas with increasing prices have economies that focus on food or energy production, two sectors that are booming amid today's generally rising commodities values.
"Energy rich states like North Dakota, South Dakota and Texas are doing better on the whole and make up a good number of cities in the best 25 markets," Colpitts says. "The Midwest is
also doing much better because of farming."
Here's a look at the five cities HousingPredictor.com believes will enjoy the biggest gains in median home prices this year:
Fifth-best market: Minot, N.D.
Projected 2012 median home-price gain:
4.2%
This community of some 69,000 people boasts just 2.7% unemployment, thanks in part to North Dakota's booming oil-and-gas sector.
A June flood along the Moose River damaged some 4,000 local homes, though, cutting Minot's housing stock just as demand was rising. As a result, HousingPredictor.com expects the city's median home price to rise 4.2% this year, to $88,670.
"
Minot is experiencing higher demand for housing as a result of the
energy boom and the flooding that devastated homes last summer, reducing the supply," Colpitts says.
Located some 100 miles north of Bismarck, N.D., and 50 miles south of the U.S.-Canadian border, Minot also hosts Minot Air Force Base and Minot State University. Both bolster the local economy and the area's real estate market.
Fourth-best market: Oklahoma City, Okla.
Projected 2012 median home-price gain:
4.3%
"
Oklahoma City is one of those rare places in the
United States that hasn't experienced the fallout of the real estate collapse as much as most of the country," Colpitts says. "Better employment levels and a strong agricultural industry are pushing the region into a better economy."
Traditionally an energy and agricultural powerhouse, the city has diversified its economy over the years. Fortune 500 companies
Devon Energy
(DVN) - Get Devon Energy Corporation Report
and
Chesapeake Energy
(CHK) - Get Chesapeake Energy Corporation Report
call Oklahoma City home, as does the
Sonic
(SONC)
drive-in restaurant chain.
The 1.2-million-person metro area also hosts Tinker Air Force Base and three major schools -- the University of Oklahoma, University of Central Oklahoma and Oklahoma Christian University.
All of that adds up to a 5.8% jobless rate, which has HousingPredictor.com estimating that Oklahoma City's median home prices will rise 4.3% this year, to $105,343.
Third-best market: Charleston, W. Va.
Projected 2012 median home-price gain:
4.5%
HousingPredictor.com expects median home prices in West Virginia's capital to hit $94,045 during 2012 -- a 4.5% increase.
"West Virginia has known hard economic times for decades, but lower home prices are a magnet for newcomers -- especially retirees seeking a lower cost of living," Colpitts says.
In addition to hosting lots of state agencies, Charleston is home to
Appalachian Power
,
Mountaineer Gas Co.
and other large companies.
The 304,000-person metro area also counts the University of Charleston and West Virginia State University as major employers, helping to give Greater Charleston a 6.8% jobless rate -- well below the national average.
Second-best market: Topeka, Kan.
Projected 2012 median home-price gain:
4.7%
The capital of Kansas, Topeka boasts 6.6% jobless rate and a diversified economy of agriculture, state-government agencies, local hospitals and more.
Goodyear Tire
(GT) - Get Goodyear Tire & Rubber Company Report
operates a large factory in the 230,000-person metro area, as does dog- and cat-food maker
Hills Pet Nutrition
and some other manufacturers. Topeka also hosts Washburn University, which has some 7,300 graduate and undergraduate students.
"The economy is already enjoying the best times in decades,
and low unemployment is pushing Topeka into a recovery," Colpitts says.
HomePredictor.com forecasts Topeka's median home prices will climb 4.7% in 2012 to hit $127,734.
No. 1 market: Kansas City, Kan.
Projected 2012 median home-price gain:
5.8%
"Record-high prices farmers are getting paid for corn used in the production of ethanol. Soy beans and livestock prices are sending the economy in
Kansas into a recovery," Colpitts says.
That's boosting real estate in 145,000-person Kansas City, where HomePredictor.com expects median prices to hit $142,830 by year's end -- a 5.8% increase.
Colpitts says Kansas City's existing-home sales "are rising, and are projected to remain that way through 2012 as foreclosures are reduced by higher home prices."Kansas City is home to the 3,900-worker
General Motors
(GM) - Get General Motors Company Report
Fairfax Assembly Plant, which builds Chevrolet Malibus and Buick LaCrosses. The community is also home to
Associated Wholesale Grocers
and the
Kansas City Steak Co.
All told, the latest local figures show that the Kansas City, Kan./Kansas City, Mo., metro area had 7.8% joblessness in October -- 1.2 percentage points below the nation's overall rate that month.
>To submit a news tip, email:
.
RELATED STORIES:
>>5 U.S. Housing Booms in 2011
>>6 Best Cities for Starting Over in 2012
>>Best Gadgets for 2012 (Kitchen Edition)
Follow
TheStreet
on
and become a fan on