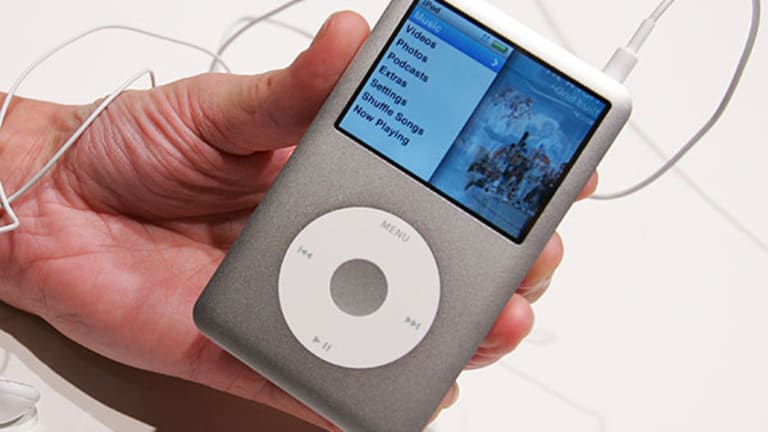 5 Things You Should Have Bought in 2014 When You Had The Chance
If you didn't pick up an iPod Classic, Nissan Cube or one last Delia's catalog, you're out of luck in 2015.
NEW YORK (MainStreet) – It's pretty safe to say that unless there's a birthday, wedding or anniversary coming up or you're having doubts about how the Super Bowl is going to look on your current television, you're through with shopping for a bit.
With the holidays and post-holiday sales over and President's Day sales and Valentine's Day still a month or so away, shoppers are putting away their wallets and letting their finances recover. According to the Census Bureau, January and February are usually the softest spots in the annual retail calendar and typically trail the next weakest month, September, by $20 billion to $30 billion or so.
Nobody's shopping, retailers are changing inventory and, for the first time in months, stores are quiet.
It's also way too late for you to pick up some items that that either limped their way out of 2013 or didn't make it at all. Generally speaking, if it was worth buying, you would have bought it by now. But there are some items consumers tend to take for granted that either aren't coming around again or have a strong chance of reappearing in a highly altered form once they return.
We took one last look at 2014 and found five items that may have been worth your time and money then, but will be tough to find in 2015:

An iPod Classic
Apple (AAPL) - Get Apple Inc. Report has been using its slowly dying iPod as a cash grab since the introduction of the iPhone. It's been using the more than decade-old device to prop up a music download business that just doesn't work anymore even as sales of the iPod itself plummeted and the device was routinely left out of Apple's more breathless portfolio announcements.
At one point, the iPod was so popular that one out of every 26 people on earth owned one. Today, Apple CEO Tim Cook silently killed off the iPod Classic because, he claims, his company "couldn't get the parts anymore, not anywhere on Earth." That's an odd statement from the company that ordered those parts to be fabricated in the first place, but it caused the price of the iPod Classic to soar in secondary markets.
Why would these relics sell for more than $1,000? Hint: It isn't nostalgia. The iPod Classic was beloved for its clickwheel-and-screen design from the original iPod, true, but people also loved it because it held 160 gigabytes worth of music. For all but the most dedicated collectors, that's easily a complete iTunes library on one device. Compare that with the largest iPod Touch — which is basically a gelded iPhone used as a training device for children — and its 64 GB of space. People may not be downloading music as much anymore, but they still have a whole lot of downloaded music on file and hate how restrictive the memory constraints of smartphones and lesser iPods are and how repetitive that makes their playlists as a result. The iPod Classic was a consumer's last chance at carrying their vast iTunes library in their hand and curating a playlist as diverse as any streaming service could offer. Killing the iPod Classic basically ensured that Apple stalwarts will never have mobile access to more than a small chunk of their library at a time without having to eat up data for cloud-based spins. It also might force serious music lovers and subway-bound commuters to finally give those remaining SanDisk MP3 players a shot.

A Nissan Cube
Each year, automakers send a whole lot of models to their graves. Whether they're ugly (Honda Insight), redundant (Dodge Avenger) or just inefficient (the Toyota (TM) - Get Toyota Motor Corporation Report FJ Cruiser or Ford (F) - Get Ford Motor Company Report E-Series vans), sometimes, they just have to go.
With the Nissan Cube, however, it almost feels like the end of an era. Introduced in Japan back in 1998, the Cube didn't make landfall in the U.S. until 2009. Riding a wave of tiny little surf wagons including the Honda (HMC) - Get Honda Motor Company Ltd. Report Element, Scion Xb and Kia Soul, the Cube's oval windows — including a wraparound rear window — LED accents, shag carpet and tons of hooks and storage space set it apart.
But if there's one thing that the U.S. auto market regularly disdains, it's vehicles that stand out in any fashion. Despite their utility and relative efficiency, the Cube and its fellow surf boxes — which never quite found the young audiences they sought and resigned themselves to lives as pet shuttles and retiree vacation cruisers — quickly fell out of favor. Honda killed off its dog-friendly Element in 2011 when buyers preferred the more sensible CR-V at a rate of 5 to 1 and Element buyers bought as many vehicles in the model's last three years as they did in 2003 alone. The Scion Xb's sales collapsed from a peak of 61,300 in 2006 to just 17,800 last year.
The Cube, meanwhile, was yanked from the European market in 2011 and saw U.S. sales drop considerably in the years that followed. Deemed too weird to live, it was pulled from the U.S. this year and will only be available in its native Japan.

Some maintenance for Windows XP
This was the year Microsoft's (MSFT) - Get Microsoft Corporation Report patience ran out.
It was willing to back this now-12-year-old operating system because, admittedly, its Windows Vista successor was godawful. It begrudgingly kept maintaining and updating XP even after Windows 7 launched because, well, for the majority of Windows users XP qualified as their last-generation operating system. By the time Windows 8 and Windows 8.1 came around, Microsoft was ready to put XP out to pasture.
Microsoft announced its abject refusal to support XP any further, despite pleas from users, companies and even world governments that doing so would expose a whole lot of Microsoft customers to security risks and viruses (which Microsoft has trouble with under the best of circumstances).
That's not just some tiny minority airing its grievances, either. Currently, Windows XP accounts for nearly 13.6% of all operating systems on the planet. That's second only to Windows 7's 56.4% share, is still greater than the 12% share of Windows 8.1 and is more than five times the 2.6% market share of Windows Vista. Oh, and it's still more than double the share of all of Apple's Mac OS X versions combined.
We understand that Microsoft wants to get on with things and embrace a new, more mobile future, but it's abandoning a whole lot of faithful desktops in the process.

Anything from Delia's
The dream of the '90s ends not with Dave Grohl and Courtney Love embracing at the Rock and Roll Hall of Fame induction ceremony or with the notion that we should care what Corey and Topanga's child does on Girl Meets World, but with the faded tones of an NSYNC song echoing off the walls of a closed Delia's.
No, we're not going to spell it dELia*s anymore. That level of hubris is reserved for mall retailers who actually make it out of their most popular decade and adapt to the world around them. Delia's conducted itself as if it was still 1999 and shoppers still cared about its catalog or old newspaper clippings stacked with Dawson's Creek and Old Navy performance fleece references.
Katie Holmes is a mother, Morgan Fairchild doesn't do Old Navy commercials anymore, the newspaper rarely arrives seven days a week (if folks subscribe to one at all) and any mall not teeming with outlet stores or camouflaged to look like a city street is dying or dead.
Chains bound to the mall either have to update and reinvent themselves with an online presence (like Coldwater Creek) or die terrible deaths (like Deb Shops). For a chain that built its reputation on the young faces that once filled its stores and rifled through its catalogs, Delia's grew old and dated in a hurry.

A Nokia device
When Microsoft bought the nearly 150-year-old Swedish mobile phone giant Nokia's handset division for more than $7 billion in the spring, it was already a big deal. When word leaked that Microsoft would be phasing out the Nokia brand in favor of the Microsoft Lumia name, that was borderline shocking.
Nokia's demise isn't exactly unexpected, especially after Google swallowed Motorola's mobile division whole, but Microsoft erasing its presence from a market that Nokia basically created takes unmitigated gall. Let's not even discuss the late '90s and early 2000s, when just about every other phone U.S. users carried was a Nokia. Let's note that, as recently as 2010, Nokia's Symbian operating system was still the most popular in the world. By the third quarter of this year, according to Gartner, it was finally relegated to the "other" category among smartphone operating systems.
Still, in just the third quarter alone, Nokia sold 63 million mobile devices worldwide. That trails only Samsung (117 million) and more than doubles the sales of Apple phones (30 million) and more than triple's the sales of LG (18 million) devices.
Nokia was by no means ruler of the mobile market anymore, but it was far from some insignificant asset to be stripped for parts in Microsoft's chop shop. But the world moves pretty fast, and a brand associated with most people's first mobile phone likely wasn't long for this world no matter how powerful its smartphone cameras were.
— By Jason Notte for MainStreet
>To contact the writer of this article, click here: Jason Notte.
>To follow the writer on Twitter, go to http://twitter.com/notteham.
>To submit a news tip, send an email to: tips@thestreet.com.
RELATED STORIES:
>>Millennial Investors Care More Than Boomers, Gen X
>>7 Holiday Shopping Apps Stores Hope You Won't Use This Season
>>5 Last-Minute Strategies For Holiday Procrastinators