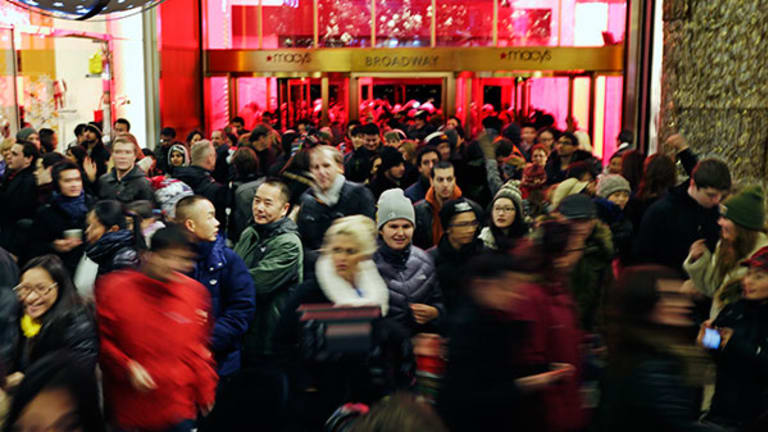 5 Things You Need on Your Christmas Eve Shopper's Survival Checklist
If you're braving the malls and stores on Christmas Eve, make sure you've packed these five things.
NEW YORK (MainStreet) — Headed into the last-minute shopping rush on Christmas Eve? You're not alone. Here's a look at the five things you shouldn't leave home without.
A list
"You don't want to be standing in the Apple store trying to figure out 'Well, how many gigs did they want?' 'What color?' 'What wireless carrier do they have?' That would be a nightmare," says Michelle Madhok, shopping expert and founder of SheFinds.com. "You've got to make a detailed list."
When making your list, include all the big items, but don't forget the details, either, stresses Maralee McKee, The Manners Mentor. If you don't have wrapping paper, bows, gift tags, tape, tissue paper, boxes and holiday cards, you could find yourself in a panic on Christmas morning.
"There's nothing more frustrating than getting home and finding you have just a tiny bit of wrapping paper and ending up writing on the packages with a Sharpie," McKee says. "That's not what you want to do."
Even if you know you could never forget the loved ones on your list, write down the names of everyone you still need to buy for and how much you've budgeted for each person, suggests Patrick Donoho, president of the Maryland Retailers' Association.
"If you don't already have something in mind for the person, then at least have a price point written down," Donoho says. "If you have $20 to spend on stocking stuffers, you need to know that going in."
Your smartphone
Last-minute shoppers should take advantage of apps, Madhok says. She suggests PriceGrabber, which allows shoppers to find the best cost and location for desired items, and Coupon Sherpa, which lets you to search for coupons available on an item and use the coupon directly from your phone.
"With PriceGrabber, you don't have to spend all your time driving around, searching to see if an item is in stock. You know exactly where to go," she says.
Also, check to see if your local mall has an app. The app may feature a map that shows the location of stores. Even without an app, most mall websites offer a store directory that will allow you to chart a course and plan your attack.
Once you're out shopping, don't forget to check your email, Donoho advises. Retailers know that customers are using their smartphones to navigate sales, comparison shop and take advantage of instant rebates. They'll be sending coupons and deals to your inbox leading right up to Christmas.
Taking your smartphone with you is smart even if you have no interest in coupons — you'll still need to communicate with friends and family who decided to help you "divide and conquer" the shopping experience.
"Don't get lost out there. You've got to keep in touch," Donoho says.
Big bags
The fewer bags you have, the more you can streamline, making it easier to navigate crowds and less likely you'll leave a bag of goodies behind, Madhok says.
"If you can consolidate your purchases, you won't spend half your day counting your bags to make sure you haven't misplaced something," she says.
Even if you're a fan of small plastic bags, it doesn't take much weight before they start to cut into your hands and make navigating the mall a pain, McKee stresses. A large canvas tote that you can carry over your shoulder (or out in front of you in big crowds) is ideal.
"It may be so crowded that you need to employ airplane etiquette — hold your bag out in front of you at belt-level to avoid bumping people to your left and right," she says. "It works just as well in a crowded mall as it does on a plane."
If you plan to take a purse, Madhok advises choosing one with a zipper on it so you can fully secure your money, credit cards, phone and keys.
"Even though that last-minute rush may be fun, you still need to keep an eye out for pickpockets," she says.
Comfort for body and sole
Comfortable shoes may sound like a no-brainer, but if you're going shopping right after work or if you're headed straight to a holiday party after picking up gifts, a pair of tennis shoes might not be on your radar, McKee cautions.
"When you're shopping last-minute, it's never going to be just a quick run-in, run-out thing," she says. "You may end up parking all the way at the end of the parking lot and having to walk several blocks just to get into the store. Once you get in, there may be at least a half-hour of standing in line, not including the time it takes you to walk around the store and find what you need. Your feet are going to be killing you by the end."
Also, even if you plan to stop for something to eat, pack a snack just in case, Madhok advises.
"You don't want to wait around in the food court," she says. "You're going to be standing in enough lines without having to wait to get food. Overall your goal for the day should be to stand in as few lines as humanly possible."
A healthy dose of patience and good will
If you let the stresses of the day get the best of you, you'll lose your temper in the parking lot before you even get into the store, McKee cautions.
"Make sure you've had your coffee or your glass of wine or whatever you need to get yourself into a place of calmness to be in the Christmas spirit," she says. "This is the time of year when we focus on good will towards all. We have to rise above our momentary distress and think, 'Wait, this isn't all about me.'"
In addition to grinning and bearing it when things don't go your way, McKee advises starting off the day as the "bigger person."
"If you see a lady juggling a baby in line, let her go ahead of you," she says. "If someone bumps into you, even if it's their fault, be the first one to say 'Excuse me.' Don't lose the Christmas spirit in a dash of presents. Thats not what this is all about."
— By Kathryn Tuggle for MainStreet