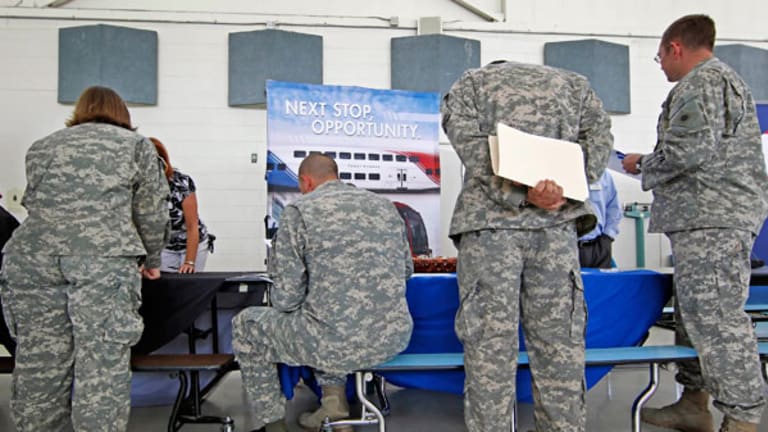 5 Things to Know About Small Business This Week: May 24
The SBA steps up lending to military veterans; Google plans to transform small business; is there disaster aid for Okla. small businesses?; Quiznos/Smashburger founders' debut pizza concept; young employees' need mentoring.
NEW YORK (
) -- What happened in small business this week?
The Small Business Administration steps up lending to military veterans; Google plans to transform small business; is there disaster aid for Oklahoma small businesses?; Quiznos/Smashburger founders' debut pizza concept; young employees' need mentoring.
1. SBA steps up lending to military veterans.
The U.S. Small Business Administration launched on Tuesday the SBA Veteran Pledge Initiative, a commitment by 20 of the largest banking institutions including
Bank of America
(BAC) - Get Report
,
JPMorgan Chase
(JPM) - Get Report
,
Citigroup
(C) - Get Report
,
TD Bank
(TD) - Get Report
as well as regional lenders to increase their lending activity to
by 5% per year over the next five years.
2. 6 Ways Google Will Transform Your Small Business.
Google
(GOOG) - Get Report
is a company that never stops innovating, which is a good thing for small-business owners who use their technology to run their businesses more efficiently.
Also see:
Abercrombie Forced To Apologize
Small-business owner and
columnist Gene Marks counted six new initiatives at last week's annual Google I/O Conference that other businesses will greatly benefit from, including more developer tools like App Translation, alpha testing and Android Studio; 41 new Google+ features; payments via email and other electronic forms of payment; and changes to Google Maps, among other things.
"With Google, we have a company that is quickly building a unified platform for applications and services that talk to each other and help us do our business faster and more profitably. We have a CEO that says 'we should be building great things that don't exist.' And we have a company that's not afraid to innovate, fail and keep innovating. And because of this attitude, we have new technologies that will transform our businesses in the years to come," Marks writes.
3. How quickly can Oklahoma small businesses get disaster aid?
Small businesses in Oklahoma hit by the tornado earlier this week may have to wait months for federal disaster aid if the time to disburse aid to Sandy-affected businesses is any measure. One out of every four businesses that applied for Sandy-related disaster loans through the Small Business Administration was approved.
The Oklahoma Small Business Development Center plans to apply for federal funding -- a first for the agency -- as it prepares for a flood of requests from business owners that will need help preparing lost documents and applying for loans, according to
.
Also see:
Behind-The-Scenes At a Popcorn Company
4. Quiznos and Smashburger founders to debut pizza concept.
Looking to redefine fast-casual pizza and the $60 billion pizza industry, the founders of Quiznos and Smashburger launched Live Basil Pizza in Denver this week
The restaurant will offer made-to-order brick oven pizza, baked in less than 5 minutes, according to
.
"We think there's a change going on in general. We think fast casual represents the way people want to eat, and we think pizza is ready for a sea change in that direction," Consumer Capital managing partner Tom Ryan told
Nation's Restaurant News
.
5. Are young employees getting the mentoring and leadership lessons they need?
A recent study explains that managers are concerned that young employees aren't getting the coaching and mentoring they need to lead in complex environments and many small-business owners don't have a strategy in place to prepare these future leaders, according to
.
AmEx OPEN offers pointers on getting started, such as offering flexible mentorship programs for your millennial employees, encouraging more seasoned staff members to take advantage of prime "mentorship moments" and making mentoring part of the organizational strategy.
-- Written by Laurie Kulikowski in New York.
To contact Laurie Kulikowski, send an email to:
Laurie.Kulikowski@thestreet.com
.
>To submit a news tip, email:
.
Follow
TheStreet
on
and become a fan on
.
Disclosure: TheStreet's editorial policy prohibits staff editors, reporters and analysts from holding positions in any individual stocks.