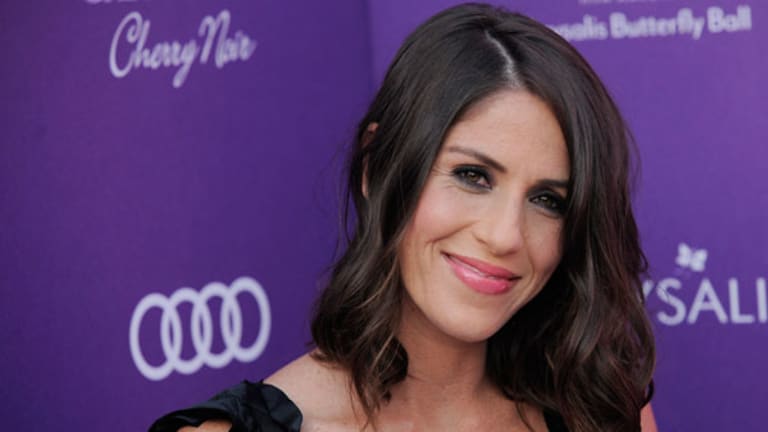 5 Things to Know About Small Business This Week: April 26
Punky Brewster's startup; eBay bats against online sales tax; will small retailers benefit from new credit card surcharges?; Utah venture capital; older entrepreneurs are crucial.
NEW YORK (
) -- What happened in small business this week?
1. Punky Brewster gets venture funds from Google.
Soleil Moon Frye, best known for her role as the sprightly Punky Brewster back in the '80s, is starring in another role as co-founder and chief creative officer of
, a social and do-it-yourself crafting startup geared to parents. Moonfrye (the venture) just got $2.5 million in funding led by GRP Partners with participation from Greycroft, Daher Capital and
Google
Ventures, according to
.
Moon Frye has spent the past few years building an "impressive" online and social community through the site. She also launched an eco-friendly baby store in Los Angeles, designed a product line for
Target
(TGT)
and wrote two parenting books, the article says.
Moonfrye the venture was started with former
IAC
(IACI)
executive Kara Nortman. They plan to launch a mobile app "dedicated to inspiring creativity in families in a do-it-yourself experience,"
TechCrunch
says.
Also see: Crowdfund Investors Poised to Win >>
2. eBay bats against online sales tax measures.
eBay
(EBAY)
weighed in over the debate over
collection this week. CEO John Donahoe began emailing users last Sunday telling them the Marketplace Fairness Act would burden small online merchants.
The San Jose, Calif.-based online marketplace also took to Twitter to send its message out. One tweet said: one tweet saying: "Do you think #SmallBiz owners should be forced to act as tax collectors in all states? Neither do we."
Another tweet said the online marketplace company believes businesses with fewer than 50 employees or less than $10 million in annual out-of-state sales should be exempt from the legislation, according to
.
Also see: 16 Handles Aims to Win in Frozen Yogurt Consolidation >>
The bill is supposed to level the playing field between online and bricks-and-mortar stores by requiring online retailers to collect sales tax (still small online retailers with less than $1 million in revenue would be exempt), but has been getting quite the pushback. The Senate was supposed to take up the bill for a vote this week, but so far it hasn't done so.
mentions that perhaps the vote will take place Friday or Saturday.
3. Will small retailers benefit from new credit card surcharge fees?
and
CEO Odysseas Papadimitriou says surcharges merchants are now allowed to charge on credit card transactions could potentially either have little effect or do more harm than good, in an attempt to pass payment processing costs onto consumers. For one, 10 states already prohibit charging more for credit card transactions, with another nine are considering similar bans, Papadimitriou wrote in an article published in the
.
Visa
(V)
and
MasterCard
(MA)
also prohibit retailers from adopting payment policies in different store locations so nationwide retailers won't be able to apply the surcharges. Small retailers on the other hand will be more likely to experiment with them, but experts say it could hurt business considering "consumers have so many options these days that if one particular merchant decides to charge more for plastic, we can shop elsewhere," the article says.
Also see: Colleges With the Highest-Paid Professors >>
There is "a way to offset the cost of credit card processing without alienating customers: Raise prices across the board and then offer discounts to people who pay in cash," Papadimitriou writes. "If you play this right, consumers aren't likely to notice, and instead of being the bad guy handing down fines, you'll be able to play the role of the generous benefactor."
4. Utah venture capital firm launches second fund.
on Tuesday announced the close of Fund II, a $26 million fund, as well as the addition of two executives to its management team. The second fund follows a successful first fund of $8 million raised in 2008 by Gavin Christensen, Kickstart Seed Fund's founder and managing director.
Former
Skullcandy
(SKUL)
Vice President Clarke Miyasaki has joined the firm as managing director. Alex Soffe, former vSpring/Signal Peak director of finance has come on board as CFO, the firm said.
With its new fund and executive team in place, Kickstart will "continue its strategy of sourcing, vetting, syndicating and assisting the most attractive seed-stage venture capital investments in Utah and surrounding states," it said in a release.
Kickstart has invested in 24 companies to date, including Needle, Ecoscraps, Fuze Network, and Dropship Commerce, and recently experienced two exits with Panoptic Security in November of 2012 and GroSocial in January of 2013, both of which were acquired.
"We are big believers in the region -- the quality of entrepreneurs, the history of innovation, the quality of life and the prospects for the future," Christensen said in a release. "Kickstart was formed to fill both the capital and leadership gap at the seed stage here and our results show that it's working. Having Clarke and Alex join Kickstart allows us to accelerate the successful track record that's been established over the last five years."
5. Why older entrepreneurs are crucial.
Are Silicon Valley investors prejudiced against older entrepreneurs?
PBS
contributor Vivek Wadhwa says they are and it's a big mistake.
Wadhwa argues that older workers are usually better at following direction, mentoring and leading. They're also "more pragmatic and loyal, and knew the importance of being team players. They had smaller egos than some of my young recruits did. They were the steadiest performers and stayed with me through the most difficult times," he writes.
However, investors in Silicon Valley prefer to fund entrepreneurs "hardly old enough to shave" because they are looking for the next
Facebook's
(FB)
Mark Zuckerberg and believe that younger entrepreneurs understand emerging technologies, like social media, much better.
Employers and investors who believe "that people stop being creative as they reach middle age are dead wrong," Wadhwa writes. "Let's not forget the greatest innovator of recent times: Steve Jobs. His most significant innovations -- iMac, iTunes, iPod, iPhone and iPad -- came after he was 45. So it may be time to get beyond the fascination with the Zuckerbergs and put aside our prejudices. Older workers have a lot to contribute not only to our corporations, but also to startups."
-- Written by Laurie Kulikowski in New York.
To contact Laurie Kulikowski, send an email to:
Laurie.Kulikowski@thestreet.com
.
>To submit a news tip, email:
.
RELATED STORIES:
>>Soros Takes JCPenney Stake to Lead Retail Higher
>>16 Handles Aims to Win in Frozen Yogurt Consolidation
>>Crowdfund Investors Poised to Win
Follow
TheStreet
on
and become a fan on
.
Disclosure: TheStreet's editorial policy prohibits staff editors, reporters and analysts from holding positions in any individual stocks.