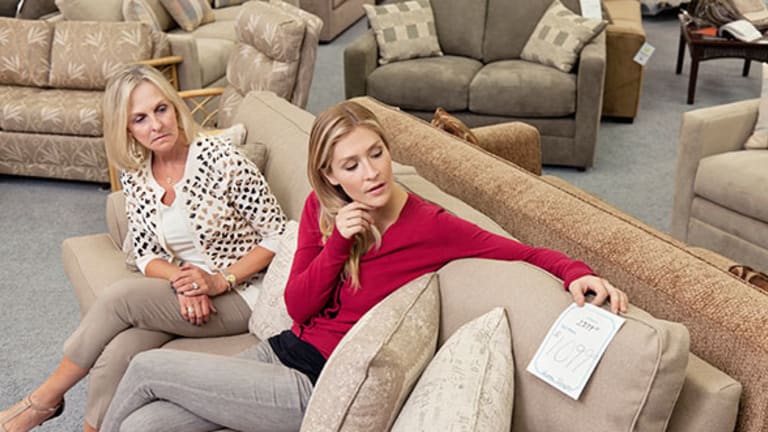 5 Things to Buy Before (or After) Black Friday
Black Friday is for suckers. Though Black Friday has engulfed Thanksgiving and the entire weekend afterward, some of the best November holiday shopping before it.
Black Friday is for suckers, but most of you already know that.
According to the National Retail Federation, 55.1% of holiday shoppers were in stores or online during the holiday weekend in 2014, down from 58.7% a year earlier. Spending over that holiday weekend also slipped 5.2% from $407 to $381. Don't blame Thanksgiving Day sales: the 32% of shoppers who hit those were roughly the same segment of the population that left Thanksgiving Dinner early in 2013.
Don't blame online shoppers, either. According to ComScore, the $1.5 billion spent online on Black Friday jumped 25% from the year before, but couldn't match the more than $2 billion made on Cyber Monday, or the $1.6 billion raked in on Green Monday a week later. It also couldn't match the 32% growth of online sales on Thanksgiving, which eclipsed $1 billion for the first time. In fact, the $17.5 billion spent online from November 1 through 23 last year was not only nearly quadruple the $4.5 billion spent on Thanksgiving weekend, but it was roughly a third of last year's $53.3 billion online holiday take.
A survey conducted over Labor Day weekend by CreditCards.com found that about one in seven American adults (14%) had already begun their holiday shopping. A National Retail Federation survey in October, meanwhile, found that 40% of shoppers started their holiday shopping before November, while a November 10 survey discovered that not only had 57% of consumers started their holiday shopping, but nearly 14% were more than halfway finished.
This isn't exactly a new development, either. Last year, Google found that more than half of consumers began researching their holiday shopping before Thanksgiving, with 26% starting before Halloween. Why? According to the NRF, most think it helps them spread out their spending (61.4%). Half (48%) choose to do so to avoid holiday crowds.
But aren't they worried about missing out on great deals? No. In fact, 41% are shopping early, because prices and promotions are too good to pass up. No, those deals may not be deep discounts on obscure third-party televisions (or brand-name televisions: seriously, those deals are great this year), but they have their own appeal. In fact, the folks at both DealNews and Lifehacker have suggestions for items you might want to consider picking up before those Thanksgiving and Black Friday lines get to be more than a few people long:

Furniture
If you're hoping Black Friday will score you a discount on that dining room set or sectional you've been looking for, forget it. The furniture sales cycle resets in July and August, when stores are getting their next season's offerings and pushing out last year's stuff at a discount. If you've waited until November, you've basically waited your way out of a deal. The same goes for patio furniture and outdoor items. Home an garden stores start clearing space in September and October to make way for holiday and Black Friday offerings -- especially appliances, which are dirt cheap right now -- by November. You aren't getting that grill, table or umbrella any more cheaply than you'd get it in April.

Airfare and vacation packages
No. Just no.
Sure, you can likely still get a deal on a hotel room, but just about every other travel expense started climbing in September and hasn't stopped. You're even reaching the point where those early travel "dark weeks" in January aren't the great deals they were back in October. The advice fromDealNews? Wait until January, when the holidays are over, spring break is still a long way off and both airlines and travel sites will want to fill seats and tours in the new year.

Clothes
Apparel doesn't have time for your arbitrary sale dates. The seasons pass regardless of when a store deems items seasonally appropriate, so November is always a fine time to snap up leftover fall items at a discount. DealNews notes that the average apparel deal shaves 54% off retail prices, whereas the best sales will take up to 80% off. Just keep your eye out for coupons, which will take as much as 60% off. Also keep in mind that online retailers start their Black Friday clothing deals early in the week, so you can already jump on the bargains.

Gift cards
Do not pay full price for a gift card. Black Friday has a few gift card deals, but there's no impetus for retailers to sell you some at a discount during a time when they're already slashing prices. You could get the exact same deal by purchasing those cards now, or you could indulge in the very practice gift cards were meant to encourage: procrastination. Let the gift-buying world spin madly on without you: DealNews notes that retailers chop the price of gift cards dramatically in December with the knowledge that there's very little time left to shop with them. Also, if you aren't going to take advantage of Apple's penchant for dramatically dropping the price of iTunes gift cards later in the holiday season, someone else will.

Cruises
As much as we can't advise playing chicken with a hurricane, that's exactly what produces some of the best deals on Caribbean cruises. However, when the hurricane season ends in early November, so do the deals. Did you really think it wouldn't occur to anyone else to start booking warm weather vacations at the start of the coldest months of the year? Yeah, we really can't emphasize enough just how important it is to catch the cruise industry during those low pockets if you're thinking about catching a deal. If you want to surprise your spouse with a cruise or send mom and dad away for a week, but don't want to pay a whole lot for it, you're better off booking a fall cruise at the end of the summer and keeping your fingers crossed.
This article is commentary by an independent contributor. At the time of publication, the author held TK positions in the stocks mentioned.