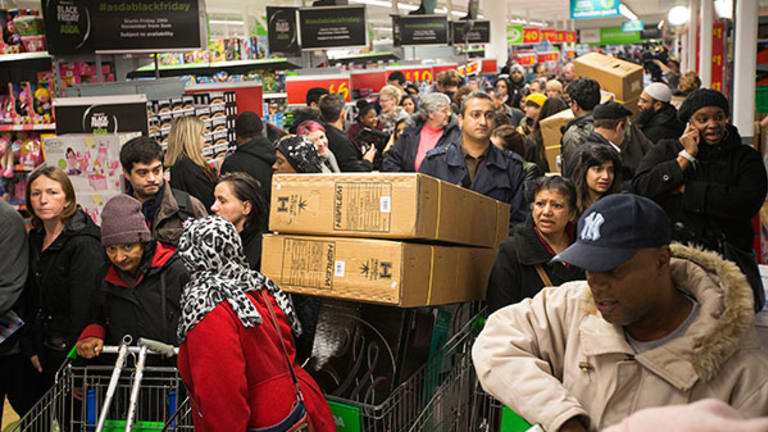 Publish date:
5 Terrible Return Polices Ready to Ruin Your Holiday Season
From minimal deadlines to a minefield of fine print, retailers are making it more difficult to return those unwanted holiday presents.
From minimal deadlines to a minefield of fine print, retailers are making it more difficult to return those unwanted holiday presents.
NEW YORK (MainStreet) – The worst part about nearly a third of the country shopping during Black Friday sales in July and events October is that there's almost no way those gifts can be returned.
Even with a shortened holiday shopping calender, retailers aren't too keen on flexing return policies and allowing you to take back dud gifts that you bought at bargain prices while shopping early. This year, in some cases, that even includes items sold on Black Friday.
The National Retail Federation found that roughly 33% of holiday shoppers planned on starting their shopping before November. That's a shame, considering recent holiday shopping history. A Consumer Reports survey found a few years ago that one in five Americans, or nearly 50 million, expected to return a Christmas gift. Roughly the same percentage of all adults were stuck with a bad gift the year before, though 18% donated the offending present, 15% re-gifted it and 22% either returned it or just threw it out.
That led to 9.9% of all holiday purchases being returned to retailers in 2011, up 9.8% a year earlier and a scant 8.8% back in pre-recession 2007. In all, consumers brought back $58.5 billion in presents, which was a significant increase from the $39.7 billion in products they returned eight years ago.
Because retailers say fraudulent returns accounted for $3.4 billion of all holiday returns last year, retail return polices continue to change. There are always a few foolproof ways to make sure you get the most for your unwanted items, though.
Consumer Reports suggests leaving unwanted gifts in their packaging unless you're 100% sure you want it. Retailers can impose a restocking fee (which often adds up to 15% of the product's cost), especially on electronic items. That's if they take them back at all. Meanwhile, computer software, CDs and DVDs aren't generally returnable once they're opened, and any product with damaged packaging or missing tags is going to be a tough return.
Also, if you received a gift receipt, hang on to it. Many merchants will flat-out turn you away if you don't have a receipt, and if you think of asking the person who gave you the present for a receipt is gauche, you're squandering your last chance to return that item. Also, even if you have a receipt, bring some government-issued identification with you if you're returning the item to the store. The stores card customers to spot serial returners, who have to be the dumbest people on the planet if they haven't caught on to that little wrinkle by now.
Meanwhile, if you've received a gift from one of the following retailers, best of luck:

Sears (SHLD)
Sears is what happens when a retailer is left to rot. Stores haven't been updated since the '90s, stock is disheveled and being sold off brand-by-brand and management so distracted by finding buyers for its various parts that it shows almost no interest in getting its remaining customers to buy anything.
If you've stuck by this company stubbornly and did your Christmas shopping at its stores, don't expect it to make returns easy on you. Its multi-layered return policy, which is about the only thing the retailer changes from year to year, comes with an entire table dividing the items it sells into 30-, 60- and 90-day returns. Their holiday-specific return policy doesn't do much to clarify matters:
Items bought between 11/9/14 and 12/24/14 with a standard 30-day return period can be returned through 1/24/15. Items bought between during that span with a standard 60-day return period can be returned up to 60 days from the date of purchase or by 1/24/15, whichever is longest.
Great, but Sears' holiday return policy excludes major appliances, sewing machines and vacuum. It also doesn't mention the store's 15% restocking fee for opened items. What's the bright side, you ask? Sears has finally gotten around to issuing full refunds, which it outright refused to do in years past.
Staples (SPLS)
We hope you bought your loved ones a few reams of paper and some binders this holiday season, because office supplies are all that's covered under Staples' return-it-for-any-reason, full refund return policy.
For everyone else who shops here for electronics and furniture — you know, actual gifts — it's been decided that any of those items bought between Nov. 24 and Dec. 24 has to be returned by Jan. 17. That holiday return policy falls well short of most other retailers' deadlines and for a fraction of the sales window allowed by said competitors.
Seriously? Any purchase made before Thanksgiving doesn't count? Yes, we know it's an improvement over the two-week window Staples allows for the rest of the year, but come on — we're talking about a retail environment in which Amazon (AMZN) - Get Amazon.com, Inc. Report gives customers until Jan. 30 to send back anything they bought after Nov. 1. Maybe if Staples offered a bit more leeway, it wouldn't have to shutter stores left and right.
Best Buy (BBY) - Get Best Buy Co., Inc. Report
Seriously? We're making returns a "perk" now?
Last year, Best Buy made the "Naughty" column of Consumer Reports' "Naughty and Nice List" for requiring customers to present a photo ID with returns even if they have a receipt, for storing your ID information in a database that tracks your returns and warning customers with unfavorable return histories "that subsequent returns and exchanges will not be eligible for returns or exchanges for 90 days."
Meanwhile, Best Buy only accepts returns of items bought in November or December through Jan. 15. We keep pointing out that Costco's (COST) - Get Costco Wholesale Corporation Report return policy on electronic items extends 90 days from purchase — except for mobile phones, which all have a 14-day return policy — but it's not as if Best Buy is averse to the idea of longer deadlines: It just wants you to jump through hoops for the privilege. After joining the free My Best Buy program, you can reach Elite and Elite Plus status for an extended return and exchange period of 30 or 45 days, respectively, on most items.
Best Buy is starting to grasp the Costco club concept: Unfortunately, it's a club nobody wants to join.
GameStop (GME) - Get GameStop Corp. Class A Report
Holiday return policy? Gamers should count themselves lucky that this chain has a return policy at all.
Notoriously stingy with its returns, GameStop goes full Scrooge during the holidays by making cash purchases of $150 or more subject to a refund by check issued from GameStop corporate offices — 14 business days later. If you used any other form of payment, the only way to get a full refund is to bring back the item within 30 days of purchase. If that item happens to be a tablet, the window shrinks to 14 days. If it's a pre-owned item, slash it to seven days with store credit available for the next 30.
Oh, and that's only if you didn't open the present. New merchandise and tablets in opened packages aren't eligible for a refund, but you can swap it out for an item of equal or lesser value for 30 days. It's a draconian policy, but these are tough times for the used game business. With Walmart (WMT) - Get Walmart Inc. Report getting into the act and game companies skipping the discs and going right to download, GameStop is just trying to keep every cent in house.
RadioShack (RSH)
We don't know why anyone would shop here, but somebody was bound to do so this holiday season.
This 20% dead chain has one return policy that doesn't acknowledge the holiday season in the slightest. Basically, you have 30 days to return an item. That's it.
If your gift giver shopped here on Black Friday, best of luck with that return. If they hit this store any time before mid-November, best of luck on Craigslist or eBay. If you actually fall within that deadline, but your gift was bought through RadioShack.com, you'll have to scrounge up the packing slip. If you don't have the slip or a receipt, you're getting a RadioShack gift card.
Again, unless you're absolutely certain that the item a person wants can be found here — and only here — there should be a considerable amount of second thought given to any RadioShack holiday purchase. If not, you're not giving someone a present: You're saddling them with it.
— By Jason Notte for MainStreet
>To contact the writer of this article, click here: Jason Notte.
>To follow the writer on Twitter, go to http://twitter.com/notteham.
>To submit a news tip, send an email to: tips@thestreet.com.
RELATED STORIES:
>>Things To Shop For In December When Everyone Else Is Holiday Shopping
>>5 Craft Beer Variety Packs To Liven Up Any Holiday Party