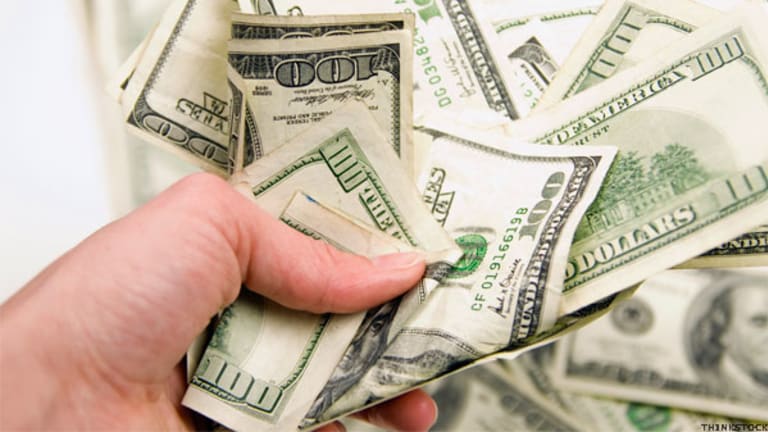 5 Super-Expensive Foreclosures For Sale
Million-dollar-and-up homes are the fastest growing segment of the U.S. foreclosure market. Get one!
Million-dollar-and-up homes are the fastest growing segment of the U.S. foreclosure market. Get one!
BOSTON (MainStreet) -- Million-dollar-and-up homes are the fastest-growing segment of the U.S. foreclosure market, with banks seizing some 335% more such properties last year than they did in 2007.
"We're seeing evidence in our data that the high-end market is starting to get hit more," said Daren Blomquist of foreclosure watcher RealtyTrac.com. "I think high-end homeowners have a little more 'padding' to get through tough times if they experience a job loss or other trouble. But as the tough times continue, more and more of these homeowners are succumbing to foreclosure."
True, RealtyTrac's latest figures show that homes with $1 million or higher mortgages represented just 2.3% of houses in foreclosure during the first 10 months of last year. But that's way up from the 1.2% percent of the market for which million-dollar houses accounted during the same period in 2007.
Blomquist suspects more and more rich people are falling into foreclosure because they had mortgages they could easily afford in good times, but can no longer cover in today's tough economy.
"No matter how wealthy you are, there's always that potential that you'll lose your job," he said. "Even if you have a very high income, you're always susceptible to not being able to make your mortgage payments."
The expert also thinks some high-end foreclosures stem from "strategic defaults." That's where consumers simply walk away from homes and let banks foreclose because a property's value has dropped to less than the unpaid mortgage balance.
"Even if a rich person can still afford their home, they might say: 'We have negative equity, and it just doesn't make sense to keep making mortgage payments on this property,'" Blomquist said. "I would suspect that rich, financially savvy homeowners might consider
walking away even more than owners of low-end homes would."
The good news: Well-heeled house hunters may find they can pick up million-dollar-and-up foreclosures on the cheap.
The latest available RealtyTrac figures show foreclosed homes sold for 27% less on average than nonforeclosed properties did during 2011's first quarter.
Blomquist said RealtyTrac doesn't break out numbers for $1 million-plus homes, "but we definitely see a built-in discount with foreclosures. There are really big opportunities to get good deals."
Click below to check out the five highest-priced U.S. foreclosures listed for sale on Realtor.com, the National Association of Realtors' official home-buying site:
The Villa Mar Vista Estate, Laguna Beach, Calif.
List price:
$20 million
Bedrooms:
Four
Bathrooms:
Seven
Square footage:
11,333
Lot size:
11.8 acres
Built in:
2010
Listing broker:
Richard Leavitt, Engel and Volkers
, 714-322-9825
This newly built estate's
listing
describes the property as "a sublime junction of privacy, acreage, generous interiors, tasteful design, plentiful outdoor spaces and vast coastal vistas."
Located about an hour south of Los Angeles in tony Laguna Beach, the Contemporary-style home features four bedroom suites, six full bathrooms and one half-bath, an in-home theater, an infinity-edge pool, a spa, a 20-car garage and private heliport.
Craftsman windows and French doors look out over the property's gardens and terraces and out to the Pacific Ocean, which is less than a half-mile away. You're also just a few blocks from the Aliso Creek Golf Course.
The Razor, La Jolla, Calif.
List price:
$19.4 million
Bedrooms:
Four
Bathrooms:
Eight
Square footage:
11,000
Lot size:
0.77 acres
Built in:
2007
Listing broker:
Bob Hurwitz, Hurwitz James Co.
, 310-477-8865
You'll have to act fast if you want to buy the
residence, because it's going up for auction Sept. 28 if it hasn't sold by then. Bidding will start at $16 million -- cash only, please.
Located on bluffs some 15 miles north of San Diego, the Razor (named after a bluff at the nearby Torrey Pines State Natural Reserve state park) overlooks the Pacific Ocean from just a few hundred feet away.
The 11,000-square-foot Contemporary-style home features four bedrooms, six full bathrooms, two half-baths, two fireplaces, a heated pool, a dog run, an eight-car garage and a two-space carport.
Architectural Digest
profiled the house in 2008, while Calvin Klein used it as the backdrop for a TV spot for its new high-end Calvin Klein Collection. Visa also
for its top-of-the-line Visa Black Card.
The house is near the University of California at San Diego, the Salk Institute for Biological Studies, the Del Mar thoroughbred race track and the Torrey Pines Golf Course, site of the 2008 U.S. Open.
"This home is truly one of a kind," listing broker Bob Hurwitz says. "With today's building restrictions, nothing like it could ever possibly be built again in this location."
East Mockingbird Lane, Paradise Valley, Ariz.
List price:
$18 million
Bedrooms:
Seven
Bathrooms:
10
Square footage:
17,015
Lot size:
4.9 acres
Built in:
2009
Listing broker:
Joan Levinson, John Hall & Associates
, 480-998-5673
This estate
features a main house with five bedrooms, three family rooms, two libraries, a billiard room, a wine room, a piano room and a hidden "panic room." There's also a mahogany in-home theater with a Dolby sound system and 13 seats that move in sync with the screen action. (A talking, singing Elvis Presley robot greets you at the theater's glass entrance booth.)
Other amenities include a two-bedroom guest house, two swimming pools, an on-site solar-power station and a $1.2 million security system. There's climate-controlled garage space for 21 cars -- including a four-car "show garage" outfitted with restored genuine gas pumps from the 1920s and '30s.
Located just outside Phoenix and Scottsdale, Ariz., the estate is a mile or so from the Phoenix Mountains Preserve, the Camelback Golf Club and the McCormick Ranch Golf Course.
The Wyndham Estate, Newport, R.I.
List price:
$7.9 million
Bedrooms:
Seven
Bathrooms:
Eight
Square footage:
12,500
Lot size:
7.7 acres
Built in:
1891
Listing broker:
Paul Leys, Gustave White Sotheby's International Realty
, (401) 849-3000
Located less than a mile from Newport Harbor on the Atlantic Ocean, the
combines classic 19th century looks with 21st century updates.
The Baronial-style mansion features seven bedrooms, eight bathrooms, four fireplaces, a ballroom, a music room and a rooftop deck and whirlpool with ocean views out to Martha's Vineyard some 20 miles away. The manicured grounds also host a man-made pond, waterfall and garage space for nine cars.
The Newport Country Club, New York Yacht Club and Ocean Drive State Park are nearby.
Biltmore Estates Drive, Phoenix
List price:
$7 million
Bedrooms:
Nine
Bathrooms:
11
Square footage:
17,799
Lot size:
1.04 acres
Built in:
2002
Listing broker:
Sandra Baldwin, Russ Lyon Sotheby's International
, 480-287-5200
Located in Phoenix next to the Arizona Biltmore Golf Course,
features nine bedrooms, 11 bathrooms, five fireplaces, an in-home theater, library, wine cavern and al fresco patios, balconies and outdoor dining/dancing terraces. The rear courtyard hosts a massive heated pool and an adjacent spa.
In addition to the Arizona Biltmore Golf Course, nearby attractions include the Phoenix Mountains Preserve and Paradise Valley and Arizona country clubs some two miles away.
>To submit a news tip, email:
.
RELATED STORIES:
>>Extreme Real Estate: The Coolest Pools
>>Extreme Real Estate: Sporty Mansions
>>Live Like a Celebrity Bachelor
Follow TheStreet.com on
and become a fan on