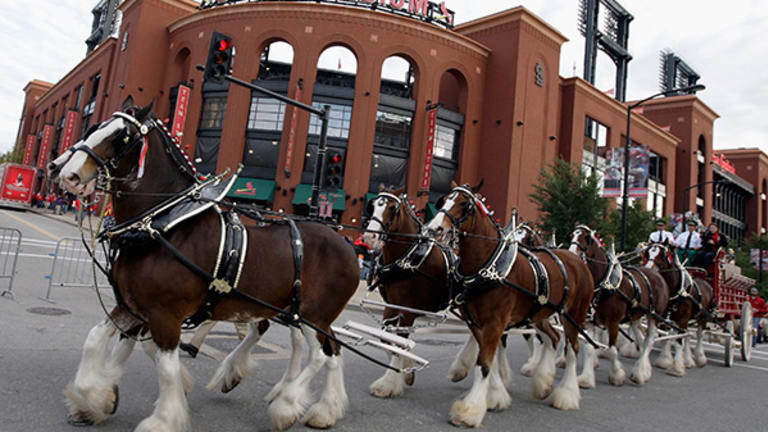 5 Super Bowl Brands That Want Your Money Most
From bailed-out automakers to out-of-vogue beverage companies, there are no shortage for brands willing to spend millions on a Super Bowl makeover.
The Super Bowl 50 matchup between the Carolina Panthers and the Denver Broncos is set, but some additional players punched their tickets to the game long before the playoffs.
From 2006 through 2015, the Super Bowl game has generated $2.38 billion of network advertising sales from more than 130 marketers, according to Kantar Media. The average rate for a 30-second advertisement in the Super Bowl game has increased by 76% during the past decade and reached $4.4 million in 2015. It's easily the costliest commercial time on television, with the 2015 runner up -- the NFC Championship Game -- fetching a relatively scant $2 million per 30 seconds. The price is going up in 2016.
So is the amount of ad time you're seeing. The past six Super Bowls have dedicated the most time to ads in history, with each containing more than 47 minutes of commercials. While the number of commercials actually dropped from 84 in 2009 to 82 last year, the amount of time it takes to air them jumped from 45 minutes in 2009 to more than 48 in 2015. With 22 ads of a minute or more making up more than a third off all Super Bowl ads in 2015, the number of those feature-length ads has doubled since 2011.
Why? Because it makes an impression during one of the few times U.S. consumers are guaranteed to watch commercials. With Super Bowl television audiences topping 100 million in recent years and the $345 million in Super Bowl ad spending in 2015 topping the World Series ($240 million over five games) and NCAA men's basketball Final Four ($195.5 million over three games), a Super Bowl ad is as close to a sure thing as an advertiser can hope for.
However, a few companies have been more willing to shell out for them than others. With help from Kantar Media, we looked back at the last decade of Super Bowl ads and found five companies that spent above and beyond anything their competitors could offer:
5. General Motors
Super Bowl spending from 2009-2015: $86.8 million
Granted, the company's brands have only been featured in the Super Bowl for six of those teb years, but there's a fine line between coming back from a bailout and relapsing into the behavior that required it.
General Motors has poured a lot of money into relatively little ad time just to get you to stop calling it "Government Motors." However, after not exactly blowing minds with those high-priced ads, however, GM has tried to be smarter about its spending. It made waves with a fake technical glitch before last year's game that turned out to be an ad for the Chevrolet Colorado and, so far, has only announced plans for a 30-second spot featuring newly-launched Buicks. GM doesn't want to bore people out of the room, but it also doesn't want to refresh U.S. carbuyers' memories and give them yet another reason to be mad at it.


4. Chrysler
Super Bowl spending from 2009-2015: $89.5 million
After bankruptcy, a bailout and then a buyout by Fiat, Chrysler turned to the Super Bowl for help.
It needed to show it was stable, it needed to show it was durable and it had to show it was still American enough to be in the Detroit 3. Boy, did it work. With help from its ad partners, Chrysler used Eminem's "Lose Yourself" to create the story of down-and-out automaker crawling its way back, just like its home city of Detroit. In 2012, it turned its story of economic recovery into a metaphor for post-recession America with help from Clint Eastwood and his "Halftime In America" soliloquy.
In 2013, it went to Paul Harvey's "God Made A Farmer" to push its Ram truck line. In 2014, it got Bob Dylan to outright call it American. Last year, it used the Dodge brand to drop some wisdom.
It's taken a bit of a different tone with a brand that was once only an acronym for Fix It Again, Tony. It suggested that the sporty version of the Fiat 500 was hot enough to make out with and that its expanded backseat was a giant peepshow and that its cars run on erectile dysfunction medication. In other words, the company made Italian sex sell without making Chrysler look any less American. That's a tough play even without the added Super Bowl pressure.

3. Coca-Cola
Super Bowl spending from 2009-2015: $118.4 million
By now, you probably realize that drinking Coca-Cola likely isn't the healthiest thing you can do, despite what Mean Joe Greene's kindness implied all those years ago.
Coca-Cola knows this and has tried to make it better by noting that its sugary-sweet drinks are a guilty pleasure that the world enjoys together. However, it got yelled at for even implying that people in the U.S. might speak a language other than English or that online trolls make life a little less pleasant. It'll be back for this year's festivities, as it's been for nine of the last ten years, but it's still struggling to find a soft sell for a product U.S. consumers are finding harder to swallow.

2. PepsiCo.
Super Bowl spending from 2009-2015: $172 million
The official NFL soda and snack sponsor absolutely loves this event. Since signing on Cindy Crawford for its 1992 Super Bowl spot, it's riddled ads with pop stars from Britney Spears to Elton John. However, it does its best work when promoting the halftime show, which last year featured Katy Perry being upstaged by a rhythmless shark. Bruno Mars brought down the house a year earlier, and Destiny's Child reunited a year before that.
As a follow up, we're getting... Coldplay? O.K., so there's a chance that Beyonce and Bruno Mars join them on stage, but the inoffensive British pop act is still mellow by Pepsi standards. Granted, it's been more than a decade since the NFL, Pepsi and MTV were chastened by Justin Timberlake, Janet Jackson and the nipple that scandalized America, but Coldplay puts us firmly back into Tom Petty/Bruce Springsteen dad rock halftime territory. Come on, "choice of a new generation": let the kids play.
If you want to stand any chance of having another generation eat your Doritos (yep, they're doing the "Crash The Super Bowl" make-your-own-commercial gimmick again) and drink your Mountain Dew and Pepsi (both with ads this year), then you have to give them some reason to do so other than the music they'll hear at the dentists' office after all that soda rots their teeth.

1. Anheuser-Busch InBev
Super Bowl spending from 2009-2015: $278.3 million
Between the talking frogs, guys screaming "wazzap,"bottles playing bowl games and tearjerking Budweiser Clydesdale moments, have you asked yourself why Budweiser, Bud Light and Stella Artois commercials are the only Super Bowl beer commercials you've ever seen?
It's because the NFL's official beer sponsor pays to keep it that way. Already paying more than $1 billion for a league sponsorship, it pays about $10 million a year more than anyone else to maintain Super Bowl exclusivity for its category. That's why, since 1988, no other brewer has been able to crack the lineup. Sure, the others say they don't want to and that there are better ways to spend their money, but consider that arguably the first Super Bowl craft beer commercial featured Budweiser specifically slamming craft beer. In fact, the first actual craft beer Super Bowl commercial will likely feature Goose Island, Blue Point, 10 Barrel, Elysian, Golden Road, Breckenridge or Four Peaks -- you know, the craft beer Anheuser-Busch InBev owns.
This article is commentary by an independent contributor. At the time of publication, the author held no positions in the stocks mentioned.