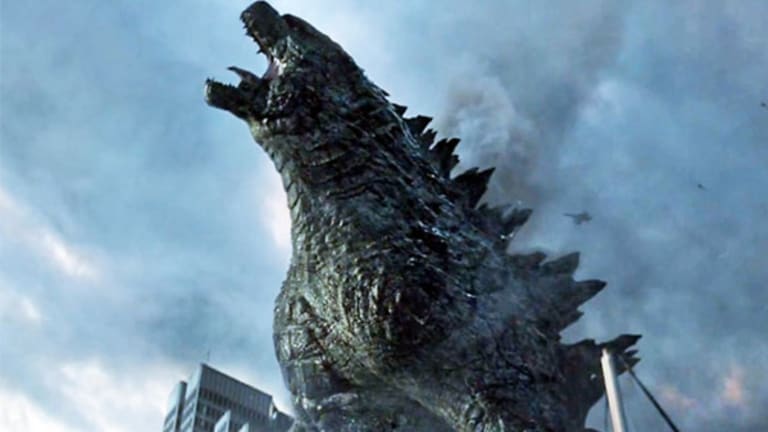 5 Summer Movie Blockbusters Sponsors Love
Godzilla, The X-Men and even Seth MacFarlane all get to the big screen with a little help from well-placed products. Here are the automakers, fast food joints and breweries paying for all that CGI.
Godzilla, The X-Men and even Seth MacFarlane all get to the big screen with a little help from well-placed products. Here are the automakers, fast food joints and breweries paying for all that CGI.
PORTLAND, Ore. (TheStreet) -- The official start of summer is still weeks away and Hollywood is already stacking up the cash.
Sony's Amazing Spider-Man 2 brought in more than $176 million in the U.S. despite opening in early May. Warner Brothers' Godzilla brought in $110 million in less than a week while breaking $215 million worldwide during that same span. We're didn't get a breather before heading into Disney's X-Men: Days Of Future Past and onto Maleficent and Guardians Of The Galaxy; DreamWorks Animation's How To Train Your Dragon 2, Paramount's Transformers: Age Of Extinction, Hercules and Teenage Mutant Ninja Turtles; or 20th Century Fox's Dawn Of The Planet Of The Apes.
That's a whole lot of stunts, explosions, stars and CGI that doesn't pay for itself, which means it's time to call in the sponsors. In recent years, that's meant slapping more logos and product placement onto films and doing a whole lot more point-of-sale promotion. More superhero Slurpee cups, anyone?
There was a time Burger King could crank out a few Star Wars glasses and call that a sponsorship. Now a movie's big fast-food partner joins its auto sponsor, credit card sponsor, wireless sponsor and retail sponsor just to give a film a chance of being the biggest feature of any given weekend. If your film centers around something extremely specific, such as Disney's Planes: Fire and Rescue, you'd best hope someone in marketing made a branding deal with an auto sponsor, an oil sponsor, a gasoline sponsor, etc.
This has become an annual rite, and studios are getting really good at it. Marvel and Disney used last year's Iron Man 3 to hook Audi, Verizon, Oracle and others into hitching their brand to last year's highest-grossing film. Even that was small-time, as Marvel, Disney and Paramount managed to get companies to sign multi-film deals for sponsorship of movies including Thor, Captain America, The Incredible Hulk and the other films in the Iron Man universe just so they could have a shot at attaching their name to The Avengers. As a result, the studios locked companies such as Dr. Pepper/Snapple Group and 7-Eleven into multi-picture deals and kept the cash rolling in. Not to be outdone, Time Warner took a similar approach to not only its Batman series, but its Green Lantern and Superman films as well.
With the costs of such films now exceeding $200 million and their box office take multiplying that several times over, those lists of gracious corporate donors will just keep growing. Just to show you how crowded this year's field is, we've come up with five examples of films blatantly brought to you by a host of well-heeled sponsors. Let's see who sold out the most:

Godzilla
Release date: Now playing
Sponsors: Digital2, Fiat, F'Real Milkshakes, Hilton, Mushkin, Netgear, Red Robin, Slim Jim, Snickers, TigerDirect.com
A big, multinational blockbuster needs big brands to go with it, but the trick is finding companies that want to buy in.
Also see: How Godzilla Made Foreign Film a Box Office Monster>>
Can't get Apple to agree to have its iPads crushed in San Francisco? Hello Digital2 tablets. Still trying to get big new markets to recognize your brand? This is how Fiat's small cars end up in a film with a giant lizard. Best Buy too bogged down with survival? TigerDirect.com will be the defense forces' TV discounter of choice.
While Godzilla fits right into Snickers' hungry and grouchy campaign some of the other food choices are a bit more interesting. McDonald's and Burger King seem a bit more loath to market movies than they were in their kids-meal heydays, but it's interesting to see casual-dining burger joint Red Robin pick up the slack and keep the burger/movie connection alive.

Maleficent
Release date: May 30
Sponsors: General Mills' Yoplait, Chex Mix, Subway, Home Shopping Network (HSN), One Kings Lane, Virgin America, Hot Topic, MAC Cosmetics
So what has Disney learned from releasing a number of Tim Burton films? The goth kids and their parents have money, too.
Forget Yoplait, Chex Mix and Subway; they're just Disney's nod to "healthy" eating and its way around partnering with burger joints. Take a look at those One Kings Lane, Virgin America, Hot Topic and MAC Cosmetic sponsorships. If you were going for the look of a pallid witch with a proclivity toward black clothing and a heavy hand with the red lipstick, a combination of Hot Topic and MAC would likely be in the offings anyway. This is just beating the pale denizens to the punch.
But what about One Kings Lane and Virgin? There's a simple answer as well: Virgin has never been shy about attaching itself to anything remotely sexy, and Angelina Jolie as a witch -- even in a Disney film -- has at least as much allure as airplane mood lighting and sending drinks to a stranger a few rows up. One Kings Lane, meanwhile, just completes the look by bringing castle design indoors. Take away the cell shading and much of Sleeping Beauty herself, and the story around Maleficent gets a whole lot more attractive to viewers and sponsors alike.

Transformers: Age Of Extinction
Release date: June 27
Sponsors: General Motors, Western Star Trucks, Waste Management, Valero, Big Red Soda, Mondelez's Oreo
What did we tell you about vehicle movies? GM has attached its brand to this franchise since the beginning and transformed the identity of Bumblebee from a Volkswagen Bug to a Chevy Camaro just to throw its weight around.
The fourth installment of this transforming CGI robot battle with minimal plot finds director Michael Bay shoehorning as many Waste Management garbage trucks, Western Star tractor trailers and fill-ups at Valero in between explosions as he possibly can. In return, those brands get featured spots in one of the most successful movie franchises of the past decade. No Transformers film has made less than $300 million in the U.S., with even 2011's Dark Of The Moon pulling in more than $352 million. Worldwide, these films just keep racking up the cash. The first installment brought in nearly $710 million globally in 2004, but boosted that take to $1.1 billion by the time Dark Of The Moon rolled around seven years later.
Combined, the first three films of this franchise have taken in nearly $2.7 billion. Does it matter that Mark Wahlberg was brought into this series for no reason? No, but from a sponsor's perspective it certainly doesn't hurt. Does it matter that much of the screen time in this series is taken up by CGI robots? Absolutely. Why would GM, Western Star and Waste Management shell out so much if they were just getting cameos? The Transformers movies are mindless fun, and attaching auto-centric brands to them is a no-brainer.

X-Men: Days of Future Past
Release date: Now playing
Sponsors: Carl's Jr./Hardee's, Unilever's Axe, Energizer's Schick, Hostess, Wyndham, Symantec's Norton products, Under Armour, Visa, Chevron ExtraMile shops, Flipz
Also see: You May Never Hear This Year's 'Song of the Summer'>>
As we said earlier, Marvel just flat out makes this look easy. Even with one of its 20th Century Fox properties such as X-Men, it manage routinely to drag in as many sponsors as possible across as many categories as it can.
It's just a plug and play. Does a character need a shave? Schick. Do they have to pop into a gas station convenience store for snacks? A Chevron ExtraMile for some Twinkees and Flipz. Need to have the young X-Men smelling fresh? Hello Axe. Marvel even manages to pull fast food into the game by getting the chain that likely cares the least about public perception of its calorie count -- Carl's Jr./Hardee's -- to dole out some superhero-branded burgers and fries like in days of old.
Those sponsors fill those niches gladly. Since the first film in the X-Men franchise released in 2000, the X-Men movies have made more than $1 billion in the U.S. and more than $2.3 billion worldwide. Even when a film in the series is kind of a dud -- like last year's The Wolverine -- it manages to break $100 million in the U.S. and $400 million globally. It's tough to see the downside of bolting your brand to that bulletproof mutant franchise.
Regardless of silly little things such as plot, this plug-and-play approach works perfectly. Iron Man 3 cost roughly $200 million to make and has made nearly $1.2 billion to date worldwide. The approach to sponsorship seems cynical on its surface, but when it stops working, they'll stop using it.

A Million Ways to Die in the West
Release date: May 30
Sponsors: Budweiser
Because why try when you've already landed your perfect sponsor?
This is Family Guy creator Seth MacFarlane's second live-action film and his first since 2012's Ted. That last film made nearly $220 million in the U.S. alone en route to collecting $550 million worldwide, and it did it through MacFarlane's unflinching brand of humor once considered long dead on these shores.
It's never been quite as dumb or crass as its reputation or as bro-y as it biggest supporters, but short of hosting the Oscars, MacFarlane seldom lets the perception of boorishness or idiocy hurt his cause. In fact, it's that educated approach to low humor that makes this film a legitmate R-rated contender in G and PG-13 summer movie country.
And if you're going for adults, that means an opportunity to sell booze. With more movie theaters outright embracing the brew-and-view approach to business A Million Ways to Die in the West is a low-risk way for Anheuser-Busch InBev to tie itself to a cheeky, raunchy blockbuster.
-- Written by Jason Notte in Portland, Ore.
>To contact the writer of this article, click here: Jason Notte.
>To follow the writer on Twitter, go to http://twitter.com/notteham.
>To submit a news tip, send an email to: tips@thestreet.com.
RELATED STORIES:
>>How Godzilla Made Foreign Film A Box Office Monster
>>4 Summer Movie Alternatives To The Multiplex
>>How The Cost Of Movies Made Us More Patient
Jason Notte is a reporter for TheStreet. His writing has appeared in The New York Times, The Huffington Post, Esquire.com, Time Out New York, the Boston Herald, the Boston Phoenix, the Metro newspaper and the Colorado Springs Independent. He previously served as the political and global affairs editor for Metro U.S., layout editor for Boston Now, assistant news editor for the Herald News of West Paterson, N.J., editor of Go Out! Magazine in Hoboken, N.J., and copy editor and lifestyle editor at the Jersey Journal in Jersey City, N.J.